Bohemian Rhapsody bridal inspiration for the globe-trotting travellers and rock 'n roll free spirits who want to seal their fate in Greece.
The relaxed farm lifestyle was the essence of this wedding inspiration. Not compromising on luxury and lush décor however! Designed by Kiss from Fleur, this bridal summer inspiration captures the sleek and groovy era of the Sixties. A natural echo between then and today, but also full of new ideas and a desire for change!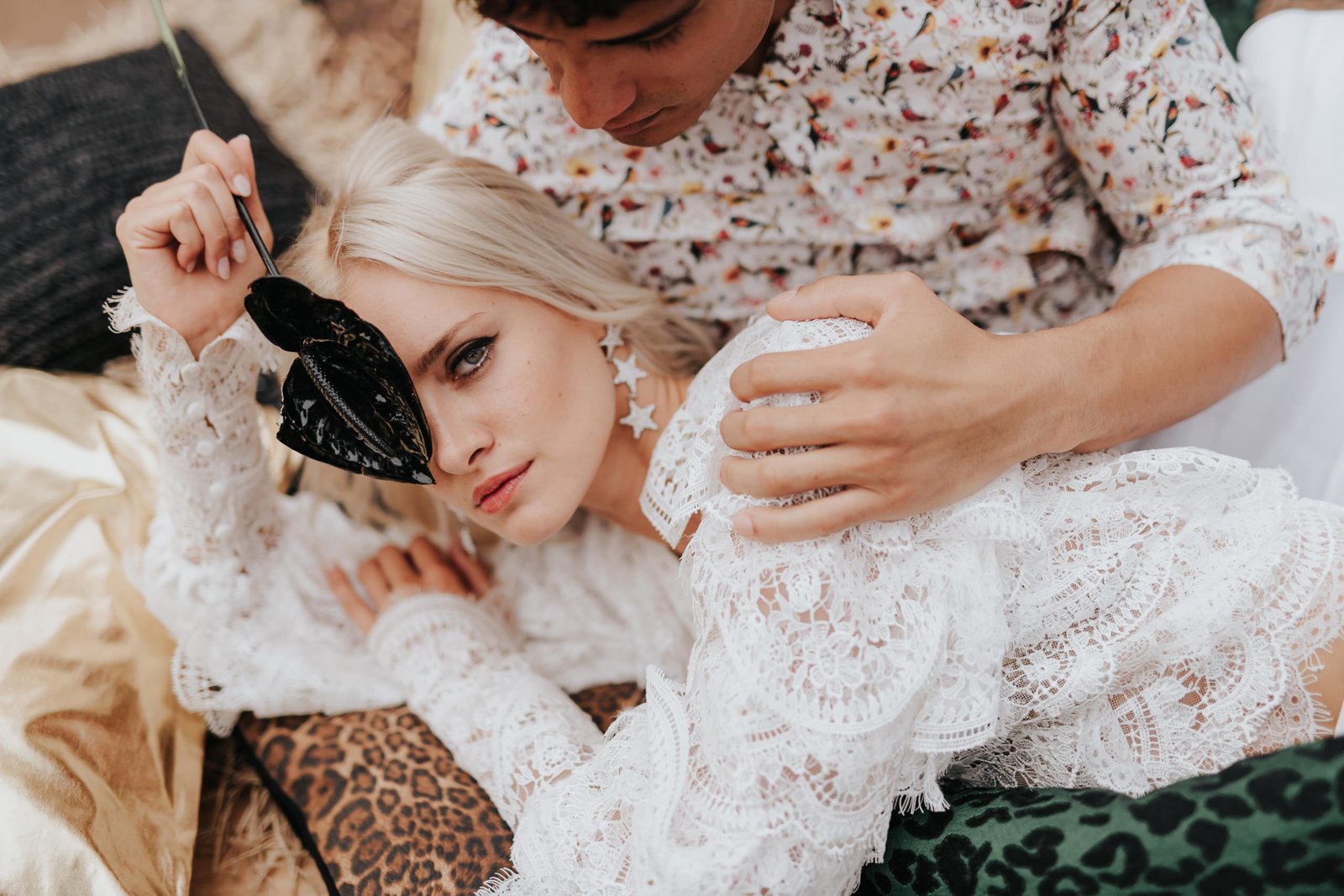 Furthermore, baby goats and the mythical story of Amaltheia was the inspiration behind our Bohemian Rhapsody bridal shoot. Originating from Hellenic mythology, Amaltheia is the tender, nurturing goddess. In Ancient Greece known as the foster-mother of Zeus. Later on, was placed amongst the stars as the constellation Capra – "she-goat".
When you think of Greece or the Hellenic style, the first image that comes to mind is probably the Hellenic Mythology or the typical White and Blue. This year's Dior Cruise 2022 show is set in the centre of Athens. Celebrating Greece, with white and blue patterns as well as plated toga-style dresses with gold accessories in this Hellenic-inspired collection.
However, there is so much more to the Hellenic style! And with this inspiration, we wanted to show a different side of Greece! The raw, yet indulgent lifestyle. The beautiful nature of the rural courtside with animals like baby goats and yes, chickens too! We want to change people's perception of Greek aesthetics and destination weddings in Greece. Create something new, while setting trends for couples, Gen Z's, looking to get married in a fun, intimate and unique way. Above all, to achieve a truly distinctive experience for the couple and their guests.
The Unique Experience of this Bohemian Rhapsody Bridal Inspiration
A micro destination wedding inspiration from one of the most unique venues in Athenian Riviera, the Margi Farm. A sustainable and organic farm amid the Hellenic countryside was certainly the canvas for our vision of the fashionable couple escaping the busy everyday city life.
Moreover, this venue will bring uniqueness to your experience. With the presence of the farm and the animals like the baby goat, which our fabulous bride is absolutely obsessed with! "Oh, baby I'm in love!"
A Backdrop for Bohemian Hearts
For an experience to be truly distinctive, you definitely need a wow factor above all. And this Backdrop Lounge is certainly one of those wow factors.
We weren't satisfied with just any old ceremony! We wanted a vibrant and trendy experience for our fashionable couple. So why not lounge? With the love for seductive romance and all things animal print, which we can see repeating in the crockery as well as the overabundance of pillows, this lounging area was more than just relaxing. It offers a new kind of bohemian vibe to the whole experience of destination weddings in Greece!
After dinner, Indie Lovers can enjoy a relaxingly seductive evening on the pillow-covered lounge. All the meanwhile exchanging wild stories and intimate moments under the voluptuous oversized heart, constructed by Petridis LV Florists, out of exotic florals and fluffy feathers.
The Elements of Beauty
"Give me fresh flowers and an old love. "

Kavya Dixit
The presence of terracotta orange roses, fun peach feathers and strong bold colours like deep reds, forest greens and deep black, represents the long deep Mediterranean history and summertime feelings! Typically used as animal feed, we are bringing the farm to the table with a variety of elevated, coloured dried grasses and other foliage.
Furthermore, fashionable foliage and florals like sexy and fluffy feathers, black "Louboutin-like" Anthurium and the Exotic Black Orchid which are exuding mysterious beauty. The imposing black colour in our seductive table setup certainly signifies assured power and total authority. It totally commands submission. Tenderness and sensitivity on the other hand, are represented in the transparent red stemware, warm gold cutlery and soft silk napkins. In addition, paired with black and white, animal print-like striking dishware.
Traditional buttercream ruffles with a twist! The wedding cake was certainly a playful display of old, or let's say traditionally decorated and new fun elements like the electric blue glittery cherries on top! Not harsh white, but rather tanned or eggshell white coloured buttercream was just the right shade to compliment the bold black table and florals.
Dancing Under the Summer Sun
Cruising between the olive groves with her "bad boy" by her side! Reliving those childhood summertime memories with her one and only. You can feel certainly the excitement in the warm air and that electric feeling and vibrant love rushing through them. In this crazy world, they found each other and they know it!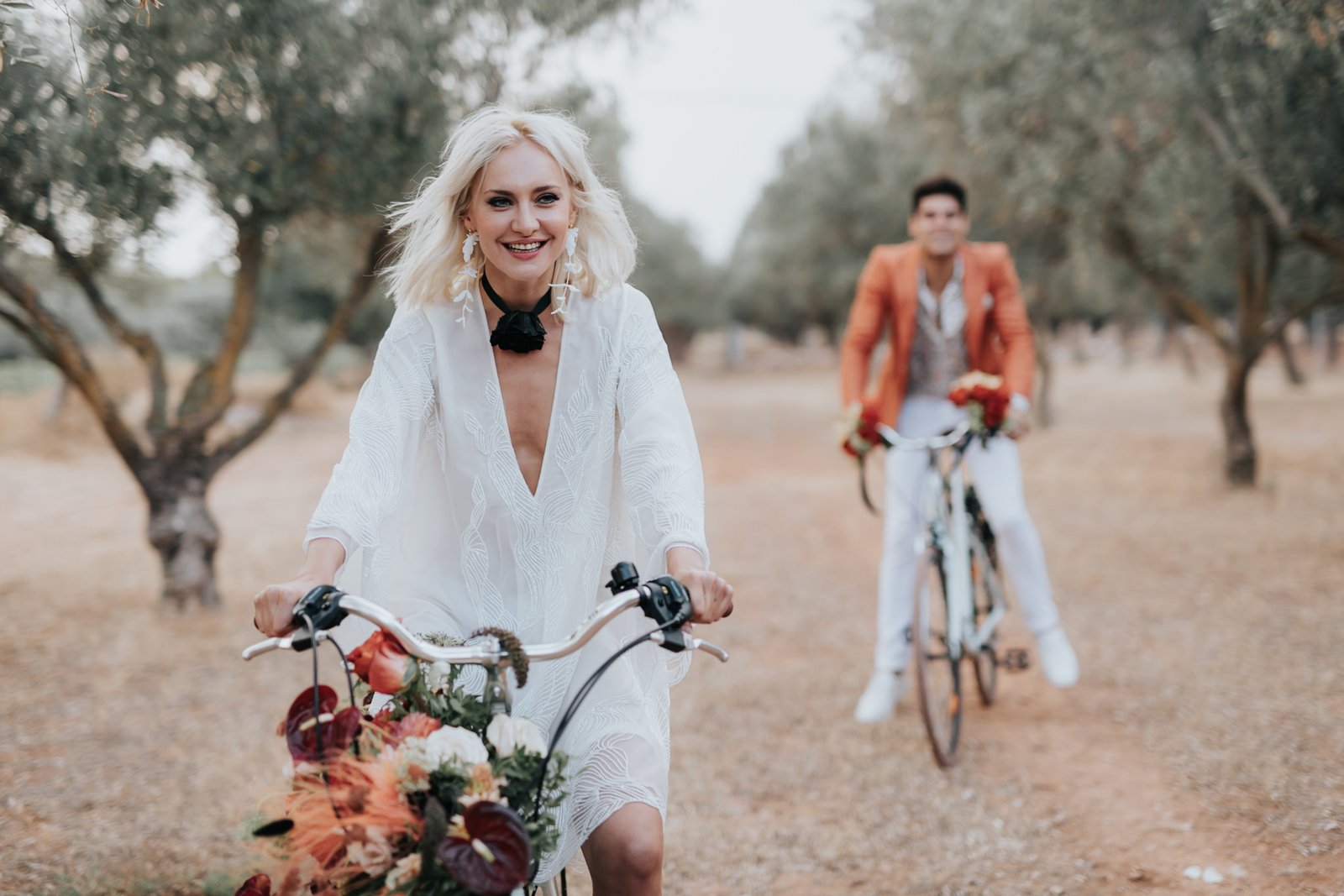 The playful bicycles were decorated with lush flowers. To remember those childhood summertime days, specialised hand-made sugar lollies brought on a fun experience before they rode into the sunset. "Remember, I will love you forever! So kiss me hard before we must leave."
See the Full Gallery:
Get This look:
Photography, FotisSid Wedding Photography at Alchimeia
Wedding Planning & Design, Kiss from Fleur
Media & Production, Ellwed
Flower Art, Petridis LV
Venue, The Margi Farm
Rentals, Style Box
Head Photography, George Stratigis
Backstage Photography, Vasilis Siampalis
Head Cinematography, Anthony Venitis
Cake, Maria Kogia
Stationery, Studio Van Hart
Hair and Makeup, Michalis Tsotras
Dresses, Annika Maria
Earrings, A.B. Ellie
Suit, Tailor Italian Wear
Napkins, Silk and Willow
Models, Nadia & Hiago
Did you like this Bohemian Rhapsody Bridal Inspiration? Check out more daring inspiration from our magazine ellwed.com/magazine
If you're a wedding photographer or cinematographer and want to create different, extraordinary results with us, make sure to get on the Priority List for the next ALCHIMEIA Workshop for Creative Storytellers!