This is some exciting news! Although, this was a long time coming, now you can read her amazing story. Finally, we are sharing with you this exclusive interview for Ellwed, with Stephanie from Bride Diaries!
Stephanie, you come from an educational background, right? Tell us, how did you get into the wedding industry and how did Bride Diaries come to life? 
I've always loved weddings. Since I was a little girl I've dreamed of wearing "the dress", of walking down the aisle and marrying my prince charming. But I never thought that this would be the career path I would choose. My studies in English and Linguistics and my masters in Educational Leadership set me on a career in teaching for several years. In 2015, after Petros, my husband, proposed I started looking at international wedding blogs for inspiration. That's when I thought that I could create a wedding blog to share with other brides-to-be the ideas I personally liked.
During most of the year I was pregnant and in 2016 a beautiful angel came into our lives, our daughter Leonie. So, there was not much time with a new born baby on my hands. In late 2016, Bride Diaries finally came to life with the help of my husband (now our Marketing Director) and I instantly knew that this is the right path for me. Sharing new ideas for couples that are getting married, featuring their beautiful weddings and creating content for them with talented wedding professionals.
As one of the leading wedding blogs in Greece and Cyprus, scrolling through Bride Diaries, we see lots of articles. What can a bride-to-be find in there and what is the next step for Bride Diaries?
In our wedding blog brides-to-be can find everything they need, to get inspired and start designing their own wedding. Fresh ideas about wedding decoration, wedding dresses, make up, hair, and more, advice for planning, real weddings,inspirational styled photo shoots, honeymoon ideas and our selection of the finest wedding professionals. Brides can also interact with each other and share their experiences in our Facebook group "Παντρεύομαι by Bridediaries.com". In May, we also launched our e-shop, where brides-to-be can find a series of wedding related products like bridal accessories, dancing shoes for guests, bachelorette party essentials and more.
There is a lot coming up in the next few months, but you have to stay tuned to find out.What I can tell you is that we will soon be going international, as Bride Diaries will be bilingual and I'm excited to welcome brides-to-be from all over the world.
Oh wow, how exciting! We can't wait to read it all! The variety of blogs for brides is very important. Especially for tourist brides that want to get married in Cyprus or Greece. But at Ellwed, we focus only destination brides, that want to get married in Greece. Therefore, do you believe that Greece, as a location is becoming one of the top wedding destinations in the world?  
I believe that in the next few years we will see an increase in the number of weddings taking place in Greece, by couples coming from as close as Europe, but also couples from as far as the United States and China. Greece has a lot to offer! Greece is blessed with abundant sunshine, golden beaches and magical scenery. It is no question that couples from all over the world choose to get married in Greece.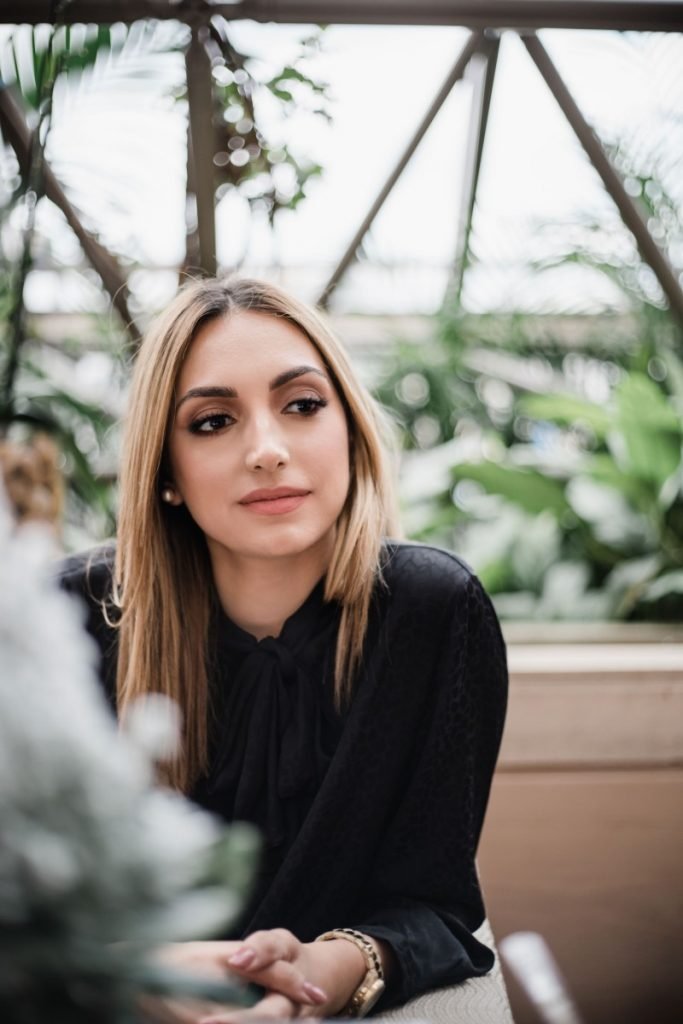 That is great to hear. At any wedding there are pros and cons. Of course it all depends on the bride's wishes. But what would you say are the advantages and disadvantages, if any, of having a destination wedding?
I certainly believe that the advantages, outweigh the disadvantages of having a destination wedding. You get to choose an idyllic location, you can have a smaller wedding with family and close friends and therefore spend more of your budget on decoration. You can begin your honeymoon right away and the list goes on. On the downside, it is more difficult to plan a wedding abroad, but with the help of a good wedding planner you can trust, it shouldn't be a problem. Also, some of your dearest friends or close family may not be able to come to your wedding because of either the cost or other obligations.
As you said, decoration and flair are becoming important aspects of many events. This is mainly to impress the guests, keep it memorable and of course "insta-worthy". What would you say are the upcoming wedding trends for the year of 2019?
Metallic hues are everywhere right now! We have even seen flowers being dyed copper or gold. Bold and bright colours, like burgundy, yellow and coral, which is also the colour of the year, will definitely be the way to go in terms of colour palettes. Also, the greenery and foliage trend will carry on even stronger this year. Couples will want to please their guests with useful favours this year, therefore we will see more welcome baskets, dancing shoes for guests and hand fans. Neon signs took over in 2018, but light boxes for couples' favourite quotes and sayings will also be a big trend in 2019. Finally, when it comes to wedding dresses, the Meghan Markle effect will be seen in simple, elegant dresses, regal capes and detailed veils.
Oh yes! That is so true. Nowadays, brides can choose from so many wonderful options and get inspired by numerous inspirations. But, what is that one wedding trend that you don't want to see being repeated in 2019?
Well, I don't want to see any all-white weddings in 2019. I hope couples embrace colour this year. I'd prefer to see brides using more bright or moody colours.
I believe that your wedding took place in Cyprus last June in the picturesque village of Lefkara. Is there anything you would do differently if you could do it all over again? And what advice would you give to couples that are planning their wedding.
We chose to have a wedding that was modern and elegant, with bright colourful flowers with red, dusty pink and gold details. But when planning our wedding at first, I was looking for themes that I love seeing with that "boho" vibe. But ultimately I understood, this wasn't us! You need to design a wedding that reflects your own personality as a couple and not follow all ideas that you see on blogs.
What I would do differently? Everything and nothing. If I got the chance to plan our wedding every year, I would of course design it differently every time, but I loved everything about it! Also, brides-to-be, things on the day of the wedding can go wrong. The important thing is that you are marrying your best friend, the man of your dreams, anything else shouldn't matter! So leave the stress at home on your wedding day and enjoy it to the fullest! It will be over in the blink of an eye.
What great advice! Many brides see only that one detail that went wrong, which spoils their whole day! This is so important for brides to understand. At the end, little things don't really matter in the big picture. Your wedding sounds beautiful! I hope we can feature it soon also on our blog or in the magazine!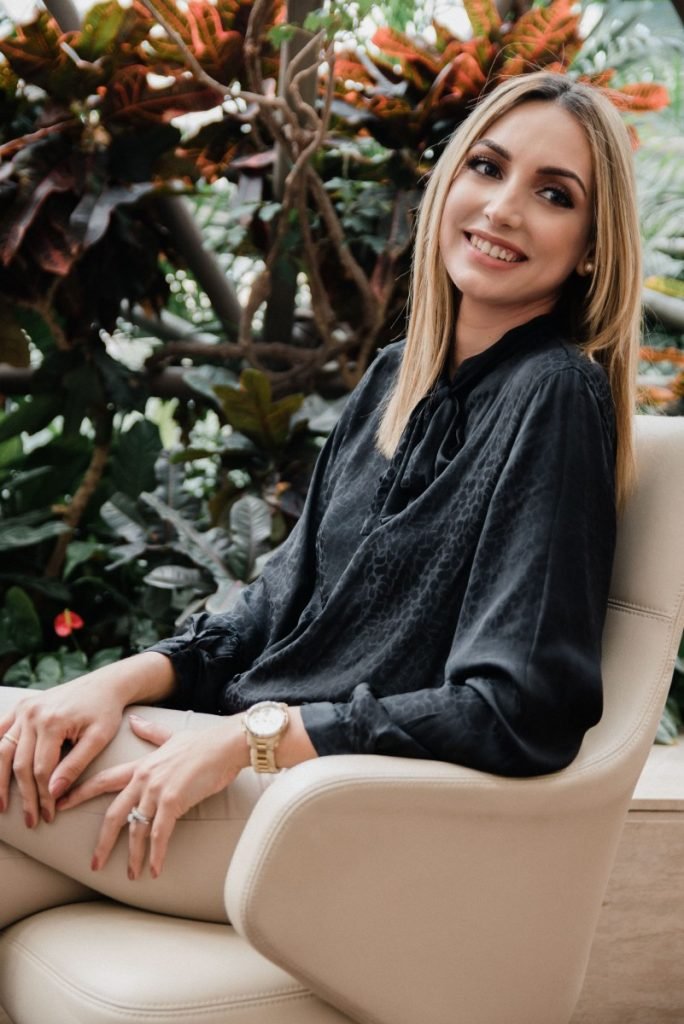 It is important to provide your readers with good quality material and keep them inspired for their upcoming wedding. So finally, what keeps you inspired every day to continue doing what you love?
My daughter and husband keep me inspired every day to be the best version of myself and keep following my dreams. The beautiful couples that are getting married and sharing their stories with us, the talented wedding professionals we work with and all the brides-to-be that contact me every day with their questions and their love; every one of them keeps me inspired to continue doing what I love.
Stephanie, thank you so much for taking the time to share your exclusive story with us at Ellwed. This is actually our first wedding blogger interview on our blog, EVER!
We are excited to share with you that soon, you can also read our story on Bride Diaries! So follow us both to see when it will be live! We cannot wait!!!
Photoshoot credits for this interview:
Photography: Hourglass Photography
Make up: Makeup Studio by Alexandra Nicolaidou
Venue: Four Seasons Hotel, Limassol
If you are a vendor or a fellow blogger and would like to share your story with our readers, feel free to contact us! We would love to get to know you and share your story.