The perfect clothing makes you super confident in yourself. And well, everybody needs the positive energy.
However, fashion sdressing up chic and according to the trend might not be everyone's cup of tea.
But you sure can make it your own if you know the right tips and tricks. Which will help you look amazing, according to the trending style for the year. These aren't some complicated tips, in contrary really simple. It will surprise you to know they can just spice up your everyday looks.

These tips won't only help you look right on fleek at a party. But whenever you will go, your glam will be on point.
Make sure you keep making changes to your closet
Decluttering your closet is one of the most important things you should do. If you do not have the idea of what you own, how will you be able to style your outfits and design what should be worn?

Give away things you don't feel like wearing. And be sure to properly organize your shoes in a shoe rack so you have everything needed for a person dress up, before you.
Match your tops and bottoms with each other
Ever seen the ramp full of different colors and funky outfits? It is not easy to wear them as it might seem. And majority of us are not able to do it. Therefore, be sure use fashion styling tips and to select top and bottoms which match well with each other.

This means from color combinations to the type of clothing being worn. Make absolutely sure that everything is right in place and you end up with something which is highly attractive.
Know the styles which will compliment your shape
So many people do not consider this one important fashion styling tip. You should be taking out the clothes you already own and wear them one by one. Make sure what suits your body and what doesn't.

If skinny jeans look perfect on you, be sure to get a nice collection of them. At the end of the day, you can wear anything, if it compliments your shape.
Know which colors go with your skin tone
Well, we have to admit this, not every color goes with every skin tone. So it is better to select colors of your clothes which will make you look like the real queen in every possible way. Colors that commend your skin will be a perfect thing to complete your outfit.

It is usually suggested for people with warm undertones to go with yellow, red, olive, gold etc. But people who have cooler undertones are suggested to go with black, white, grey, silver etc.
Search for a good tailor
Stuffing your wardrobe up with ready-made clothes is not always a good option. The hustle of alterations, never finding something that will properly go with your figure is very annoying.

A good tailor who is skilled in fashion styling will stitch your clothes which will be a perfect fit for you. You can also stitch the kind of outfit you always imagine yourself wearing but cannot find it anywhere. Moreover, it might even be pocket-friendly in many cases and well, who doesn't want or need that?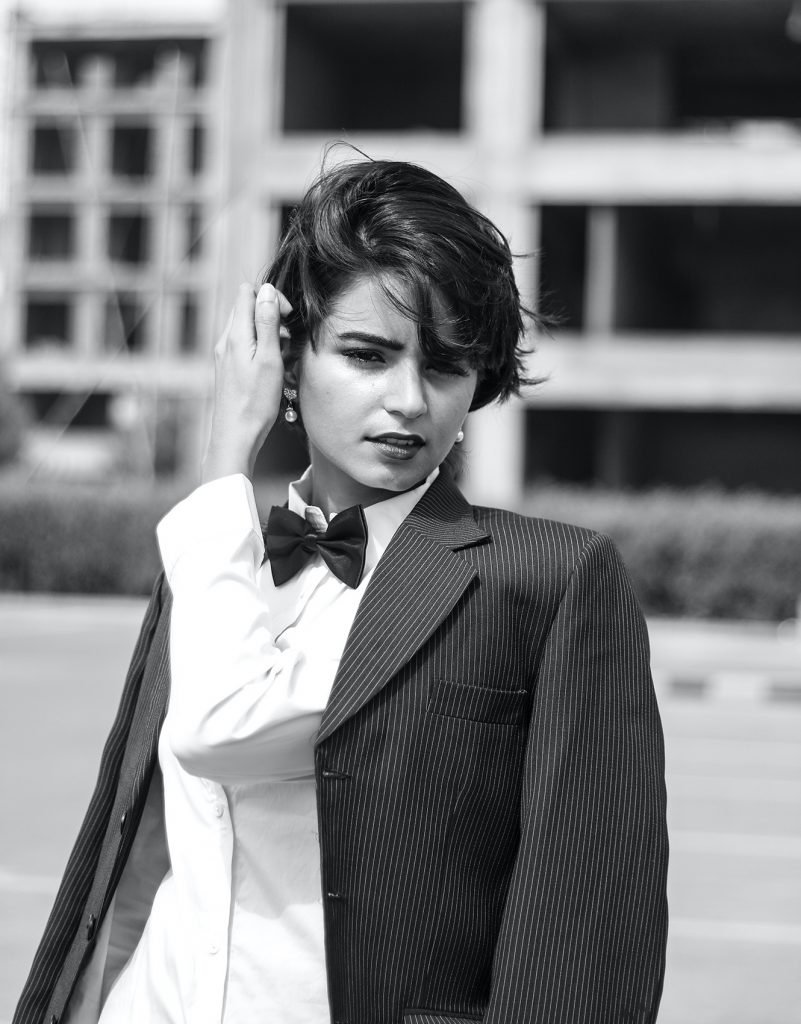 Only go for shopping when you are willing to hit the trying room
You had a busy day and must be super tired but have an event coming up? So you have to go buy an outfit the same day. As a result, you will not take the time to try the clothes and will only select the ones which look visually pleasing.

Not only can the sizes be different for every shop, but you never know if that specific outfit or clothing will look good on you or not. Also, you will need to put in some effort. To get a better idea about the outfit in the trying room, includes you preparing accordingly.

If you are planning on buying a dress, or a gown, be sure to try one some heels with i. This will give you better idea if the dress is the perfect choice or not. You cannot expect to wear sneakers and then buy the right kind of dress. Obviously, you have to make it worth the money and not let it go down the drain.
Take your time with accessories
So many girls and especially the ones that have a busy routine or are workaholic, do not get the time for the selection of accessories. However, if you have a big upcoming event, it is preferred that you pre-plan how you want to accessorize your outfit rather than leaving it for the last day.

Your hoops might just make the outfit many times better and the right belt might spice up things in the most chic way possible. And the most important fashion styling accessory includes carrying a handbag. The right handbag will give you a very popping look and will immediately catch the attention of people surrounding you.

You go for a simple outfit, but the right accessories can make things really interesting in no time. So, don't ever underestimate the important of accessories.
Keep the emergency items with you by the creation of a DIY styling kit
Even if you buy the most expensive outfit out there, you cannot expect it to stay put and all neat all the time. You might end up ruining your perfect outfit at a party or when you are outdoors by spilling something or by it being stuck with something and eventually tearing up from a certain area.

To have your back, what you need is a styling kit which you can create on your own and keep it with you on really important occasions in your handbag. The kit might include a needle, threads, matching buttons, and a bra clip – because the bra strap slipping can be extremely annoying, a pill remover, a stain remover, a double-sided tape, some safety pins and etc.
You can even put a makeup sponge with you. This will help you with the deodorant mark banishing.
Do keep some emergency outfits
The idea here is to pre-plan your outfits on the weekend for the upcoming week. Because you never know when you might be overloaded with work and will not have enough time to look through your closet.

Emergency outfits tend to save a lot of time and make sure that your classy look is something that has no compromises made on it whatsoever. Moreover, you do not want to be late to your work or do you? So it is highly recommended that you keep some outfits separate and properly paired. That is how you can wear them whenever your routine is jam-packed.
A white fitted shirt should always be present in your closet
They say that the key to a perfect closet or wardrobe is to have a right fitted shirt already in your wardrobe. Well we all know how white shirts can complement so many bottoms and so many colors. With your skirts, flared pants or shorts – white will be the perfect match in every way.

A white shirt not only looks stylish and all but it also looks pretty sophisticated. So on days when you feel confused, be sure to take your white shirt out without wasting time and pairing it in different ways.

And let's not forget to replace them when they get old or whenever you need. For extra organisation, you can also get two shirts.
The three jacket designs which should always be in your closet
Many do not know about this and well, the three jacket designs which the designers prefer you to have in your closet include: A denim jacket, a blazer and also a leather jacket. These 3 jackets work for different occasions and almost cover up all your needs.

The blazer will look perfect on formal events and the denim jacket, for causal days. However, if you have evening parties and events, then there's no better option than wearing a leather jacket which will make you the look like the spotlight and the center of attention.
Become familiar with the layering code
Days when you want to wear different layers of clothes which might be printed and plain but you might be confused because the layering code is not usually followed by people.

It is usually suggested that for this, you get the motivation from the best dressed celebrity stars because they might make your creative and designer part of the brain to wake up. You can even do some experiments. If you are not confident enough to go out when you are not so sure, simply try it in-doors in front of the mirror and if you still find yourself confused, ask for suggestions.
Add some mixtures of patterns to your wardrobes and don't let it be all plain
People are often very scared of doing things that might be unusual and one of them includes mixing of patterns. It is absolutely fine to mix your patterned top and bottom even the ones having a different print over them if they look nice together.
You have so many options such as floral, stripes and so much more.

This will literally make you look different in a cool way and yes, all eyes will surely be upon you.
If you have a casual outfit, you can spice things up a bit using a scarf
Let's just admit the fact that going for a scarf with a mute outfit can really make it look sophisticated and put together. Your simple outfit won't look as simple. This is the
technique that many celebrities go for as well.
Keep a look on what fashion icons are wearing and find some alternatives for them
We all have been there where we have seen a style icon or any random person wearing something that we eagerly wish to have in our wardrobe. No problem now because instead of searching through the internet you can simply do the reverse image search for clothes to not only find the exact outfit but even find some close alternatives for it which will calm your inner cravings and also help serve the purpose staying in the cost-effective range.

For the purpose of reverse image search, you can use software such as Google, Prepostseo, Bing and etc. these are compatible with numerous devices and will get you to the desired results in seconds.
DRESSING FOR SUCCESS? HOW CAN FASHION STYLING BRING 'SUCCESS'?
Do you know that dressing is so much more than just following the trend? It can be beneficial in numerous ways. Let's see how the right dress and proper fashion styling can bring success.
It makes you confident and self-respect is promoted
Obviously, if you dress in the right way and know how to carry yourself, you give an impression that you are confident and you have a lot of self-respect which is a great thing. People will view you as someone who is strong and would want to spend time in your company.
You will be the center of attention
Well, we all need attention at some point especially when we have a lot of competition around us. The proper dress boosts your energy and makes you the focus point.
Fashion styling makes you more motivated
As they say, your shorts might be really comfortable but they might as well make you super sleepy and lazy. So when you know you look nice in a certain dress, you will feel much more motivated to be productive and work with a very positive approach.
Your first impression really matters
They say, ''the first impression is the last impression'' and we cannot help but agree. Fashion styling and the visual aesthetic that you present to people is what makes you worth remembering. And one would want to meet you again for sure.
Article by Britni Oscar, a guest post for Ellwed
All images from Unsplash