Have you ever thought of having more than one wedding dress for your wedding? Well if you simply can't decide on just one, why not!?
Well, this wedding inspirations has not only two dresses, but three cakes and two reception dinner inspirations! Take a look at the day after shoot, the rehearsal dinner, wedding ceremony and reception ideas from the sunny Crete!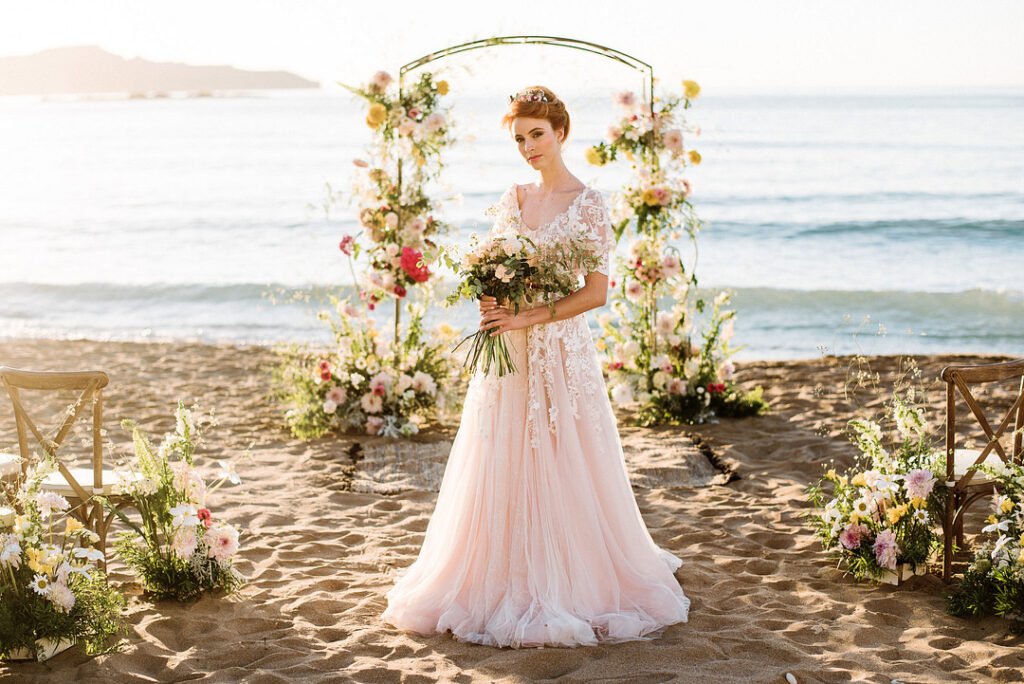 Many brides opt for more than one special dress for all the different occasions. If you are planning a wedding week or a bigger wedding celebration, then this rehearsal dinner, wedding ceremony and the wedding reception ideas will be just want you need to get inspired!
Don't be shy to go bold and change things up a little! Your events are separate occasions, so treat them this way. Not everything has to have the same design to it. Nonetheless, it should have your signature feel throughout!
If you are romantic souls, then go all romance! If you love natural rustic Greece, than this should be your focus. This wedding inspiration has it all! From the wild Cretan nature to the romantic sunset beach ceremony and the sunset reception inspiration.
From the photographer Andreas Markakis:
Late June on the island of Crete is when we found the best period for this photoshoot. The seaside private villa beach day followed by the next day bridal story photographed in Cretan village of olives and laurel groves!
From the sandy soft coast washed by the Mediterranean waves and warm Greek sun. To the Cretan history hidden among saturated greenery of traditional village. With its rocks and pale rustic walls stroked by years of strong sun rays and wind. We envisioned our wedding story in between two best natural settings Crete has to offer.
Beach Wedding Ceremony
This styled summer photoshoot started close to Chania town. At the exclusive for "Crete for Love event" sea view villa located right on the beach – Villa Glaros. Obsessed with shades of Greek island summer incorporating in one "canvas". We blended touches of lemon, peach, honey, cream, gold, sandstone and brushed those up with zingy and fresh watermelon and soft purple sunset colours.
While in Crete, it is only natural that wedding ceremony would take place on the beach. And best colors of natural light would be released at late sunset hour. Romantic and traditionally classic with discrete metallic arch and wooden cross-back chairs. Dressed up with bouquets of dahlias, roses, tulips, iris, lysianthus, freesia, chrysanthemum, peonies, carnations and even more we created comfort and coziness within complexity of ceremony that each couple seeks for their wedding day.
Dinner Reception
Mediterranean style of celebrating outdoor craved for modern twists. And so the heavy wooden village style table for al-fresco dining was matched with funky gold chairs, minimal of style and organic colours plates, carpet & golden silverware.
Playing around with floral centrepieces we aimed to propose two inspirations of more garden style diversified flowers set in high transparent vases for earlier in a day celebration and of an official lavish garland for the late evening.
Moreover, modern and classic, framed and less consistent. Mixing styles and structure with extending your wedding color palette from white and beige can come with an outstanding and flawless effect.
Digging into all wedding planning details, don't be shy to choose funky designs for your wedding stationary, wedding cake and change the classy look of festoon ambient lighting with touch of colour – yellow or pink. Why not?
The Day After Bridal Shoot
Inland Cretan villages must be a part of your love story where you will find serenity and rustic elegance of slow life.
Abandoned old houses and endless fields of local fairy tale nature will form a perfect background for your wedding images. Laurel leaves, fig and olive trees, wild vine leaves climbing rusty fences and hidden prickly pears will leave your images to look like a painting.
The Day After photoshoot took place in the heartwarming coziness of Embrosnieros village in Chania area named Apokoronas.
Wandering around old cottages, main village square, visiting local traditional cafeteria or "kafeneio". And historical tower of Alidaki built initially by the Venetians we felt that today's trendy boho and rustic terms found its organic roots.
Nothing more and nothing less was this bridal inspirational story with nature, history and sheep sneaking into best wedding pictures you can find. 
See the full gallery
List of vendors:
Wedding planner and design: Crete for Love
Photographer & Video: Andreas Markakis Photography
Video Filmed and edited by: Kostas Spanoudakis
The next day shoot location: Markakis Estate
Ceremony Location: Villa Glaros
Catering, Dinner equipment, Bar: Monterno
Wedding Cakes: Monterno
Lighting: Ultra Special Events
Chairs and décor details: Yiogia Xalakatevaki
Bridal dresses: Made Bride by Antonea
Bridal Shoes & headpieces: Savrani Creations
Jewellery: Fey Papanikou
Hair: Greg Hair
Make up: Maria Tzanakakis
Grooms' suit and shoes: Yannis Kalogeris, Ezzoe Xclusive
Stationery: The Blue Workshop
Models: Maria and Manos Markakis