Looking for historic Wedding Venues in Greece? Look no further! Here are the 12 Wedding Venues in Greece to have your rustic Italian Riviera style wedding!
Believe it or not, Greece is not just a white and blue country. On the contrary, you can actually find great diversity in styles, culture, and history in every Greek island or city. In our previous post, we discovered the medieval, Venetian city fortress of Monemvasia. Now, let's discover 11 plus places for your Chic Rustic Wedding, from around Greece.
Monemvasia
There are numerous hotels in and close to Monemvasia city. However, here are few of our picks for your big or small, private Greek Chic Rustic wedding.
Inside the city walls, you'll find Ardamis Hotel with beautiful greenery, modern authentic rooms and a terrace, perfect for your private personalized wedding.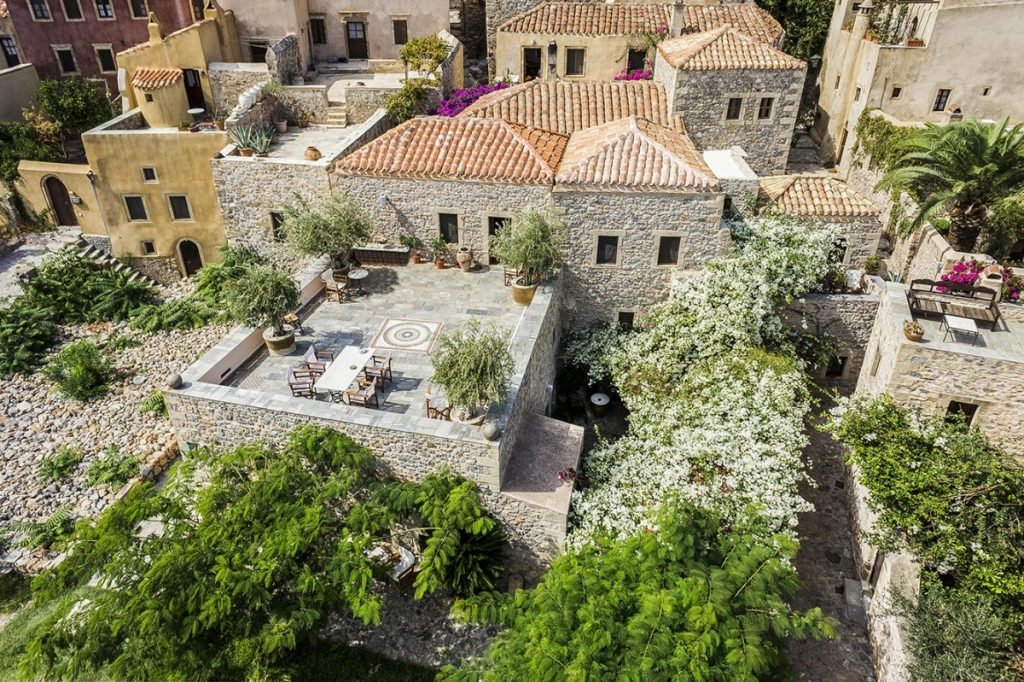 Photo from Ardamis Hotel
Before reaching Monemvasia, just outside the city walls, you will see the beautiful Lazareto Hotel with enough space to accommodate you and your wedding party on their lush green gardens.
Photo from Lazareto Hotel
Kinsterna Hotel, or better yet Kinsterna Mansion, with its vast estate, can be a perfect venue and getaway for your wedding party. From history to gastronomy and private winery, this hotel situated among serene vineyards, olive groves and citrus trees is a dream come true for every bride looking for a chic, idyllic, countryside inspired superior venue. Certainly very popular among Wedding Venues in Greece.
Photo from Kinsterna Hotel
Corfu
Contrary to Monemvasia, Corfu is an island higher up in Greece in the Ionian Sea. Closer to Italy, the island is rich with Greek history and the influence of Italian styles and Venetian architecture. Full of medieval fortresses, the main city was officially declared as "castle city".
Just outside Pelekas village in Corfu, you can lose yourself in the beauty of the Boutique Maison Villa Cecilia. Moreover, a perfect for bespoke weddings, where you can enjoy the beauty of Greek countryside nature with all of its luxuries at your fingertips.
Photo from Villa Cecilia
As the name implies, the Venetian Wall Restaurant, is certainly one of the most historical restaurants in town. With beautiful indoors and terrace, in front of the historical Venetian wall, overlooking Kremasti Square. You can also ask them to cater for your wedding.
Photo from Venetian Wall
Azzuro Villa, set in a private garden with swimming pool. Just a short distance from Dassia and Agios Nikolaos beach, you will find this lovely villa, perfect for your private event.
Photo from Vilotel Collection
Don't miss this perfect Mediterranean honeymoon retreat for 2 in this peaceful rustic Ithica House. You will fall in love. Ithica House, located in Rou, Corfu for the ultimate chic & stylish retreat or honeymoon!
Photo from Cool Stays
Crete
Major islands in Greece such as Crete can cater to all your styles and design visions. From popular chic beach weddings to secluded lush countryside weddings in villas, wineries, and farms. You can find it all in Crete. Today we'll present some of the rustic weddings and venues that Crete has to offer.
Agreco, the farm with traditional organic farming, a tavern with fresh organic farm produce and the best traditional Cretan cuisine. You can find olive groves, vineyards and so much more for your special event at Agreco Farm in Crete.
Photo from Agreco
The Elounda Mare Hotel with its private gardens, beach, royal suites, and bungalows, providing you with everything needed for your accommodation and wedding venue.
Photo from Elounda Mare Hotel
Taste the best wines of Crete at the Dourakis Winery. Hosting art exhibitions, concerts, wine tastings and of course private and bespoke weddings. Bring your rustically inspired wedding to the next level at the Dourakis Family Winery.
Photo from Dourakis Winery
The restaurant and Hotel Veneto in the center of Rethymno will take you to another century. The beautiful authentic modern and yet rustic decor of the place will be a perfect location for your intimate wedding in Crete.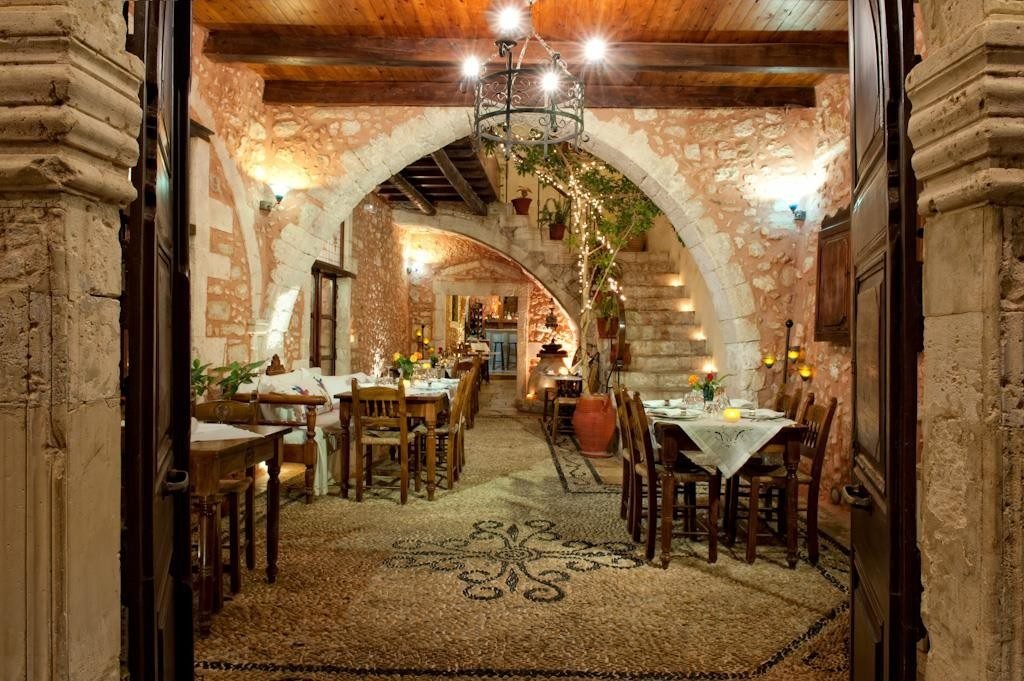 Photo from Veneto
A cluster of guesthouses, Metohi Kindelis, are Eco-friendly villas, with private terraces and beautiful nature that always have their guest's comforts in mind. Combine luxury with authenticity and design. The best possible place for your event, if you desire pleasure with artistic sense and serenity.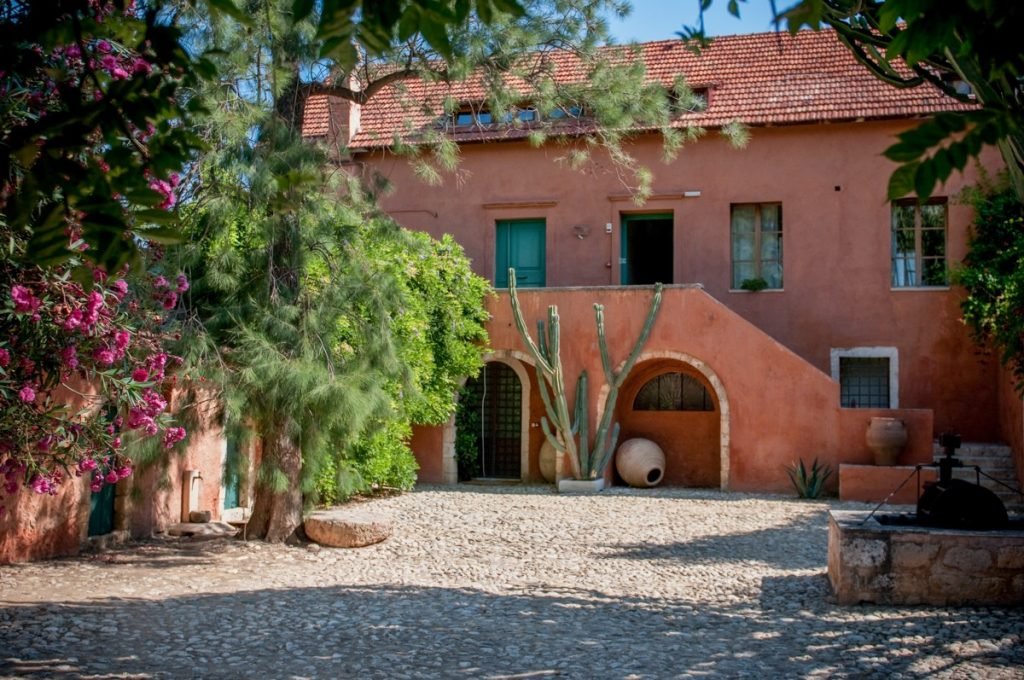 Photo from Metohi Kindelis
Was this article helpful and inspirational? If you know a bride or a groom that is planning a rustic chic "Italian feel" wedding in Greece, share this article and help your friend make correct decisions