In this new episode of Ellwed Talks, we talk with Magdalena Sofia from All things Beautiful about Finding The Right Venue For Your Destination Wedding
Known for her signature luxe minimalist style, organizational excellence, and vast international experience, Magdalena's destination wedding planning studio – All Things Beautiful – has quickly become noticed by couples and industry alike, being published in esteemed titles like Ellwed or the Together Journal.
Behind the success of her wedding planning studio, lies Magdalena's unique background. A mix of various experiences across the fashion, design, and media industries. Starting during her University years, she contributed to one of the leading lifestyle magazines in Poland as a fashion and design journalist. She had the pleasure of interviewing legends like Mr. Kenzo Takada, Agatha Ruiz de la Prada, and Serge Lutens. As well as serving as a judge at the biggest young fashion designers competition in the country.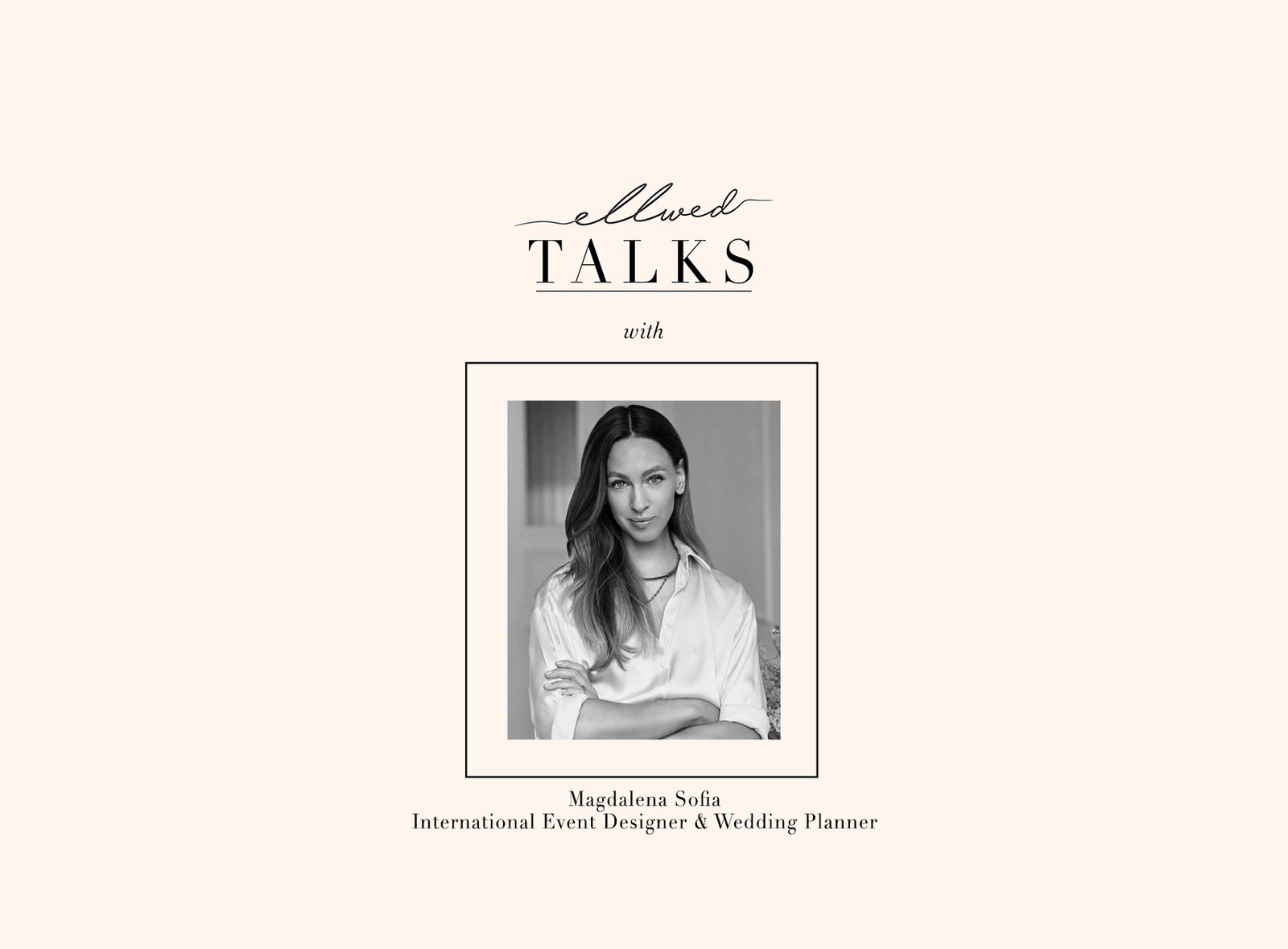 After graduating from social animation and literature in Poland, followed by Fashion Visual Merchandising and Design in Italy, Magdalena was offered a career opportunity, at a commercial interior design company in Hungary, furnishing some of the most renowned hotels like Hilton and Marriott, as well as multiple restaurants and cafes around Europe.
Later on, she changed the direction of her career, exploring the media and PR industry at an international media agency in Madrid. Which gave her the opportunity to live and work in over 10 countries – from Southeast Asia, through Europe and the Middle East, to the Caribbean and South America.
All of her prior experience in design, organization and travel, led her to start All Things Beautiful. Planning & throwing fabulous destination parties for couples from around the world, who share the same passion for architecture, design, and travel.
Planning & designing destination weddings across Europe and the Mediterranean, together with her background in interior design and Magdalena's keen eye on aesthetics of architecture gives her the exact understanding of Finding The Right Venue For Your Destination Wedding.
In this Episode about Finding The Right Venue For Your Destination Wedding you'll learn:
Where to start when choosing your destination
How to make the right choice and what can influence your destination choices
How the right venue does not need much transformation for the perfect wedding
What is treding right now
How to aproach the venue seach and much more!
See some of Magdalena's Venue suggestions for Your Destination Wedding:
"If I were to tell you my recipe for the perfect destination wedding, it would certainly go something like this: Warm Mediterranean sun, breath taking sea views, staples of local cuisine on the menu, and… great design."
1. Milos Cove
Inspired by the island's lunar-like dramatic landscape, that is to say, Milos Cove is the perfect venue for those looking for something out of the ordinary among the Greek islands.
Moreover, Milos Cove puts a contemporary spin on the "white house by the sea" aesthetic Greek islands are usually associated with. Instead, it embraces the volcanic greys, softened by shades of beige allowing for a sophisticated yet unpretentious feel.
Where: Milos
For who: Explorers at heart & couples dreaming of a different kind of island wedding
Why we love it: Firstly, epic ceremony backdrop potential
2. Dexamenes Seaside Hotel
A post-industrial space turned into a chic boutique hotel, with old wine tanks transformed into modern, elegant suites? No need to pinch yourself, it's not a dream, it's Dexamenes hotel.
Designed by no other than K-studio, this hotel has everything. Clean lines, raw, almost rough textures, complemented by the excellent choice of furniture and finishes, above all.
Allowing for complete exclusivity, this daring venue is perfect for a bigger yet private celebration, and all while marvelling at the stunning sea views.
Where: Kourouta, Peloponnese
For who: Bold minimalists looking for a 360 wedding experience and a big, fun party
Why we love it: "Certainly not your typical wedding venue" in the best way possible
3. The Wild Hotel by Interni
The essence of relaxed luxury infused with an authentic Mykonos experience. In other words, this is the type of venue design-loving, cosmopolitan couples will fall in love with.
For instance, sitting right on the cliffside this venue offers a real, almost unspoiled island feel, carefully balanced with contemporary design.
Perfect for brides & grooms looking for world-class comfort surrounded by pristine nature. Where ceremony backdrop opportunities are certainly endless.
Where: Mykonos
For who: The wild at heart, eclectic travellers
Why we love it: Quiet luxury feel and secondly, Mediterranean lied-back coolness
Find Magdalena:
Website: www.atbweddings.com
Instagram: @allthingsbeautifulweddings
Thanks to The Myconian Collection for supporting Ellwed Talks!
A local family-owned group of eleven outstanding luxury hotels, The Myconian Collection is located on the legendary island of Mykonos that offers savvy guests a variety of the most fascinating venues. The white-washed private chapel, Avant-garde Thalasso spa centers, gourmand restaurants, and magnificent wedding venues for up to 1000 guests.
Situated on the unspoiled Elia Beach which is renowned for its fine sand and crystal waters. With personalized support, excellent food and, of course, the impeccable service that the Myconian Collection is known for, your ceremony can be an amazing outdoor experience overlooking the breathtaking panorama of the Aegean Sea and unforgettable sunset.
Book your stay at www.myconiancollection.gr
Listent to Ellwed Talks on Apple Podcast, Spotfy or here:
Find out all you need to know about Diamonds & Engagement Rings in this episode of Ellwed Talks – the first podcast about destination weddings in Greece, where we talk with Payal & Kajal, Co-Founders of Sonu Company. Payal and Kajal Vitha are 3rd generation jewelers following in the footsteps of their father who leads the market in the jewelry space in Southern California. Both majoring in Business with an emphasis in Marketing and Entrepreneurship, Kajal works at her family's store, while Payal recently went full-time running Sonu Company. Through their own personal experiences and the struggles their friends faced when wanting to start the process of buying an engagement ring, they realized that they were not getting transparent and honest answers. They weren't given the right information to make an informed decision when it came to buying an engagement ring, so they started their own brand, Sonu Company. In the past year, they've expanded their business to include everyday jewelry, but still find that the main interests lie within the custom engagement ring space. https://sonucompany.com/ https://www.instagram.com/sonu.company/ https://ellwed.com/all-you-need-to-know-about-diamonds-amp-engagement-rings/ SPONSORThanks to Events Music for sponsoring this episode! So, you are planning your wedding in Greece and your main priority is a good party! Well, let me tell you, you should definitely get in touch with Panos, the founder of Events Music! Talking from personal experience, Panos and his team of highly trained professionals can deliver what you want! Using state-of-the-art equipment, Events Music offers a first-class bespoke approach to all your audio/visual needs with tailor-made Sound & Light Design Concepts. With more than 25 years of presence in the luxury events space, Events Music can bring your high-end wedding party experience to life! Create your glamorous event, with mirror finishes and live visual LED panels, because no detail is too small. Visit www.eventsmusic.gr for the party of your lifetime! ON ELLWED: Read more on ellwed.com/podcast Get the Ellwed Magazine at ellwed.com/magazine Follow @ellwedmag on socials for wedding inspiration from Greece. Share this episode and help couples with their destination wedding planning process — Send in a voice message: https://podcasters.spotify.com/pod/show/ellwed/message