Eilidh and Tom wanted an alfresco traditional Scottish wedding in Santorini, before alfresco weddings were trending all over the world!
They got married before the pandemic and they had the time of their life! If you're planning a destination wedding in Greece, draw inspiration from this real alfresco traditional Scottish wedding in Santorini. Eilidh and Tom wanted to incorporated traditions from home and Santorini, their chosen destination!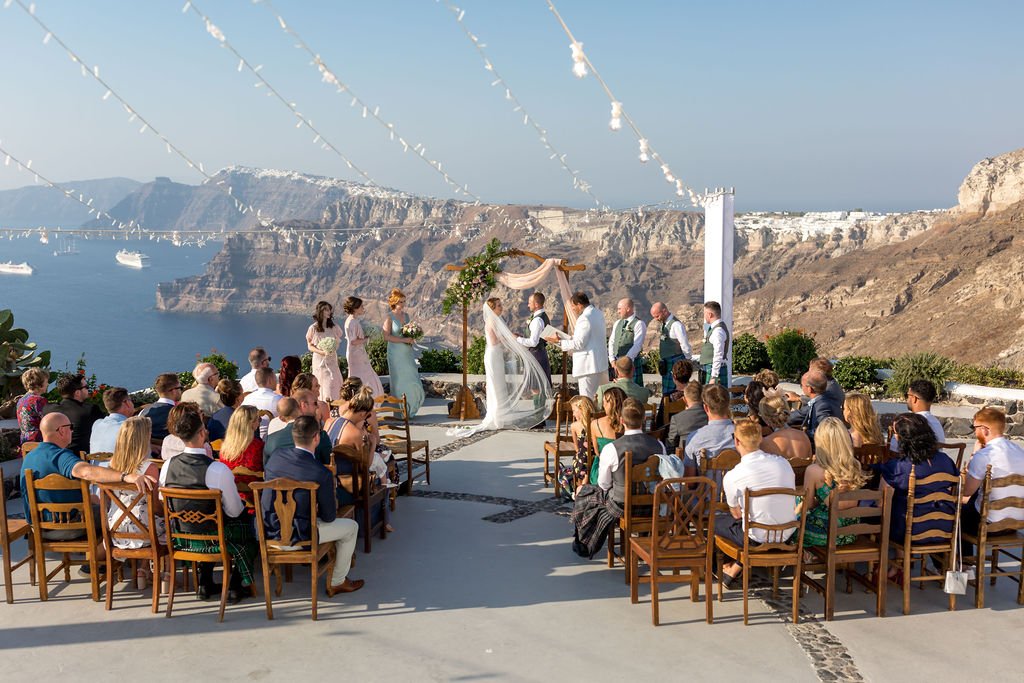 From Flora of Unique and Forever Events
Our beautiful couple Tom and Eilidh decided to leave their picturesque Scotland for another jaw dropping view, first class destination. The famous Santorini Island.
Since they both are adventure travellers they wished for a two day celebration all over the island. So, for this alfresco traditional Scottish wedding, we have decided to carefully mix tradition with all the things Santorini has to offer.
In a traditional Scottish wedding, there's a lot more to it than just wearing a kilt! There are plenty Scottish good luck rituals and romantic customs you can incorporate into the ceremony. As well as your reception dinner and your bachelor or bachelorette party. To that end, we have organized girls only beach party on a popular beach bar in Santorini, on the day before, and a catamaran cruise for the groom's friends.
The groom with his friends sailed to the famous Red beach, White Beach and Hot springs while enjoying a pub-like party on board! While the girls had their dream bachelorette party at a beach with cocktails, massages and music.
On the wedding day our venue Venetsanos was decorated with creamed tablecloths, beautiful vintage wood chairs and white king roses. Eilidh's wedding dress was decorated with a silver belt. Which reminded white heather (a popular good luck token) widely used in Scotland.
The overall theme of this vintage Scottish wedding reception had a beautiful twist of sitting guests on places they have visited or their homeland. The night was filled with a lot of whiskey, fairy lights, Scottish live music, dancing, and having fun on a majestic, mesmerizing night.
From the bride:
How did you meet and how did he propose?
Tom and I were friends for many years, we grew up in the same town together in Scotland. And after about 5 years of friendship, Tom finally plucked up the courage to ask me on a date!
We were on our second holiday to Santorini… on our first day we went on a winery tour and we saw a bride and groom setting up for a wedding at Venetsanos. I took a photo and said if I ever got married, that's where I wanted it to be… later that evening, Tom got down on one knee! I had no idea it was going to happen and spent the first five minutes giggling!
Tell us a little a bit about your alfresco traditional Scottish wedding
Our wedding day consisted of a weeklong celebration in Santorini. As 54 of our closest friends and family all flew out from Scotland to Fira to meet us there. We enjoyed a hen and stag doo on the island 2 days before the wedding (a beach club day for the girls and catamaran for the boys!).
On the day itself, we didn't have the most relaxing start as like any wedding, we had a few blips. Our guitarist flew over from Edinburgh and the airline lost his guitar, so our wedding planner was tasked with finding a replacement on the island, which all worked out in the end!
The theme we wanted was all centred around being relaxed and informal, with attention to detail in areas that meant a lot to our family. The style was rustic chic, with natural tones and colours with mismatched furniture and antique accessories.
For us, a wedding in Santorini was all about the view. So the view from the winery was perfect, plus we love wine. It seemed like a match made in heaven! We wanted the whole day to feel like effortless chic opposed to being too formal or structured in feel.
After that it was time to relax. We got ready with my bridesmaids in a stunning cave villa in Imerovigli with professional hair & makeup artists and Prosecco! Whilst the groom relaxed with his family in Kamari.
Tell us about your attire choices.
For the wedding dress, I always knew I wanted something simple, classic and timeless. I thought finding a dress with no lace, tulle or ruffles would be difficult however it was one of the first dresses I tried on. I wanted to look back in 50 years' time and think: "That dress still looks good". Accessories were kept equally as minimal, with strappy Jimmy Choos, single layer Cathedral length veil and diamond bracelet & earrings.
For the groom, as with most Scottish weddings the only choice was for a full kilt outfit. Tom's kilt tartan is named 'The Spirit of Scotland' and we wanted to make sure we brought a little Scottish spirit with us to Santorini.
What was the most important to the two of you while planning? Was there anything that you chose to splurge on for your alfresco traditional Scottish wedding?
I was one given advice that stuck with me whilst planning our wedding, to splurge on things that you and your guests will remember and skip the things people don't.
Tom is a big lover of cars, so we opted for a vintage Speedster and we are so glad we did as the photos are amazing. I arrived to Venetsanos Winery where the ceremony & celebrations was held, with my father in the vintage roadster.
The little details such as antique chairs for the ceremony & reception made a huge difference to the overall look & feel of the decor so that was money very well spent. Along with the ceiling of fairy lights and flower archway for our ceremony.
All of these choices wouldn't have meant much without opting for fantastic photographers and videographers who captured it all, so we can relive the day whenever we like!
We skipped a wedding cake, it may be tradition but it was something we personally didn't mind. We opted for traditional Greek sweets opposed to a cake, which went down a treat!
What were your favourite parts of the day?
Walking down the aisle and tying the knot is a feeling we won't forget, we are so glad it was captured on video as it was all a bit of a blur on the day! The speeches brought the best laughs especially the best man, which we talk about often to this day. We flew over a singer from Edinburgh who helped us party & dance into the night. A mix of popular and traditional Scottish music brought everyone together.
The best feeling was having all our closest friends & family 2,600 miles away from home together on the island. It was really touching how much effort and distance everyone travelled to be there, just for us. We felt extremely loved!
Our day was made so special by all our vendors and wedding planner. Down to every single detail, it was perfect and nothing had gone without thought behind it.
Tell us about your wedding flowers.
Our flowers were natural in colour with a hint of romantic pink & purple to accent the bridesmaid dresses. The bridesmaids carried a simple bouquet of Baby's-breath. Each table at our reception had a simple cream rose and we chose a beautiful wooden flower archway for our ceremony.
What did you do for favours and did you have any DIY, handmade, or personal details?
For our alfresco traditional Scottish wedding we used our favours as name cards for our seating plan at the reception by tying a brown tag to each printed with guests names. For the gents, a small bottle of Bowmore Whiskey and for the ladies, a wooden fan personalised with our wedding date.
Our tables were named after our favourite countries and cities we have visited together. Our wedding planner however, helped make a wooden board from a pallet to display this. The favours and place cards were put together by myself by simply using brown tags, rope and stamps.
Did you include any family heirlooms or special traditions?
We had a table featuring photographs of our Grandparents who could not make it to Santorini for the wedding as they were either not with us any longer or too elderly to make the journey. It made it feel like they were still a part of the day.
We also included heirlooms such as the Bible of Tom's grandmother which she carried down the aisle on her own wedding day and my grandma's rosary beads. Both of which are very special. I also carried a crystal from my mother down the aisle with me and had a lucky sixpence in my shoe given to me by my chief bridesmaid.
Do you have any advice for couples planning their wedding?
The best piece of advice is to simply relax and enjoy every second. Don't put pressure on yourself to make everything go absolutely to plan, as that isn't life! Whatever happens, whether there's ups and downs along the way, everyone will have a fantastic day and memories as you can't go wrong with a wedding on such a beautiful and scenic island.
After the ceremony Tom and I snuck off with a wine and beer alone to overlook the view and take a second to soak everything in around us, something I would recommend to any couple on their day as it's a moment we won't forget.
The Gallery:
See the Video:
Get this look:
Photography & Videography: Dream On Photography
Reception & Ceremony Venue: Venetsanos Winery
Event Planning: Unique and Forever
Floral: Santorini Flowers
Hair: Marianna Nomikou
Makeup: Eleni Iliopoulou
Rentals: Weddings and Whimsy
Catering: Santorini Catering
Lighting: Events in Santorini
Vintage Car: Santorini Motor Club
Wedding Dress and Veil: Ronald Joyce
Groom's Attire: Clan Kilts
Bride's Shoes: Jimmy Choo
Bridesmaid Dresses: Ghost
Submitted via: Matchology