For our last blog post of 2017, we decided to reflect on our beginning and to celebrate all the amazing vendors we had the pleasure to encounter since the start.
We can't be happier to see our community growing with each issue we publish.
If you haven't already, join our community on our Facebook page. Many amazing professionals in the wedding industry from Greece and around the world are hanging out at our Facebook community group: Ellwed Pros Community!
Our Brides, we welcome you to our safe place: Ellwed bridal community, where all your questions about Greece will get answered and where you can find your perfect wedding team.
We can't be more proud of our first 3 issues and all we accomplished this year. Sure, beginnings were tough, but with each issue we tried to make it better and in 2018 we are planning for even more new surprises to come!
Let's Grow Together!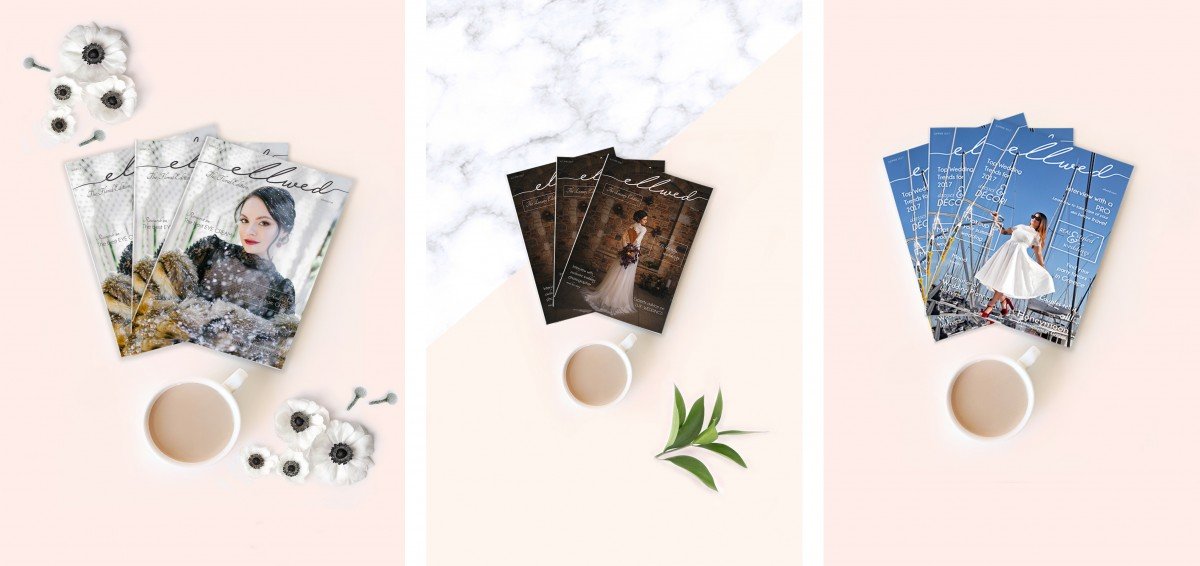 The best wedding of 2017
With this last post we want to celebrate the best styled and real wedding we had the privilege to host in our magazine. Read on to discover how we did this and who are the proud winners:
How we chose the best wedding and the best inspiration?
First and foremost, the story must be published in our magazine. Then we are looking for unique ideas, we focus on the theme, trend factors and the overall look. We are also paying attention at the style and the quality of photography, as well as:
The design
New, inspirational ideas
Different, unique elements
The location – in Greece
Magazine worthiness
The story behind the shoot
Current – up to date
The final decision is then down to personal and expert opinion.
Best of weddings
For the best wedding in Greece we chose this destination love story from the little island of Folegandros, which ticked all the boxes! Although, there was some tough competition from our previous issues, we could not look past this creative and extremely romantic couple and their whole group! This wedding was the winner for many reasons. The beautiful and innovative décor, different ceremony with special vows and ring exchange and then also their positive energy that is just radiating from the photos. We want to thank Bobbie Karagianni from Sand+Lace Events, for organizing and submitting this Real Romantic Wedding to Ellwed.
Vendors List:
Styling and coordination, Sand+Lace Events
Ceremony venue, Fata Morgana
Restaurant, Eva's Garden
Party, Patitiri Night Club
Photographer/ Videographer, Aaron Delaney Photography
Floral décor, Moustakis Flower Company Naxos
Musician, Marios Papadeas – Santouri player and singer
Best wedding inspiration of 2017
This one was difficult to choose from since we had so many beautiful submissions of extremely talented Greek vendors from all over Greece. It was a very close call between several amazing inspirations, but our winner is this incredibly inspirational shoot from Kea/Tzia. This shoot ticked all boxes and more. What truly made this the winner was the presentation of this unique handmade hammock by Gianna from Boho Choco, placed inside the sea. Every styled shoot needs at least one unique element of inspiration, and this was it for this shoot. We want to thank Peggy from I Wish Chic Events for organizing and submitting this Inspirational Styled Shoot to Ellwed.
Team Credits:
Concept-planning, I Wish Chic Events
Photographer, The Cab Look Fotolab
Videographer, Nikos Fragoulis
Venue, Villa Achillios
Flowers, Studio 7
Bridal Dress, Ioanna Kourbela
Groom's Attire, Hugo Boss
Stylist, Spiros Savvinos
Models, Ace models Agency
Make up – Hair Stylist, Marylou Tziveleki
Stationery, Atelier Invitations
Hammock macramé, Boho Choco
Cake, The Cakers
Tableware, White Lilac
Rentals, Stylebox
Now, all vendors on the winning teams, claim your badge and wear it with pride!
2017