The new season of Bridal Fashion is just behind the corner.
We are looking forward seeing the new collections form some of the best Greek and International bridal designers at this years Bridal Fashion Week at the Bridal Expo in Zappion in Athens.
Here are some moments from last years Bridal Fashion Week catwalk captured by George Stratigis
Photos by George Stratigis
And this year it's going to be bigger and better!
Athens' most glamorous event, the annual Bridal Expo and Bridal Fashion Week, which exceeds over 10.000 visitors and attendees, is happening from 11th-13th January 2020 and we will be there!
The famous Bridal Fashion Week is organised alongside the Bridal Expo, under the artistic direction of the celebrity Greek fashion expert Michalis Pantos, of Greek Next Top Model, Greek Vogue and fashion editor with 30 years of experience. This is the perfect occasion to see and choose your dream bridal gown!
We are happy to announce the further designers who will be showcasing their new bridal designs for the 2020 Wedding Season! Come and see the 2020 catwalks of: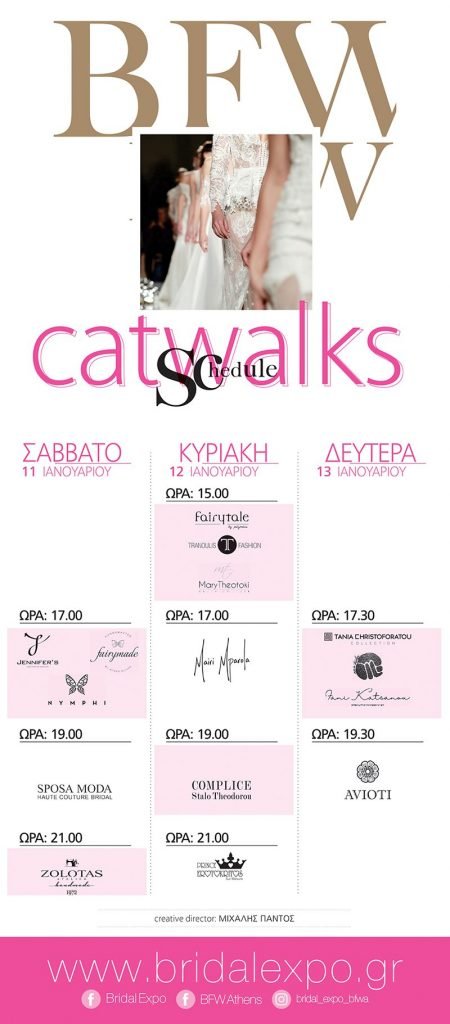 Saturday 11th January 2020
At 5pm
Jennifer's
Fairymade Bt Myrto Kliafa
Nymphi Design
At 7pm
Sposa Moda Haute Couture Bridal
At 9pm
Sunday 12th January 2020
At 3pm
Fairytale By Polymnia
Tranoulis Haute Couture
Mary Theotoki Haute Couture
At 5pm
At 7pm
At 9pm
Monday 13th January 2020
At 5:30pm
Tania Christoforatou
Maria Tagalou
Fani Katsanou
At 7.30pm
We will be covering this years Bridal Expo and Bridal Fashion Week as well, so stay tuned and follow our stories and live videos if you cant join us!
However, if you will be in Athens on January 11th, we invite you to party with us at the the Bridal Expo in Zappion at our fist Ellwed Bridal Party!
Now get inspired by these moments from previous Bridal Fashion Week reportage from Bridal Expo 2019 by George Stratigis
Costantino
Reserve your dates from 11th-13th January 2020 and you at the Bridal Expo Party!