Panoptis Escape is situated on the top of the hill, offering panoramic views of the whole Elia cove. A brand-new vacation experience designed by the Myconian Collection. Overall, a tranquil cluster of luxury venues on the gorgeous southern coast of Mykonos.
Located at the Elia Beach in Mykonos
Popular with many travelers, this golden sandy beach is surrounded by the glittering coast of Mykonos. As Cyclades are certainly famous for their windy nature, this wind-sheltered cove is perfect for your quiet vacation, honeymoon, or celebration!
As a guest of Myconian Collection and Panoptis Escape, you can surely enjoy your personal beach paradise. Elia is a private and quiet cove, just a short walk away, descending down from Panoptis. Literally unspoiled, where you can relax on a luxurious sunbed!
The city of Chora or Mikonos Town is just a short drive away on this world-famous cosmopolitan island. In other words, this iconic main town or Chora, with its whitewashed houses, is the perfect escape. An absolute dream destination for travelers who want to create unique memories. This fashionably laid-back destination has a strong and understated personality that reveals its true stature to those who want to see it.
Welcome to Panoptis Escape
A brand new boutique hotel of the Myconian Collection, is the once-in-a-lifetime opulent experience. Where the first part of its name translates as "where man meets his gods", Panoptis Escape more than lives up to its ethereal philosophy of pure relaxation.
It's an ensemble of boutique villas with the unobstructed views of tranquil nature and turquoise infinity of the Aegean Sea.
As a guest, you will be above everyone and beyond everything ordinary! Taste the joy of being in harmony with the sun from dusk till dawn. Observe the spectacular and unique sunsets directly from your villa and become one with your surroundings!
THE ESTATE
Literally rooted in the rocks the Panoptis Escape offers you a majestic estate with an idyllic exterior design. Taken from the natural beauty of Mykonos. And the interior design, inspired by the Aegean aesthetics with raw natural undertones, will transport you to another world.
Fulfil your wildest desires! Whether it's an exceptional private dinner, a rejuvenating treatment, a world-class spa treatment, a custom expedition to the sunny shores of Mykonos, a helicopter charter or a private yacht charter, their team is there to provide you with the best.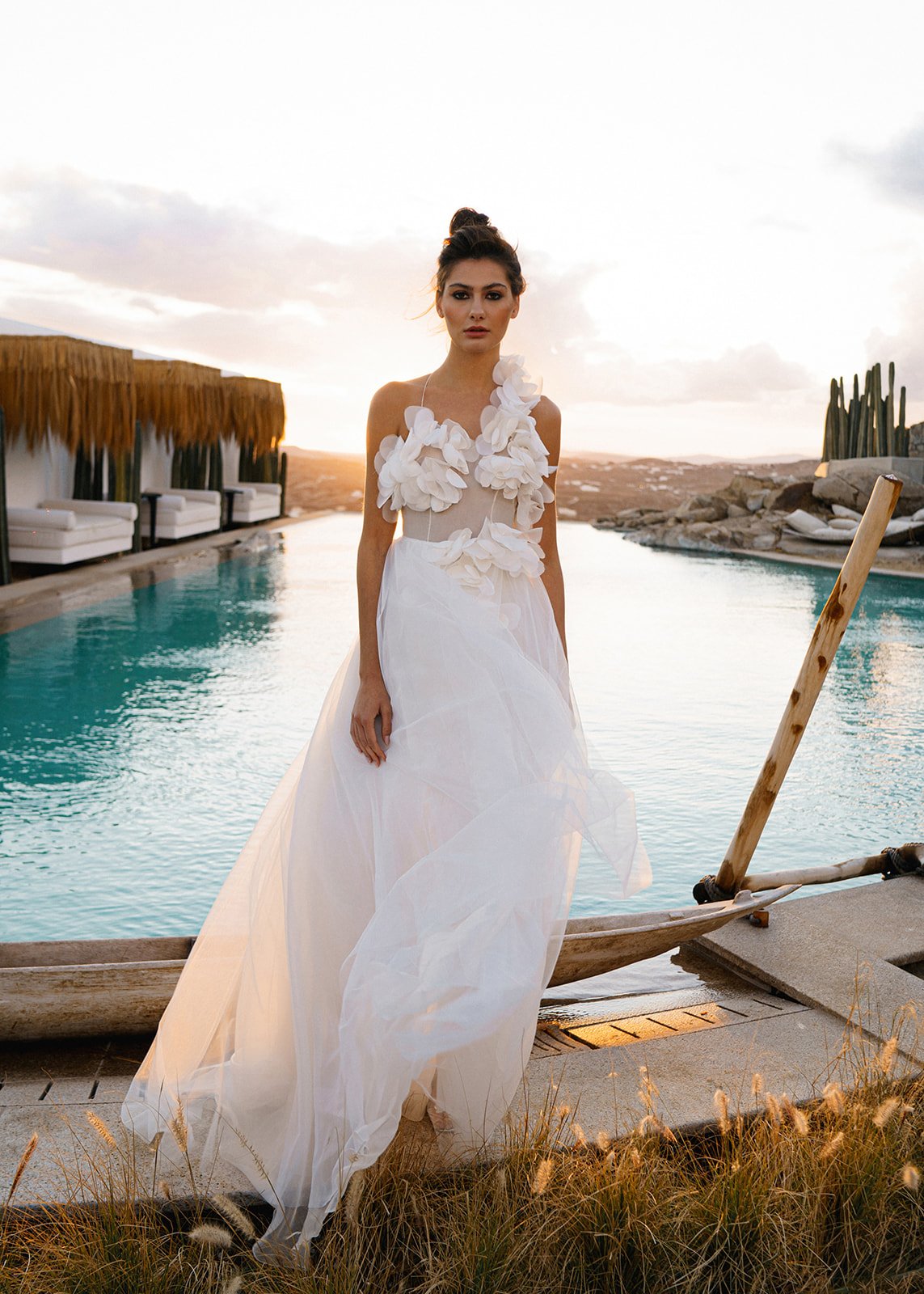 Next to a private helipad area that can fit up to 3 helicopters and private parking areas you will also have access to private section of Elia beach and a spa suite that offers a wide range of exclusive personalized treatments.
Embark on a journey which you will remember for the rest of your life. This is the ideal place for those who are looking for something relaxing, authentic and in connection with nature. A wonderful place that will make you rediscover the landscapes of Mykonos.
ELOPE AT PANOPTIS Escape
The estate is perfectly designed for smaller and micro weddings as well as elopements! Enjoy the island barefoot living while you escape to Panoptis!
Suitable for up to 69 individuals, The Panoptis Escape villa provides also a welcome area, lounge, open-air bar, restaurant facilities and an ample space for any kind of celebration.
With the long family-style table designed from one single tree trunk, your guests will enjoy the private party on the top of the hill. All this with spectacular views of the unique pool surrounded by picturesque trees. Meanwhile, the sunsetting right into the sea below!
Have your photo shoot in the stylish room and celebrate with champagne and your bridal party in the private terrace of your villa! And if you're eloping, there's certainly no better view for just the two of you!
THE HONEYMOON RETREAT
A perfect place for your honeymoon for example. With its large rooms complemented with private sandy beach and infinity pool with magnificent Seaview, 21 bedroom Villa Panoptis will be your ideal cocoon.
Book your sensual room with private indoor Jacuzzi and generous outdoor lounge for relaxation on the sun. A place where discretion and loyalty certainly make everyone feel well looked-after.
Allow your physical nature to be spoiled. Let the luxurious amenities, unparalleled comfort and personalized services elevate your desires.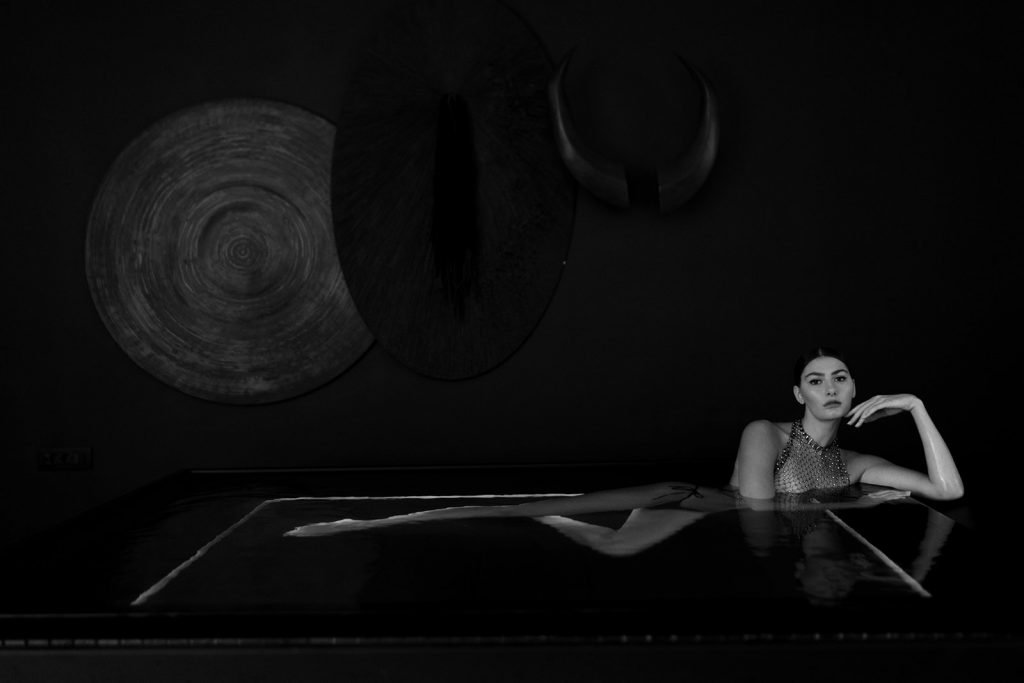 The Greek Succession Story of the Myconian Collection Hotels
Similar to the popular HBO series Succession, The Myconian Collection hotels story started with a dream of one man and his wife. From humble beginnings building the first hotel with their bare hands. To now, a full collection of 10 hotels & villas, with Panoptis Escape being the newest edition!
The succession built for the generations, four brothers growing up in the hospitality business knew that this business was meant for them.
"Our parents built the Myconian Collection from the ground up and my brothers and I are as proud of our roots as we are of how much we've grown"

says Vangelis Daktylides.
Personal touch and attention to detail resulted in a loyal clientele and a reputation that spread by word of mouth. The empire built for generations, with family traditions and values at the frontend is what separates his hotel business from the rest.
"Our parents sacrificed everything to create opportunity for us."

Vangelis Daktylides
Get this look:
Venue: Panoptis Escape by Myconian Collection
Photography: Roman Ivanov
Coordination & Organization: Ellwed Magazine
Styling & Design: Kiss from Fleur
Cinematographer: Anthony Venitis
Hair and Make-up: Michalis Tsotras
lingerie: Agent Provocateur & Dior
Muse: Alexandra
Wedding Dress: Tatyana Kochnova
Wedding Dress: Annika Maria Wedding Design
Florals: Petridis LV
Stationery & Calligraphy: studio vanhart
For Alchimeia