Sound and light design at your wedding is one of the most important aspects of your party! And if you agree with us that a great party is what makes your wedding or event amazing, then look no further!
Meet Events Music! They will take care of all your audio, visual and entertainment needs for an exceptional experience at your event.
If you are anything like us, you might not really care or understand much about the tech side of the audio and visual equipment. But one thing is for certain! You want the best possible sound and party experience at your event! In this case, you need to trust your professional team behind all the tech. Because the fancy equipment is not going to be utilized correctly, without the right professionals who know and understand their job.
Who is this Sound and Light Company?
With over 25 years of experience in the luxury events, Events Music offers bespoke approach to sound and lighting design! Among others, high-end experience and personalized touch are the core values of this company.
Events Music is also the first Audio/Visual company in Greece which offers bespoke mirror finish equipment to glamorize your stage. Such as lighting trusses, mirror aisle catwalk, and also DJ booths covered in mirror or high-end LED panels with live visuals.
An avid music enthusiast, co-founder, and owner Panos Tsilounis made his first steps as a DJ in 1988. His passion for artistic and operational excellence has made him one of the best in his field! And this is still the case today. Being a former DJ, he strives to work with the best and most current DJs, live bands, musicians and artist on the market. As we all know that the party is only as good as your entertainment professionals!
Photography: FotisSid
His company's track record, locally and abroad, consists of an ongoing success. And along with his team, they seek to create value by offering tailor-made services to any event they are involved with. Talking from personal experience, Panos and his team of highly trained professionals can deliver the event of your dreams! Each member of their team is qualified and specialized in their field.
"We are one of the leading event organizers in Greece delivering high quality and aesthetics results for all kinds of events"

Panos Tsilounis
Always looking ahead with innovation on their mind, Events Music was the first in Greece to introduce and design the mirror covered trusses, next to the already popular white and black covers.
Our advice: For the ultimate glamorous event experience, choose the mirror to blend within your venue and event décor!
Why is bespoke sound and light design at my wedding important?
It's only natural that you will want to consider the proper sound and light design concept for your event if you have invested your time and funds on your wedding venue, food, drinks and décor! As all those things go hand in hand to create an amazing experience. Your wedding look, style and venue might look immaculate! But if you lack on entertainment, your guests will not be too happy at your event! After all, they did come with you to celebrate your love and happiness!
Photography: Anna-Lena & Patrick Holz
If you're planning your wedding or event and your main priority is a good party, then you must consider the bespoke sound and light design as well!
The right lighting can create a certain mood for certain part of your event. For instance, you might want different lighting style during dinner time than the party time. Maybe softer lights or even spotlights during your first dance? And then surely more exciting or festive light show during your party time!
Your imagination can run wild! Consider elevating your venue with LED panels or LED walls with live visuals, which you can design in advice! Your overall mood of the event depends on the great sound and correct lighting design! The proper experts will know how to advise you and even anticipate your needs from their past experience.
Photography: Anna Steen
On top of the correct light which creates the proper mood, the quality and direction of the sound is also very important for your event.
Some venues might have sound restrictions. Or their licence restricts them to keep the volume at the certain decibels, which are regulated and set by law. And that's why it's wise to work closely with your sound engineers, who know what is possible in that case.
For example, to avoid problems and complaints from the neighbouring residences, Events Music work closely with their certified sound engineers, who can take the quality of sound to the next level. Having all kinds of speakers at their disposal, and depending on the venue, the area, the weather conditions and the kind of music you want (DJ, live band or both), they adjust their systems to achieve the best satisfaction for your event, without disruption. So you can party on carefree!
Photography: FotisSid
But let's hear it from the expert:
Panos explains:
"Using the best sound system like Syva, with the ability to listen the same best quality sound at 35 meters with no distortion, loudness and extra volume are no longer necessary.
Our custom made approach for every venue is our answer to any possible problem.
That's why we are the preferred partner at the best and the most demanding venues in Greece. Or we come highly recommended.
For example, recently we did a setup with two speakers and our signature mirror DJ booth for a private cocktail party in Athens. It was right above the busy avenue, called Attiki Odos, with a lot of car noise coming from the road! However, thanks to our amazing sound engineer, who created the right setup after his study of the environment and conditions we had to face, the cocktail party was a total hit with the perfect sound!"
So, how can Events Music help you for your event?
They can definitely help you organize all of the music aspect for your event. For example, finding the right DJ or the musicians, live bands or even live performers for your specific occasion. As the company is always investing in the latest technology, they have all the necessary equipment to offer the top quality acoustic experience.
Secondly, the brand can also take care of everything which concerns lighting! With the specialized light designer on their team, they will help you design the right style for your event. Let that be ambient, party lights, vintage, fairy lights, pin spot or up lighting. Anything is possible!
Photography: Magalios Bros
Additionally, to bring your event to completion, they can supply you with the top audio-visual equipment! Such as LED walls, monitors/LED TV's, projectors and screens. Depending on your needs, they can deliver anything concerning stages & dancing floors, backdrops, podiums, truss support and a variety of disco balls and different smog machines, to create a party of your dreams! Nothing is impossible for Events Music team, not even a stage inside the sea for example!
Back in 2017 the company was also the first to introduce L'Acoustics Syva in Greece. These unique speakers are perfect for the summer weddings and events at private villas on the Greek island such as Mykonos or Paros for example.
Fully qualified, their team can undertake any type of event. From weddings, private parties, corporate events, live concerts and even fashion shows. Specializing in destination weddings in Greece, they can travel to your desired destination. Creating bespoke sound and light design all over Greek islands, such as Mykonos, Paros, Santorini, Spetses and many more. Their unwavering professionalism allows them to achieve unforgettable experiences for their clients.
Now, get on designing the perfect atmosphere for your wedding with Events Music and create wonderful memories!
Create your glamorous event, with mirror finishes and live visual LED panels, because no detail is too small. Achieve the high-end wedding party experience you and your guests will remember for ever!
With their long-lasting presence in the luxury events space, Events Music is the preferred partner of many luxury venues in Greece. Such as, Cape Sounio Exclusive Resort, Four Seasons Athens Astir Hotel, Grand Resort Lagonissi, Nikki Beach Resort, Life Gallery Athens Hotel, Santa Marina Resort Mykonos among other prestigious hotels and venues in Greece.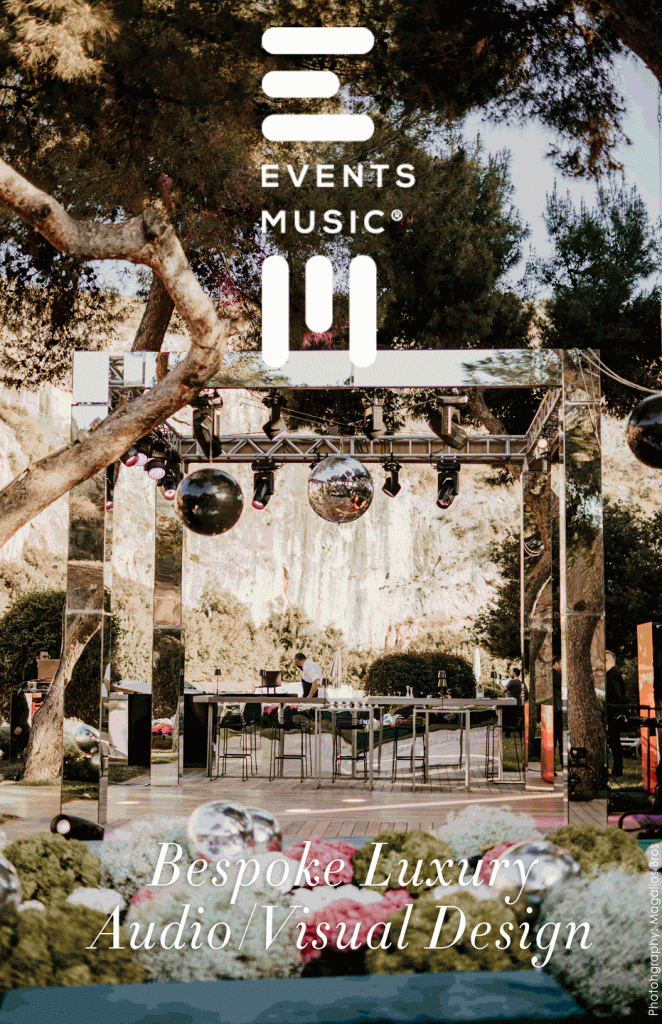 Get this look:
For Alchimeia
Wedding Planning, Concept & Art Direction, Kiss from Fleur
Coordination & Marketing, Ellwed
Mirror Catwalk, Mirror Trusses & LED DJ Booth, Events Music
Sound & Light Design Concepts, Events Music
Florals, Studio7
Champagne Tower & Signature Cocktails, Moving Spirits
DJ, George Kouzas
Event Rentals, Style Box
Balloons, Balloon Idea
Makeup and Hair Artist, @giorgiaxristodoulou_
Synchronized Swimming & Entertainment, Naiads
Bridal Couture & Accessories, Ritual Unions
Groom's Attire, Dressman
Wedding Cinematography, BV wedding films
Venue, Lake Vouliagmeni