Talking about destination Weddings is often connected with luxury and spending. So a budget destination wedding might not be something you think is possible!
Well, this couple from Australia, Casey and Daniel, will prove you different! They came to Santorini and made their dreamy Elopement a reality, without breaking the bank and not compromising on their dreams! They Eloped! Let's hear their story!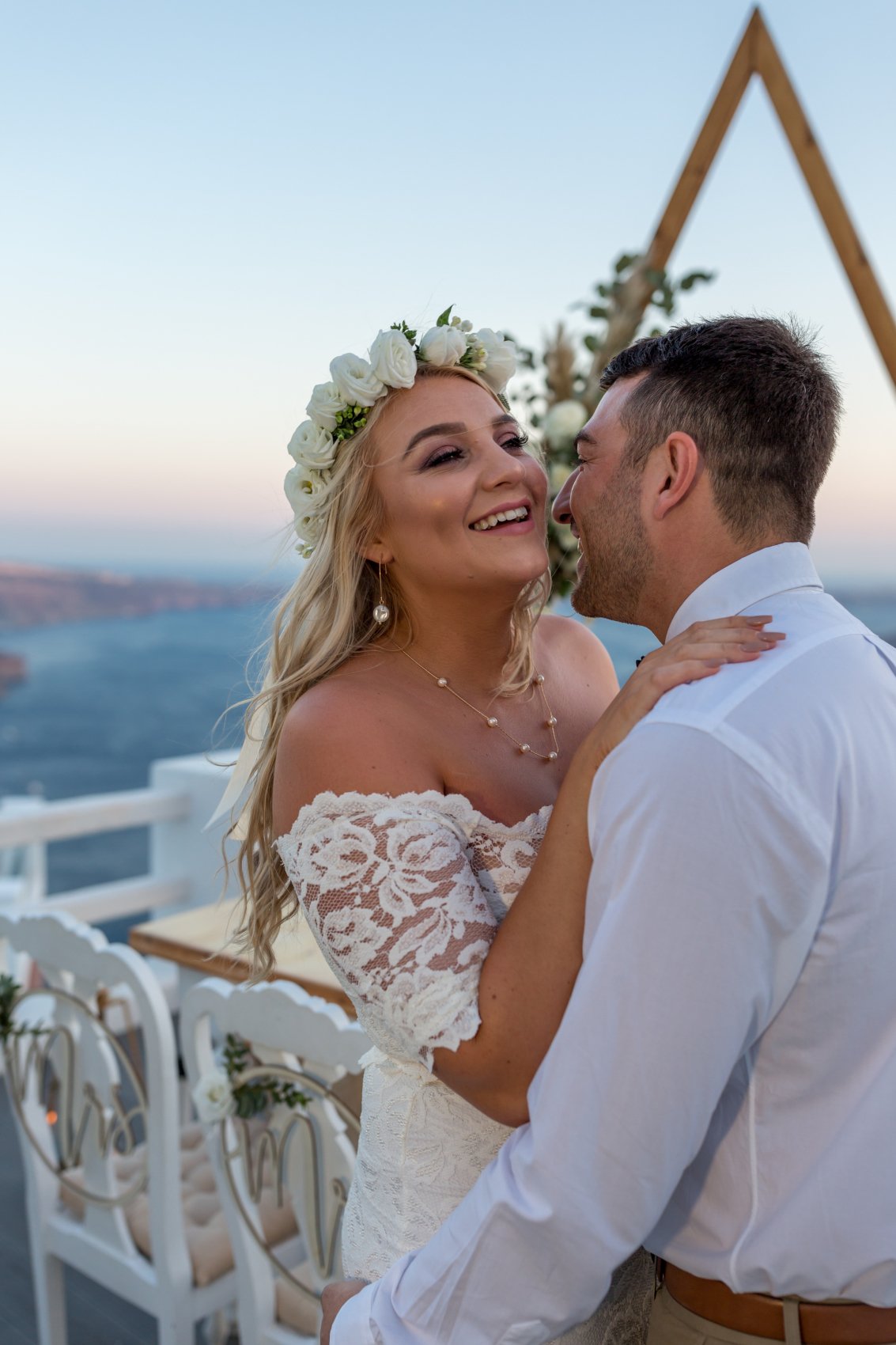 Casey, tell us your story. How did you two meet?
We met through mutual friends and had been friends for years before we began dating. As we spent more time together, I realised how sweet and caring he was, and not long after he asked me to be his girlfriend. Daniel planned a picnic at one of our favourite spots in Mosman, Sydney. We sat and had some lunch, then went for a walk along the beach. Just as we were about to leave, Daniel got down on one knee and asked me to marry him. I was so shocked and surprised that I just began crying and didn't say anything. Daniel kept asking me if I had agreed or not. I said "of course!" We called our closest family and friends to tell them the news on the drive home. We later went to our favourite restaurant for dinner. It was one of our favourite days ever.
What were your favourite parts of the day?
I remember getting in the car as we were leaving the park and just staring down at my hand with my new engagement ring on. I couldn't believe that I was engaged to be married, I had dreamt about this day since I was a child and now it had finally happened. We called my family and close friends on the drive home to tell them the. That night, we went out to our favourite seafood restaurant for dinner. It was such an amazing day, I didn't want it to end!
Tell us about your wedding trip to Santorini and what happened on your wedding day?
Our wedding was at On the Rocks, a small, boutique hotel in Imerovigli, Santorini. On our wedding day, it happened to be the windiest day we had in Santorini. We initially planned to have our wedding on our small balcony of our room. Although the balcony of our room was smaller than we expected. The hotel staff were amazing and allowed us to have our ceremony on their pool deck. The staff quickly moved all of their pool chairs and tables, to set up our beautiful ceremony arbour. The view was absolutely breath-taking. We really couldn't have picked a better spot for the ceremony.
On the morning of the wedding, we went for a walk along the beach at Perrissa then checked out of our hotel there. We then went to Imerovigli and found a nice place to have lunch. I then had an appointment to have my hair styled at a small hairdresser in Thira. We then checked in to the hotel. Our hotel room was so beautiful. We chose the honeymoon suite as it was fitting and it had a cave Jacuzzi at the front. Daniel and I got ready for the ceremony together, until it was time for me to put my dress on. Daniel left the room and waited for me on the pool deck. Although it was quite an untraditional wedding, Daniel was unaware of the style of my dress.
Although it was a budget wedding, I knew I had to have an amazing bouquet and flower arrangement on the arbour. We chose pampas grass to be the main floral piece and some beautiful white flowers and greenery to accompany it. I loved the flowers so much! It was so sad to leave them with the hotel when the checked out! 
What dress did you wear and what did Daniel wear?
As we travelled Europe for two months after we were married, I needed a dress that wouldn't take up too much room in my suitcase. I picked a beautiful, two-piece lace gown by an Australian designer, Grace Loves Lace. The dress had beautiful lace detailing, and was able to be folded in my suitcase without creasing or compromising the dress in any way. Daniel wanted to wear something more smart-casual and we decided on a white Ralph Lauren button-up dress shirt and beige pants.
What song did you choose for the first dance?
We hadn't put a lot of thought into the wedding song, but the song that we kept coming back to was the original Stand by me by Ben E. King. It still makes me teary when I hear it now.
Although you had a budget elopement, what was your favourite detail of your wedding day and do you have any favourite vendors?
I think our favourite detail of the day, was standing on that beautiful deck overlooking the Ocean with each other. We had planned the elopement for exactly one year and had dreamt of that day. We decided to keep the wedding from all of our friends and family and were going to surprise them once we were married. I think that made it all the more exciting and special as it was an elaborate secret that only the two of us (and a few close family members) knew about.
Flora from Unique and Forever was the most amazing wedding planner. I found her website exactly one year prior when searching for a wedding planner in Santorini. I had a rough idea of what I wanted, but she put it all together and made the process so seamless. Any questions or requests I had, Flora handled it for me. Considering we were on opposite ends of the world, Flora made me feel like she was here in Sydney with me!
Trifonas at Dream On photography was also amazing. He was as so easy going and made the photography process so fun. It was only a quick ceremony as the sun went down, but we got some amazing photos and a video that we will be able to watch forever. I can't thank them enough!
Do you have any advice for couples planning their budget weddings now?
Just remember that the day is about you and your partner. We decided to elope as that was the best option for us at the time. It's so easy to get caught up in having a big, elaborate wedding, but at the end of the day, it's all about you and your significant other.
Full gallery:
List of Vendors:
Event Planning: Unique and Forever
Photography: Dream on Photography
Ceremony Venue: On the Rock Santorini
Flowers: Santorini Flowers
Cake: Petranart
Rentals: Weddings and Whimsy
Wedding Dress: Grace Loves Lace