We are so excited to have this exclusive interview with Anna Roussos.
You may already have seen some of her photos on social media and wedding blogs like Style Me Pretty. Now, you have the chance to get to know Anna, read her story and get get her expert advice, to make the right decision when choosing your wedding photography.
Anna, we believe that fine art photography and the creativity isn't just a job to you. Can you tell us more about your story, your beginning in the industry and your life as creative fine art photographer?
From a very early age, I was driven by arts; Dancing, poetry, theatre, painting had always been a part of my daily life. Art urges us to expose our inner self in so many different forms. It is mesmerizing and meditative at the same time.
At the age of 14, I had already decided that I wanted to study TV and cinema directing. I attended the specialised school, connected to the TV and Radio University in Moscow, from which I also graduated years later.
I started working when I was 16. My first job was as a news editor for a TV channel. Soon I had gained my employers' trust and in less than a year I began directing my own TV programs and documentaries.
It was an all-study all-work life, attending my university classes from 8:30 to 15:30 and working from 16:30 till midnight. This might sound rather exhausting to many, but I was enjoying every bit doing what I loved.
TV and cinema direction is a very complex profession that provided me with invaluable knowledge applicable to all kinds of visual arts, as well as everyday life situations: Aside from the artistic part one should be fully aware of technical aspects, be a great observer and communicator, know how to "read" people, and of course manage a team.
During my university years I developed a huge enthusiasm for photography, partly (or wholly) influenced by my mother who at the time was taking classes, buying equipment and opening up a whole new world for herself and me. I remember how we used to sit together, going through her images, talking about composition, light, feelings and how all these components blend in together. I lost her very early but I couldn't be more thankful for all she had done for me. Through her photography got under my skin, shaping my character and becoming a stepping stone that would alter my life.
I moved to Greece 9 years ago and gave birth to my beautiful daughter Nicole. I planned to stay home and enjoy motherhood for some time but I guess the need to express myself artistically took over soon. In less than a year I started looking for a job in Athens. As my Greek at the time was basic I couldn't even consider a job in TV production. That was when photography took over. I contacted a few model agencies, arranged for several appointments and within a month I was working on test shootings for models and designers. I wasn't in it for the money, though. I was aiming to get into the industry and build my portfolio.
Fashion photography is its own "la la land". You get to build ambiance, arouse feelings, create personas and even stories. It carries a unique, delicate aesthetic, one should deeply connect to. Once it is mastered you can allow your imagination to go wild and that was actually what attracted me so much in this genre – its incessant freedom of expression.
In 2011, a friend of mine asked if I would be interested to work as a photographer at her friend's wedding in Santorini and I can't say I was hitting the ceiling. I had never done this before and to be frank, the genre held very little thrill for me at the time. I agreed mostly out of curiosity. It was my first official work as a wedding photographer and since I had little experience on the field, I just had to apply all my skills and experience as a fashion photographer. On the day of the wedding during cocktail hour I asked the couple to take a walk so we could take a few beautiful shots in a more relaxed atmosphere. The couple found the idea of enjoying some alone time together great, but my mind was set on the compositions and my use of light. Thanks to my prior experience with actors I had a pretty good idea on how to help my couple look natural before the camera. I guided them, talked to them, made them feel at ease and removed the "stiff" out of the picture. What came out was a very gratifying result but what surprised me the most was that I had truly relished the process. In fact, it was far more enjoyable than photographing models.
Call me a romantic but capturing love is what I appreciate most about my profession. The way newlyweds look at each other, the way a bride blushes, the way he hugs her, the smiles, the sparkling eyes filled with affection and admiration. I get a chance to witness and capture these wonderful moments between two people and the privilege is literally beyond words.
Shortly after, the couple's wedding planner contacted me. She told me she loved my approach because to her it was "something new and so alive", so we began working together. In the meantime, I built my site, contacted few more wedding planners in Santorini and I didn't have to wait long before going back there. To my surprise many people seemed to know my name and work, due to that very first shooting.
Creating timeless and beautiful wedding photographs is a delicate process and calls for a lot of observation and practice. Wedding photographers should be very confident in their technical skills, so they won't stress about what camera settings are required or what lens they should use in various circumstances. Concentrating on one's artistry and connecting with the people you photograph are essential for the artist to portray the couple's love and beauty in the most flattering way. The ability to capture moments "in-between", wrap them in beautiful compositions, fill the images with natural and glowing light is a set of skills only an experienced wedding photographer and a true artist can perform.
I guess the hardest task for any artist is finding their own style. When I first started working as a wedding photographer I was constantly preoccupied with the search of my 'signature', making my images consistent, able to speak for themselves.
I did a lot of research and searched for inspiration. After some time doing homework it was self-evident: finding one's own identity as an artist has nothing to do with looking out there, but going through an inner journey. What drives us and attracts us is for us to grasp, because the actual imprint lies inside the artists themselves. I sat down one evening and made a list of what comprises the perfect wedding photograph. I found myself describing all the visual elements I found so captivating in photography: colour, tonality, perspective, lighting, focal point, fidelity, mood, you name it. Keeping that list in the back of my head has been guiding me ever since no matter what is on my frame, an object, a person or a candid moment. That list eventually turned to a subconscious voice, an instinctive prerogative. It has been a pivotal milestone in my photography, keeping my images consistent and serving as my perpetual inner director for each work.
So, what is my wedding photographic style?
I would definitely say, fine art. It is not simply an approach, but a mind-set. Before every image, before style, products, services, fine art superintends and acts as an inspiring business model. My photographs, my function, my business represent me as a person, they are me. Naturally, every photograph an artist takes is some sort of self-portrait. Its visual contents metaphorically represent what was important enough to the photographer's eye at this moment that they chose to freeze it permanently.
Oh wow! That was some interesting life story, Anna. By now we really feel like we know you well, but could you share with us, what is the one thing that drives you in your line of work and where do you find inspiration for your projects?
My biggest trigger is my clients. People inspire me, and what affects me even stronger is the love I get to witness. It is so moving to stand before love on an everyday basis, to have it as the foundation of your work, the heartbeat of your craft. I meet so many different couples from across the globe. Their backgrounds, nationalities, languages, carry the seed of their cultures, the depths and layers of their diversity. Still, one thing remains universally shared: the love they have for each other. Having an opportunity to observe and get to know their stories is so stirring, it gives a different perspective to my everyday life and sustains the way I perceive this world. The "big L" is my inspiration, it's what influences me the most.
Second to love comes the freedom of expression, the fact that I don't need to prove myself to anyone gives me a boost and helps me access my artistry. After several years of working and building my image as a photographer, I have managed to create a reputation of being consistent in my artistic expression, so my clients trust me 100%. For me hearing from my couples "Anna, we love your work and absolutely trust your vision, so please do as you feel and we will follow your guidance" is very moving and inspiring and I know that I will do my best.
Since you have been working as a wedding photographer for some time now, we are sure you have encountered some changes in the industry. Anna, during your time in the world of wedding photography in Greece, what would you say has changed?
When I started working as a wedding photographer in 2011, I knew little about the industry in Greece.
At some point, while searching for my artistic identity and looking "out there" for some ideas, it felt I couldn't find much inspiration in the Greek market; I knew I wanted to stay and work in Greece, but what was popular at the time was far from moving. So instead, I looked further away, in the US, where wedding photography culture was much more advanced and structural.
Still I understood I had to follow my gut feeling and concentrate not only on what was becoming popular but to be able to predict what would soon ensue. Back then in Greece documentary style was dominating in wedding photography, but there were very few photographers that were actually masters at what they were doing and could create gorgeous and timeless photographs. The majority of work that I had seen, looked to me like "shoot and spray" photography style, where lack of artistic expression was hidden behind the words "documentary' and 'photojournalism".
With the digital era, it became very attractive and seemed easy to many people to purchase a photo camera and call themselves wedding photographers. You can take thousands of images without giving much thought to any one specifically and then hope that 3 out 500 will be worth the attention, especially when converted to black and white. And this wasn't happening only in Greece, but everywhere in the world. The Greek market had a few years delay, so it wasn't difficult to predict how things would unfold just by looking at what happened in the American wedding photography market.
After this mass wave of thoughtless wedding photography, there was a time for a big change. Clients would get very disappointed, because they were paying big amounts of money for the pictures that could be taken by their uncle or a brother-in-law if the relative happened to have a good camera in hand. It wasn't making any sense and there was a need for a different offer, more thoughtful, artistic and worthy.
In the US Jose Villa shook the market and took wedding photography to the next level offering not only artistic and thoughtful approach, but also creating an inspiring business model that was highly appreciated and welcomed by the clients that were looking for something special and timeless. His leap was a great example of a successful and thoughtful action, he sensed very well what the market of wedding photography was lacking and managed to fulfil this gap. That's the reason his name is so known and respected by everyone in every country's wedding industry.
I tried to follow his example, and it helped a lot to get where I am today. I have never had a goal to influence local market or couldn't even imagine that my work will make wedding photography in Greece shift to a new direction, but some people from the industry tell me that it did. Of course, it's very flattering to hear, but I also think that things followed the natural rhythm, and as the tendencies in wedding photography slowly changed around the world, eventually it happened in Greece too. It makes me very happy to see more and more fine art wedding photographers in Greece, it is exciting to meet people that perceive emotions, light and appreciate the same aesthetics that I do. Today in Greece there are many talented wedding photographers, whose work is inspiring, timeless and gets recognition not only on the local market, but worldwide.

Santorini and Mykonos are getting all the attention for being one of the most popular wedding destinations in the world. Anna, as a destination photographer you have visited so many different places in Greece, which other location would you recommend to couples and why?
Ever since the 1950's Santorini and Mykonos have been a pole of attraction to millions of tourists. It is only natural that for me too, as a wedding photographer, these two islands are top destinations. Still Greece isn't only about them. This beautiful land never ceases to amaze me. Each time I discover a new location that is filled with pleasant surprises. Spetses for instance, is definitely one of my favourites, for its crisp aesthetics and aristocratic feel. I'm incredibly fond of Ios for its spectacular nature and beaches. Paros is my fun place and it's ideal for more leisurely weddings, while Monemvassia has that calm vibe that instantly urges you to slow down and unwind.
I can go on forever about practically every corner I've been to. Thing is, when a couple hasn't been to Greece before and wish to decide on the perfect wedding destination, Mykonos and Santorini are the first that come to mind. If I could provide any couple with a word of advice that would be to contact an experienced wedding planner. A well-trained professional can respond to a couple's requirements with great precision once they've established connection and fathomed their wedding vision. In Greece, one can find tremendously talented and passionate wedding stylists and coordinators, who have what it takes to create truly dreamy weddings.
Before deciding on a vendor, couples like to do some research first. What advice would you give them before they decide on a wedding photographer? What should they look for and pay attention to while researching?
Choosing the right photographer to document such a special day, naturally builds up anxiety for couples as they understand that when the wedding is over photographs will be their memories of the day.
If a couple feels uncertain where to begin, I would suggest that they look for the style of wedding photographs they're mostly attracted to, asking themselves what they wish to see in their wedding images, what colours or tones make their hearts skip and how they would like their event to be captured. There's is literally a sea of choices and inspiration from numerous wedding blogs which makes it so much easier for brides to get an idea on different styles in wedding photography. On a practical basis, it does help a lot to Pin one's favourite photographs and to create an inspiration board. Using these as guides the bride will understand what exactly she's looking for. A pivotal moment I guess is when – in the process of choosing between wedding photographers – you start envisioning yourself as having already been photographed by this specific creative. This is the moment when your first connection with a photographer begins. Do pay notice on that personal connection you feel because that means you will be feeling comfortable and at ease with this person. Scheduling a Skype call and seeing how your first meeting flows is key. Certain couples are reserved and would require a bit of guidance, some have a strong vision while others are in search of that "click" thing. Personality goes a long way and you always know it in your heart when you've found the "one". It's like with an engagement ring, it goes way beyond simply the investment, you pick it because it speaks of who you are. It's so… you!
Is there one question that almost every couple asks you about their wedding in Greece? And what is usually your answer?
Photography is very important for my clients and very often they contact me even before they have set their wedding date in stone. I receive all kinds of questions, starting from "Could you advise us on a perfect location for our wedding" to "What colour of suit you think the groom should wear?". But the most common question is "How can we schedule our wedding day in order to get the best result and light in our wedding photographs". And I love to hear this question! Just the fact that the couple is so aware and open to being flexible, in order to accommodate my needs as a wedding photographer, is very exciting and makes me even more enthusiastic to guide them and help work on their wedding day timeline together.
I always schedule a special Skype call with my couple, dedicated to their Wedding Day Itinerary, it is very important to make sure that there is "enough" time for photography, because as in any art when you can take your time, you become more thoughtful and can access your creativity easier and try different things without being pressured by time.
On a wedding day, it is essential for a photographer to have their space and create in as much stress-free environment as possible. A wedding day can be quite stressful and full of unexpected moments. Even if I don't receive this question from my couples, I make sure to explain them myself how it is important that they let me participate in their wedding schedule planning and ask them to send the schedule to me before they set it in stone. And absolutely every time, the couple is very thankful for the input that I give and they appreciate me even more, because they can see that I am genuinely interested and give my best.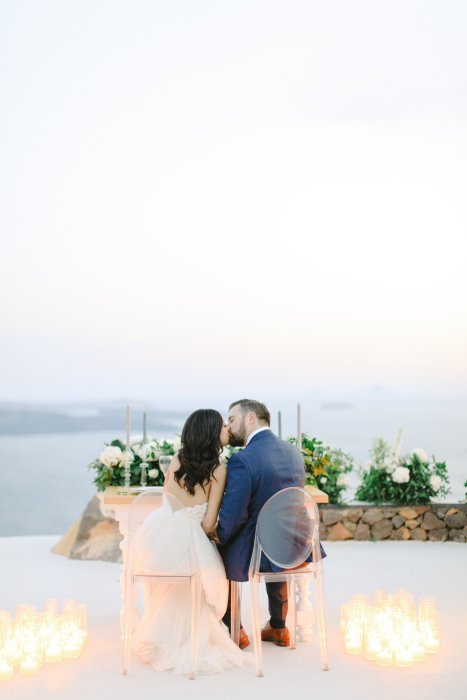 We are glad to see that when clients book you, they really get the full VIP treatment and service from you. We also hope this interview will help all brides get ready before their wedding day. So, what advice would you give to brides, before or when they are getting ready, for their photo shoot?
After planning your wedding day for several months, meeting your photographer and discussing all the necessary details with them in advance is essential. On your wedding day, you have to try your best to relax and enjoy every bit of what's happening around you, absorb it, memorise it and live it. Leave all the concerns to the professionals who are there for you: your wedding planner, your photographer, the whole team that is working to make this day happen the way you have envisioned.
Standing before the camera might feel awkward at first, so act naturally. Trust your photographer and allow them to guide you. I require no specific preparation for a photo shooting from my brides, it is my job to make them feel comfortable around me and in front of my camera. They don't have to prepare or stress about it. The only thing I ask is trust and time.
Before every shoot a photographer needs to be prepared, since each wedding can be complex and have multiple events in different venues. What is your secret to stay calm in stressful and difficult situations?
First of all, during the planning period I make sure that the timeline of the wedding day works well for me and I have enough time to get creative. Rushing things never works out well. Usually, it is a very detailed itinerary, where I ask my couples to leave some time just in case something occurs. So even if something comes up, for instance make up or hairstyling took much more time than expected, it won't hugely affect the flow of the day. Needless to say, if everything goes as scheduled, we will just have some extra time for some photographs. So, it's a win-win situation. Thoughtful schedule removes a big portion of stress.
I always make sure to arrive a bit earlier than scheduled to have enough time to catch up with the bride, say hi to everyone else and make them feel comfortable around me before I take my camera out of the bag. I will use this time to walk around the bridal room (my usual location number one on the wedding day), get a good feel of the surroundings and available natural light. It is a very important ritual for me to access my artistry, make myself feel comfortable as well and familiarise myself with the environment I will be working in.
Of course, every wedding photographer should be well prepared tech-wise. I won't even elaborate on this, but having all your equipment set and being certain that if something goes wrong with your gear you always have a plan B, is fundamental.
I always make a mental note on the list of photographs to be taken, so I don't shoot non-stop or capture whatever appears before me. I have a plan which I follow with a smile. Tranquillity means positive energy and both are contagious. If your clients see you relaxed they feel the same way.
Anna, you probably have many photos of weddings and couples you are super proud of. But, which one is your favourite and why?
To be frank, I am a very self-criticising person and there have been times I was too harsh on myself concerning my work. It is very difficult for me to pick a photograph and say "oh, I'm so proud of it!" What makes me feel proud though, is when I receive amazing feedback from my couples. However, I always question and challenge my art, trying to analyse what I could do better and how. Perhaps some may not find self-criticism constructive, but to me it's the only way of perceiving my work and it seriously helps me improve and become better at what I do.
So, in all "non-pride" I will share this image with you, one that is not glamorous or grand but to me carries all the elements of what my photography is all about. Looking at this groom gently holding his bride's hand as they climb the staircase, the way he pauses, looks at her, the way she looks at him a little girly, her innocent smile is what makes me hopeful about love. People always carry such magic in their simplest gestures. Aside from the beautiful decorations, dramatic backdrops, festivities and immaculate luxuries, what truly matters is the beating heart, the eyes that look up and say it is you I have been looking for.
And for the last question, what is that one thing that distinguishes you from other photographers?
It is like answering a question, what makes you a different person from others – it is me, being myself (laughing).
Anna, this was truly an amazing conversation. We are so excited to be a part of this exclusive interview with you for our Ellwed Autumn 2017 issue. Thank you for taking the time to answer these questions, which will hopefully help many brides to see clearly and to ease the stress of planning their wedding in Greece.
You can find Anna Roussos, Fine Art Wedding Photographer on her social media sites or her website.
Now, enjoy some of her work in this gallery:
All photos by Anna Roussos