Four years ago this Colourful Wedding with Rainbow Roses from Santorini was featured in our magazine which you can get here!
You might have seen the colourful weddings and even more so, the crazy colourful pop art weddings and events are currently tending! We are seeing hot pinks, reds, lime greens, bright yellows, disco balls and neon lights! We can't help but wonder, is the pink blush wedding craze actually over?
Moreover, couples are paying more and more attention to a great party rather than anything else!
Nonetheless, if Colourful Wedding is your thing or not, you should design the wedding of your dreams which represents you! And so did Elena & Evgeny. As well-known artist, Elena absolutely designed the wedding of her dreams! Powered by art and creativity, Elena was not afraid to go for what she always wanted!
Read more about this eclectic Little Mermaid Inspired Colourful Wedding with Rainbow Roses, which had not one, but two Photographers!
From the Planner:
"This is a wedding to talk about because when it comes to unique brides and renowned international artist Ellen Sheidlin, nothing can be ordinary!
First of all we feel so grateful to be trusted with planning of Ellen & Evgeny's Big day. Meeting this Couple was one of the most unforgettable experiences for me as a wedding planner and personally as well. Elena is absolutely the same person as she is seen on her pictures – creative, fantastic, really somehow from another dimension. Her art is herself and her husband's inspiration.
For their wedding day the couple wanted to combine a classical scenario with a fresh look. Thus we started with a civil ceremony at Venetsanos Winery, continued with lunch at Pyrgos Restaurant Santorini and ended that fantastic evening at Yalos Santorini with really crazy party perfectly decorated and supported by Events in Santorini.
Bride's tailor made look was inspired by the cartoon The Little Mermaid. Ellen told me that when she was a little girl she saw this cartoon and ever since was dreaming about really magical bridal gown and accessories that would remind her of sea bubbles, foam and waves.
Of course Ellen & Evgeny's creative vision gave us one of the most beautiful weddings set ups we ever done. The Little Mermaid Inspired Colourful Wedding. On top, look at these super seldom rainbow roses in bride's bouquet and colourful circle arch that was also based on a rainbow pastel colours idea. A real piece of art by our florist Manfler.
There are so many words to say about the day and the couple but what comes in to my mind is the excitement, real love and atmosphere of a great celebration everyone shared."
By Muramoto Photography
By Olga Toka Photography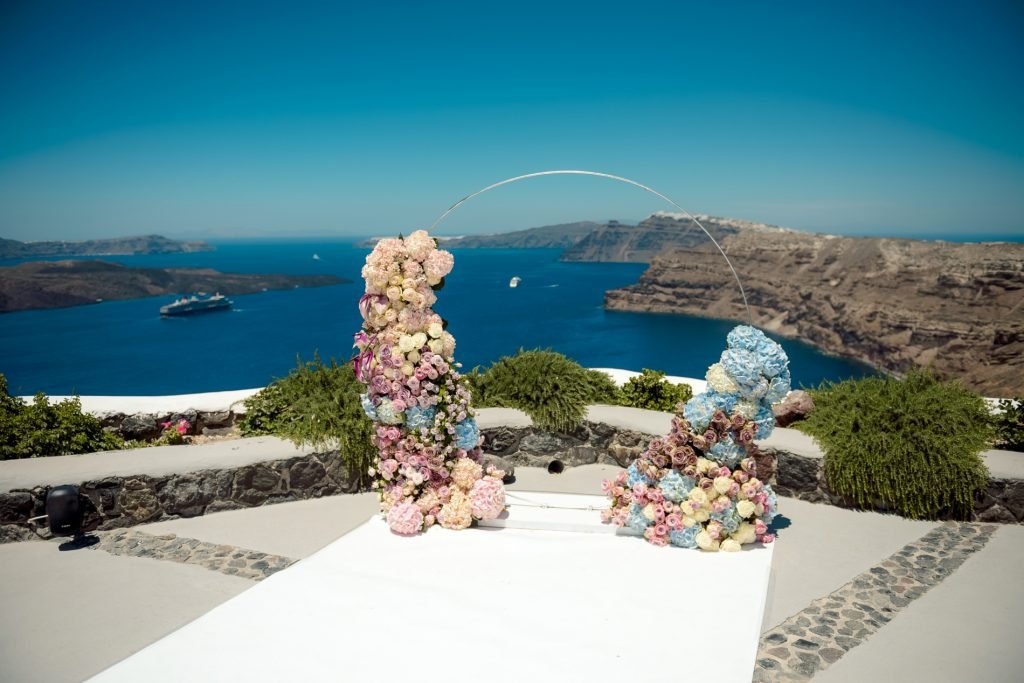 Get this Look:
Planning, Mosaic Weddings
Photography Olga Toka Studio and Muramoto Photography
Flowers, Manfler
Sound and Lights, Events in Santorini
Ceremony Venue, Venetsanos Winery
Reception Venue, Pyrgos Santorini
Party Venue, Yalos Santorini