The Destination Wedding at Ktima Lindos with a party to remember. Luke & Amy decided to celebrate their big day in July of 2022, one of the busiest wedding seasons for everyone worldwide! They chose the Greek island Rhodes, a very popular destination among many couples. The little picturesque town of Lindos in Rhodes Greece, offers anyone a diverse experience with shopping, sightseeing or simply brunching and enjoying your holidays! And this is precisely where Luke and Amy set their hearts on for their wedding celebration and ceremony as well!
"Keep everything organised and you will feel more at ease. Wedding planning should be fun for you and your partner!"

Amy Marie Gill
So let's hear it from them:
Tell us how you met and how did he propose?
We both lived in sunny South Eastern Spain 11 years ago with our families. We had never met one another before, until one night outside one of our favourite bars, we set eyes on each other and never looked back!
Luke proposed on the 4th of May 2019 in London, in The Shard. We made our way up to the very top, a glass of fizz waiting for us and he popped the big question while our parents watched. I remember us discussing getting engaged, having kids etc, but never expected it in that moment. We will remember this day for the rest of our lives!
How was the planning process for you?
Planning a wedding abroad has some sort of mystery to it! It's the unknown of what your day will look like because it is so different to your setting at home. It makes it all the more exciting!
I made sure to have an excel spreadsheet, with a list of everything in terms of To Do Lists, To Get Lists, Prices and Budgets and an overall Total of Spends. It's important to keep track so you do not feel overwhelmed near the time of final balance payments and putting a cloud over your day.
I definitely suggest getting a wedding planner abroad. They know their stuff! Your wedding planner will help you along the way no matter what. Our venue KTIMA Lindos has their own in house wedding planner Nicole, who is sensational!
On the many many emails back and forth to Nicole, I made sure to send pictures with styles of décor and even drawings of table plans, so everything ran smoothly. Keep everything organised and you will feel more at ease. Wedding planning should be fun for you and your partner!
Tell us about your dreamy destination wedding at Ktima Lindos?
The wedding took place on the 30th of July 2022, exactly 4 years to the day, when we set eyes on the beautiful KTIMA Lindos wedding venue.
We took a quad bike around the island and googled some top places to visit/eat and KTIMA popped up as a top spot. We got to the venue for some nibbles and cocktails and I will never forget the feeling. I almost couldn't breathe with the butterflies and emotions I had! It is truly breathtaking there.
Greece has always had our hearts. We have travelled a lot of the Greek islands and everything about it, is just simply amazing. From the people, to the food, the villages, the settings and mostly for the fact it is not this ultra modernised destination, they keep it so traditional and it makes it even more special. Simple and beautiful would be my summary.
Our dreamy destination wedding at Ktima Lindos, was nothing but magical. Other than the 42 degree heat ( hottest day ever for a KTIMA Bride), it was perfection. The heat didn't get in the way! Yes it made photos in the direct sunlight harder (even in the shade as their was no breeze), but once the sun went down and that beautiful sunset appeared, the photos were magic. We tried to enjoy the day itself and let the photographers just take natural shots. We had always said, marrying on the island of Rhodes, a visit to Lindos for photos was a must so we did exactly that. A walk with my husband through the streets, will be something we will hold onto forever and it was our 'us' time.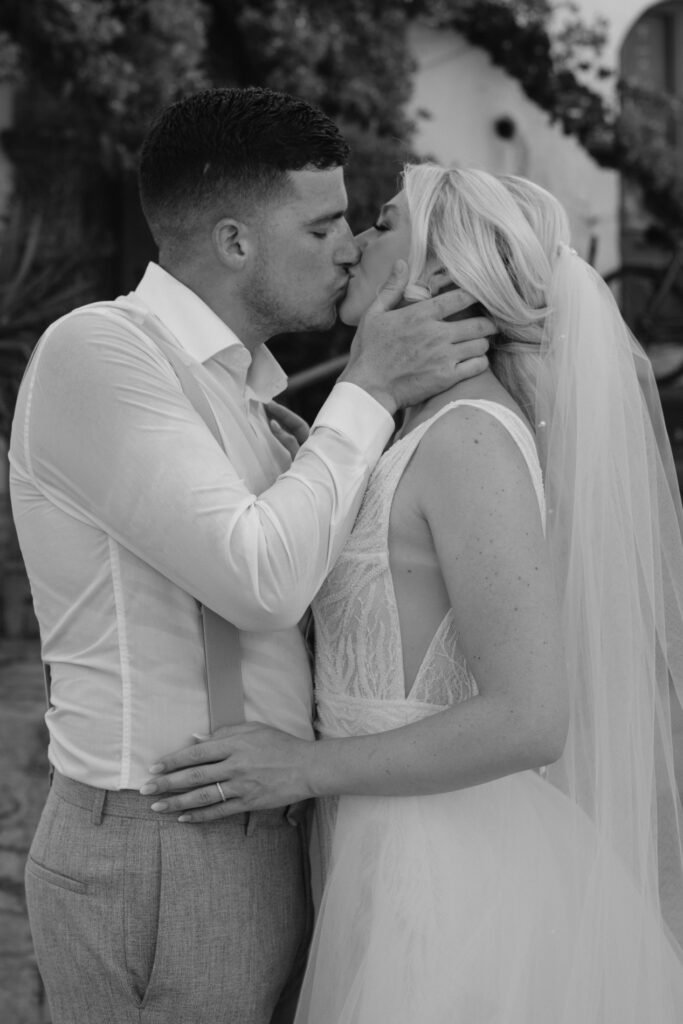 We came back to the venue 40 minutes later and got ready to dance the night away!
Tell us about your first dance at your destination wedding at Ktima Lindos
Our first dance song was 'your still the one' sung by Teddy Swims. The lyrics represented us and how far we have come.
We sat in our venue 4 years ago, promising one another, this is where we will marry and 4 years later we made it happen, through hard work and dedication. My husband doesn't dance and we had no practice run for the first dance, nor any moments polished, so the natural moments captured on camera were even better than expected! It was just me and him in that very moment and feeling so grateful for everything that day.
Describe your wedding style and design
My dress was made by the amazing Made With Love Bridal in Australia. I always envisioned an overskirt, which I had made and it worked perfectly, a day to night look almost, with 2 looks in 1!
Luke's suit was a super light and breathable grey suit made by Limehaus. All of the grooms had the same.
The bridesmaids were stunning in Folkster Ireland satin dresses. The olive green theme continuing throughout.
Our idea behind the simplicity of the day was to highlight Greece's natural beauty. It didn't need pops of colour or any over the top decor. The venue itself was simply amazing and the backdrop.
We wanted golds, whites and greens only. That included the chairs, table cloths, flowers, cutlery and all wedding stationary. Everything blended perfectly!
We went with all rectangle tables in a semi circle shape making a dance floor in the middle and all at an angle so each person had that amazing view!
It is difficult to pick a favourite part of the day, but if I had to choose one moment, it would have to be the first dance. It was like a dream. Just me and Luke dancing in the moment, looking at how far we made it and feeling so overwhelmed. Savour those moments because the day goes by in a blink of an eye!
The cost for our destination wedding at Ktima Lindos was about 30-40k.
GET THIS LOOK:
Venue: KTIMA LINDOS : @ktimalindos
Photography & Videography : Allumé Weddings : @allumeweddings
Dress: made with love : @madewithlove
Overskirt (custom): Aideen cross design : @aideencrossdesigns
Bride Veil & earrings: @bluemeadow
Shoes: Jimmy Choo : @jimmychoo
Bridesmaids: Folkster : @folkster
Makeup: Lindos makeup artist : @lindosmakeup
Hair: Eden Glamour : @edenglamour
Wedding signs and menus: @aprildaysdesign
Name place mats and table signs: @milliestone
Flowers: Lindos flower shop : @lindosflowershop
Cake: Penny pie cafe : @pennypiecafe
Violinist: Leida
Images and Text curtesy of the Bride submitted to Ellwed