This Nightfall Bridal Fashion Editorial is hitting all the fashion points! If you're down to party, while looking stunning, in the early hours of the night in downtown Athens, then this inspirational editorial shoot is just wanted you want to see!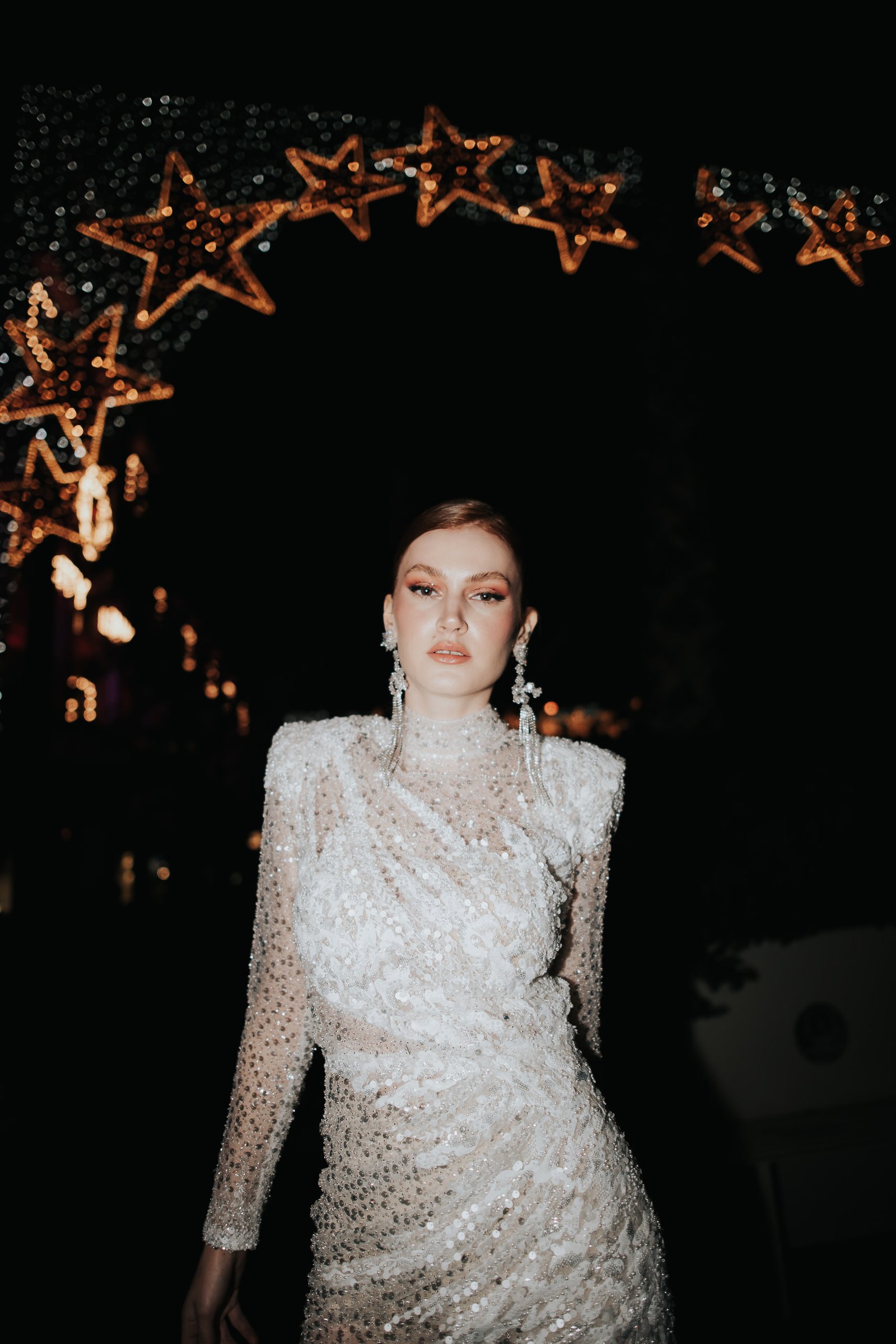 The world is your oyster and the streets of Athens are your runway. The real party begins at nightfall.
Spotted in downtown Athens! Fashionista bride dressed in Milla Nova bridal couture from Primalicia! This statement dress is covered in "diamond dust" reflecting the flash, glittering with the fairy lights of Christmas decorated city streets at night!
When the shops are closed and the streets almost empty, our bridal heroine strides down the fashion street of Athens. "All I want for Christmas is Cartier, Prada, and Dior!" – She says while eating her street-food sweets in front of Cartier.
The after-party got even more festive with personalized décor, LED transparent floating bubbles delivered by The Balloon Idea. Escorted by her dog and surrounded by the illuminated balloons our bridal heroine is the talk of the town!
Her presence is definitely noticed by all the onlookers who stop and stare for a while. Everyone is awestruck by her beauty, styled by Joanna Stella Papathanasiou.
The idea behind The Nightfall Bridal Fashion Editorial
The idea of a fun night bridal after-party inspiration came to life when Anna of Kiss from Fleur and Sanya of Ellwed discussed new trends coming to the world of weddings!
Flash is back! In a modern way, of course, this new style of flash photography, coming from Russia is taking over the wedding world by storm!
This is the trend for all brides who want to feel like a star followed by her personal paparazzi! The glamorous brides who want to be the protagonist of their love story on their big day!
"The best time for your bridal portrait photos from now on is going to be at #nightfall!"
Get this look:
Photography: FotisSid Photography
Styling, Concept & Planning: Kiss from Fleur
Coordination: Ellwed
Makeup & Hair Stylist: Joanna Stella Papathanasiou
Dress: Milla Nova from Primalicia Bridal Designers
Bridal Consultant: Nikolas Kalpouzanis
Balloons: The Balloon Idea
For Alchimeia Content Creation
Become an Alchimist! See more shoots from Alchimeia Here!