This is the time to celebrate every moment! And this couple decided to treat themselves and mark one milestone in their relationship with the unique trip for their Anniversary Celebration of their commitment to each other.
Yasha and Manos, wanted to celebrate their 6th anniversary in a special way. So, they hired a team of professionals to help them do just that and the results are stunning!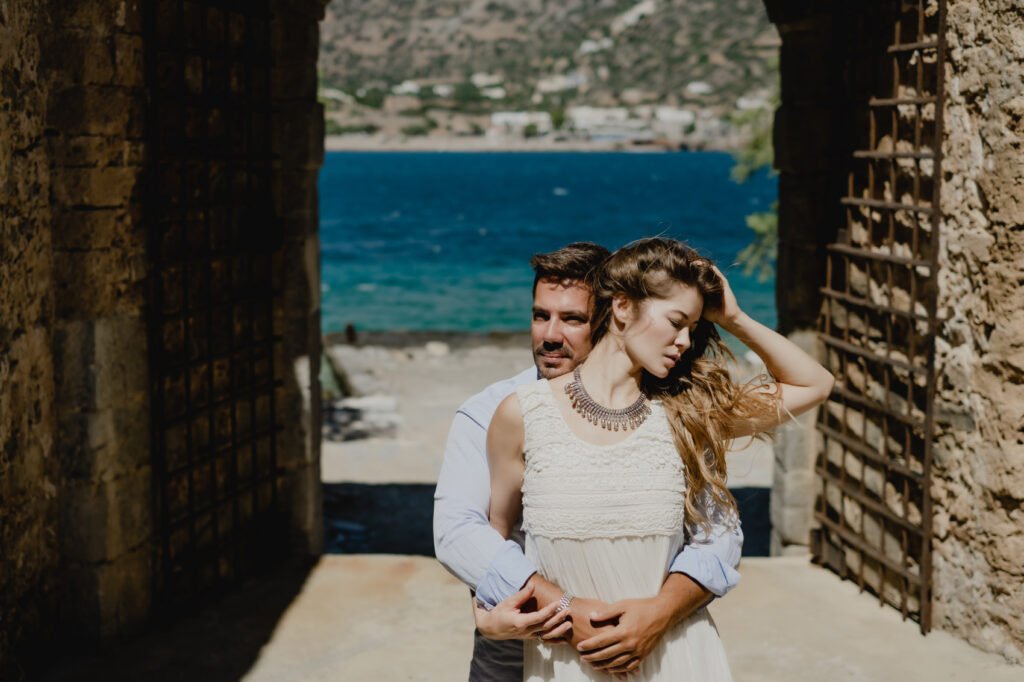 The morning started with a small excursion to the historic island of Spinalonga. The romantic boat ride and every part of the day was being captured by their photographer Oksana, to remember for ever! In the afternoon, the shoot continued at the traditional stone cottage, after the sightseeing of the island. The whole day ended with a romantic rooftop dinner and toasting with the bubbly on the private pier by the sea with beautiful sunset views of the island!
From the planner of My Wedding in Crete:
"After and then we continued a few shots inside the stone house in Plaka, which they had rented for their anniversary. The view from the roof of the house was amazing, so we took the opportunity to set a romantic dinner for our couple, with a view of the wonderful island of Spinalonga."
From the couple:
"We met with Manos by chance. As a result of a hundred small circumstances, as likely and more unbelievable compounds on this Earth.
Some years ago, I decided to visit Greece with my friend, because flights from Russia to the original destination country were unavailable. We chose a small village in Crete for holidays due to an error in the tourist office system. Every day we were visiting a comfortable swimming bay, however on the last day, we changed the beach. And that is where I met Manos.
And even though it wasn't love at first sight, we met again a year later. Our love developed and we decided to stay together for the rest of our lives. So we decided to celebrate our anniversary in a special way, doing a photoshoot in a place we both love very much."
See the full Gallery:
See also the video:
List of Vendors:
Planning: My Wedding in Crete
Photography: Smargiannakis Photography
Video: Mitato Films
Jewellery: DIA XEIROS handmade creations