We are so excited to host our first guest blogger Julianna from Julie.Juliet.
If you are a bride, or just a girl who wishes to live a better and healthier lifestyle, you must check out Julianna's advice on health a beauty. Julianna is an author of juliejuliet.com, who aims to embrace health and beauty through her website and freelance writing. Find her also on Instagram at @julie.juliet
Coco Code Blush Harmony Review
Spring is a great time to go over not only your wardrobe but your beauty bag too. Bring in the lighter foundation and summer colours. And here is something we then all consider – Chanel Summer 2017 Cruise Collection.
Being not an impulsive buyer at all the only things I can but on impulse is makeup. Well, Chanel makeup. Chanel does it to you. This blush I bought after a few glasses of prosecco, being in a shopping mode and seeking beauty after this miserable rainy winter. After my mood settled and I got home, I had to review for myself what did I actually buy there. And here are some conclusions I made.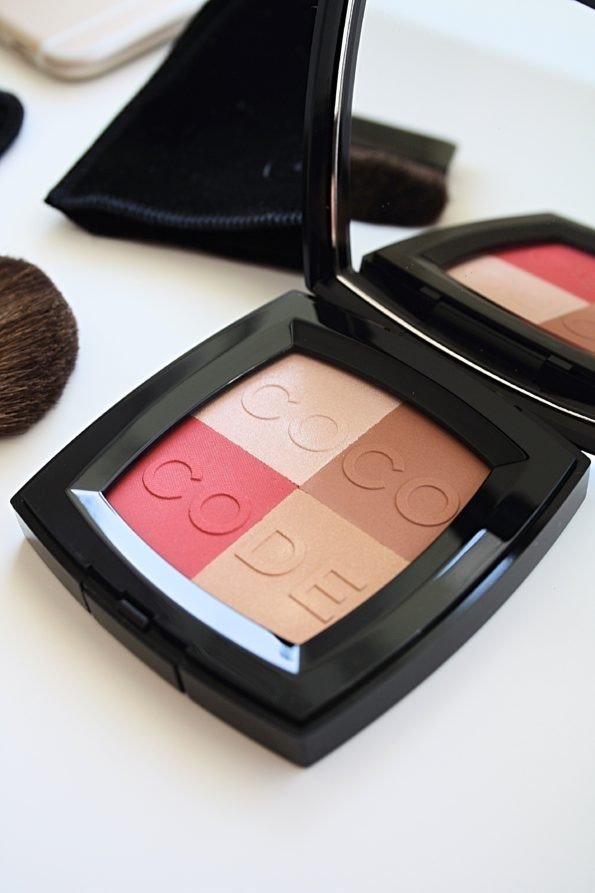 Coco Code Blush Harmony.
Price: Bought in Switzerland for 73 francs (58 GBP); Price in the UK is 49 GBP; US 70 Dollars;
Once you open the box the first thing striking you is a smell of roses. Not an over-fake and overwhelming one, but the smell which you can feel all over your room when you have a bouquet of pink tea roses on your table.
I take out the small velvet case and it is Chanel brush. I guess no one can disagree these 'comes with' brushes are quite useless and the only moment a girl only uses them is if she is on the go and there is no other brush available. (And if you are not that familiar with brushes yet, check out my Basic Brushes guide). The next case is the blush itself. Beautiful solid Chanel package, white CC sign…Classics.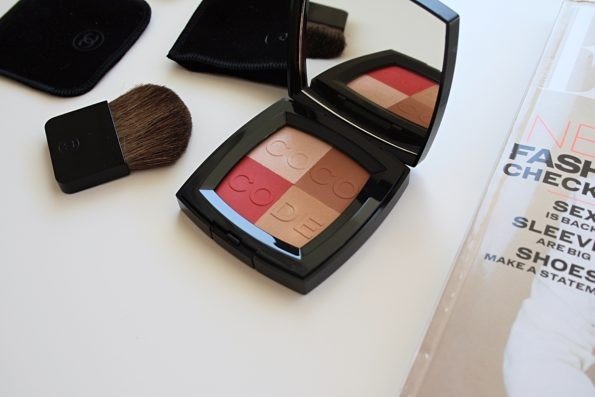 Coco Code Blush Harmony has deep red/coral and caramel golden tones. It is a quad with soft matte coral and beige, and quite highlighting gold and ivory pearl. Once applied all together it gives you soft, warm peachy blush. But my aim was to apply each of them all individually. In addition, charming lady who sold me this said I could use it for my eyes and even to add a bit of contouring to my face. Sounds too good and quite impossible…so I was determined to try.
I used three brushes to try this product: Tom Ford N13 for highlighting, Tom Ford N02 for contour, and Tarte Blush brush for the red blush.
Each colour portion is small, thus I used the smallest brushes I had.
I start with the coral blush. I use Tarte very soft brush and the colour still appears quite strong. It is very matte and very intense, but a good kind of intense. Absolutely beautiful colour for summer which will look great on both tan and pale skin.
Then I go on with Tom Ford brush for the beige matte colour to apply in on the sides and even my forehead to add a bit of contouring. I must say this is quite a light beige, thus it is like my untanned skin tone. I will not be able to use in on tanned skin. The quality though is amazing. One tiny touch by the brush and you have the velvety effect and the perfect pigmentation.
Finally, highlighters. Once switched I could not see too much of 'the shining', however, once I applied it to my skin, it knew I am in love. The perfect smooth highlight, not too much but enough to add that glow to your face.
In addition, remembering the words or the sales assistant, I add a bit of golden shimmery colour and matte beige to my eyelids, and a slight touch of pearly colour under my brow and in the inner corner of my eye…Perfect! It really looks great!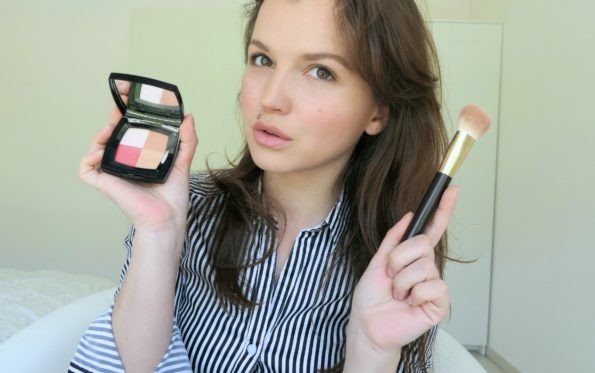 To conclude, I am happy with the product, considering I have lots of boxes for it to tick since it is pricey and I do not like to pay just for the brand. Quality is truly amazing and my makeup lasted the whole day.
Coco Code Blush Harmony is perfect for women on the go and those who want to look flawless but still natural. It is compact, it has everything you need. So, keep it in your bag and look fabulous always and everywhere.
In addition, spending this year on planes and trains, I am happy to just add mascara, brow pencil and a brush to this product – and my travel makeup bag is complete.
I will be glad to see you on my blog!
See you soon,
Julianna
All photos by Julianna from juliejuliet.com
Did you like this review of Coco Code palette? Tell us your thoughts in the comments bellow!
Want to see Julianna's pick of wedding dresses for 2017? Get your free ellwed magazine here