Greece is a beautiful country made up of the mainland and literally hundreds of Greek Islands. You will be spoilt for choice when planning a romantic destination wedding in Greece. Whether you will be traveling from another corner of the globe or coming from somewhere in Europe, Greece has something for everyone. Most destination weddings take place during the summer season months of April until October on the Greek Islands but an off-season wedding in Athens or Thessaloniki may be 'food for thought'. Here are the current trends shaping destination weddings in Greece in 2022 and a simple guide to help you get started with the planning phase.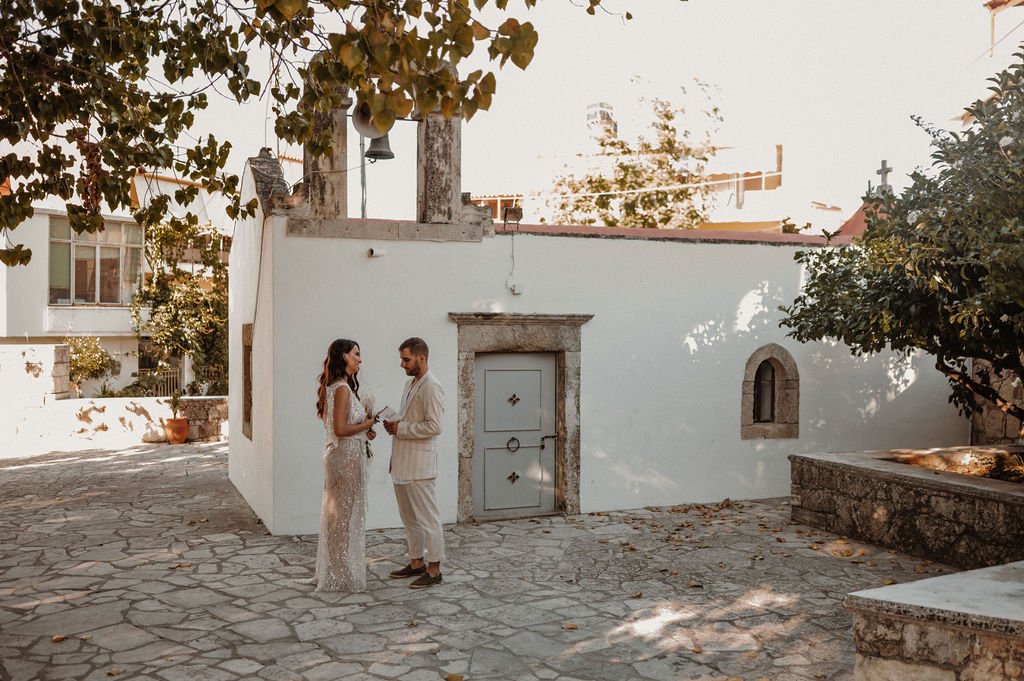 Current trends shaping destination weddings in Greece.
Small weddings.
Intimate elopement and micro weddings are trending. The past couple of years have been unprecedented and there are many couples who are choosing to travel to Greece together to exchange lifelong promises, with a small intimate group of close family and friends.
Wedding Week!
Married but never had the wedding you deserved! Over recent months, many couples got married without any proper ceremony due to the restrictions in place at the time. Now they are planning their ceremony to celebrate in Greece and having the destination wedding they always dreamed of. Many are opting for Wedding Week or an extended weekend of activities with their family & friends to spend as must time together as they can.
More is less in 2022.
While some couples are opting for an elopement or a minimal micro wedding, others want to go all out on the party with their loved ones! A party to remember for a lifetime! Boho, Mamma Mia, classic, luxurious simplicity are all words to describe destination weddings trending in Greece this summer. More is less in 2022!
Ceremony decor.
Ceremony decor can be a big part of your wedding. Currently, pampas grass to decorate your ceremony is still trending in Greece. But don't let that stop your imagination! Get inspiration from Pinterest for your ceremony setup. Romantic bohemian and so stylish, combined with white hydrangeas or perhaps roses. Perfect for couples who want their wedding set up to truly stand out.
Featuring the humble olive at your wedding in Greece.
A trend that might never go out of style in Greece! The humble olive often plays a starring role at destination weddings in Greece. Especially this year, when Dior dedicated their new Cruise 2022 Collection to Greek Culture and Mythology! So, use olive branches for your ceremony set up, or for table décor at your reception. Have a photoshoot in a local olive grove, perfect for your Grecian vibe. The olive tree symbolizes peace, wisdom, fertility, prosperity, health, and good luck. FUN FACT There are more olive trees than people in many areas of the country!
Drones and live streaming.
Drones and live streaming are trending in Greece in 2022. With so much technology available, wedding photos and videos can now be filmed at a height. This provides amazingly spectacular results. TOP TIP: At most venues, you will be able to live stream the wedding to your family and friends back home.
Personalised celebrant led symbolic ceremonies.
Personalised celebrant led symbolic ceremonies are becoming very popular in Greece. Many couples are looking for a one-of-a-kind ceremony to celebrate their faith or their heritage. They are happy to do the legal bit in their home country and then can arrange the ceremony of their dreams to celebrate in Greece. Holiday villas, yacht weddings and beach weddings are all trending in 2022 TOP TIP: With Personalized ceremonies, you can relax! No venue restrictions, no time limits and no generic scripts.
Renew your wedding vows in Greece.
And finally, in 2022, so many couples are choosing to renew their wedding vows in Greece. Combining a romantic ceremony with a fabulous summer holiday, often long overdue. Consider a ceremony at the water's edge, let the kids participate! It really doesn't get much more special than that.
So now we have talked about the current trends shaping destination weddings in Greece in 2022, so now where to start with your wedding planning journey?
Planning a destination wedding in Greece here is a simple guide to help you get started.
Where?
Choose the area of Greece where you will have your wedding. Now this won't be easy but flight times, cost, types of accommodation, and local activities will be a good place to start. I know budget is a difficult concept, but it is important to set this right at the beginning and try to stay on track. Your budget is there for a reason!
Find a wedding planner.
Search for suitable wedding planners and set up online chats. It is so important that you find suppliers that suit you, who are quick to reply to your questions, and who you get along with. Some wedding planners will offer a bespoke service and others will have packages on offer, so it is up to you the type of wedding planner you choose. Once you have a date, send out your "save the dates" so that you can have an initial idea of numbers.
Type of Ceremony.
Decide if you will have a civil, religious or symbolic ceremony in Greece. In the case of a legal civil marriage check the requirements early on.
A civil ceremony can be held at certain official venues and the couple will also visit the local authorities a couple of working days after their wedding to sign the legal documents. Regarding Greek Orthodox or Catholic weddings, the paperwork required may vary from area to area and your wedding planner will be able to give you all the information you require.
Note to LGBTQ couples although you cannot do the 'legals' in Greece, don't let this archaic lack of legislation put you off. A celebrant-led symbolic ceremony is so much better than the civil version. Yes, I know as a celebrant I am biased, but it is the truth!
Start with an estimated number of guests.
Book your venue for the ceremony and for the reception with estimated numbers. You will be able to finalize your guest list much nearer the time.
Research all the rest of your wedding suppliers in Greece
Start researching other suppliers such as officiant, photographer, videographer, catering, entertainment, hair and make-up, florist, cake, transportation for your guests…. The list goes on and on. But don't be daunted, of course, there are planners out there that will do all this for you.
So less is more in 2022. Olives, pampas grass, intimate elopements, and luxury simplicity are current trends shaping destination weddings in Greece. The perfect choice for any couple looking to get married abroad.