This gorgeous Inspirational Elopement from Crete with Fani & Gannis, will make you wish you spend all your holidays there now!
Fani and Giannis got married a while ago. However, they got a surprise of their lifetime when Maria from My Wedding in Crete surprised them with a modeling request for their styled shoot she was planning with Natalescha, a photographer from Germany!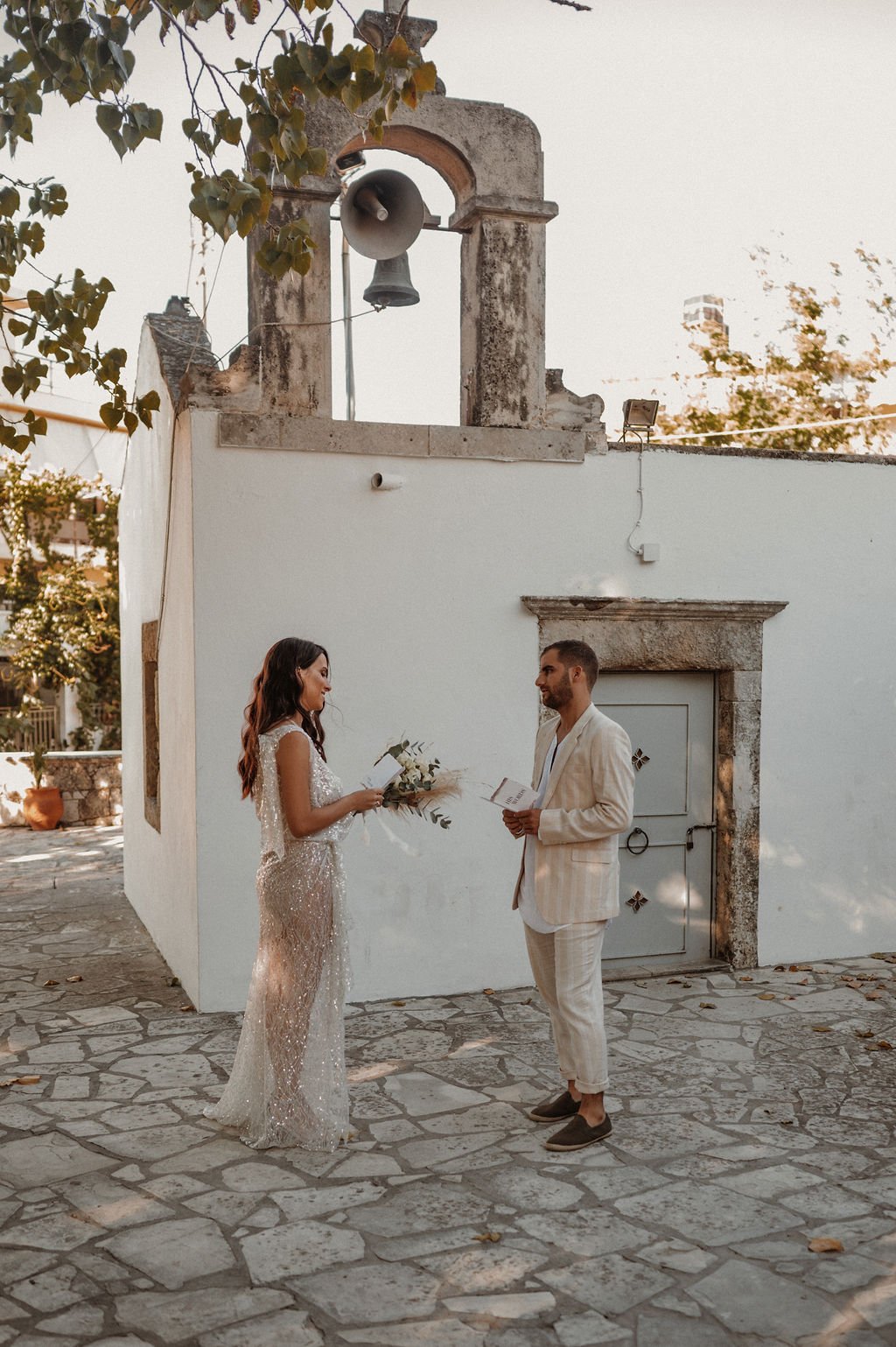 They set to explore the charming town Archanes in Crete. Their symbolic vow exchange was set in front of this picturesque church in the town square. As any proper elopement, it continued with the photo session around the town. And of course, the photo session would not be complete without the star of the shoot, the "Greek street kitty"!
The day of this Inspirational Elopement from Crete with Fani & Gannis, ended with a romantic dinner at their private boutique suites, inspired by Greek Mythology, Inotropes.
The newlyweds got to celebrate their union all over again in a fun and exciting way. All the while their freshly-in-love energy shined through on all of the photos!
From Natascha Alescha
"The shoot took place in September 2021 in Archane, Crete, where we shot at the beautiful boutique hotel Inotropes and the local streets. Fani and Giannis, the bride and groom had their big Greek wedding two weeks before our shoot. Maria and I not only wanted to plan a styled shoot together, me from Germany, her from Crete, to show how well international projects and especially destination weddings work for couples, but also wanted to capture real love and make everything as authentic as possible.
Therefore, we deliberately chose Fani and Giannis. The magic of their own wedding was still clearly noticeable and we wanted to create a special moment for the two. An elopement in which the two could once again confess their love all alone for themselves and enjoy the moment.
The getting ready, the first look, and the dinner setting took place at the boutique hotel Inotropes, the vows at a small chapel in Archanes and the bride and groom shooting in the beautiful old town. During our shoot, we met a little cat that accompanied us for a while and even completed a few photos as a model. "
Now, get inspired by the full gallery of this inspirational elopement from Crete!
Get this look:
Photographer: Natalescha
Wedding planner: My Wedding in Crete
Couple: @fani_vladika & @giannis_ksmd
Dress: All Around You
Hair & Make Up: @natasha.makeupartist
Location: Inotropes
Table Setting: @feel_ultra_event_rentals
Stationery: @natalescha