Luxe End of Summer Wedding, when the seasons change, the heat becomes warmth, the nights get just a bit colder and the days are just right! Have you ever thought of planning an out of season destination wedding? Trust us, it can be magical. Especially in Greece!
Although Greece is famous for never ending summers, particularly in Crete, this wedding inspiration is for all the brides who enjoy the end of summer season and are thinking of planning their wedding in the beginning of autumn.
Now take a look at this stunning inspiration from Crete! The old time country scenery is seamlessly enhanced with the luxury floral installation and the chic bohemian macramé backdrop. Which you can easily take home and use as wall art in your bedroom or living room. Or even gift it to your parents to keep a fond memory of your wedding day! However, our favourite piece of this whole Luxe End of Summer Wedding inspiration are the small, super cute personalised cakes!
If you are planning your wedding during the Covid-19 pandemic, you probably have to adjust some of your plans. One might be a smaller guest list, which means you can spend more on the whole event and the guest experience! And personalised cakes or menu dishes, could be one of those things! Oh and on top of all this, Greece is probably the best country to escape to during this pandemic and have your wedding celebration dinner alfresco!
From Gamos Crete Wedding Planner:
We created an exceptional concept with autumn inspiration for our luxe end of summer wedding inspiration in Crete. To harmonize with the romance and magic of this picturesque historic estate, we went with a special late summer fête theme and featured all things ethereal, earthly, and exquisite.
The estate's worn and frayed walls were timeless and effortlessly captivating. Which made for a whimsical statement backdrop for the day's alfresco events. We couldn't have found a more beautiful and charming backdrop than this historic 14th-century estate, steeped in history to fit our luxe end of summer wedding inspiration.
We draped the door, the window, and the dining table with whimsical autumnal-hued blooms and cascading foliage. The embellishing pampas grass, fresh eucalyptus, dainty hydrangeas, classic roses, exotic orchids, chic anthurium, and pretty astilbe. As you might expect, this radiant floral arrangement set the scene for some pretty impressive ceremony photos. The light wooden charming chairs radiated a perfectly vintage but still chic look like they have always been there.
Creating that Luxe End of Summer feel
We embellished the façade of the estate with sophisticated crochet details. And what better way to deck out a 14th-century venue than by using Macramé? An art form of Arabic weavers that dates back to the 13th century.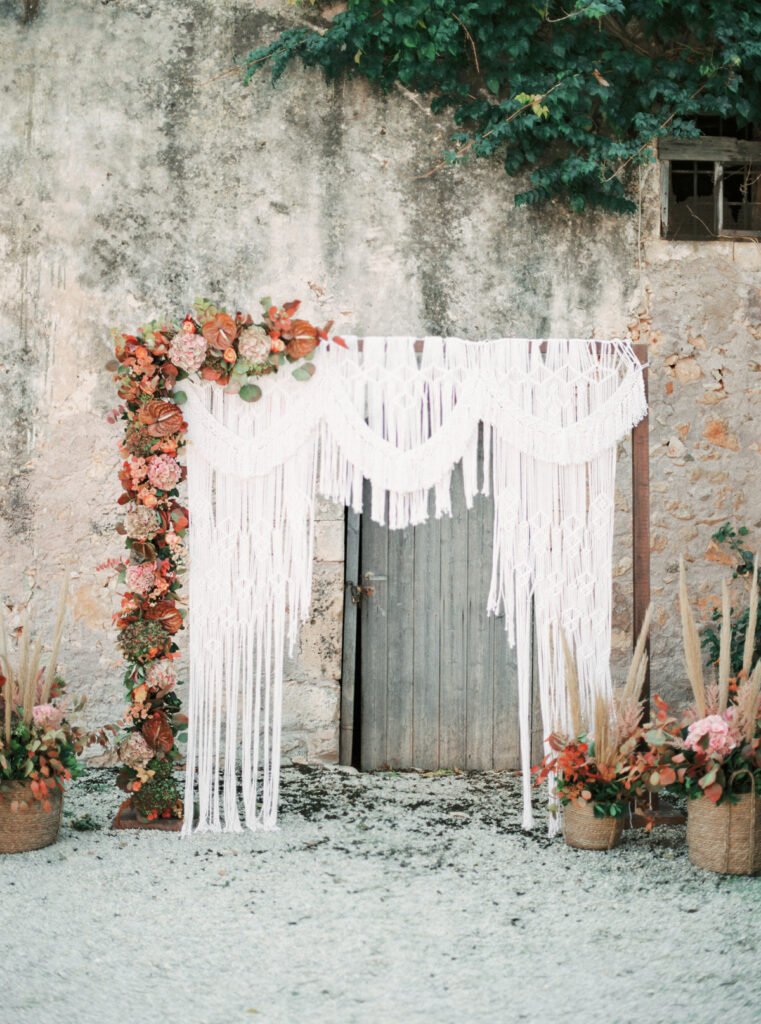 Secondly, to accentuate the seasonal theme and lend the venue a relaxed, warm, and welcoming look, we turned to the warm muted tones of our fall colour palette. Paired with The stunning little wooden table with a lovely floral arrangement, pomegranates and a small wedding cake on top, it really played up the autumnal aesthetic without overshadowing the setup.
Statement table setup
When the time came for the tablescape, we made sure it made a statement. Decorated with gold vintage tableware, delightful floral napkins, long high impressive glasses, and lovely floral display, the colourful autumnal table setting really did stand out. We used a ceramic chestnut, almond and walnut at each plate to go with the late summer style to be used as a wedding favour. The scene at the table was topped off with four different personalised cakes. With different designs and flavours, like buttercream, dripping cake, vintage and classy chic. Placed on golden high stilts with the finest art design matching the florals.
Wedding Accessories
Despite the personalised mini cakes, we felt like the statement piece cake is still a must. And a few things are appreciated more than a decadent wedding cake that looks great and tastes heavenly. That's what we had in mind when we chose this subtly statement-making four-tier wedding cake created by our best patisserie in Crete.
In keeping with the late summer fete theme, we designed a chic set of wedding stationery which included menu cards, save the date, invitations, and name tags. This simple yet elegant stationery with floral detailing and paired with pretty florals, surely made for an ethereal aesthetic.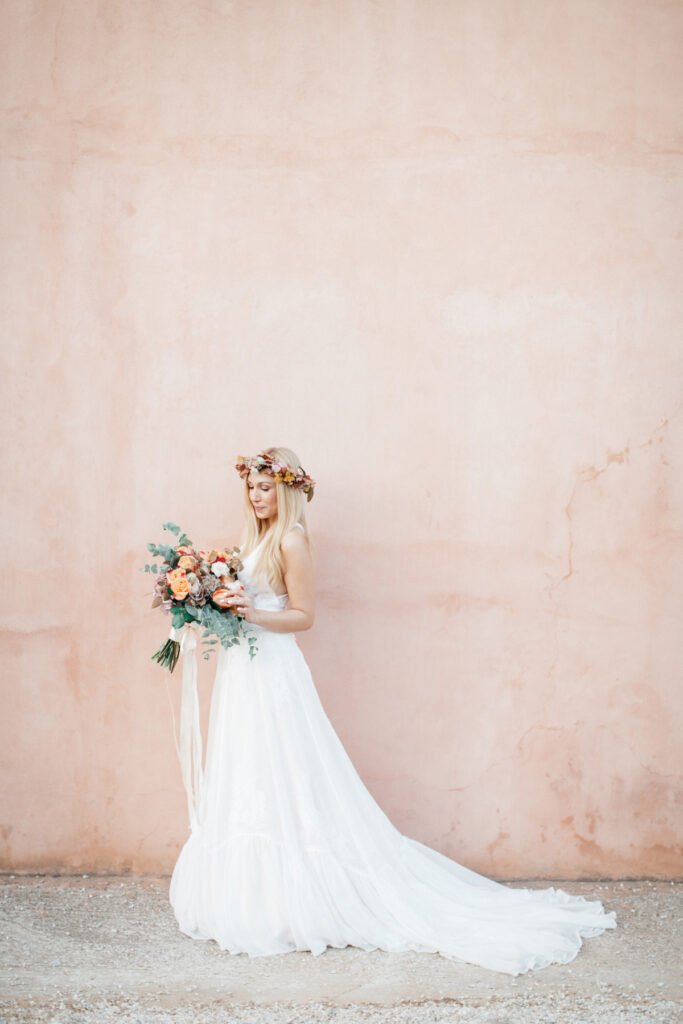 We chose this breath taking boho wedding dress with a sleek silhouette that feels fashionable yet sophisticated. Because this Luxe End of Summer Wedding Inspiration was all about channelling graceful and elegant style. The panache of the gown, paired with soft, loose curls and a lovely floral headpiece made the bride as effortless as she can be!
Gallery:
List of Vendors:
Planned & designed: Gamos Crete weddings & events
Photography: Hanna Monika Photography
Videography: Vasilis Tsagkarakis
Florals: Flower center Chania
Bridal gown: Polentas Haute Couture
Shoes: Jimmy Choo
Pastry chef Giannis Sarris
Film processing: Carmencita film lab
Stationery: Inkdrops