This Micro Wedding with Livestream Zoom happened in the middle of the Athenian Forest and the Covid-19 pandemic did not stop them!
Meet George & Irene who got married in Athens in June 2020! As photographers and wedding photographers, they set it upon themselves to plan their own wedding!
Their main goal was to make their wedding celebration personal and true to them. They wanted a simple eco-friendly wedding ceremony with boho elements, set in the middle of nature! Their priority was to have a great time with their family. However, due to the pandemic, some of their family members could not make it to Greece. Nonetheless, that did not stop George & Irene from celebrating their union and they opted for the Livestream Zoom for all those who couldn't make it!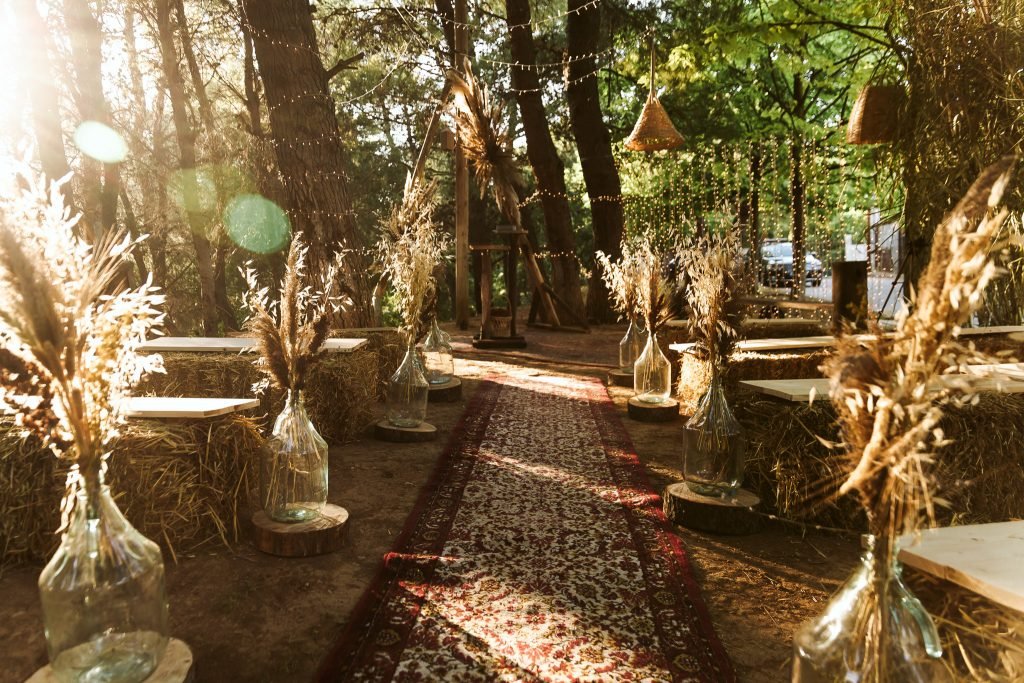 How did you two meet and how did he propose?
I moved to London in 2013 where George was already living there. We had a common friend who organized a night out. Although we didn't click immediately we started talking towards the end of the night when we found photography to be something we both liked. We teased each other as he is a Nikon fan and I am a Canon team. After that, we became friends and were hanging out a lot.
When and where was the wedding and what helped you in your planning process?
We wanted our wedding to happen in Greece. We both wanted an intimate boho-style wedding in a natural environment. As we were in the middle of the pandemic, we had to improvise a lot. George's sister is living in Kryoneri, Athens next to the forest so we decided to take advantage of that. With the help of family and friends, we managed to organize and create the boho atmosphere we had in mind.
What happened on your wedding day?
Busy and Stressful… Preparation for me started in the afternoon with hair and makeup and the photographers around. George got ready in his best man's house and then left for the venue to finish the last details. Unfortunately, none of my family and friends were able to travel due to COVID-19 and that had definitely had a sad effect but at least they could visually attend via Zoom.
Our Micro Wedding was set to start at 19:00 and all family and friends (18 in total) gathered. We set up a Spanish and sangria tapas bar for the guests as well. I arrived 20 mins late in a vintage Fiat Cinquecento. The ceremony lasted approx 40 mins and after that, we took pictures with everyone and enjoyed the company. We all then headed for dinner in a traditional Greek taverna with an amazing view of Athens. The night was fun and relaxed and for dessert, we had profiteroles. We didn't do the first dance at our micro wedding in Athens, as we were supposed to have the wedding party on a different date but the song we chose for when we would do the first look was the 'sleep on the floor' by Lumineers.
Tell us about the venues you chose for your day and why did you decide on Greece as your wedding destination?
As you probably got from my previous answers, the wedding venue was basically in the wild as finding a proper venue during the pandemic was impossible. With the help of family and friends, we managed to transform the space in the boho style we wanted. The dinner after the ceremony was in Agios Merkourios. We loved the idea of a rustic, traditional taverna with a view of Athens and that is why we chose this one. The food was also delicious!
We chose Greece as our wedding destination mainly for practical reasons. George is Greek and his family is based there but also because we wanted our honeymoon to be in the Greek islands. I particularly love the Greek light: the temperature of it, the warm colors and the cloud-free skies!
Tell us about the special details of your Micro Wedding with Livestream Zoom. What was your favorite detail of your day?
One of my favorite details was the Spanish and Sangria tapas bar. Being Spanish and not being able to have my family and friends with me made this little detail feel like home. What we think made our wedding special is the fact that it was 100% self-made. We basically planned and organized it on our own, we became the planners. However, having knowledge from the industry and local family and friends helped the planning process. This gave us and our guests a more romantic, warm feeling with lots of personalized touches.
Any favorite vendors and why?
Without a doubt, this would be Boho Choco who did our handmade macrame decor.
Any advice for brides to be?
Although this can be a stressful time, make sure you add details that make your special day personal to you and your guests as well!
See the video:
See the full gallery:
Get this look:
Ceremony venue: Krioneri forest, Athens
Dinner Venue: Agios Merkourios taverna
Lighting: G Sounds & Lights
Macrame: Boho Choco
Photography & Video: 7th Art
Deco: @W12photos
Cake: Profiterol Andrias
Bride Dress from ASOS
Groom Attire from VARDAS