An Intimate Myconian Wedding can be only luxurious! This is An Ode to Style.
Sometimes it's synchronicity. When at the most fashionable spot on Mykonos you will find yourself staring at the glittering sky, uniting with the sapphire-blue sea. There, you will write your personal Ode to Style.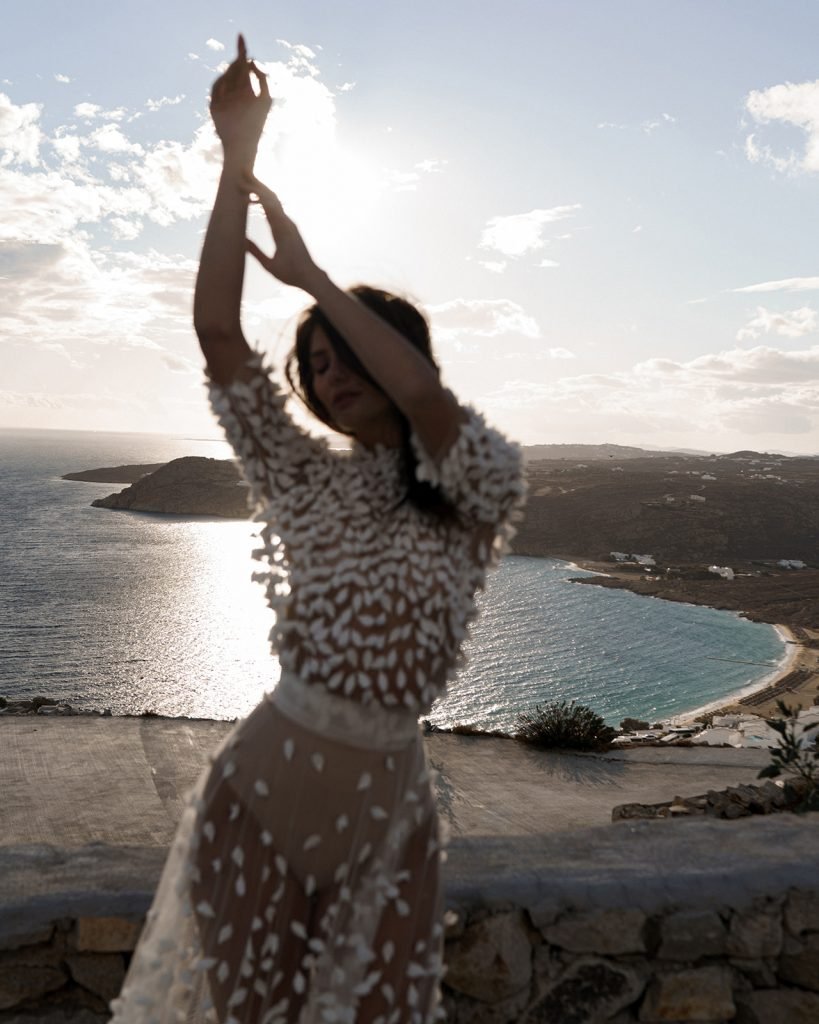 Although, this inspiration is all about intimate weddings with an abundance of raw Hellenic luxury. An intimate wedding allows you to focus on what truly matters to you as a couple. You don't need to be playing by the rules and following any traditions you don't want to! And Greece is certainly the perfect destination to make this happen!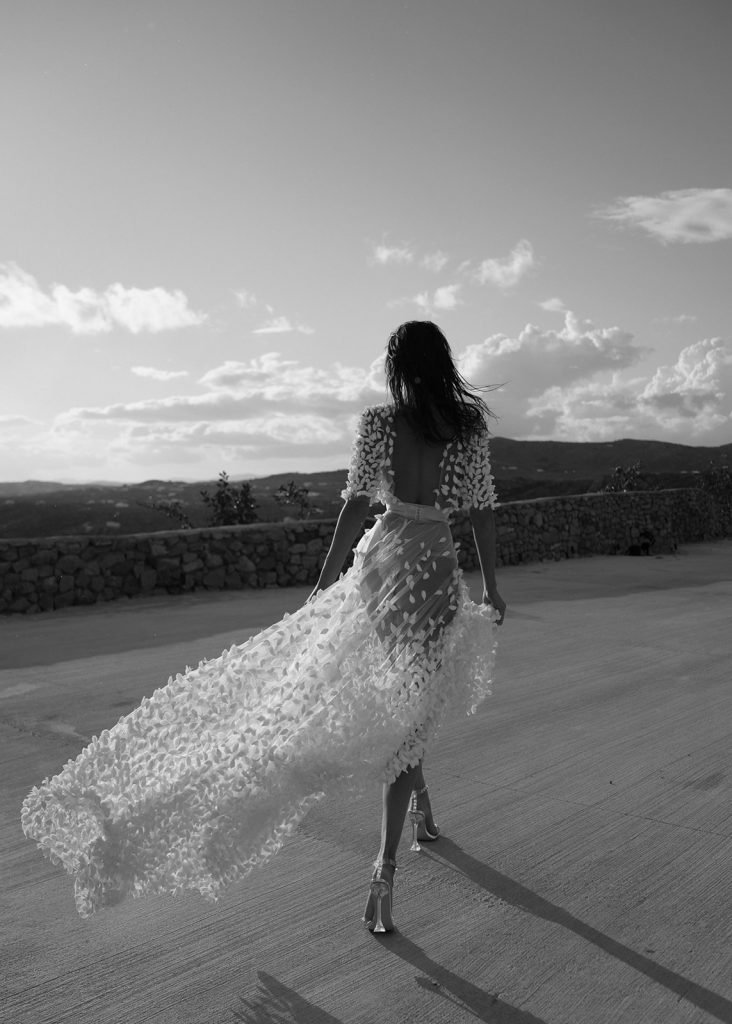 In other words, envision your ceremony in a unique location with total privacy. Maybe something like the Mars-like landscape on Mykonos from this inspiration! Or maybe you want something more traditional, but still isolated from the crowds. For instance, the private villa at the Panoptis Escape, with a private terrace and your very own sandy beach!
Discover Panoptis Escape, the new jewel on top of the Myconian Collection. Above all, a tranquil cluster of laidback luxury on the gorgeous southern coast of Mykonos. With the divine pleasure to align with the sun from dusk till dawn, observe the spectacular and unique sunsets directly from your villa and become one with your surroundings!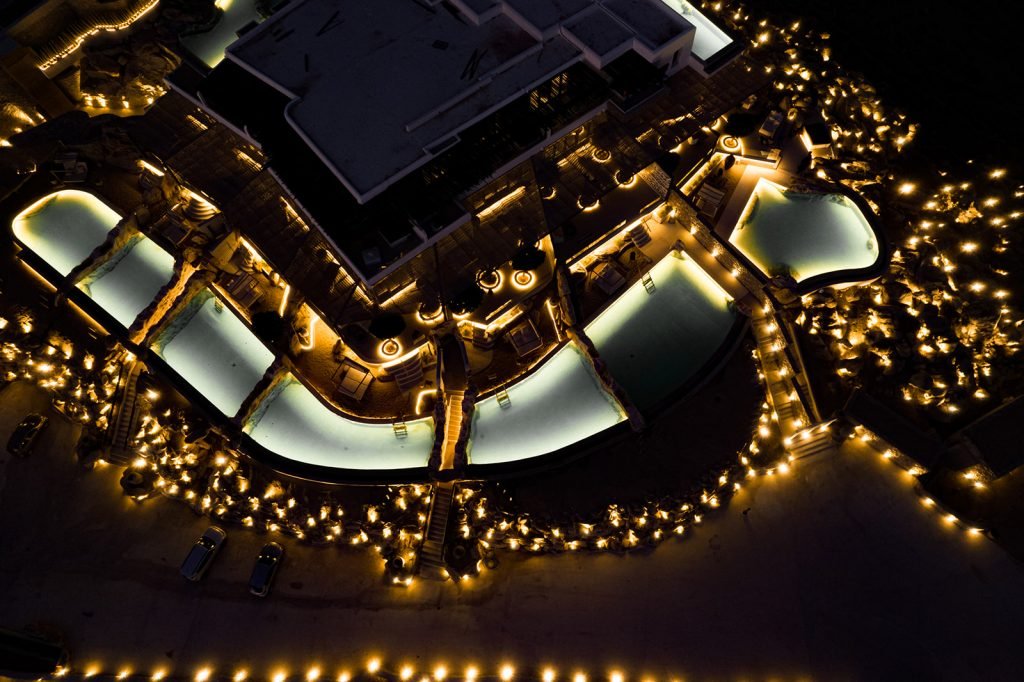 This is an Intimate Myconian Wedding four-part happening.
Captured by Roman Ivanov, glam-seeker and fashion destination wedding photographer. Together with Anthony Venitis of BV Aerial, a luxury film creator and storyteller, capturing true emotions. Get inspired by this two-day celebration with multiple dress changes! In other words, your wedding doesn't have to be like any other! Prolong your wedding day into a wedding weekend or even a wedding week filled with handpicked activities and family-orientated celebrations designed for you as a couple. All in executed in style, of course!
Schedule a surprise for your lover, either pre or after your wedding. The intimate boudoir shoot, intriguing your groom. Organize it in secret for the ultimate surprise, in sexy Dior tights and Agent Provocateur lingerie. And that's all…
Followed by a fashion-led, fun lifestyle shoot by the pool. Using the props for a fashionable resort look that perfectly fits the island's rustic and glamorous party mood. Anna Jill of Kiss from Fleur styled the bride-to-be in a sophisticated glamorous Agent Provocateur full-body swimwear, while beauty expert Michalis Tsotras looked after the bride's immaculate beauty throughout the day.
"The moment of commitment is the most crucial moment to capture! When you exchange vows and share carefully-selected words of love with pure emotions. It's a moment you'll treasure forever. Whether you're planning an intimate Mykonos elopement or a micro wedding, it's important to treasure that moment.
When all of the planning, styling, and lovingly thought-through decisions come together. Let there be no distractions. Just the raw moment – and energy – captured by a lens. In our case, however, this was the lens of an international photographer Roman Ivanov coming from Moscow!
After all, let's go recklessly falling in love together in this elegant embrace of bright imperial colors and follow the chic path to couture." Says Anna Jill
Mars on Mykonos.
Discover a different side of this island for your intimate Myconian wedding! For instance, we found this unique Mars-like landscape at the edges of Mykonos, set between a plain earth and sky. When finding that unique location, it can be the empty canvas for your intimate celebration. Ours was this enigmatic secret landscape only known to locals. The hideaway for our bridal portraits in Tatyana Kochnova handmade bridal couture. Definitely not a common image which comes to mind, when thinking of Mykonos.
Intimate Myconian Wedding Reception
Dress change for the unique wedding celebration dinner at the intimate Panoptis Escape. Is one wedding dress is not enough? Now you don't need to choose anymore between the dresses you like! Bring options! For instance, like the dreamy handmade dresses by Annika Maria Wedding Design. Accessorized by the oversized bouquet by Petridis LV. All florals matching to the venue with only dreamy blush pink and fashionably black roses!
This venue was certainly a unique location for the private family-style intimate reception celebration. In the center of attention was the one-of-a-kind wooden table at the venue, a one-piece carved from a single tree, was filled with lavish modern, rose-only floral arrangements created by Petridis LV Floristry. This unique venue and the collective table itself didn't need anything more to make this affair unforgettable. Special menu and name cards, designed by studio vanhart accompanied the black and gold crockery, paired with handmade unique to Panoptis Escape tall wine glasses.
Above all, the perfect romantic evening on top of the mountain ended with a direct view of the most epic sunset and the whole Elia bay.
See the gallery:
Get this look on Ellwed:
For Alchimeia
Coordination & Organization: Ellwed Magazine
Wedding Planning & Design: Kiss from Fleur
Photographer: Roman Ivanov
Cinematographer: Anthony Venitis
Hair and Make-up: Michalis Tsotras
lingerie: Agent Provocateur & Dior
Muse: Alexandra
Wedding Dress: Tatyana Kochnova
Wedding Dress: Annika Maria Wedding Design
Florals: Petridis LV
Stationery & Calligraphy: studio vanhart
Venue: Panoptis Escape by Myconian Collection