Have you been wondering what exactly is Handfasting Symbolic Wedding Ceremony and how can you do it in Greece? Well, find out in this article!
As a wedding celebrant in Greece, I get to be present in so many beautiful stories and different ways my couples tie the knot in Greece! But in this article, I will be sharing all I know about Handfasting Symbolic Wedding Ceremony in Greece.
I have been dreaming of my wedding ceremony for a lifetime and I am sure the same goes for you! However, 30 years ago, I never expected to have two wedding ceremonies. Yes, I did it twice! But both times I married the same guy I might add! Yes, I married my Greek in a Greek Orthodox Church and followed this a month later with a wedding blessing in the Dorset village church where I grew up. Two wedding ceremonies, both completely different, yet unforgettable. So, let's talk about modern-day destination wedding ceremonies.
Symbolic wedding ceremonies in Greece.
Did you know that you don't have to do the legal marriage documents in Greece? Well, I am happy to tell you, that's true. You don't. Even though I am writing this from my living room on a rather wet winter's day in Rhodes I can hear a huge sigh of relief from afar! Yes, brides and grooms, no stress, and a whole lot less running around sorting out official paperwork and translations, right?
There is one major advantage. Your wedding ceremony can be held almost anywhere. Without the legal part, you no longer need the local registrar, so no venue restrictions, as not all legal registrars will be available to travel to your location! While some islands and some town halls allow destination weddings in different locations, others don't and you might have to get married in the town hall!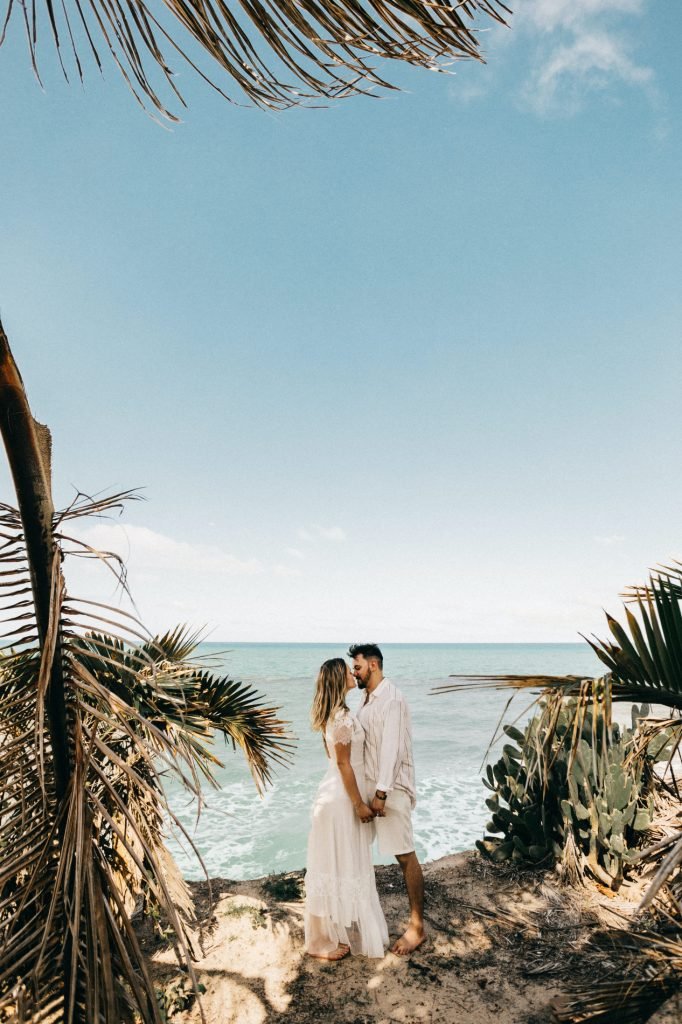 With a celebrant-led symbolic wedding ceremony, however, you can hold your ceremony anywhere you like! On the beach, at your holiday villa, or even on a yacht! You will also not be restricted on vow exchange and have to follow the official rules. Feel free to exchange vows as the sun rises, or as the sun sets. It is your choice! The ceremony can be of any length and can include elements from your heritage or faith. Let's call it your ceremony your way, and that is exactly what it will be.
Do the legal bit back home.
Handfasting is a symbolic wedding ceremony and is not recognized in Greece as a legal marriage. You can of course have both, the civil ceremony and the handfasting ceremony so your wedding in Greece will be a legal marriage.
On the other hand, it's perfectly fine to do the legal bit back home. In fact, many destination couples you see did just that! You may think that it's not going to be a real wedding if you don't get the civil ceremony in Greece. However, if you would prefer not to have the standard generic civil ceremony in Greece, then don't do it! Go to your local registry office/courthouse and book yourselves the simplest of marriages. In the UK this would be a 2 plus 2 which is the most economic option on offer. Whether you decide to tell your family and friends will be up to you. Just think of it like this. The marriage is the legal part, and the wedding is the ceremony to celebrate, and you will be set.
Really 'tie the knot' at your destination wedding with handfasting.
As you know, I am a wedding celebrant in Greece and as such, I had a lot of ceremonies where my couples wanted to 'tie the knot'. Yes, I mean really tie the knot, with a hand-tying or handfasting ceremony and they decided to include it in their destination wedding ceremony in Greece.
So, you have chosen Greece for your special day. Let's talk about the ceremony itself. Now as a celebrant, do bear in mind that I am truly biased and all about creating the perfect ceremony for your special day. This summer I will be performing a fair few handfasting ceremonies all around Greece. Some will be intimate elopement ceremonies, others will be romantic vow renewals, and there are those that will be great big destination weddings with guests making their way to Greece from all over the world.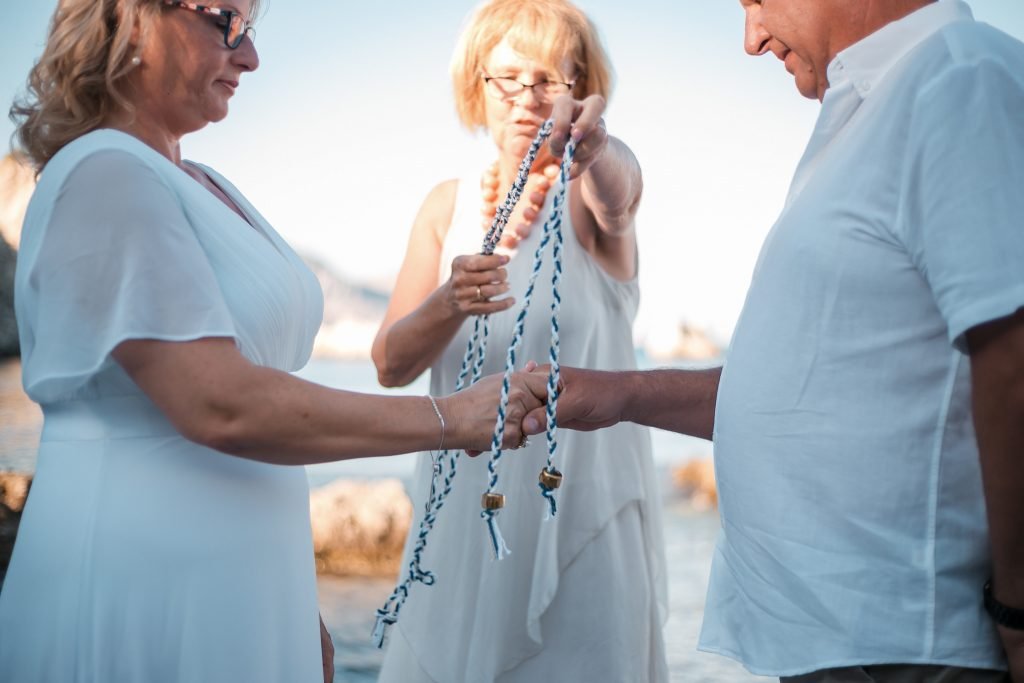 Where does the term handfasting come from?
Back in ancient times, proceeding Christianity, a handfasting or hand-tying was commonplace for couples who wanted to commit to each other in marriage. Normally taking place a year and a day before the wedding ceremony, like a modern-day engagement, the couple would be literally tied together. During this handfasting ceremony, they would exchange promises and vows. Betrothed, this would officially seal the deal and was widely regarded as legally binding, even before the wedding ceremony itself. It is known as a Celtic tradition and has also been a large part of non-religious Pagan ceremonies over the centuries.
Modern day Handfasting Symbolic Wedding Ceremony.
These days, handfasting and hand-tying ceremonies have become a modern addition to the classic wedding ceremony, to symbolize the unifying of two lives.
So now it is the time to let you in on the secret, of how you can literally 'tie the knot' in Greece. For some couples, handfasting is a truly spiritual element for others it is just a wonderful way to show how much you love your partner.
How do you tie the knot in Greece with Handfasting Symbolic Wedding Ceremony?
When you tie the knot in Greece choose colors that are meaningful to you as a couple. You can have your family and friends participate in the handfasting if you wish. They will enjoy being such an important part of your ceremony. They will come forward and lay the ribbons or cords over your joined hands, to show their love and support for your union. As you pull on the ends you will tie the knot and it really doesn't get more romantic than that.
After the ceremony, you can take the knot and display it in your home. It will be a wonderful reminder of your commitment to each other. You could even bring it out at a future vow renewal ceremony, now that's an idea!!
Why do couples choose to have a handfasting/hand-tying at their wedding ceremony in Greece?
They just love the idea of adding something so special to their wedding ceremony in Greece. Tying the knot sounds like the perfect ritual!
One or both have Celtic roots, and they want to honor their heritage with a handfasting ceremony.
Many couples like to include handfasting as a truly spiritual, symbolic ritual.
So, to sum up. Brides and Grooms, there are 3 options for your destination wedding ceremony in Greece.
Civil ceremony performed by the local registrar. A wedding planner is a must, and they will advise you of the official venues on offer and the paperwork required. This will be a standard generic script, with no religious wording. No handfasting here!
A Greek Orthodox church ceremony for couples where at least one is of Greek Orthodox faith and the other a baptised Christian. In some areas of Greece, you can have a Catholic ceremony, but again check this with your wedding planner as official requirements can vary from place to place.
A symbolic wedding ceremony led by a professional wedding celebrant. And yes, you can tie the knot, you can blend the sands, you can warm the rings, and you can even jump the broom. Anthing is possible! Think outside the box and plan an unforgettable wedding ceremony in Greece.
If you would like to learn more about wedding ceremonies in Greece and would like to 'tie the knot' with Handfasting Symbolic Wedding Ceremony on your special day, contact me to learn more. Happy to chat, we celebrants are good at that!