If you're dreaming of a white wedding, this Dreamy Elopement inspiration, from Santorini will absolutely enchant you! Know for the little white houses, and out-of-this-world views, Santorini is one of the most chosen wedding destinations.
For this article, we had a chant with Dana, the destination wedding photographer about her experience in Santorini!
What was your inspiration for this shoot?
Santorini is voted to have the best sunsets in the world. Along with its views of the Aegean Sea, Oia is a charming little town with famous blue domes, white houses, and windmills that are the perfect backdrop for your portraits during golden hour. We did a first look next to the blue dome and took advantage of Santorini as our backdrop for two hours.
Amanda, the creator, and designer of this workshop and elopement capsule shoot, simply felt inspired by the views of Santorini. She wanted to showcase that the island itself is an oyster filled with backdrops for all photo opportunities. She wanted this portrait shoot to represent the destination location well.
Tell us about the wedding flowers of this Dreamy White Wedding Elopement
Our bridal bouquet featured ivories, blush roses, and some greenery to give way to a classic and romantic floral look with our bride.
Tell us about the bridal attire choices
We went with two wedding dresses. Our first was a strapless lace and beaded front and back, satin with a beautiful bow. Our second dress was a princess look, filled with lace and appliqué, and a long veil to give it a fine editorial and romantic look.
What would be your best tips for couples eloping to Santorini?
One
Hire a wedding photographer who makes you feel happy, beautiful, and comfortable. I truly believe that part of the reason why images can turn out beautiful is when the couple feels comfortable and relaxed with the photographer. They can be themselves. If you are looking for a goofy, fun, candid photographer but end up hiring someone who is into fine-art, magazine-type of shots, you might end up feeling uneasy. This can affect the feeling on the day and the final result or turnout.
Two
That leads me to number two. Also, make sure to hire a wedding photographer who not only makes you feel comfortable, but you love their approach and style. I am talking candid, joyful, editorial, etc. Whatever you are looking for, it is important to hire a photographer who is an expert in that sort of posing/experience.
Three
Trust the photographer! When it comes to getting those airy, warm photos, the photographer's main key is making sure the light is good. This means placing the couple away from the sun to get even light in the shot, no sun on the face that makes it look unflattering, etc. We care more about the light than the background, but always strive for both. So, when we ask you to move, adjust your stance, and even change locations altogether, trust us! It's for the best.
Four
Plan your portraits around golden hour. I know this is the most popular tip and is known by many, but it is so important to at least get some photo time at the best time of day. This could be around 4 to 5 pm during fall/winter and 7-8 pm during spring summer. The best way to do this is by adding this to your wedding timeline and sneaking away during the reception. It will allow you to get beautiful images, and get some quiet time/a break away from the reception.
Five
Every photographer has their own way of posing the couple. And they have their own "go-to shots" for the wedding gallery. However, to get the best gallery for your investment, share a moderate list of things you want photographed that are not "common". This can include:
a shot of the dress with all the BM dresses
grandma's memorial
a photo of a locket, etc.
Photographers are always wanting to make you happy, and getting a list with 15-20 personal items to get photographed will only make looking through the gallery more meaningful.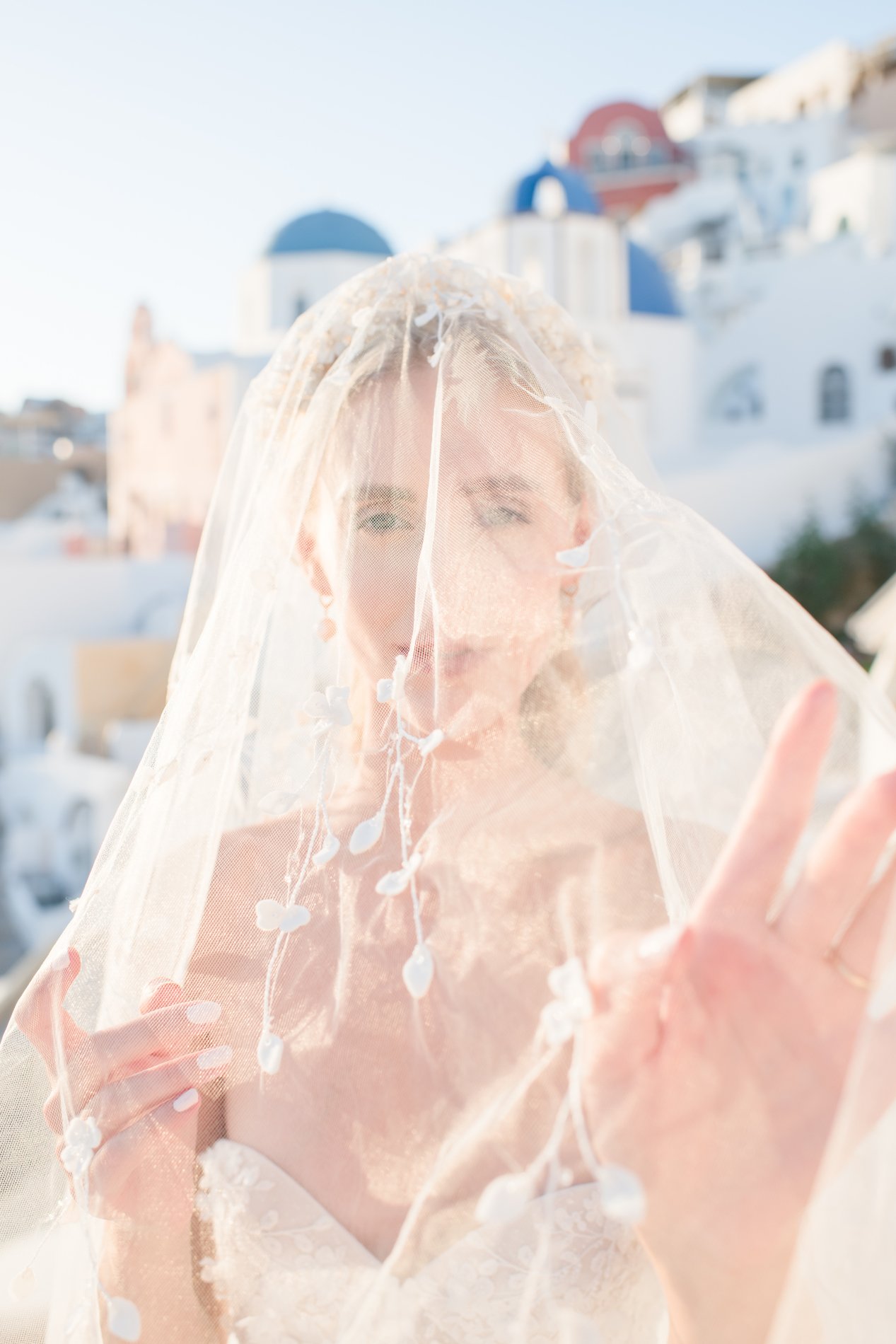 Six
When it comes to taking photos with your photographer, it's important you feel good mentally and physically. Drink water throughout the day so you don't feel dehydrated during portraits, especially in Greece where it gets hot. And if you want, go and brush your teeth before your portraits so you don't have to worry if something is in your teeth, etc. Feeling comfortable, healthy, and happy are key to how the experience will be and how the images will turn out. No one has a good time if they have a headache from lack of water, or are too hungry they cannot think.
I hope my tips will help you get your own Dreamy White Wedding Elopement!
See the gallery:
Get this look:
Photography: Destinations with Dana | Ceremony Venue: Rocabella Santorini | Floral: Maria Voudouri | Hair: weddings makeup and hair | Makeup: Weddings Makeup and Hair | Event Planning: AMV Weddings | Event Design: AMV Retreats | Wedding Dress: EVA Lendel | Wedding Dress: Wona Concept | Veil: Blossom Veils | Jewelry: Victor Barbone Jewelry | Submitted via: Matchology