Summer in the city!
Embrace your destination and give in to the city life, was our moto of this styled wedding shoot.
It was exactly 1 year ago today when we published our Summer2018 Ellwed magazine with this amazing cover shoot. Since then, this shoot as also been featured on B.Loved Blog and the International Wedding Trend Report by the International Academy of Weddings and Events Planning and it is still super trendy to date!
Summer must be by far the most popular time for tourists to visit Greece and especially Athens with all the beautiful sights the city has to offer. You may not think of Athens as your wedding destination, but the city can offer you something the islands cannot. We tried to capture that edgy urban vibe in this inspirational cover shoot.
The story
Our planner Bobbie Karagianni, from Sand and Lace, made sure everything from styling to design and planning was to the highest standards as well as on point with her vision for this cover shoot. Bobbie, a Greek-Dutch wedding planner and stylist from the Netherlands, specializes in organizing and styling weddings in Greece. This may gave her an advantage in the styling process as she had a very different perspective on the city and what it has to offer. She styled the look of this shoot with some Dutch influence and different, urban lifestyle. Working closely with our photographer, Karina Papadopoulos who was shooting on film, made this shoot stand out of the crowd. Each of the great ladies brought their ideas and editorial experience to the project to execute Bobbie's vision.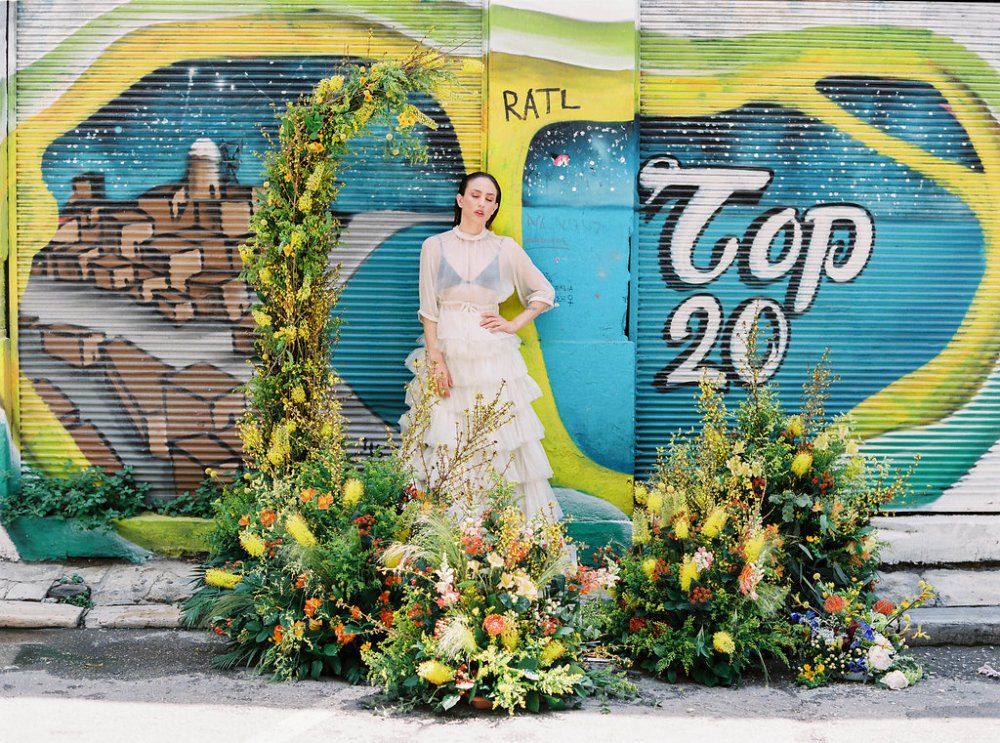 Our location was Athens city center and we wanted to show the most iconic parts of it. Bobbie chose the Six D.O.G.S. with their hidden city garden for our venue and the streets of Athens for the rest of the love story. Karina thoughtfully researched the streets with us, in order to depict the spirit of Athens. We decided on some important local traditional places like the local "Koulouri" (round bread pastry with sesame seeds) vendor from Ermou Street, the "Lukumades" (small local doughnuts with honey) bar and the iconic Monastiraki square (main square in Athens). We also did not forget on important pieces of the city like the famous yellow taxi and the almost forgotten phone booths that Karina noticed in the crowd. She followed her before well-thought out plan for the day, so we did not miss any important details of the story. Her expertise in high-end fashion with Bobbie's directions, gave this shoot that edge we wanted to portray.
Taking it to the Streets
Within Bobbie's vision, Pavlov's Lab created one of their signature cakes with the very minimal urban, on trend, yet delicate designs just for us. And so, this urban cake was accentuated with light cement grey colors and patterns, styled to perfection. Also, Bright White produced hand-crafted stationery and invitations with Bobbie's directions of the exact look and vibe she was searching for. Whereas Karina's artistic eye and open-minded approach to photography, ensured that the cake and the stationery fitted flawlessly within our theme with the strong urban summer vibe. Every detail was a vital part in creating the unique summer in the city image we wished to achieve.
Of course we could not achieve this look without our amazing models Anna Papathanasiou and Giorgio Karatasio who rocked the shoot! And so, Anna's look was perfect for our vision of this cover shoot and she truly brought it to the finish line with the Epifanios Atelier designer two piece wedding dress with a sheer top. While our groom wore the tailored made Sur Mesure navy blue checkered costume suit and white made-to-order shirt. And all because hair & makeup styling was carried out by Georgia Xristodoulou Makeup Specialist within the style of our urban look. She also made sure that the look of the bride and the groom stayed flawless throughout the shoot.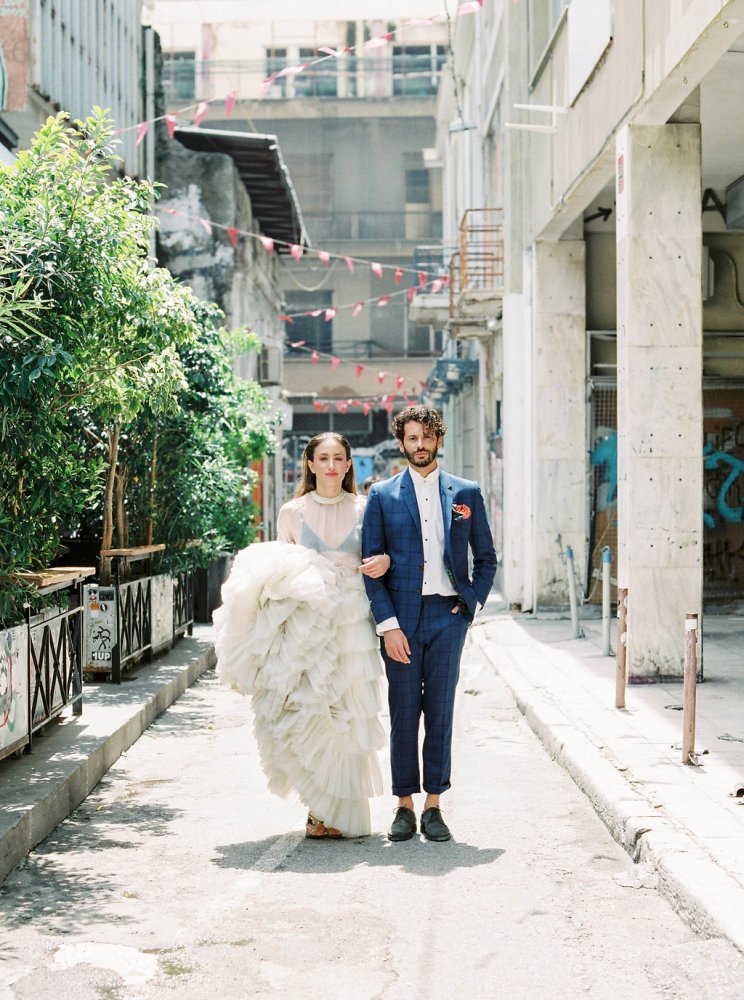 Aris from Aristotelis Batistatos Cinematography, was careful to capture every moment for our editorial video. Nevertheless, his artistic eye and different ideas combined the story of the couples urban summer love story or in our case, the city love affair. He captured the essence of our urban shoot and expressed Bobbie's vision. So, make sure you also see the video on our social channels.
Studio 7 Florescence created our unique urban floral composition, which was posed in front of iconic graffiti the city has to offer. The composition, table arrangement and the bridal bouquet were made with different exotic and local flowers, perfect for summer. Main colours were yellow, orange red and blue for that little extra pop!
All in all
We created this amazing and unique summer wedding with the help of all our selected wedding professionals, who were truly dedicated to this project. Their quick and creative thinking resulted in outstanding images depicting urban summer and edgy vibes. We were truly inspired by the positive energy, creativity and commitment to the work that the whole team put in this cover shoot.
Happy anniversary to all our amazing selected vendors:
Coordination, Ellwed Magazine
Styling, Concept & Planning, Sand + Lace Events
Photography, Karina Papadopoulos
Developing, Carmencita Film Lab
Video, Aristotelis Batistatos Cinematography
Cake, Pavlov's Lab
Hair & Make up Styling, Georgia Xristodoulou Makeup Specialist
Models,
Anna Papathanasiou
Giorgio Karatasio
Dress, Epifanios Atelier
Custom Suit, Sur Mesure
Floral Design, Studio 7 Florescence
Invitations & Stationery, Bright White
Venue, Six D.O.G.S.
Other Locations,
Monastiraki Square
Ermou Street
Downtown Athens
With special thanks to
Tiago from carmencitafilmlab.com
Lukumades.com
"Koulouri" vendor from Ermou Street