Don't forget your nails for your wedding! Your wedding is coming up and you still don't know what to do with your nails? Well, read further because this article will surely help you choose the perfect nail design for your big day.
In this article:
Semi-permanent nail polish, Gel-X, Acrylic, Gel and so on! Do these terms speak to you? Or are you wondering which of these techniques should you choose? Which nails last the longest? Which nails are the best for you and what is trending now? Should you go for the 'French manicure' or maybe nails for summer are the better option for your wedding?
In this article you will learn all you need to know about nails to make the right decision for you!
But first, let me tell you a little more about different nail techniques you can do for the perfect nails for your wedding day.
My name is Laury and I am really passionate about all things nails! As a self-taught nail artist, I know what is important when you're considering to have your nails done professionally for your event! Because nail art is my passion, I learned everything I know with the help of self-help videos and hours, upon hours of practicing on myself and my family (who of course loved it)!
Now, if you have never been to a saloon or if you have your nails done by a professional on a regular basis, read this article, where I share all my insider knowledge about the perfect nails!
Why is it necessary to have the perfect nails on your wedding day?
You may not have thought about it or simply left it last on your list of wedding preparations. However, the beauty of your hands is really important on your wedding day! Yours, and your partners as well!
Your hands are among the things that will be seen the most during the day. Of course, everyone will want to see that wonderful ring on your finger. It is thus necessary to pay attention to each detail. And what better than perfect nails to show off your hands.
There are a lot of techniques and nail designs available. So you must choose the one which is for the proper occasion and which fits with your personality and your habits the most. And just because it might be your wedding day, you do not need to choose white or pastel colours! You can go as bold as you like or as shiny as you like!
So, nude or color, long or short, simple or sophisticated? I will help you with your choice:
Here are some of my tips and advice for your perfect nails
First, don't leave it to the last minute
Nail technicians often have a very busy schedule filled several months in advance. To be sure to have your appointment and not to be caught off guard you need to book your time slot several months in advance.
Also, the time to redo your nails is very important for any technique, whether it is Gel, Gel-X or Acrylic. Except from the fact that the gap due to the regrowth of your nails is not really aesthetic, keeping your nails for too long increases the risk of breakage and detachment! Generally, it's around 3 – 4 weeks to do the nail fill (fill de gap) or the removal (return to natural nails). Whichever the case, do not forget to make your appointments in advance.
Then, the choice of your nail specialist is also of high importance. You shouldn't leave your hands in the hands of just anyone! At least not for your wedding day! Each nail technician has their own style. Consider looking at their work on social networks before making an appointment. And then arrange your appointment, well before your big day, so you can see if their work is satisfactory.
Think carefully about the length and shape you are going to do
Are you a fan of perfect nails done every month or is it something you rarely do? You must adapt your choice to your situation.
For instance, if you hardly ever do your nails, your wedding day is not the best occasion to try the XXL nail extensions for the first time! You need to feel comfortable with your nails and sometimes certain types of shapes or lengths require some practice. On the contrary, if it's something you do regularly, enjoy it!
The most popular nail shapes are:
Square: The tip of the nail is straight, and the edges form a right angle
Rounded /Oval: The tip of the nail is rounded, half circle or oval
Almond: As the name impose, this shape is more elongated than the round shape, in the shape of an almond
Ballerina / coffin: Elongated like the almond shape but the tip of the nail is cut straight
Stiletto: A very pointed tip
Squoval: From "Square-Oval", the shape of the nail is square with rounded corners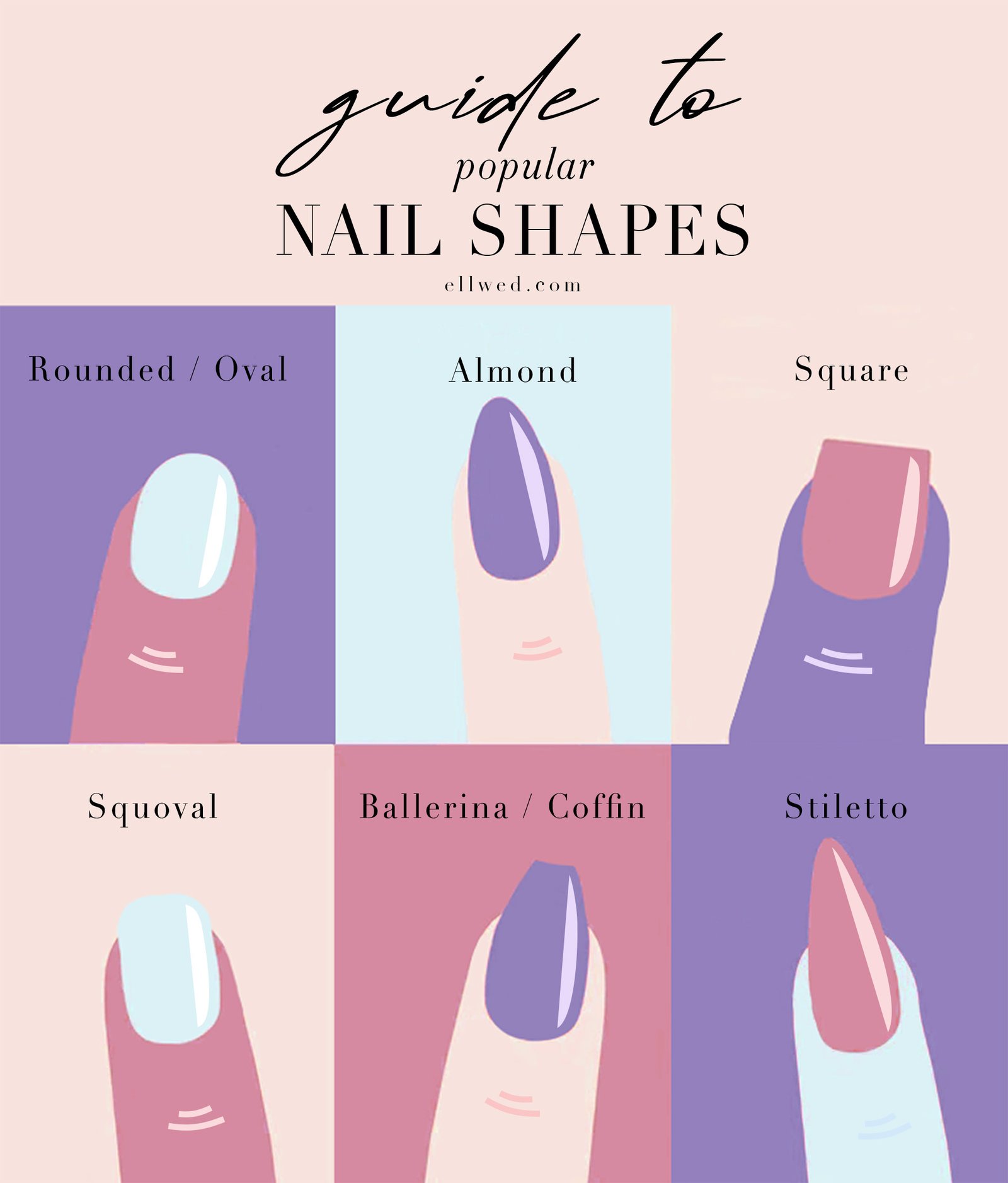 Choose the one that suits you best, but especially the one that is best suited to the length you want to do. For example, it will not be possible to make an extra short stiletto. Talk to your nail technician and they will be able to suggest a nail shape that matches your fingers. Don't panic if you have short nails and you want a long one, there are many techniques for nail extensions.
Consider the type of application you want to do
The classic nail polish may seem to be the simplest, quickest and least expensive option. But be careful, you may soon regret it! The simple nail polish as we all know it, gets damaged very easily. With some use just before the wedding your polish may not hold the cost and may flake. And this is not at all what we want! So you might want to consider some different, maybe more advanced application techniques.
Most popular application techniques perfect nails explained:
Semi-Permanent Nail Polish
If you are someone who likes simple and natural look, I would recommend semi-permanent nail polish. It's a half gel polish fused with regular polish creating a new hybrid mixture which combines the benefits of both! This hybrid nail polish only dries if placed under the UV lamp, otherwise it will not dry. Once the application procedure is done, it will have the effect of a classic nail polish but with a much better hold and shine. Although the semi-permanent nail polish is more resistant than the traditional polish, it is still less resistant than the other techniques available. Which I will explain little later. Nonetheless, it's a good alternative if you like simple and natural nails with a good hold for 10-14 days.
Semi-permanent is also a good choice if you have a good nail structure. That is if you have a uniform length and a nail shape that doesn't need much correction. However, if your nails need to be lengthened, or "modified" to correct missing tips for example, other techniques are better suited.
Nail lengthening and shaping for perfect nails:
Techniques like Gel, Gel-X, or Acrylic, for instance can also be used for nail extensions if needed. There is not really one option better than another, the result will be more or less the same. It's a matter of personal preferences. All these techniques are suitable if you want to lengthen, modify, or rebuild the shape of your natural nails. But Gel and Acrylic are also suitable if you want to strengthen your natural nails without lengthening them. These techniques are a good way to reinforce your nails to make them more durable unlike semi-permanent, which will just have a good polish hold.
Within a few hours you can go from short to long without any worries. And even if you bite your nails, an extension can still be possible if there is enough base to work with. You can always consult your nail technician and send a picture of your nails to be sure if it is possible or not. But it really depends on each case separately.
Now let's see the difference between these nail techniques:
Acrylic
It is actually a powder applied to the nail with a brush soaked in a liquid called monomer. In contact with the liquid, the powder will become pasty. The nail technician will be able to model this paste on your nail that will solidify in the open air. Acrylic nails are very hard but less flexible than Gel nails. One thing you should also know is that the monomer gives off a very strong odour that may bother some people.
Gel
Gel has a creamy and viscous texture. It is applied directly on the nail and must be cured under a UV/LED lamp. The nails are more flexible but just as solid, which allows it to better absorb the shocks. It does not give off any special odour the only thing to know is that some Gel can heat up for a few seconds when put under the lamp.
Gel-X
The Gel-X, or as we call it in French "American Pose", is a very different technique from the two others I just explained. It is a soft capsule that will cover the entirety of your natural nail from the base to the tip, glued on your nails with a liquid gel such as Rubber Base and cured under UV/LED lamp. The result can be also very natural looking.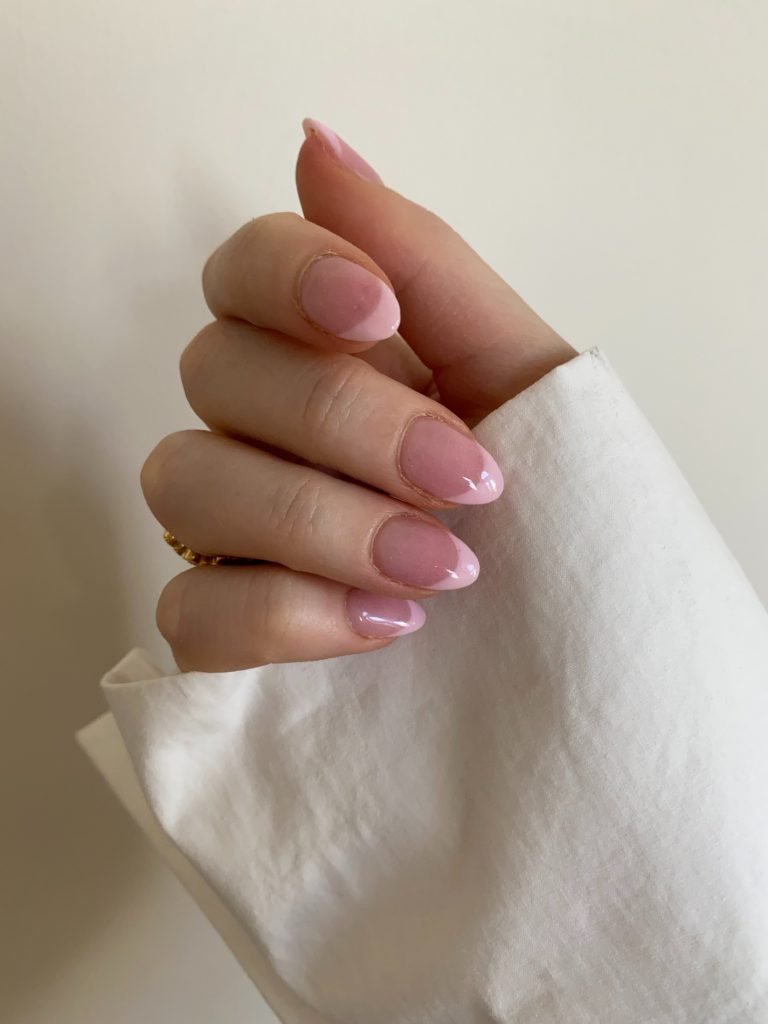 Press-on nails
Not really an application technique like the above ones, but it is another option for the perfect nails for your wedding! The press on nails might be less durable than other techniques, however, it is a very practical and fast option!
These are already "done" nails with polish and decoration that you just paste on your natural nails with a special glue or gel pads (small adhesive stickers). This technique requires a short and simple preparation of your natural nail which is important for a better hold.
Nowadays more and more nail technicians sell custom handmade press on nails, which they design themselves. And sometimes you can also tell them what you want, and the nail artists will take care of your order. However, these made-to-order nails might not be widespread in all countries, but you can definitely find many different factory made press on nails almost anywhere.
Even if you have to pay a little more, I recommend you buy good quality press on nails directly from specialize store, website, or nail salon. This will have a much more natural effect and the nails will be much more durable. It would be embarrassing to lose a nail on the day of the ceremony!
Moreover, the advantage if you buy quality press on nails is you can reuse them many times on many other occasions. It's a good option for those who want their nails to be done quickly, or those whose job does not allow to have long nails.
So what colour shape or design is best for you?
These nail extension techniques (Gel, Acrylic and Gel-X) offer an infinity of possibilities in terms of color, shape and design.
For your wedding, in terms of colors, you can opt for full white, a white nail art with a touch of silver or gold, a 'babyboomer', a 'french' etc. But be reminded that white is absolutely not a necessity! Nude, pink and gold/silver colors are just as beautiful. And even better if you prefer originality you can dare to use color. Feel free to do whatever you like. If it fits within your wedding design, even dark hues or blacks can be an option for your wedding day! Remember, there are no rules when it comes to your style and design preferences! You can find some nail inspirations here on our Pinterest.
Given the number of possibilities you have, I'm sure you will always find what you want. For instance, rhinestones, pearls and spider effects are trending right now. Here you can find more trending nail ideas!
While choosing your nail colours and designs, consider your venue location, your wedding theme and the overall vibe or the mood of your wedding! Are you planning a Glam traditional white wedding? Then natural and white hues might fit best with your overall design. On the other hand, if you're planning an indie boho beach celebration, a more playful and rhinestones decorated nails, maybe even in summer colours, could be perfect for that theme! As a bride, you can also choose to decorate the ring-finger nail with glitter, gold, silver, rhinestones or a different color altogether!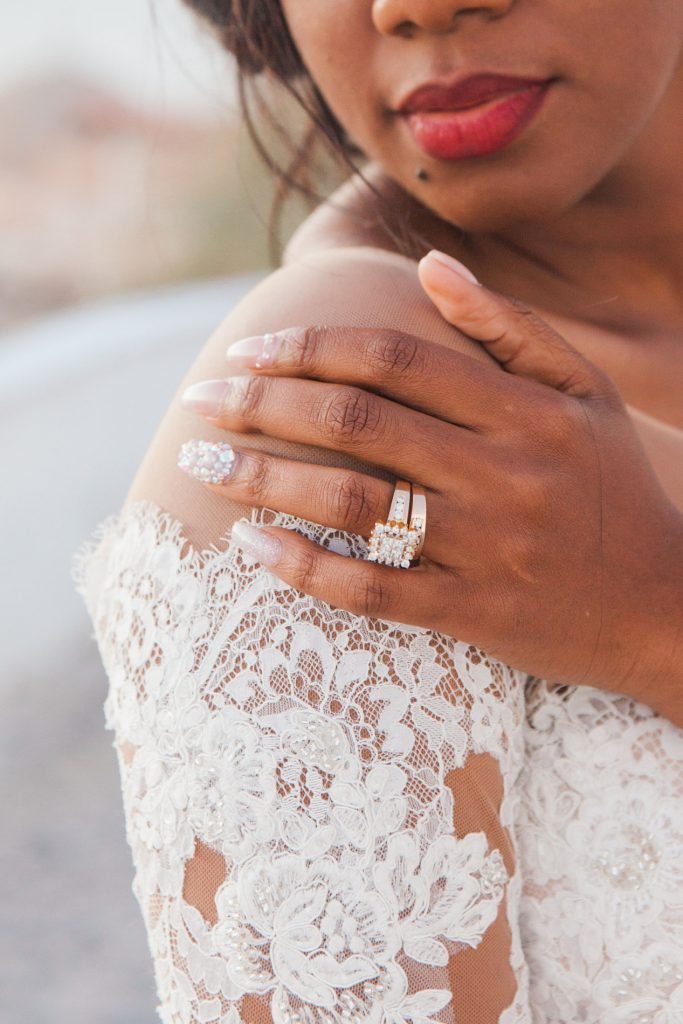 Sandy feet and open toes for your summer wedding in Greece
Last, but not least don't forget your toes! We only talked about the beauty of your hands, but the beauty of your feet is just as important. Especially if you have chosen to have a wedding on the beach or if you have planned to wear open toe shoes or sandals. Don't forget your pedicure!
As many weddings in Greece happen on the beach and in summertime, some brides choose to go barefoot at their wedding! And some like to decorate their feet with jewellery as well! On the other hand, if you chose the ever so popular transparent heels, your toes need to be in top shape!
It would be best to colour coordinate your toes and fingernails for more of an overall cohesive look!
What about the mani-pedi spa day with your bridesmaids!
There a lot of activities you can do before the wedding day with your closest friends and family. But one of the most popular ones for all the ladies must be the spa day! You can arrange to book it for everyone together or simply offer for them to arrange it on their own, while you have other bridal duties.
Your bridal team can even color-coordinate their manicures and pedicures to fit with your wedding mood! The possibilities are endless and it all depends on your wishes!
So, you've made it to the end!
Among the many available techniques out there, I've summed up the most popular ones that you should know about. Now, you will be able to choose the technique that suits you best, to have perfect nails at your wedding.