If you are getting married and you are looking for New Bridal Fashion Trends, you are at the right place.
Saying Yes to the Dress can be difficult, especially when you don't know what to wear! We have summed up some of the best bridal fashion trends of this season to inspire you for your wedding dress! Bridal suits, bespoke veils, colourful or voluminous dresses and so much more. Surely, you will find something that is just right for you!
And remember, you can always have two, three or even multiple dress changes at your wedding! Depending on the type of your celebration and your venue, of course!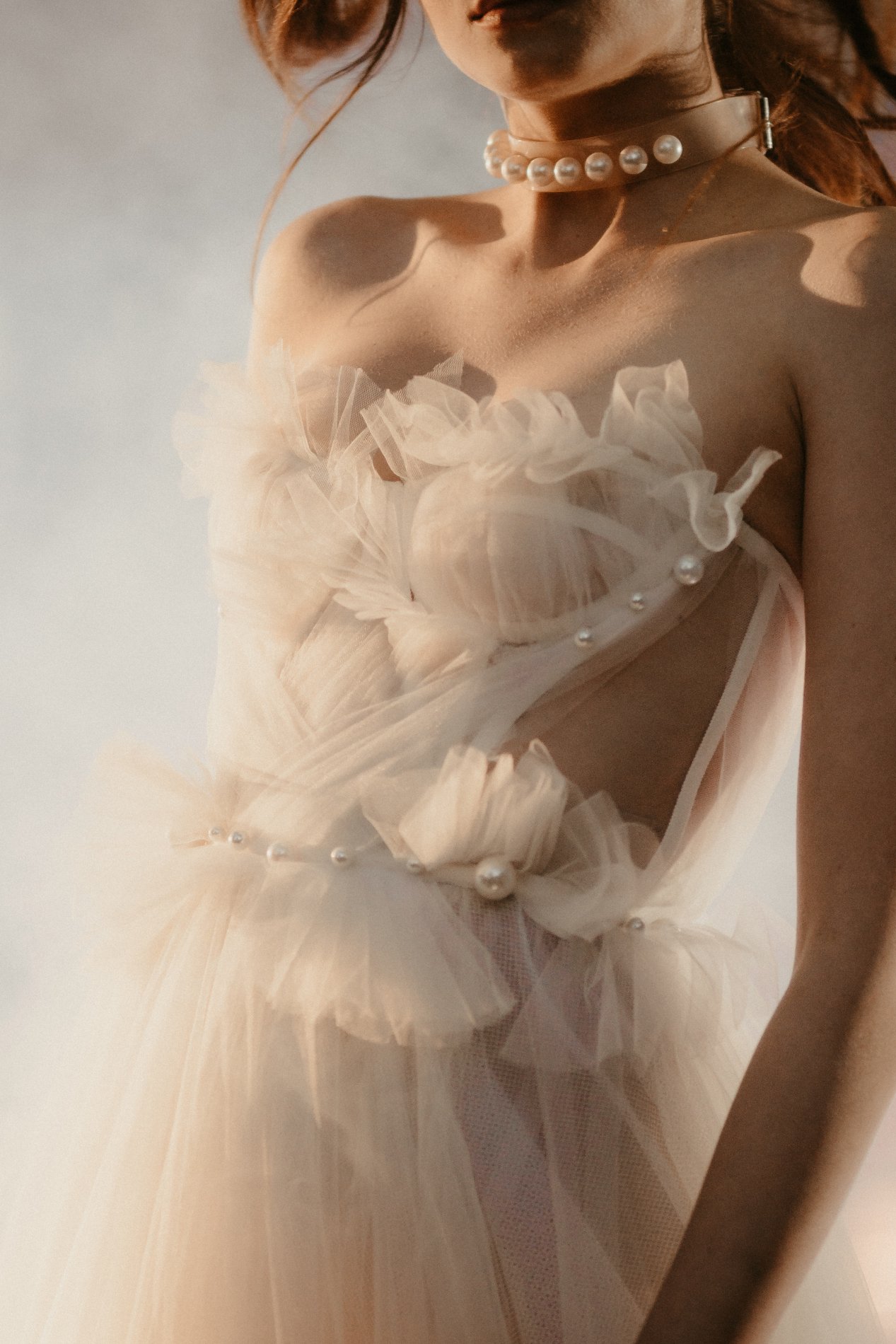 Statement sleeves
Puffed or balloon sleeves
A new trend is to play with sleeves. Eye-catching balloon sleeves have a very glamour and romantic style. Inspired by trends from 1890, the puffed sleeves were a symbol of wealth and represented a specific social status. Wear your romantic puff sleeve dresses with pride, like the women in the famous Netflix series Bridgeton. Nowadays, oversized sleeves are certainly promoting the extravagant and assertive style with the fashion-forward puffed off-shoulder sleeves!
To make your wedding dress even more interesting, you can opt the dresses with for detachable sleeves if you want to change your look throughout the day! It's one of our favourite bridal fashion trends.
Flared and flutter sleeves
Flared sleeves are very trendy this season, perfect for the bohemian style. Many designers get inspired by the medieval style and offer a beautiful mix of class, authenticity, and elegance. You will be able to find many different styles of flared sleeves, such as short, long, lace and transparent. Bring the vibe from the past, with the modern twist and off-the-shoulder sleeves!
Neckline in focus
Hight or mock neck
Highlighted and inspired by royal families' wedding dresses like Lady Kitty Spencer or Grace Kelly before her, the high-necked dresses are of an impregnable standing. Usually adorned with lace or slightly transparent, it is elegance assured.
Square necklines
Often neglected among the other types, the square neckline has finally its hour of glory. With its modern and chic style these dresses are perfect to be at the top of the bridal fashion trends and create sensation among your guests.
Dare to color
Full pastel
Yes, color is still in the running among bridal fashion trends! If you are bored to wear a full white dress, don't worry! There are now many beautiful colored wedding dresses in different styles. Pink, blue, or yellow wedding dresses are very trendy and original. Break the rules and embrace the color. Be gorgeous in a dress that goes beyond the traditions and boundaries of the wedding dresses we all see. And remember that Queen Victoria set the white wedding dress trend in the 1840, with her own wedding dress in white! Before that it was completely normal to wear colour! In fact, in some cultures it still is!
Touch of color
If you don't feel comfortable to wear a full colored wedding dress, you can opt for a little touch of color. For instance, pink flower, blue belt, yellow lacing, or a black bow etc. It's a good compromise to wear color in a more discreet way. Modernize your style with smart accessories in color which you can remove at any time.
Beyond the dress
Suits & Jumpsuits
Who said that brides must wear a dress? It is absolutely not a necessity and there are many other possibilities. For instance, white stylish suits or jumpsuits choices are amazing nowadays. The unconventional looks are becoming more and more popular. We would even say that they are on the right path to become a bridal wear staple. You will definitely look very chic and classy in a beautiful suit and elegant in a refined jumpsuit.
Separates, Oversized pants & fitted corsets
As we said, there are many possibilities so why not wear separates? A corset with a flare skirt or a sophisticated strapless top with an oversize pants etc. Separates are very trendy and offer many different combinations of outfits. Be creative and dare to try out different wedding styles!
Lot of volume
Ruffles
A big trend for some time now are the ruffles. In all its forms, from the simplest to the most extravagant, they are in the spotlight this year. Lots of dramatic ruffles are on the horizon. You will have the choice between a very voluminous dress with a cascade of ruffles like a princess or a little more simplicity with a beautiful, ruffled hem.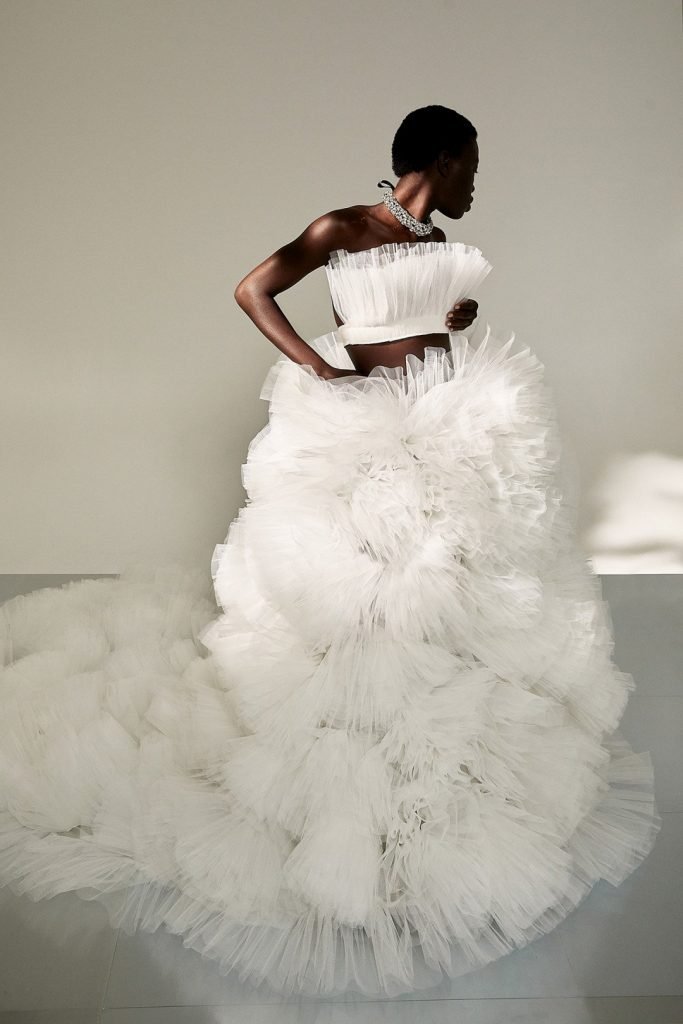 Oversized bows
Many designers have honoured the bows. In different ways and placed in different positions such as: in the back, on the shoulders or at the waist. A perfect addition to a romantic or retro style wedding dress.
Different lengths
Short dresses
The short dresses have now entered their place as a must-have wedding dresses. You can absolutely find many different styles. A short dress can be a perfect second wedding dress for your after-dinner party or even for your civil ceremony at the registrar's office! But it doesn't have to be limited to just that! You can rock your short wedding dress on the beach or any suitable venue!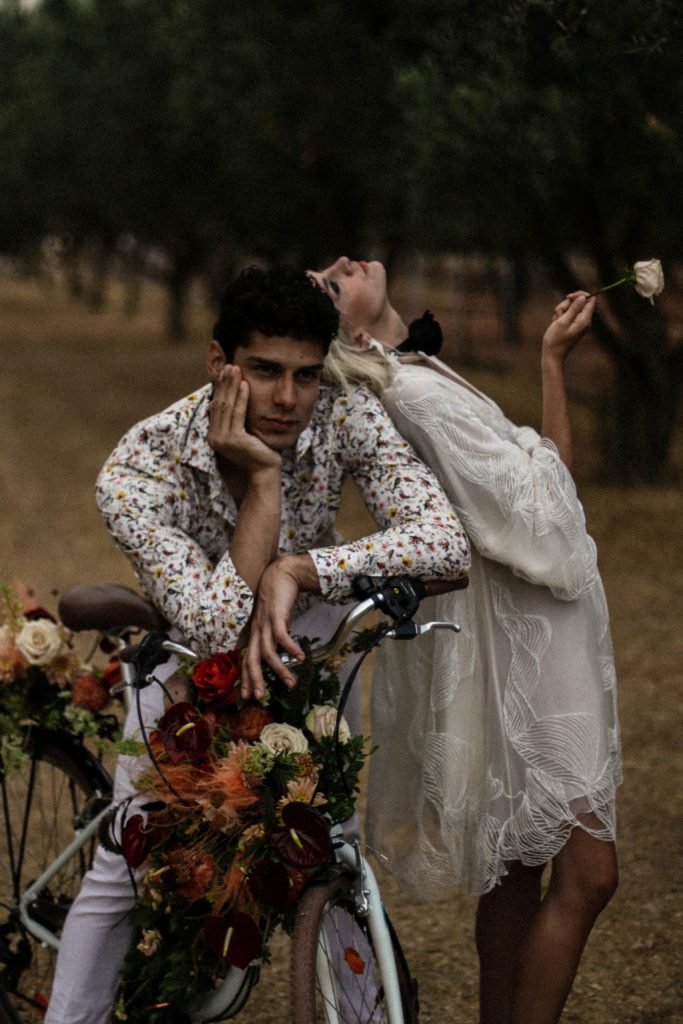 Asymmetrical lines
Every year the asymmetrical dresses surprise us with their styles. A way to make the difference in all originality. A wedding dress can be asymmetrical in different ways, at different levels. It is indeed distinguished by its neckline or sleeves, by its length (short in front, long behind) or by its lines. You definitely have many possibilities for asymmetry. Asymmetrical ball gowns are also decorated with with embroidery and magical 3D details.
New age fabrics
Transparency
Sexy and classy at the same time, the transparent dresses make their big arrival. For some time now we have been seeing transparent necklines in wedding dresses. But this new fashion trend takes it a step further. Whether it is allover lace, at the level of the belly or the legs the transparent fabrics are now also decorated with pearls or rhinestones or combined with embroidery. So would you ever choose a wedding dress with allover lace?
Cut-outs
One of the key words this season is boldness. So why not try the sexy and daring cut-outs in the wedding dress. A good way to break the rules in this way. Adopt a contemporary style and highlight your back with open or V cut back, your neck with plunging V-neck, or your legs with a sexy slit.
3D Sculpted flowers
The 3D sculpted flowers are getting bigger and more organic. With different types of dresses, short or long, on the whole dress, only on the bust or on the train, the 3D sculpted lace is everywhere. The new sculpted lace patterns offer designers to expand the fabrics to new 3D dimensions! Embroidery on the whole dress or on a small part, the dresses with big flower motifs are very trendy at the moment. Oversized floral motif prints and lace with oversized flowers all over the dress or just some special parts. For all passionate about flowers you will love this trend!
Beaded sparkles & pearls
Gemstones and pearls are probably the top fashion trend this year. In makeup, hair, nails and now also wedding dresses get to accessorize. Sparkling beaded floral appliques and pearls of all sizes are gaining popularity this year. Look like a real princess with a sparkling or intricately beaded bridal gowns. Whether discreet or bling-bling, dare to use pearls or sparkles in all forms for your wedding.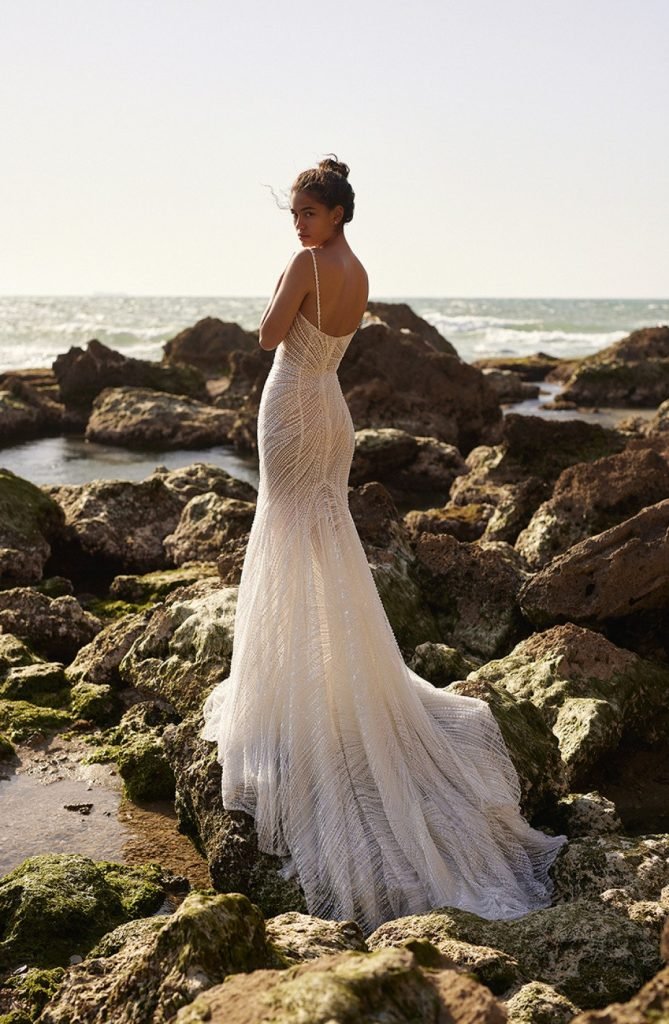 Statement Accessories
Bespoke Veils
Let's talk about the great trend of bridal veils. Beyond the tradition the veils have become a real fashion accessory. You can find embroidered, beaded, colored, printed, sculpted in 3D, glittered veils. Not only beautifully decorated with pears or beads, vails are becoming personalized! Brides are opting for fun embroidered sayings or meaningful messages or even the couples names and date of the wedding! Anything goes!
Bridal Capes
Capes on the other hand are becoming oversized. Real statement piece full body coat-like accessories. Made of lace, tulle or flowy heavier fabrics, capes can be added to your wedding dress or oversized pants. Really a different kind of accessory that will bring a touch more to your wedding outfit.
Statement Headpieces
For all fashionistas and fashionistas by heart. Hair accessories just got more interesting! From elaborate and ethereal hair pins to jewelled caps decorating the whole head and crowns with an array of pearls, sparkles or Swarovski crystals! For deairing or romantic souls, new headpieces are definitely stylish and statement pieces!
Images: Pullquest
Also read our previous article here
Find more inspiration on our Pinterest account here