Today, on Ellwed Talks – the first podcast about destination weddings in Greece, we are talking with Sarah Gamble from Photo Press about 4 Things You Need to Know Before Designing Your Wedding Stationery!
When I saw Sarah's Wedding Stationery Newspapers, I immediately fell in love with this idea! And as a Designer and Editor of Ellwed Magazine, I felt the need to share it with you all!
And as not many couples will have unique personalized newspapers at their wedding, it will certainly be an interesting, alternative and unique part of your wedding!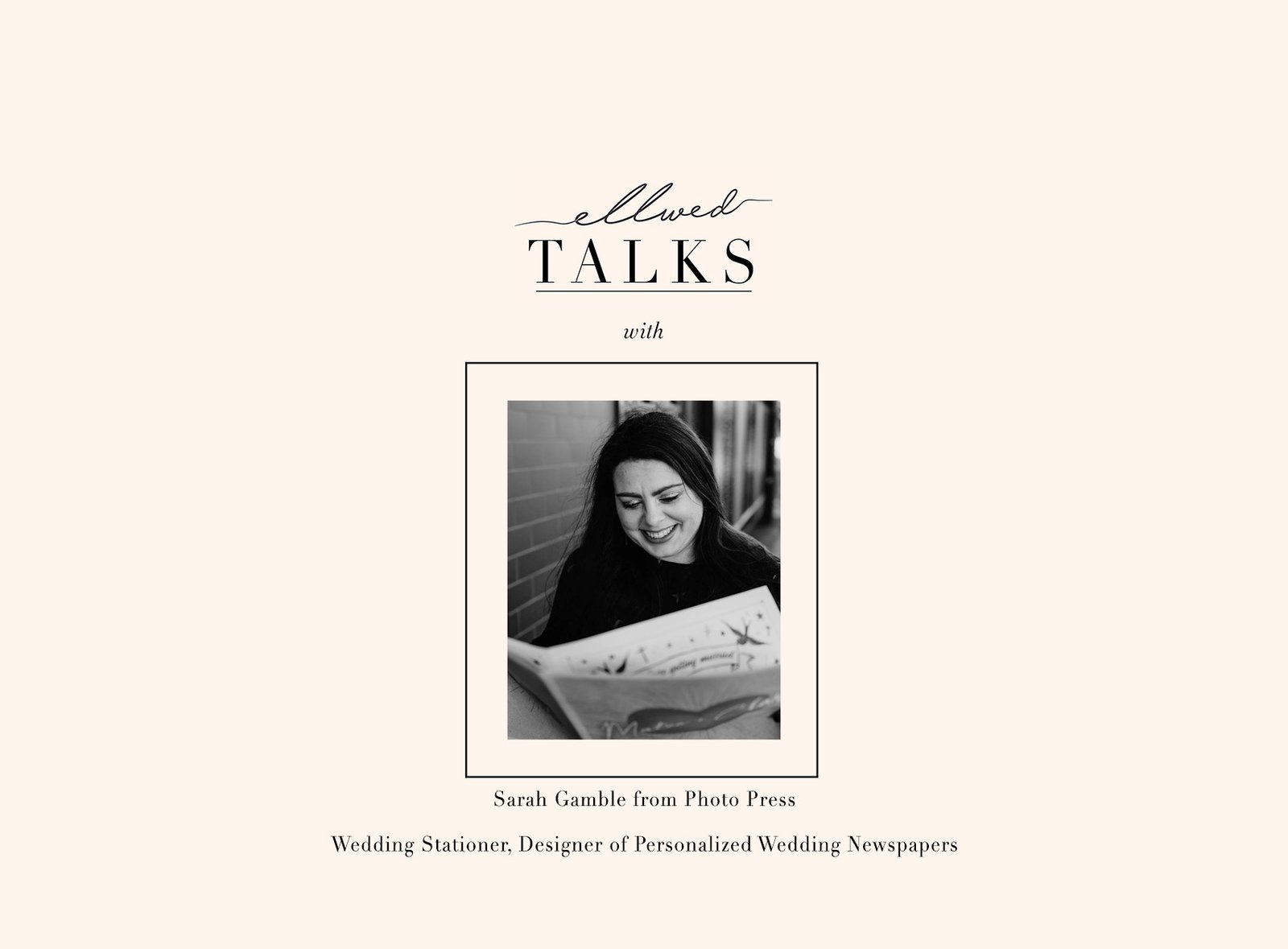 Like many other wedding professionals, Sarah started her unique stationery business of creating personalized newspapers for weddings afar her own wedding in 2016. She got inspired by a "thank you newspaper" she saw on Pinterest while doing research for her own wedding. This concept of taking newspapers and creating something unique and interesting, intrigued her right away and Photo Press was created which evolved into invites, save the dates and all things wedding stationery.
Sarah loves helping couples create something special just for them!
Photo Press was featured in numerous magazines and blogs such as Rock N Roll Bride, Most Curious, Un-Wedding, Way Out Wedding Magazine and many more!
In this episode, Sarah shares her story and we dive into the 4 things, you need to know before starting to design your wedding stationery! Dealing with difficult conversations around invitations such as who is/isn't invited? You will learn what information to share in your stationery, how to add personality to your wedding stationery and how you can share your day with people who couldn't make it.
And now, let's dive in!
From Sarah:
I'm Sarah. The brains and beauty behind Photo Press and I get excited about being creative, inspiring people and challenging wedding norms. I believe in representing personalities in everything I do, the quirkier the better. I spend my days designing newspapers, drinking too much coffee and believing anything is possible. My creations are perfect for all celebrations of love! For anyone who 'thinks outside of the box' and wants to share their story with family and friends.
I started creating newspapers for weddings following my own wedding in 2016. I'd seen a thank you newspaper with all the photos from the day on Pinterest back in 2014. And knew it was something I wanted to do. I also created a ton of things for my wedding and unleashed a creative side I'd ignored for a long time.
After my wedding, I sent thank you newspapers to all my family and friends. That how I realised that I didn't want to put my creative side back in a box! So, I quit my IT career and jumped all in. I initially just used photos in designs, but this organically evolved into invites and save the dates etc. It's been a rollercoaster and it's been hard to learn how to run a business and how to design newspapers. But I love helping couples create something special just for them and I wouldn't change a thing! And so, here are some of my tips for you!
It's all about you:
One of the biggest things I have learnt (and swear by) since I became a wedding stationer, is that it should represent you. There are so many designs out there that say nothing about you as a couple. I hand on heart believe that you should be including elements of your personalities, interests or hobbies wherever possible and maybe the odd photo. I believe that no two stationery designs should be the same whether you outsource or create your own. 
It's also really important that anything you send out represents your plans. So if you're sending out save the dates and invites, make sure they fit the plans for on the day. This will be the first thing most people will see about your day, so they will create expectations around this. If it isn't cohesive, it might cause confusion or disappointment come your day. So make sure it all fits together like a glove.
How much do you have to spend on Wedding Stationery?
I reckon the word 'budget' is the most hated when it comes to wedding planning. But… it's really important to try to get an idea on how much you have to spend, especially if you're outsourcing. Think about what stationery you want to have and the number you will need. Remember you may only need one per household, so the number will likely be a lot less than the total guest count. You don't need to have exact numbers initially, just a ball park figure just to get things rolling. And don't forget if sending by post to factor postage costs into the budget as this often gets overlooked.
What types of Wedding Stationery do you want?
There are a number of stationery options, all are optional except the invite, so mix and match whatever fits your plans. The most common are save the dates, invites, plan of the day/order of service and thank yous. You may also want to consider things like itineraries, engagement party invites, will you be my bridesmaid/brides man/grooms man/grooms maid cards, name/place cards, menu, favour tags/labels, signage, games for the tables (especially for children) and wedding party invites (if you're having a celebration of your wedding when you get home). 
To DIY or not to DIY?
Whatever your skill set, you can create something that represents you and your day to all your fave people. There are lots of resources out there to help you or if you have a friend who is a genius at crafting or a mum who loves a glue gun then ask for some help. This can be a good place to save money if you are working to a small budget. On the flipside, if the thought of creating your own stationery makes your nerves tingle and you don't have a creative bone, then there are lots of amazing suppliers who will happily bring your visions to life.
Decide which of these best describes what you want from your Wedding Stationery:
Do your own – Create and print yourself.
Off the shelf – A ready made design with your details for you to print at home or with a printer.
Semi-bespoke – A personalised, ready made design and professionally printed.
Fully bespoke – A bespoke design, created and printed for you by a stationer
I have a free 10 ideas for wedding stationery guide, so if you want to bag yourself a bargain (what's better than free) then click here: Get free 10 Wedding Stationery ideas guide now!.
Find Sarah:
Instagram: www.instagram.com/photopressuk
Pinterest: www.pinterest.com/photopressuk
See more Ellwed Talks Episodes at ellwed.com/podcast and sign up to share your story with us!