This Hellenic Chic Elopement from Santorini is surely going to inspire you to elope to Greece!
Another gorgeous and romantic elopement from Santorini, because elopements can be your next best choice this year!
Beautifully captured by Mirror Studio, this couple decided to tie the knot in one of the most beautiful islands of Greece. And surely Europe's top location for your destination wedding!
Santorini truly is a magical place! Now, get inspired by their story and their Greek inspired or Hellenic Chic Elopement!
FROM THE BRIDE:
"Brad and I knew each other through a group of mutual friends. But the sparks didn't fully register until a group trip to Santa Cruz for New Year's 2016. The day after the trip he emailed me and asked if I'd like to go on a date. And we've been together ever since. He proposed last February. He told me to pack my bags and we went on a long hike along the Point Reyes Coastal Trail. We checked into our BnB overlooking the ocean. It was on that porch he got down on one knee and said: "Before we do anything else I just need to know one thing – will you marry me?". After many happy tears and hugs, we went down to the beach and made a bonfire. We finished the night with a romantic dinner at the Pelican Inn nearby.
The best moment of our elegant chic elopement was exchanging our vows. We had done a small ceremony in San Francisco just days before we flew to Greece. Then we incorporated the traditional vows. Santorini was the first time we had a chance to express our personal vows to one another. And doing so in this breathtaking setting was such an impactful moment.
About this Hellenic Chic Elopement
Largely inspired by the stunning Greek Cyclades, I wanted to embrace the natural surroundings, so we stuck to a palate of white, off-white, light blue, grey and green. I wanted my outfit to draw from ancient or traditional Greek styles and chose a dress with delicate drapery and gold-toned accessories.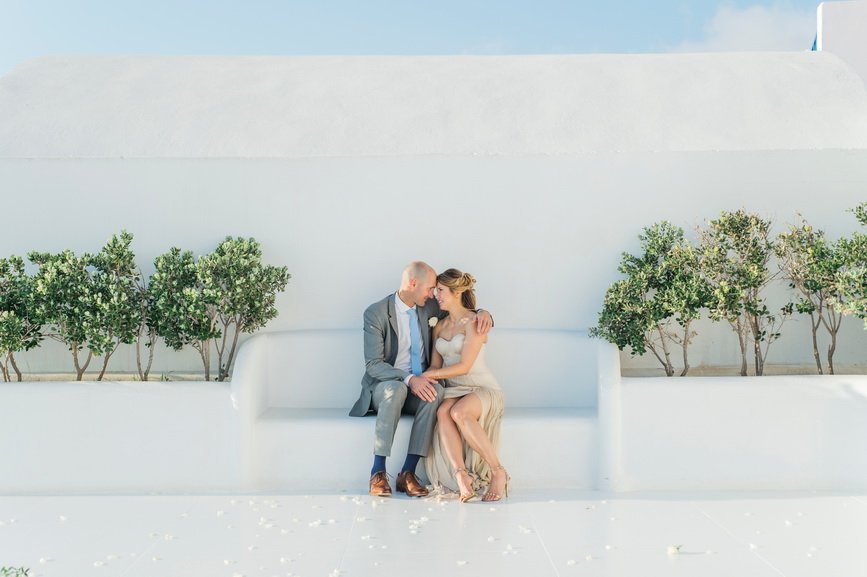 Once we decided to do the wedding in Greece, we only had about 2 months to get everything in order. I simultaneously started shopping online, made one appointment with a local dress shop and a tailoring appointment. After trying on a few options, the one that I purchased online was it. It's by Maria Lucia Hohan and with a few tailoring modifications, ended up being the perfect dress. I love how it flowed in the wind."
See the full gallery
LIST OF VENDORS
Photography: MirrorStudio
Wedding planner: Aegean Dream Weddings
Bridal dress: MLH SHOP
Reception venue: Andromeda Villas & Spa Resort
Cinematography: Imagine Cinematography
Did you like this Hellenic Chic Elopement? See also Simply Stylish Santorini Elopement
Do you have your own wedding story or inspiration to share with us? Submit your wedding over at ellwed.com/submissions or send us an email!