This Just IN
We just got an email notification form the SMP team stating that one of the biggest international wedding blog Style Me Pretty is going to close up shop by the end of April 2018!
The email stated :
"To Our Style Me Pretty Readers,
Since it was first launched in 2007, Style Me Pretty has inspired and shared the most beautiful weddings from around the world. Since day one, we've worked passionately to bring brides and grooms everything they need to plan the wedding of their dreams, and we've loved every minute of it. We're reaching out to you today to let you know that we have made the difficult decision to close Style Me Pretty.
Style Me Pretty will be closing on Monday, April 30th. We wanted to give you, our loyal followers, a heads-up to give you the opportunity to screenshot/save your favorite inspirations and vendor information before the site goes offline. We will stop publishing new posts as of April 11.
The entire team thanks you for your contributions to our beloved site. We are tremendously grateful for your support as we make this transition.
With love,
The Style Me Pretty Team"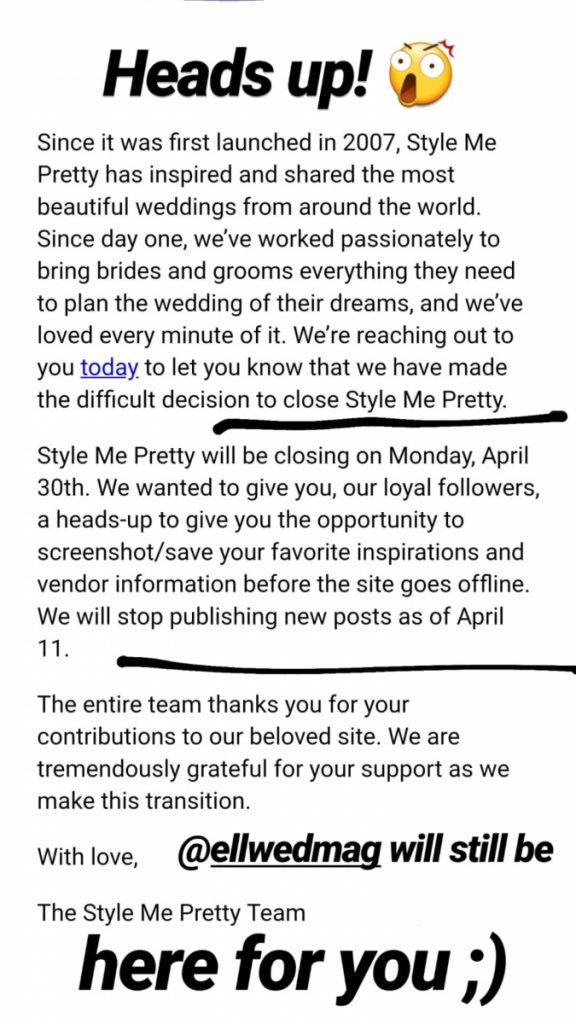 Photo from our IG storries – follow us for more
As we are sad to see them go, before we had the chance to submit some of our new work for publication on SMP, also we will never be able to wear their badge with pride anymore.
Photo from our IG storries – follow us for more
At this sad and shocking hour, we, at Ellwed, would like to let you know that we are here for all of your Pretty submissions form Greece, for publication on our blog and in the Ellwed magazine! 🙂
Why is SMP closing? Let us know!
Share your news and your opinions in the comments bellow.
Join the discussion on our Pros FB Group – or for more news, info and advice from Greece