Ever wondered about Live Streaming your Destination Wedding?
Find out in this episode of Ellwed Talks – the first podcast about destination weddings in Greece, where we talk with Samie Roberts about Live Streaming your Destination Wedding
Now a Co-Founder of Bustld and LoveStream, Samie created her own wedding planning company seven years ago. Her background at a top PR agency in New York City provided her with the knowledge and know-how on how to properly design and execute large events. Her past experience led her to develop Bustld.com together with her co-founder and husband Ryan.
When COVID hit, they pivoted their business to launch LoveStream, a one-way High Definition wedding live stream service that enables couples to stream their wedding from anywhere to anywhere.
Samie provides the creative and industry insight alongside the operational expertise at Bustld. She combines all her past experience and her passion for bringing wedding inspiration and knowledge to couples at Bustld and LoveStream.
With more than Seven years of experience in the wedding industry, they have been featured in multiple publications including The New York Times and Insider. Previous podcast interviews include Wedding CEO, The Stars Inside and The Bouquet Toss.
In this episode you can get to know Samie and learn all about Live Streaming your Destination Wedding, what is possible for you and how did others do it!
LoveStram is awarding all Ellwed Talks Listeners with a special 10% discount code ELLWED10, to use on any LoveStream.io package!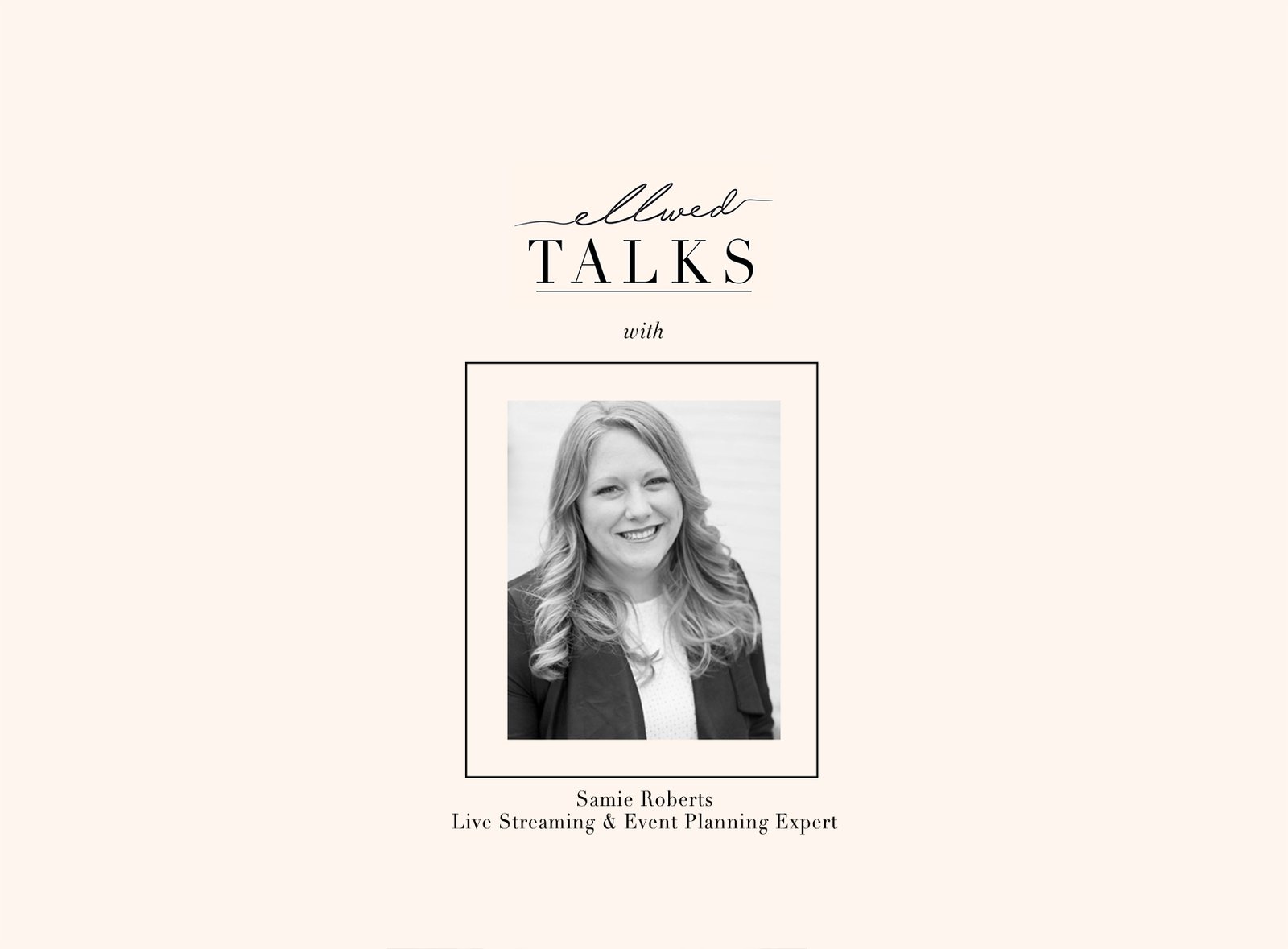 Learn about Live Streaming your Destination Wedding in this episode
Tell us a bit about your story, what lead you to your current career path?
I worked at a PR and event company in NYC. From there, it evolved in to my passion for wedding planning and I started my own company. I grew it from a few weddings a year to a full team planning on average 40-50 weddings per year. At the same time, my husband and I saw a hole in the industry – there wasn't an easy way for wedding vendors to find their ideal couples and vice versa. We launched Bustld.com in 2016 to solve that problem – think a dating app for finding your wedding vendors. In 2020, we launched LoveStream as a way to enable couples to still get married and celebrate with their loved ones amid the pandemic (although it's something we see sticking around after the pandemic as well!).
What inspires you in the business and daily life?
My family and my need to succeed.
What do you like about weddings in Greece?
They are gorgeous! I love that we can connect weddings in Greece to people around the world.
What trend do you see picking up in the world of weddings?
Live streaming (but I'm a bit biased). I think small weddings are here to stay. Covid gave couples permission to have the wedding they want to have, not the wedding they feel they need to have.
Is there one question that almost every client asks you about their wedding in Greece? What is it and what is your answer?
How does the connection work? We run off wifi or cellular connection (can also do pre-recorded). We can help couples troubleshoot to find their best option to share their wedding in Greece with loved ones in other countries.
Tell us a bit more about what you are currently working on?
Live streaming is a great option for destination weddings
We have streamed to 129 countries
The video works like on demand for guests so if they are in different time zones and want/need to watch later they can!
And for the last question, what advice would you give to all couples who want to get married in Greece?
Hire a great planner!
If someone wants to get in touch with you, where can they find you?
@lovestream.wedding (IG)
Find out all you need to know about Diamonds & Engagement Rings in this episode of Ellwed Talks – the first podcast about destination weddings in Greece, where we talk with Payal & Kajal, Co-Founders of Sonu Company. Payal and Kajal Vitha are 3rd generation jewelers following in the footsteps of their father who leads the market in the jewelry space in Southern California. Both majoring in Business with an emphasis in Marketing and Entrepreneurship, Kajal works at her family's store, while Payal recently went full-time running Sonu Company. Through their own personal experiences and the struggles their friends faced when wanting to start the process of buying an engagement ring, they realized that they were not getting transparent and honest answers. They weren't given the right information to make an informed decision when it came to buying an engagement ring, so they started their own brand, Sonu Company. In the past year, they've expanded their business to include everyday jewelry, but still find that the main interests lie within the custom engagement ring space. https://sonucompany.com/ https://www.instagram.com/sonu.company/ https://ellwed.com/all-you-need-to-know-about-diamonds-amp-engagement-rings/ SPONSORThanks to Events Music for sponsoring this episode! So, you are planning your wedding in Greece and your main priority is a good party! Well, let me tell you, you should definitely get in touch with Panos, the founder of Events Music! Talking from personal experience, Panos and his team of highly trained professionals can deliver what you want! Using state-of-the-art equipment, Events Music offers a first-class bespoke approach to all your audio/visual needs with tailor-made Sound & Light Design Concepts. With more than 25 years of presence in the luxury events space, Events Music can bring your high-end wedding party experience to life! Create your glamorous event, with mirror finishes and live visual LED panels, because no detail is too small. Visit www.eventsmusic.gr for the party of your lifetime! ON ELLWED: Read more on ellwed.com/podcast Get the Ellwed Magazine at ellwed.com/magazine Follow @ellwedmag on socials for wedding inspiration from Greece. Share this episode and help couples with their destination wedding planning process — Send in a voice message: https://podcasters.spotify.com/pod/show/ellwed/message