Saoirse and Enzo decided for an Utterly Romantic Elopement on the island of Ios. Have you heard of this little Island? Nonetheless, located in the midst of the Cycladic giants like Santorini, Naxos and Mykonos among others is becoming a rising star among destination couples!
This couple coming from the busy city centre knew that an Utterly Romantic Elopement with relaxed island life vibes was a priority. Therefore, with just some hints of the glamorous city life represented if the bride's accessories, they wanted a true island style experience.
From the Photographer Panos Demiropoulos
A wedding concept, much like personality goes a long way. So when our couple Saoirse and Enzo began planning their destination wedding they turned to their favourite "this is us" tune for inspiration. Which was no other than "Blue Moon" sang by Robert De Niro in New York, New York. With summer on the horizon, they decided to make their "jetting off to the Greek islands" dream a reality. Therefore, anything big-apple as a foundation for their concept was out of the question.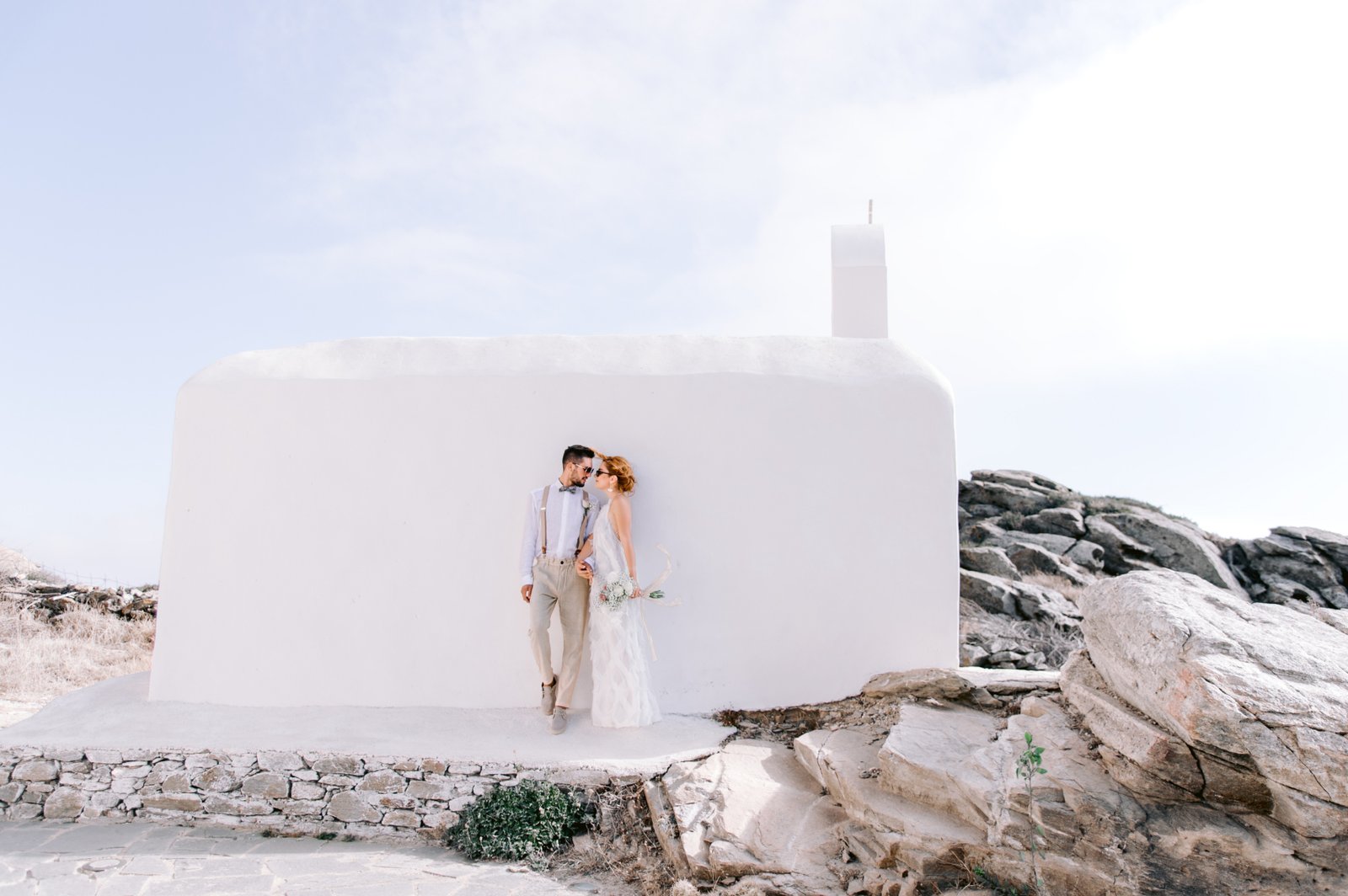 The Location of this Utterly Romantic Elopement:
During their first discussions with planner The Isle they asked for guidance and location! Ios Island came to mind, as the perfect destination to view a blue super-moon while basking in utter romance. Georgie and Toni suggested a magical perch upon the hills, Ios Club, which seemed to tick all the right boxes for Saoirse and Enzo. Nonetheless, add jaw-dropping views, minimalist aesthetics, a private space, and tons of romantic ambiance. Furthermore, The Isle created a floral nod to their song, to top the couple's concept. With heavily scented, classically shaped blooms, Twice in a Blue Moon roses. The silver lilac tint with hints of blue, perfectly bound with elegant barefoot luxury accents and organic details.
The Utterly Romantic Ceremony:
On the day of the wedding, the terrace of Ios Club got decked out with a floral arch. Draped with soft fluttering fabrics, raffia notes, and crocheted pillows. The intimate ceremony, set with a magnificent view of the sea below was like straight out of a fairytale. To sum up, the couple prepped together and recited their romantic vows in the afternoon. As the last light of day kissed the skies they sat for bubbly and a private dinner right before the blue moon took them in its arms.
See more in the Gallery
In this Elopement:
#getthislookonellwed
Photographer: Panos Demiropoulos 
Cake: Elsie Webber, @art_cafe_foiniki
Event Planning & Design: The Isle
Groom & His Men: Innioranza
Jewellery: @therosjewellery
Makeup: @flo.zik
Paper Goods & Calligraphy: VALENCIA 
Venue & Caterer: Ios Club
Wedding Dress, Grooms Suit & Jewelry: @votsalo.ios