Alex and Nick's stunning wedding was the epitome of modern glam. With a combination of elegance, sophistication, and a touch of playfulness, their wedding was a beautiful display of textures, colors, and inventive details.
The couple had guests coming from Greece and around the world. Everyone came on the long journey to celebrate their love together at this Stunning Modern Glam Wedding Week in Lefkada. Overall, it was an unforgettable wedding holiday, filled with activities like the picturesque Rehearsal Dinner and the boat trip to discover the secluded coves of Lefkada!
The main event was held at the Rachi Seaview villa on the island and the wedding was set against a breathtaking backdrop. Extravagant chandeliers and delicate fairy lights illuminated the venue, creating a magical atmosphere. The long tables adorned with tall candles, and pastel flowers that add a touch of softness. The monochrome color palette is perfectly in balance with hints of champagne and pastel rose. Secondly, naked Edison light bulbs hanging from stands, ghost chairs, and acrylic signs are making a statement without dominating the other elements. This created a delicate and minimalist vibe that complemented the modern approach.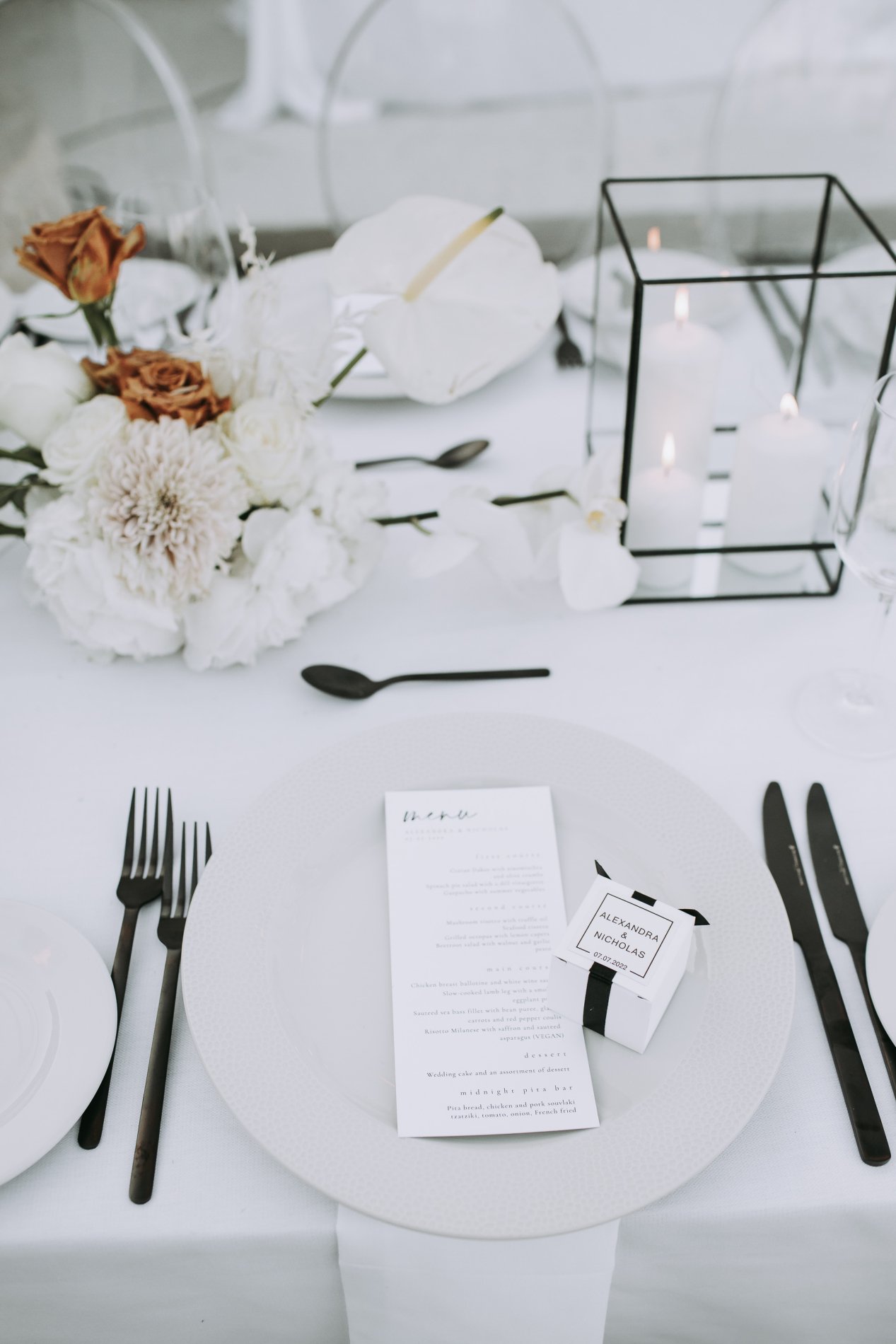 Alex's minimalist gown and beautiful bouquet of white flowers made for a jaw-dropping entrance down the aisle. Her regal presence was complemented by Nick's charming demeanor, making them the perfect couple for such a grand affair.
This stunning wedding was a perfect example of how to combine timeless elegance and a modern glam vibe. Moreover, the couple's attention to detail and willingness to experiment with different textures and colors resulted in a stunning display that left guests in awe.
From The Planner:
A glam wedding is a majestic presentation of materials, colours, textures and more. Everything screams grand and sophisticated, containing inventive details- never one exactly the same. This being said it is a challenging feat between grandiose intention while keeping it classy.
Behold our American-Greek couple, Alex & Nick! Combining timeless elegance and a modern glam vibe with such ease and style, their wedding was the very picture of what a glam wedding should be.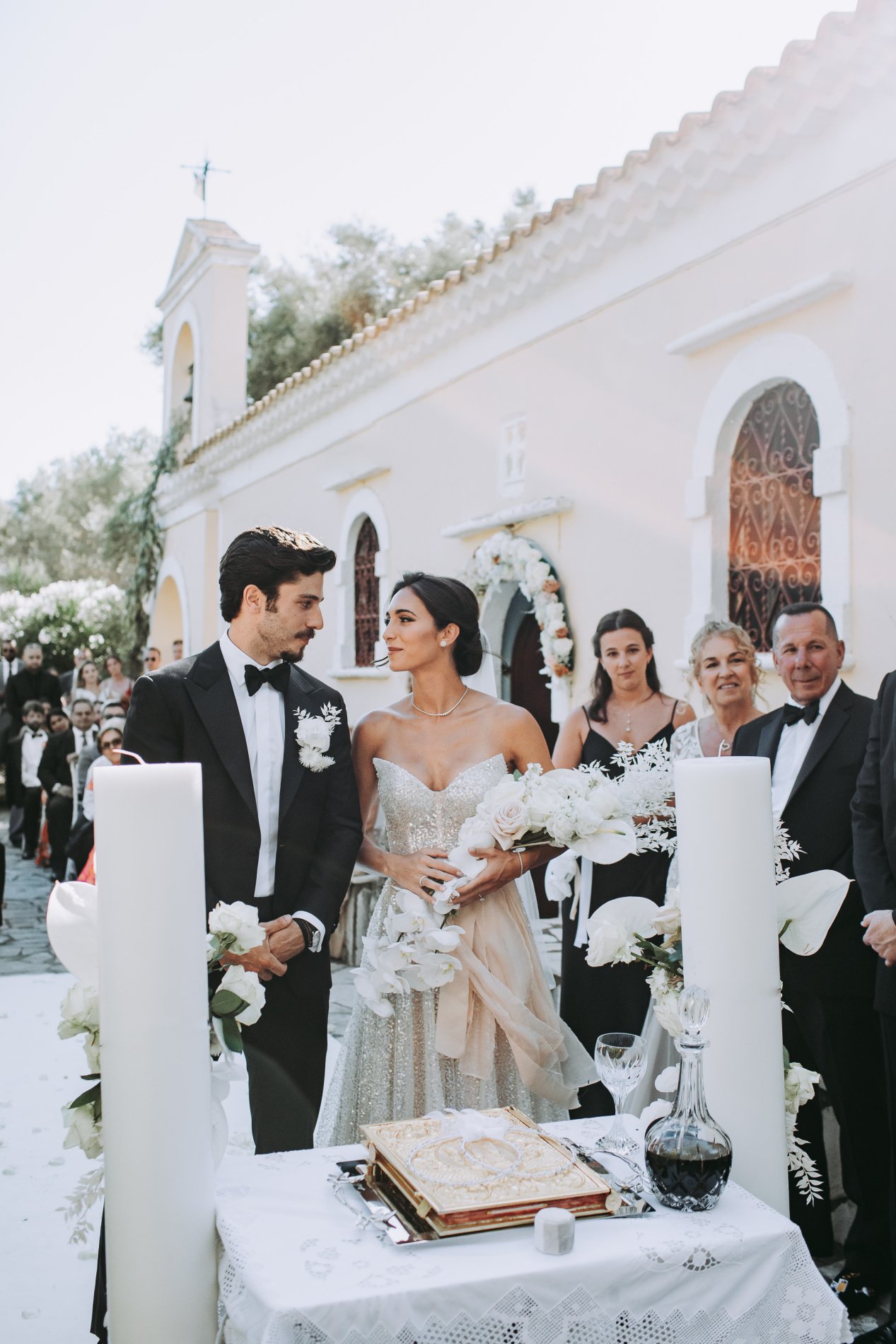 Let me paint you a scene:
A simple yet breath-taking backdrop of the island, standing from the elevated height of the Rachi Seaview villa. Extravagant chandeliers and delicate fairy lights swoop in from the veil of lights above you and reflect into the pool, creating a magical mood.
Downstairs, the long like-snow covered tables, tall candles and simple touches of pastel flowers here and there certainly set the fine dining mood… Playfully contrasting the upstairs exuding a fun more party vibe set with a pool and live music while still maintaining elegance.
Think a monochrome colour palette, with soft hints and hues of champagne and pastel rose added in the floral design and glowing from the hanging warm lights.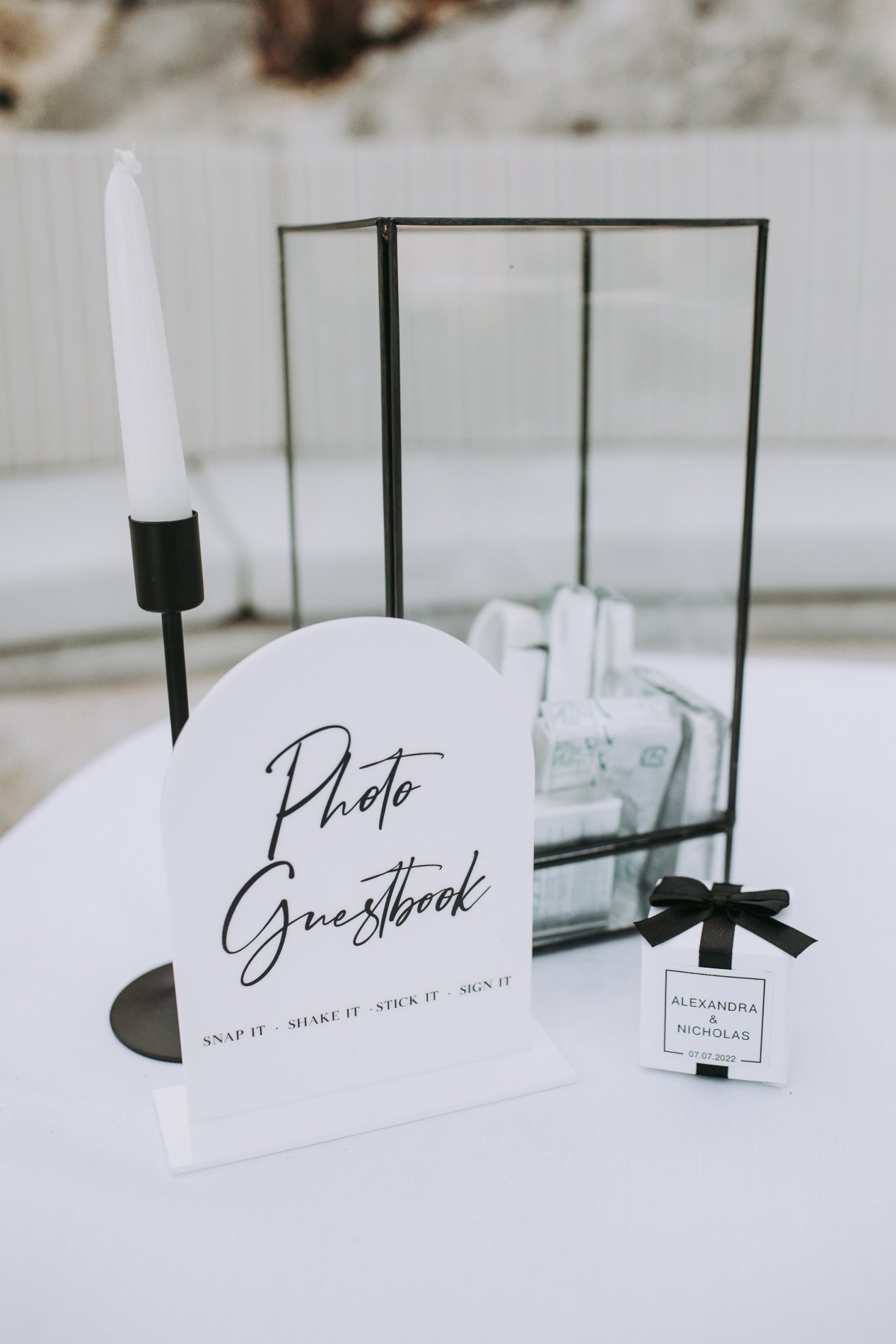 Delicacy and minimalism are the key not to overpower the overall view. The decorations were finely attuned to this, naked Edison light bulbs hanging from the stand for example. For a glam-meets-modern affair, acrylic details are a must. Ghost chairs and acrylic signs make a statement without dominating the other elements and finely complement our modern approach.
This couple exuded regal vibes down to every last detail. Alex's jaw-dropping minimalist gown paired with a beautiful bouquet of white flowers made a jaw-dropping entry down the aisle.
Overall, Alex and Nick's wedding was a majestic presentation of materials, colors, textures, and more. It perfectly captured the essence of a modern glam wedding while maintaining a sense of sophistication and elegance. It was truly a sight to behold, and we wish the happy couple all the best in their future together!
We're sure that this extravagant couple will only continue to sparkle!
See the gallery: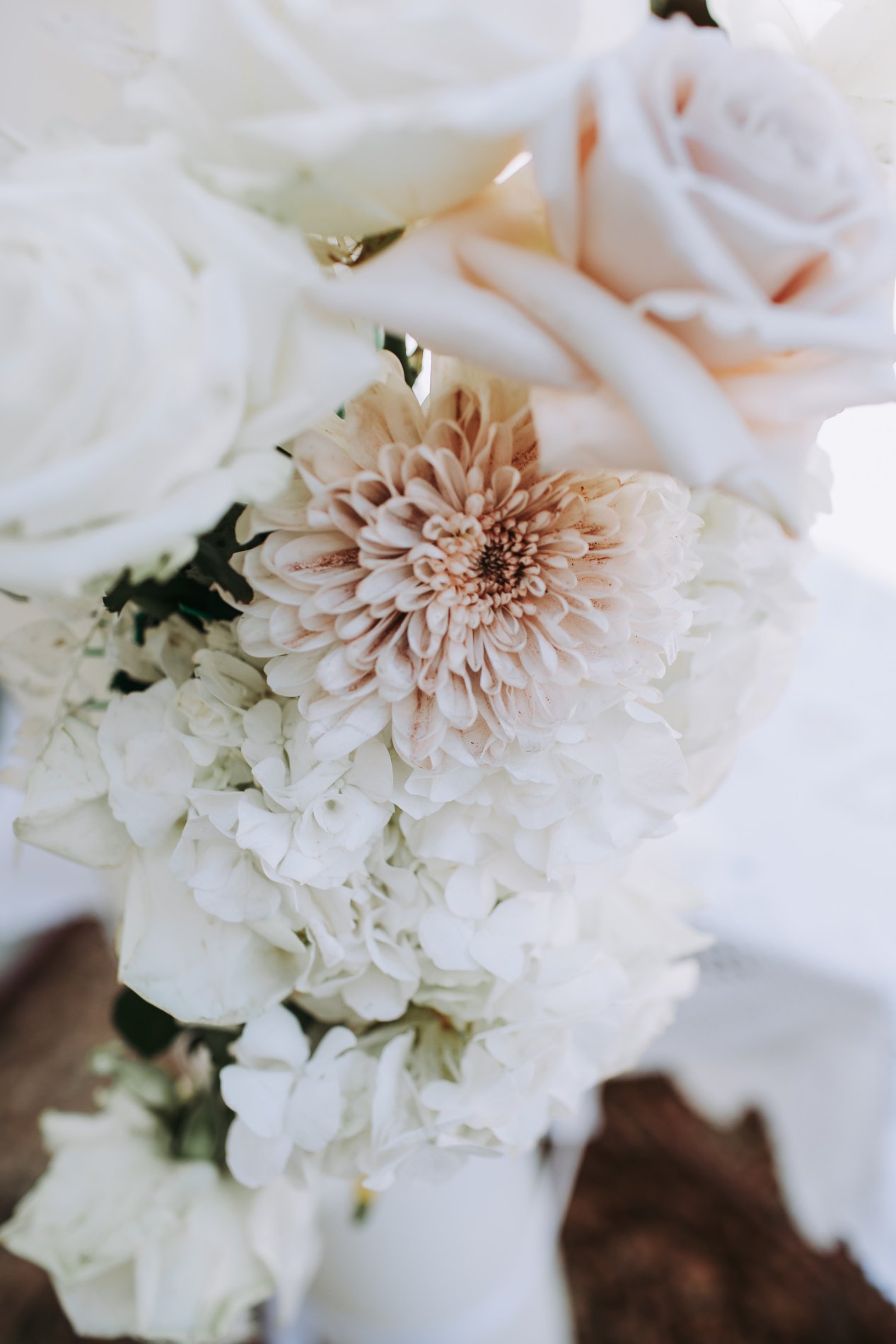 Get this Look:
Planning & Styling, Your Lefkada Wedding
Photographer, Lefkada photo
Cinematography, Sky is the Limit
Catering, Mamalis catering
Bar caterer, Nomads bar
Florist, Lampros Archimandritis
Cutlery & Chairs, Secret Kitchen
Lighting & Sound, G Sound & Lights
DJ, DJ Fatouros
Make-up, Irene Kyranis
Venue Rachi Seaview Villas, Lefkada
Getting Married in Greece? Check out our podcast sereis for advice on the go!