What a Ride!
As we took the decision to make Ellwed Magazine a bi-yearly issue, I am excited to share with you this first issue of 2021- the Brighter Future Edition !
Almost half way into the year, so much has happened, yet so much still feels the same.
We are all hopeful for the vaccine in the battle against the Covid-19 pandemic, which hit the event and tourism industries the most! And yes, weddings and especially destination weddings were put to the standstill. It's no secret we were all taken by surprise. But thanks to the vaccine, we can now see the brighter future for travel, weddings and events as well!
Get your digital copy here:
Well, the year of 2020 is probably going to be remembered for ever as the worst year for all couples who were planning their wedding then. But it was also the year that is making radical changes to our daily lives. And with that how we look at wedding planning in General! Innovation and growth is always exciting and it was especially needed in our world of weddings! We at Ellwed, for instance took this opportunity to bridge the gap between destination wedding planning and busy couples from around the world. Now you can consume all the information with ease through our new podcast series, Ellwed Talks. The first (and only) podcast about destination weddings in Greece, where you can get all the advice, get inspired from real brides and meet your suppliers!
So let's rock this year and plan for the next big thing! Download your copy here
The New Year started with big hopes and dreams. However, we quickly realised that not much is going to change in 2021. In fact it feels very much similar to the 2020! Long lockdown periods and now the announcements of the sudden full reopening which in Greece started on May 14th. It all feels a bit surreal. On one hand I can't believe it took so long but on the other, that more than a year at home, passed-by so fast. I can't help but wonder. Can it all be over soon?
So for this new issue we want to give you an idea for alternative choices for your wedding day! In this online and digital world, anything is possible! But what I am excited the most is the ability to join all the virtual summits and fashion shows happening anywhere in the world at any time!
Like this new bridal collections from the New York Luxury Fashion Week, which we had the chance to be part of this year!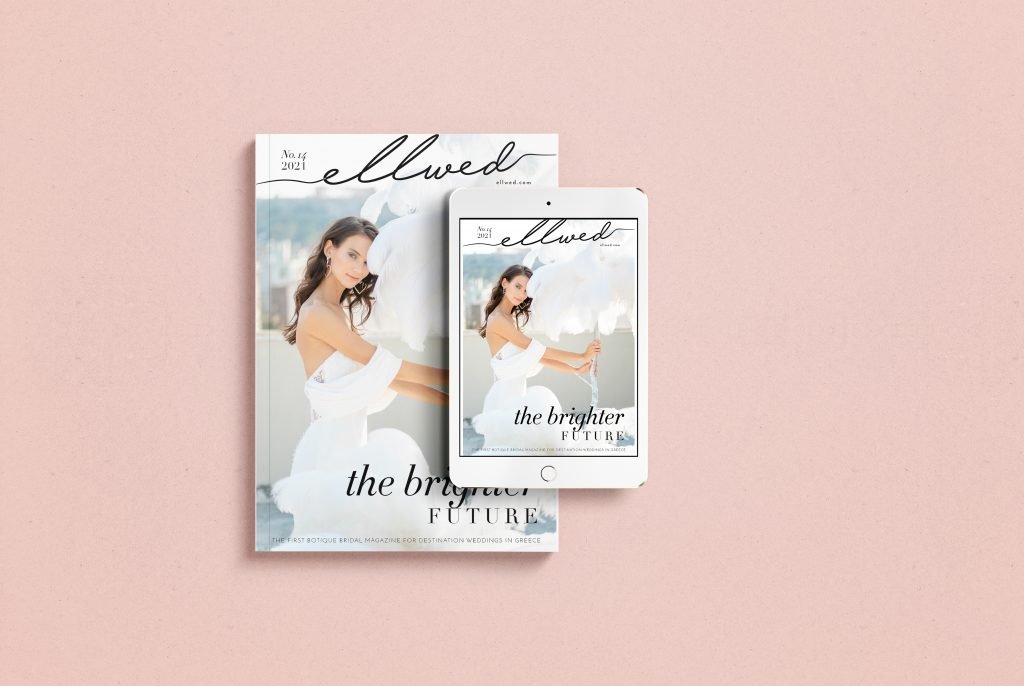 In this issue you will find all the trends!
The latest bridal couture from NYLFW2021, as well as trends in the world of weddings from pros around the world! Starting on page 25 all the way to 47!  Do you already have a favourite bridal gown?
For the first time ever, we are happy to share with you our first ELLWED'S LIST of alternative destination wedding planners & stylists from around the world who can plan your wedding in Greece on page 53!
Continue flipping the pages and read all the articles about cool elopements you can plan. But for sure stop on page 69 and read all about Weddings in 2021! We have pulled together all the resources and websites where you can find the necessary information for traveling to and planning a destination wedding in Greece! You really don't want to miss this one if you want to know what to do!
Since small weddings and elopements are all the rage this year, it's so easy to make it sustainable. And this issue is filled with boho and eco wedding ideas, inspirations and advice for all the free spirited and eco-conscious brides! We just love it! Pages 63, 81 & 112!
On the other hand, if you are afraid all wedding venues will be fully booked, don't worry! We wanted to inspire you with an alternative location for your wedding in 2021 or even 22! Head over to the page 95 where you can get inspired and read all about this Cover Inspiration from our alternative rooftop. With the unforgettable view of the ancient city of Athens and the magnificent acropolis! Now you can dine in the clouds among the Greek gods!
See what's inside:
But don't stop there!
Continue to flip the pages and read the story of many more inspirations and later on real weddings and elopements from Greece! With this issue we wanted to inspire you and offer the variety of styles, designs and locations to choose from.
If you love this issue, let us know! Share it with your friends, tag @ellwedmag and feel free to send us your feedback anytime! We love hearing from our brides and pros!