This True Blue Luxury Wedding Inspiration is just the right amount of joy in the spirit of Easter months!
In Greece, Easter is one of the biggest celebrations, which lasts for the whole week. They call it the holy week which ends with an unforgettable celebration! If you are planning to visit Greece in the spring months, try planning it around the Greek Easter!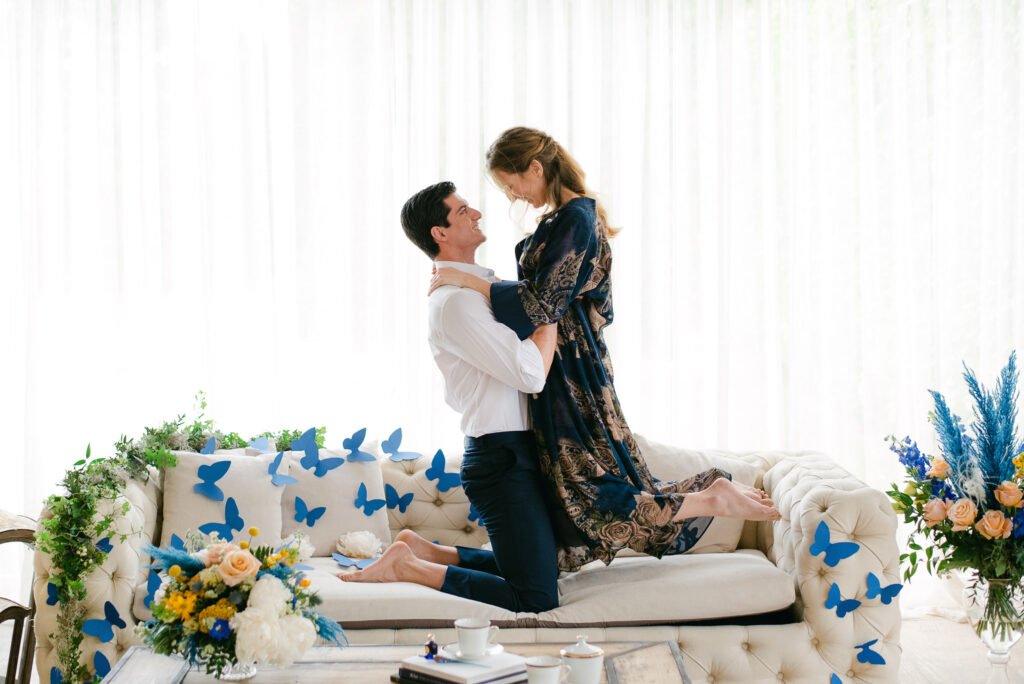 But now let's see what the Sensyle Events Team has to say about this year's Wedding Trends:
The color blue is certainly highly associated with weddings. Probably due to the old English custom of incorporating something blue into the celebration. When our team gathered to conceptualize an inspiration about all the wedding trends we will be seeing in 2021 our notion laid beyond "something blue". As this is one color our country, Greece, is certainly soaked in. From the perennially clear Grecian skies to the bold azure of our seas. The color of our flag, and the one that to us represents freedom and courage. We believe, that blue is one palette destination wedding couples will be seeing a lot. Hence our decision to build a theme out of it.
Although the new "twenties" brought about several changes in the ways couples choose to celebrate, the need to exchange vows more meaningfully, more intentionally, in all novelty, beauty, and grandeur has grown. Smaller in numbers actually means going bigger on venue selections, experiences, gifting, and decor.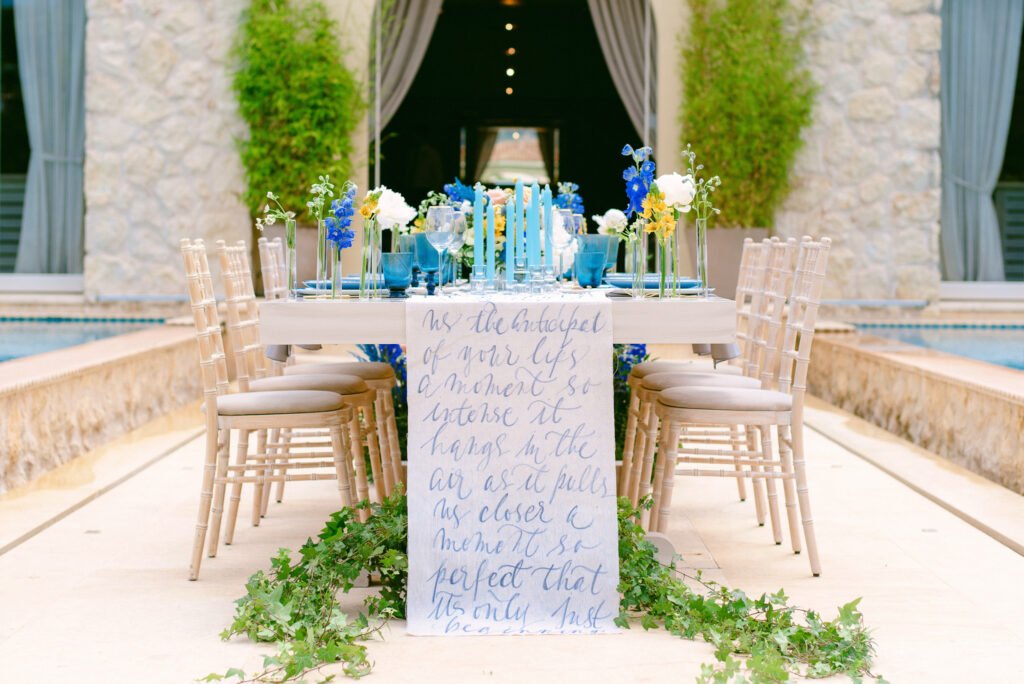 A BRUNCH WEDDING RECEPTION
Wedding Brunch doesn't only allow guests to enjoy a full day, but as it is held early it means taking advantage of the sun-kissed outdoors for beautiful portraiture. As well as delicious brunch-style dinners of course. We chose to stage ours on the aisle between the two pool blocks. Guests can have a full view of the garden and enjoy the calming effect of the water lapping right next to them. Speaking of which…
PERSONAL TREATS AND SERVINGS
This was a very important part of our concept. Especially in the time of the pandemic. We went for smaller dishes and single-serve portion boards, which were supplemented by fruit, cheese selections, and dressings. While Slim Bites created individualized single-tier mini marbled cakes in accordance with the design of the original cake.
COLORFUL, BOLD FLORALS & DECOR.
We aimed to keep things very 90's! Bold hues mixed together and looking like prints. Floraison.gr combined Orchids, Delphiniums, Hydrangeas, Periwinkle, Sea Holly, Craspedia, Garden Roses, Freesias, Paeonies, Rice Flowers, Veronicas. As well as Pampas Grass, Alstromeria, Lisianthus, Ornithogalum, Eryngium, Astradia, Ruscus, Salal, Schinus, Craspedia, Fern, Hyacinthus, Hedera, Eucalyptus and Tillandsia to channel exuberance and fun with copious and happy Dutch-master styled arrangements in blue, peach, marigold and white. The floral design included feathers for the bridal bouquets, as well as coordinating boutonnieres for the gents and floral rings for the bridesmaids. For the table decor, we paired stems with flute containers to add volume to our dinner scape but still allowing guests for some elbow space and conversation. Using hand-calligraphed silk in lieu of a runner, we went for hand-painted dinnerware and golden flatware adding single-served spices for each guest.
PRIVATE VENUES
Although this is not something new for Greece destination couples, private venues are even more in demand for the coming year. The Orizontes Estate in Athens is complete with a gorgeous mansion, immaculate grounds, palm-fringed manicured lawns. And an aisle-separated pool which became the perfect location for full-blown privacy and exclusivity.
WELCOME & SEND-OFF GIFTS
As couples are reworking on their plans for 2021 one of the main tendencies is to keep guest lists more intimate. But then again the affairs more curated and bountiful for those attending, which begins with the welcome gifts. Brides and grooms 2021 wish to pamper their guests a little more, making them feel they are cared for with welcome and send-off gift boxes containing everything. From precious souvenirs to decorative items, to luxury indulgences. That is why we designed luscious boxes containing luxe candles, soap, macaroons, rose bubbly, precious body oils, perfume, chocolate, and cosmetics for the ladies. And grooming products, worry beads, and champagne for the gents.
PLUSH INVITES
Having more time to consider save the dates, going plush with invitations is the first means of showing great things are coming. Artful paper comes together with calligraphy, sumptuous silks, and distinct wax seals inspired by the wedding florals. Lena Septemvri Calligrapher created a suite in floral velum hand calligraphy. Together with dark envelopes, and watercolor frames, including a sachet of Baby Blue Eyes (Nemophila Menziesii) seeds for the recipients to plant. Giving them a romantic mini wildflower garden to bloom until late spring to early summer.
ARTFULLY CURATED INDIVIDUAL COCKTAILS
Personalized coctails are surely a huge upcoming trend and perfectly complete a brunch wedding celebration. The Moving Spirits Bar Catering brought together profuse, grab-and-go concoctions with edible blooms. And exquisite artistry following the color scheme of our concept for this True Blue Luxury Wedding Inspiration. Presenting different options for every guest.
BISTRO-STYLE ENTERTAINMENT
This is surely going to be one hot commodity in 2021 with a formal but relaxed ambiance and acoustic performances. A variety of tributes is what our couples are already opting for. The eclectic duo Smooth Mood Project performing live on their clear white HoloGrand piano, decorated with an ascending flutter of blue butterflies and a spanning floral arrangement in tune with our True Blue Luxury Wedding scheme.
INNOVATIVE FASHION & WEDDING GOWNS
Bound to make a statement in 2021. Therefore we wished to bring some of that fabulous fashion into our inspiration festooning the upper part one of our Katia Delatola Designer dresses in real florals and moss lacing. For the bridal pieces, we opted for a romantic floral ruffled top paired with sleek silver feathered sandals, while the second pair of glam pumps combed perfectly with the blue dress. The bridal trousseau also included a droplet sapphire necklace, a sapphire bracelet, and according to rings from the FaCad'oro Boutique&More collection as well as diamonds to be worn with each look. For the bridesmaids, our suggestion was jacket earrings in white and blue stones.
To top the beauty of this True Blue Luxury Wedding Inspiration, we included an early morning coffee session. Together with bridal boudoir, dressed in fine silk robes from Omanum. Topped with paper butterflies that evoke transformation, endurance, and new life! We couldn't be more thankful to everyone who worked in making this vision come to life and especially to our photographer Achillea Colaclides & Apostolis Platanias.
See the full glallery
Get this Look:
Planning & Design: Sensyle Events
Photographer: Achilleas Colaclides / Apostolis Platanias
Videographer: www.yannihood.com
Wedding Dress: Katia Delatola
Grooms Attire: Prince Erotokritos
MUAH: Vassia Papakonstantinou
Flowers: Floraison.gr
Tableware: 3biz.gr
Calligraphy & Stationery: Lena Septemvri
Band: Smooth Mood Project
Bar Services: The Moving Spirit
Luxurious Gifts: White Olive Gifts
Cakes: Slim Bites
Jewelry: FaCad'oro Shop & more
Bridal Shoes: Kotsona Shoes
Boudoir Dress: Omanum official
Venue: Ktima Orizontes
Butterflies Laser Cut: Stagones Texnis