After a long time, events are back again and Aspasia Kontou, owner of Stalexpo is the organizer of one of the biggest events for weddings in Greece the Bridal Expo and Bridal Fashion Week.
Let's dive into this exclusive conversation with the power lady behind it all, Aspasia Kontou!
Tell us the story of how and when did it all start? When was the first Bridal Expo and what was your vision for the exhibition?
It all started purely by luck. A child of lawyers and with conservative family life, I ran away from public relations and communication and started organizing events and exhibitions when the market needed it, but did not know it yet. And so, in 1996 I set to organize the first wedding exhibition in Greece.
BRIDAL EXPO, however, started at a time when the market asked for it again. But we did not know it yet. So in 2012, during the economic crisis, consumer needs began to give way to quality. With that, demanded to raise the bar and go far beyond the hitherto very commercial events. There was a need for fresher ideas and aesthetic proposals that would again give the bride the role she deserved and the Bridal Expo came at that moment and did just that!!
I saw a need in the market and we set ourselves to cover it. Together with my collaborators, we decided to add a new aspect to the show. The Bridal Fashion Week was a unique fashion show in Greece, connecting the Greek bridal designers to the brides. And we did it to some extent. We have raised the level of the events and I believe that since the start of the Bridal Expo and Bridal Fashion Week, no one can compare their quality and aesthetics with anything that has been organized so far in this field.
After so many successful events, the Coronavirus pandemic and lockdown restriction made it impossible for the Bridal Expo to happen in 2020! Now that events are back again, what can couples expect from the new, reborn Bridal Expo?
We were lucky enough to catch the 8th Bridal Expo and Bridal Fashion Week before the pandemic broke out, but unfortunately, the participants did not have time to enjoy the results. Because immediately afterward lockdowns started and wedding and event suppliers were the first to suffer the consequences!!
Now that everything seems to be "back to normal" and next year we are expecting the explosion of weddings and events, we want to be ready for the newly engaged couples who want to start planning their wedding. Brides and grooms are always excited to come to Bridal Expo to see what's new and what our vendors can offer them. This year, we are ready to open our doors on December 4-6 with something special planned with lots of new business in the Greek wedding industry.
We all want events to be Covid-free. What is this year's procedure to obtain the invitation or tickets for Bridal Expo and what will be provided to promote health and safety at the events?
Of course, the safety of everyone is our priority. We want to welcome all newly engaged couples and all professionals in Zappeion, with a Covid-free event. And with all the safety measures and restrictions we will be following, we will offer them a three-day event with a proper wedding atmosphere.
This year we are going to do things a bit differently. All visitors will have to present their ID and vaccination certificate or disease certificate of the last 6 months together with their tickets or invitations before entering this year's Bridal Expo.
To speed things along, we are introducing the electronic ticket, which can be purchased through Viva platform and presented at the entrance.
All visitors who received the printed invitation from our exhibitors must be validated on our website at www.bridalexpo.gr here. If you have received the invitation you must fill in the form on our website and we will send you the Free Pass in your mailbox, which you have to present at the entrance together with the invitation and other documentation we said above.
Exhibitions can be useful also for wedding professionals. What are some of the reasons they should attend this year's Bridal Expo?
The companies that participate in exhibitions such as Bridal Expo are the first to understand the needs of the market. This way they can adapt their products and services according to the new information and feedback they receive from their peers and brides attending the expo. After all, any resource or information out there cannot be compared with the personal contact and direct conversation with your future customers.
You have formed good relationships with many different wedding professionals. So, being an insider, how do you see the Greek Wedding Industry evolving after Covid?
The pandemic has changed and continues to change everyone's mentality. Which is affecting consumers, traders, designers, and the market in general. Events, weddings, and professionals in the event business were first o be affected by this pandemic.
Although in a country like Greece traditions like marriage run deep and a big event for the whole family. I believe that in the next few years everything is going to be simpler and calmer. More romantic and tender. Of course, on the other hand, there will be a large increase in weddings from abroad, as Greece is rising on the international wedding lists. But let us be honest. The wedding market is very strong in our country in general, and professionals who are serious about their business probably do not have to be afraid. As in the economic crisis which we went through, the wedding industry kept a lot of businesses prosperous. And so, also now I think that our traditions will overcome any adversity.
Greece is certainly becoming the top choice for Destination Weddings. Tell us about "Greece the Wedding Destination"?
We have put a lot of hope and a lot of work and time in promoting and organizing the section "Greece the Wedding Destination". And we certainly dream of it becoming a big event in the future. We want to present different wedding businesses from all over Greece to couples attending Bridal Expo in Athens. However, due to the pandemic several businesses from around Greece who had planned to come to Athens, could not make it happen this year.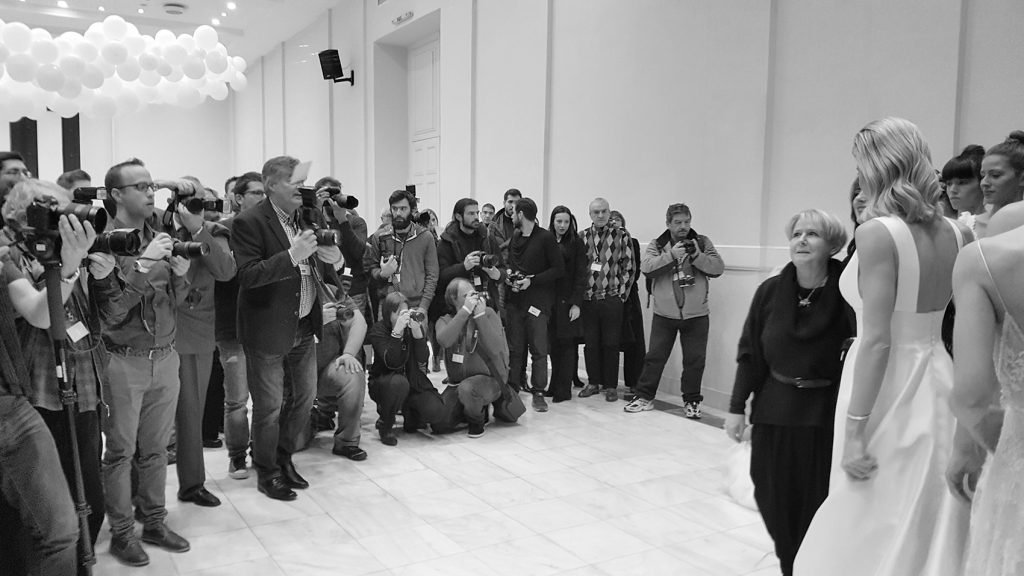 Exhibitors like to push boundaries with new things to present. And this is especially true of Bridal Fashion Designers. As the proud organizer of the Bridal Fashion Week in Athens, what trends do you see coming up in the world of weddings this season?
Designers suggest and sign the new style for bridal dresses every season. What we are seeing this year is that elegance and refinement return to their creations. Expensive fabrics, simple lines, and more modest and romantic brides will probably prevail on the international scene!
Bridal Fashion Week is an integral part of the Bridal Expo and always ends with a glamorous affair, like our Ellwed Party from January 2020! What can attendees expect from this year's Bridal Fashion Week?
True, the previous finale stayed in our memories. Due to the necessary distance, we need to keep and the restrictions are constricting us to party this year. However, we are already starting to organize from now on, a spectacular party for the next year, which is also the 10th anniversary of the Bridal Expo!
Although the BFW's program is excellent with appearances of new and as well as established strong brands of designers and with surprises that will make a big impression!
On the first day, Saturday, our brides and guest will have the chance to experience a special performance with the established Greek fashion designer Vassilis Emmanuel Zoulias. And on Monday our special guest Freddy Kalompratsos will be closing the show with live makeup tutorials! All this under the watchful eye of Michalis Pantos, creative director of our Bridal Fashion Week! DON'T MISS IT!!
The bridal catwalk schedule here:
December 4
16:30 Demetrios
18:30 Konstantina Vikatou, Vatrima Haute Couture, Alexandra Kapsala
20:30 Special Performance by Vassilis Emmanuel Zoulias
December 5
16:30 Anna Tavoularidi
18:30 Miss Eton 39
20:30 Theokath
December 6
17:00 BE A UNIQUE BRIDE with Freddy Kalobratsos
Real-time bridal makeup tutorials for brides with tips and techniques. What to pay attention to and how to choose the right makeup professional for you, make sure you have the trial session before the wedding, and how to choose the right shades of colors for you!
Ellwed is the official media partner of Bridal Expo.