What wedding dress would you choose for your wedding in Santorini? In this article, Anastasiya Martynova explains her experience with the Greek Goddess Inspired Fine Art Wedding Dress she photographed at Rocabella Santorini.
Photographed along the coast of Santorini at the refined Rocabella Santorini hotel, this Greek goddess inspired vintage couture gown with feather detailing was unforgettable. The unique and free-spirited design of this gown radiates glamour and elegance.
Masha was absolutely divine as she moved in the Santorini sunset hour. Showing off the deep neckline, open back, intricate hand-stitching of ostrich feathers, purposeful beading and dimension of this awe-inspiring visual triumph of a gown!
About The Greek Goddess Inspired Fine Art Wedding Dress at Rocabella Santorini
When Mara, the designer, was asked about her inspiration for the gown, she responded, without hesitation "Greece! Of course!". She elaborated to share that she created a custom gown that would evoke a goddess-like ethereal feel. She was inspired by Greek mythology with this gown portraying love and beauty. Two things that the goddess Aphrodite was known for.
For the traditional bride thinking about a wedding gown, feather embellishments may not be at the top of the list. However, for the woman who sees herself as a fine art bride, bold, ethereal, romantic, and whimsical, wedding gowns with feathers are true haute couture!
And more so, an haute couture gown is the perfect statement wedding dress at Rocabella Santorini for an unforgettable and mesmerizing wedding in Greece! Santorini is indeed as picturesque as the images suggest. The Aegean Sea is a deep blue color that will occasionally have a purple undertone depending on the sunlight. A beautiful white gown will instantly make you stand out when photographed along the coast. It will delicately reflect the perfect lighting when you're posed among the white clay architecture that Santorini is known for.
How to Travel With Your Fine Art Wedding Gown
When planning a wedding abroad, you should keep the dress style in mind. For the groom, traveling with a suit is easy. But for the bride, the gown needs to be properly stored to avoid snags, rips, stains, and other damage. In general, a classic form-fitted or a-line gown made out of lighter material will be ideal as large ballroom gowns or dresses from heavy fabric will be bulkier and heavier to carry. And remember, if you're staying in a popular town like Oia, there will be a lot of walking from the taxi or shuttle drop-off to your hotel.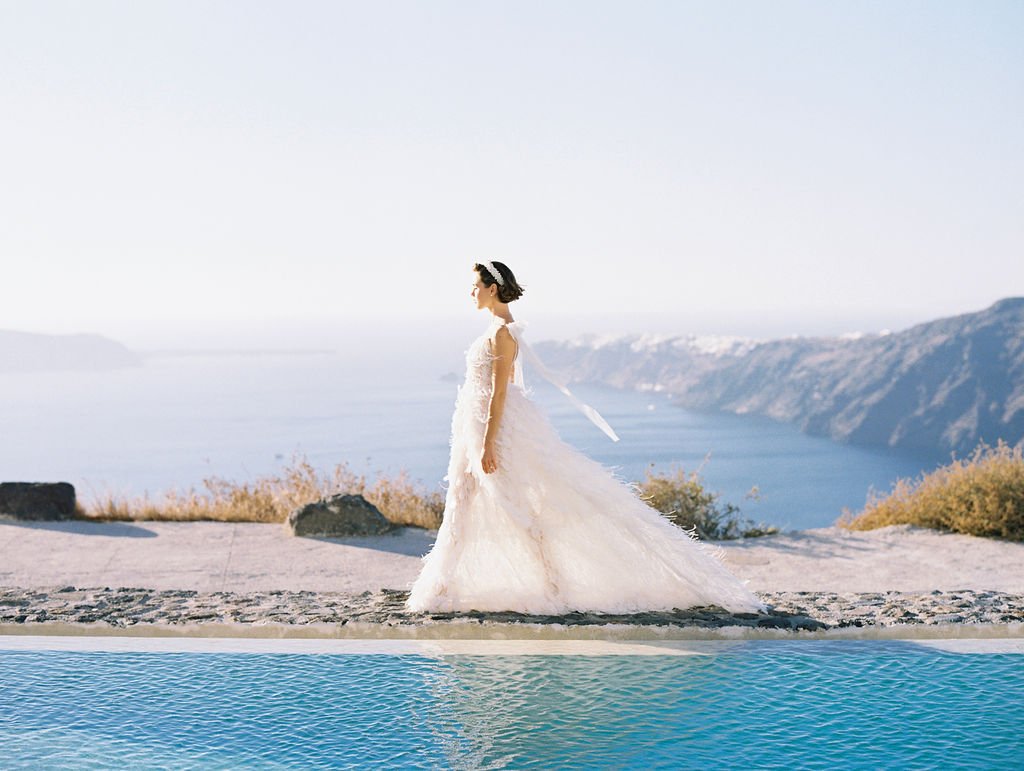 One of the best ways to transport a dress is to take it as a carry-on item. Ask the flight attendants to place it carefully into a coat closet on aboard the aircraft. Call the airline ahead of time to confirm if this is possible since smaller planes may be very limited on space. The Aegean Airlines planes that fly into Santorini are very small, sometimes with propellers, and have limited space. Another option is to have a separate suitcase for the dress. And there are companies that will professionally package your dress for transport. The risk with packing your dress in a suitcase is that luggage can be lost in transit.
Choose the Proper Wedding Shoes with your Fine Art Wedding Dress at Rocabella Santorini
Paired with your dress, make sure to wear comfortable shoes. Santorini is a fine art photographer's dream location and if you are wanting photographs that will be viewed as timeless heirlooms then investing in a pair of not only beautiful but comfortable heels is a must! I highly recommend Charlotte Mills heels! Because most of the designs have thicker heels that make you feel more secure on the uneven surfaces that are often found around Santorini. The last thing you want on your wedding day is the risk of toppling over as you stand on the rooftop! A personal favorite are the Henriette Pearl heels pictured in this gallery.
The Ideal Santorini Wedding Venue
Now that you have your fine art wedding gown and your statement heels, you need to find a location and an experienced photographer to make your day happen! Any location in Santorini will be beautiful however, the Rocabella Santorini is a personal favorite. Their service is impeccable, the rooms are inviting. The food is superb, the views are scenic and romantic, and your wedding photographs are guaranteed to be stunning. Wake up with a hot cup of coffee in your hotel room and watch the cotton candy sunrise. Go for an early morning hike along the coastal trail adjacent to the hotel property. When you return, enjoy some quality time together in your private jacuzzi overlooking the Aegean Sea. Relax and rejuvenate before the wedding festivities begin!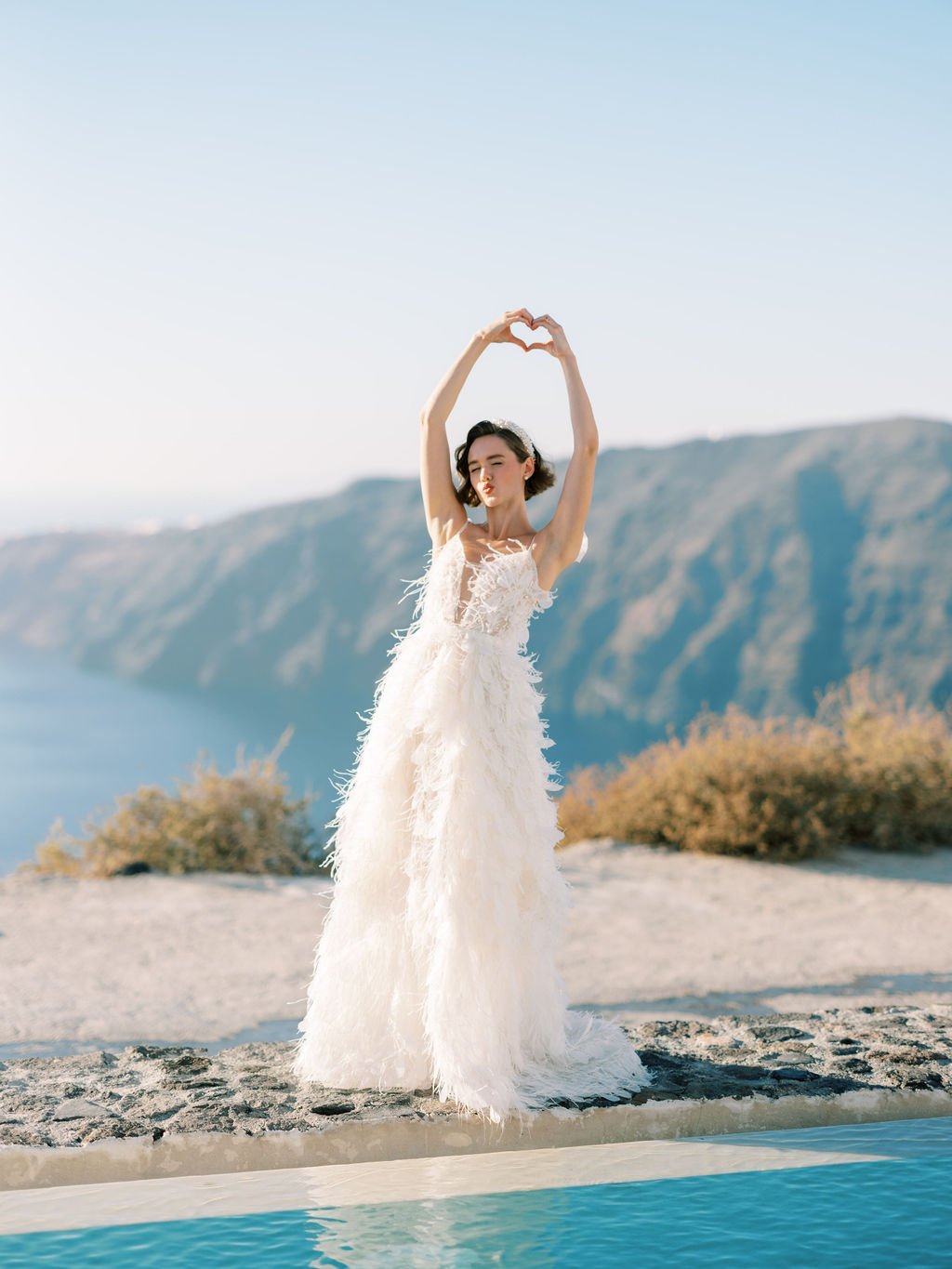 Santorini is a luxury wedding dream! The backdrop of the volcano and breathtaking sunsets on their own promise treasured memories for years to come.
The article was written for Ellwed by Anastasiya Martynova of Anastasiya Photography
See the gallery
Get this look:
Photography: Anastasiya Photography | Venue: Rocabella Santorini | Event Design: AMV Retreats | Event Planning: AMV Weddings | Hair: MADELINE ELEANOR | Makeup: MADELINE ELEANOR | Wedding Dress: Mara Marie Bridal | Bride's Shoes: Charlotte Mills | Headpiece: Botiasaccessories | Jewelry: Victor Barbone | Submitted via: Matchology