If you're getting married in the most wonderful time of the year, here are some Christmas Wedding Ideas from Ellwed team, to transform your Holiday Wedding in Greece into a festive extravaganza!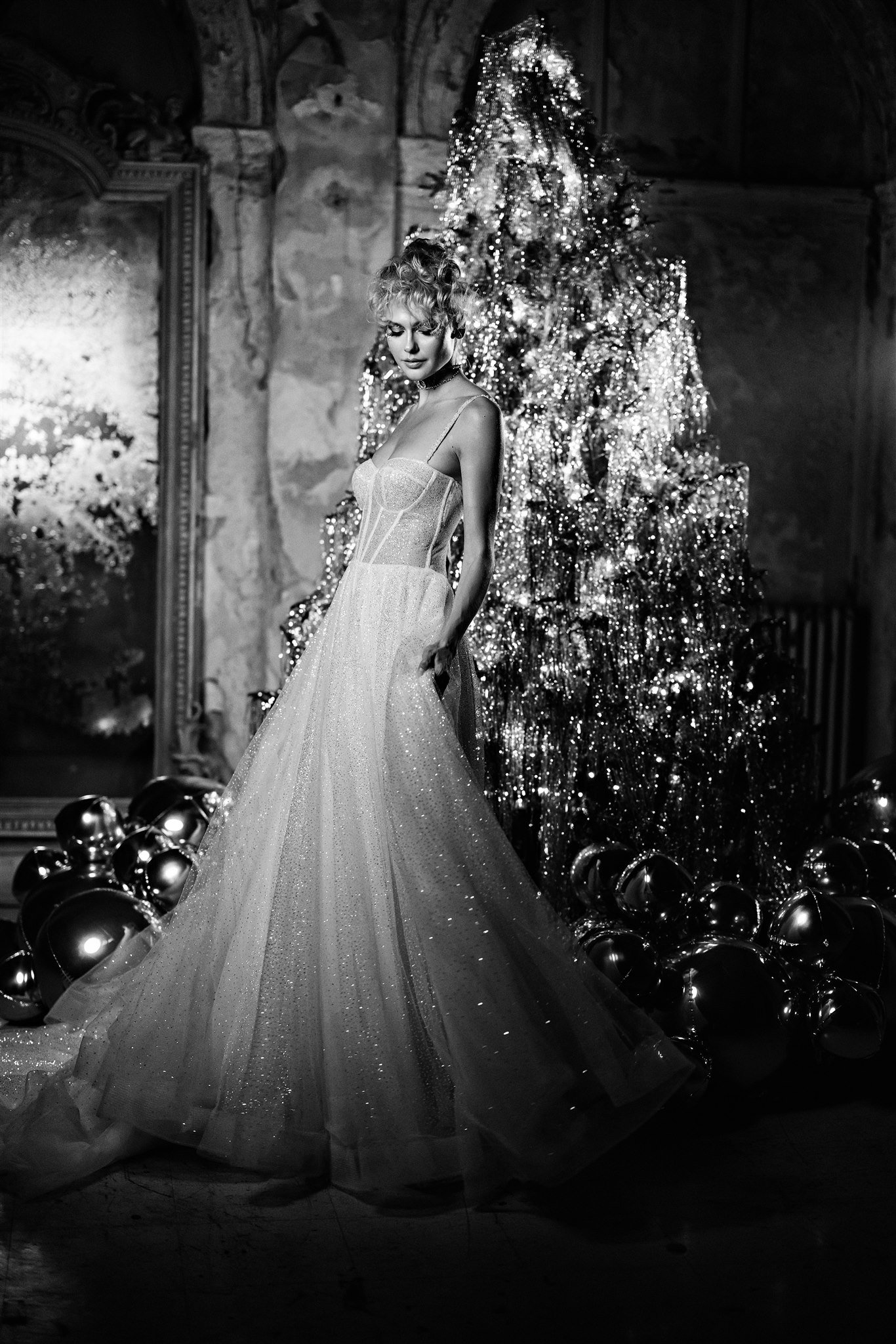 See more #ellwedtips for your wedding in Greece on Instagram!
Quick List:
Can you believe the year is already ending? But that doesn't mean you can't get married at the end of the year! The holiday season is here and probably one of the most magical seasons to get married in Greece!
Getting married in Greece during wintertime or offseason can not only stretch your budget, but you can experience a calmer Greece without so many tourists. Secondly, depending on your chosen location, you can also have your snowy winter wedding fairytale on one of the famous mountaintops and winter holiday locations in Greece!
On top, having a winter wedding in Greece can be the perfect opportunity to have a Christmas themed celebration. Especially, if you're one of those people who loves all things Christmas! And surely, Christmas in Greece is not like anywhere else!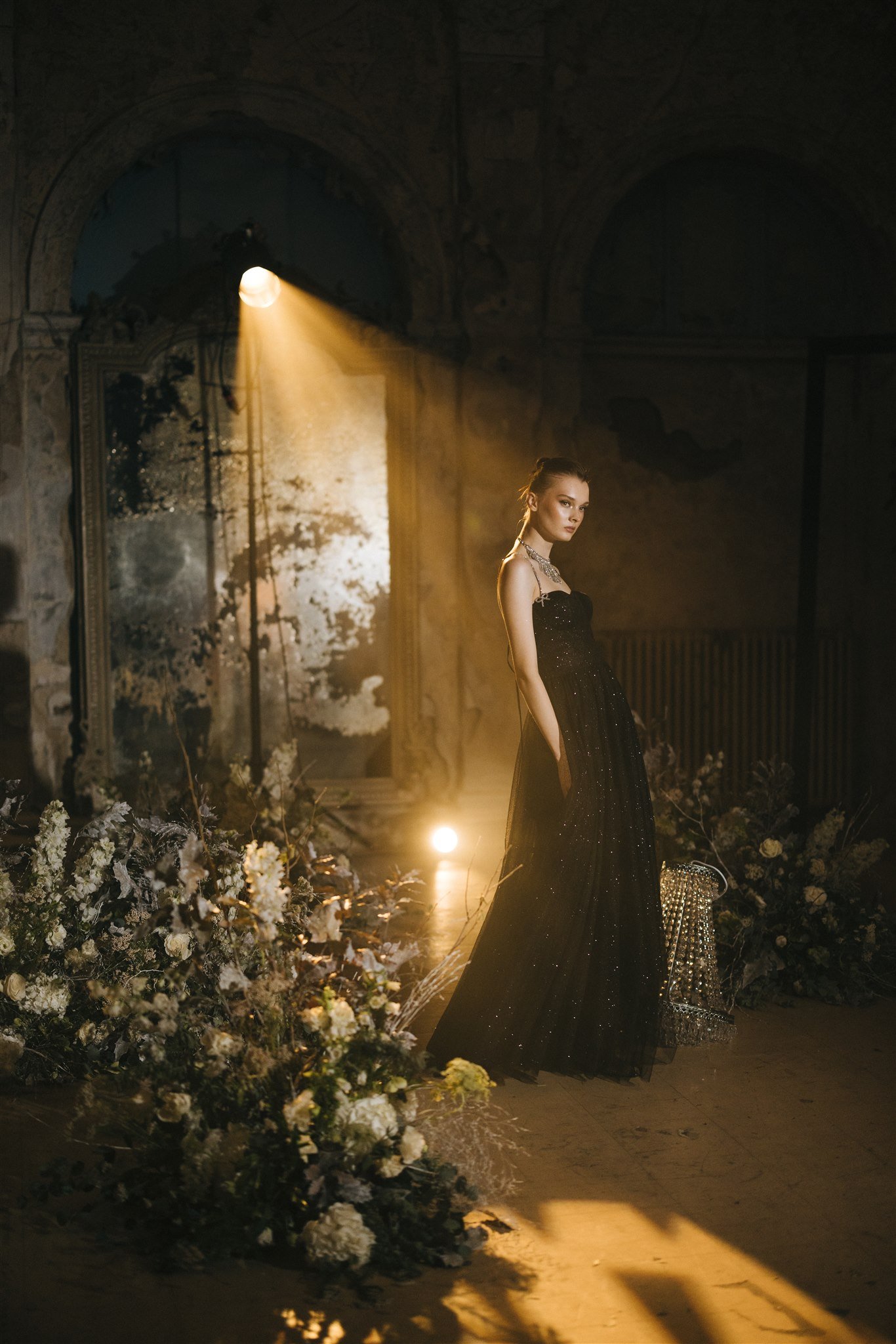 So here are our Christmas Wedding Ideas, which you can incorporate to add a festive twist to your wedding in Greece!
Christmas Wedding Location Ideas
🎄Choose a unique winter venue for a glamorous affair
First things first, find the right wedding venue of your dreams for you winter wedding in Greece! And this can be either by the beachside, big city like Thessaloniki, Athens, Ioannina, or in the winter wonderland snowy mountaintops Greece has to offer. Check out the locations like Peloponnese, Crete, Parnassos, Zagori, Vikos Natural Park, Vermion Mountain, Metsovo in Epirus, Mount Olympus and many more! Find a woodland chalet or a manor for the winter wonderland!
We chose the abandoned historical hotel in the centre of Athens for our Christmas wedding inspiration. Once in its prime, this time-forgotten location brings the not-so-distant memory of what once was, combined with new modern ideas and edgy décor, will for sure intrigue your guests. Your imagination can run wild with Christmas Wedding Ideas for a space like this! Like this Black on Black & Red dining table for some stylish wedding inspiration!
Christmas Wedding Fashion & Looks Ideas
🎄Find the perfect winter wedding dress for your fairytale!
Although the choice of your wedding dresses might be narrowed down, wintertime will definitely give you different design options you might not be able to wear during the summertime. Find the impressive long sleeves, heavy and warm capes and fabrics, faux-fur overcoats, big princess-style full glitter dresses or even the short glittery or feathery party skirts!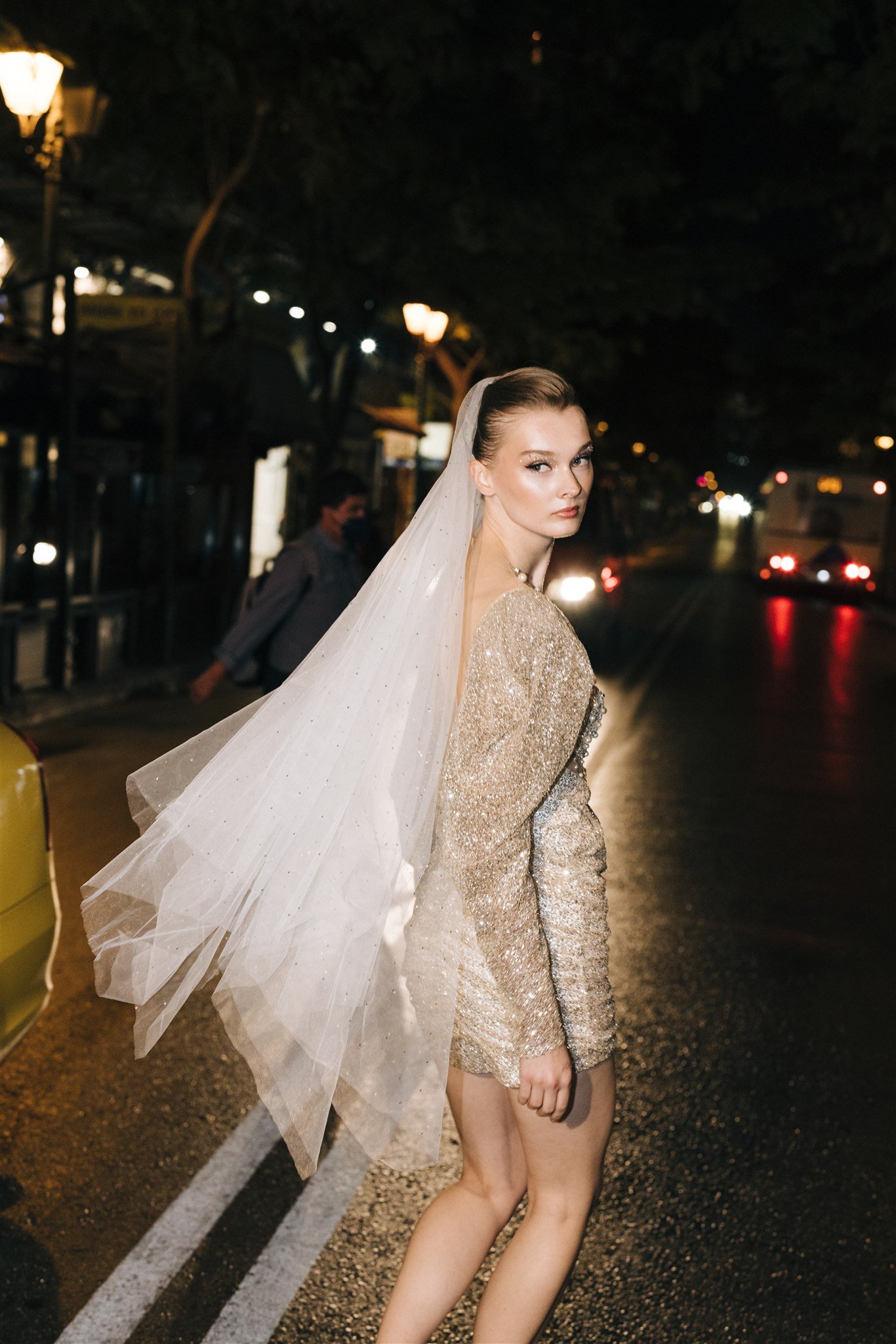 Don't be shy to play with glitter, colour, length and impressive extravagant accessories like unique veils and sparkly makeup and jewellery! Thake the advantage of this festive time to go all out and above! Become the winter princess of your own fairy tale!
For Grooms, think of warm fabrics, wool, cashmere, velvet, Christmas green & red, or white and black chic James Bond style suits! Secondly, if you're feeling bolder, you can opt for some flair and glitter! Suits with glitter stripes and elements, floral emboss patterns. Capes and long back suits and all that's festive!
🎄Glitter and Shine for a festive time
Ok not only for the holiday season, but especially now! At your winter wedding, use lots of sparkles, glitter and shine together with Christmas colors! On your hair, face, dresses and suits! Glitter all the way together with metallic accents or even statement pieces! If anything, glitter, metallic black, white, silver, gold and pearl are trending year after year and we are still not over it! And now, you can also find bio-glitter, Eco friendly, biodegradable glitter, for cosmetics or craft which is no harmful to the environment!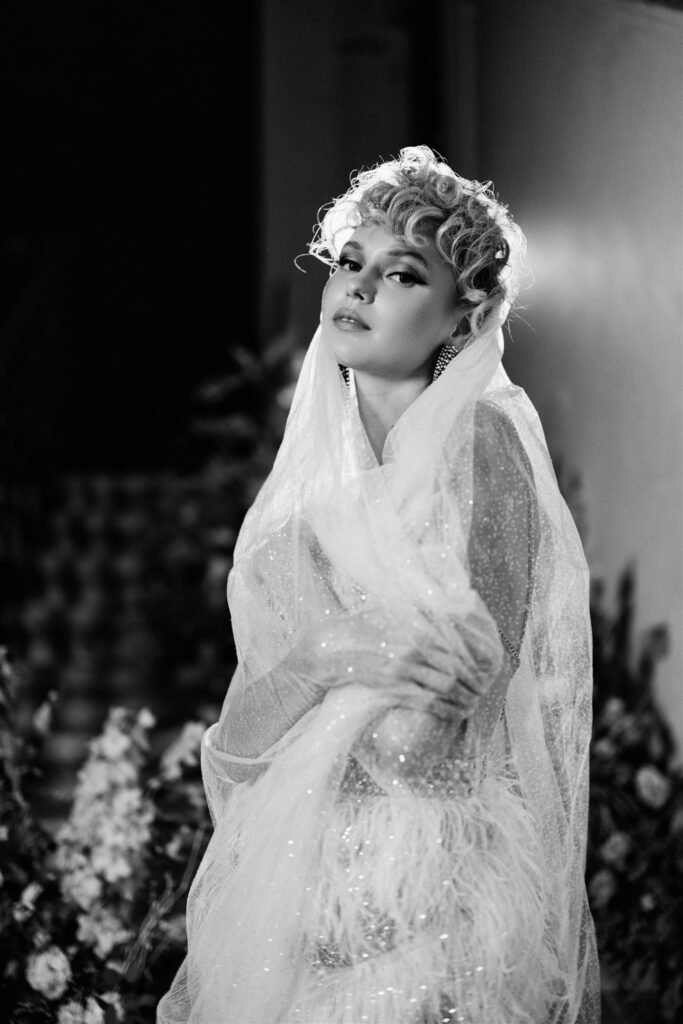 Don't be afraid to sparkle and shine, not only on your fashion and accessories, but also on your décor!
🎄Glam Christmas dinner dress code for guests
To make your party truly festive, make sure all your guests look the part! Black tie or festive, glam dress code for everyone! If you're a creative type, prepare a pdf, or share Pinterst board link with your suggestions of your favourite dresses and suits fit for the glamorous Christmas dinner affair!
Nonetheless, you can always go the other way with all red or all green, all white or even all black dress code!
Christmas Wedding Décor Ideas
🎄Don't forget the Christmas tree
One important part of Christmas Wedding Ideas is probably the classical Christmas tree! It can be the focal point of your venue décor where more is better! You simply cannot go without the impressive tree designed to match your décor and design of your wedding.
At our Christmas inspired shoot, we went for the tall overloaded tree with simple décor and many many fairy lights! The idea was to place the oversized Christmas decoration on the floor around the tree instead of the presents! In gold and silver colors to express the festive, sophisticated mood!
🎄Decorate your venue field with Christmas trees and fairy lights!
To inspire the true Christmas spirit, incorporate lots of romantic fairy lights! On top you can fill the space with real Christmas trees (with or without decoration) to make your venue a magical forest experience! Plus some of your guests (who don't have to travel) can take home a tree!
🎄Opt for oversized Christmas decorations with Christmas foliage
A modern touch to the traditional Christmas decorations like the tree or a Christmas wreath! Oversize it! Go as large as you can! We designed an oversized messy wreath with giant red velvet bow! Making it a statement piece and backdrop at our glamorous Christmas event.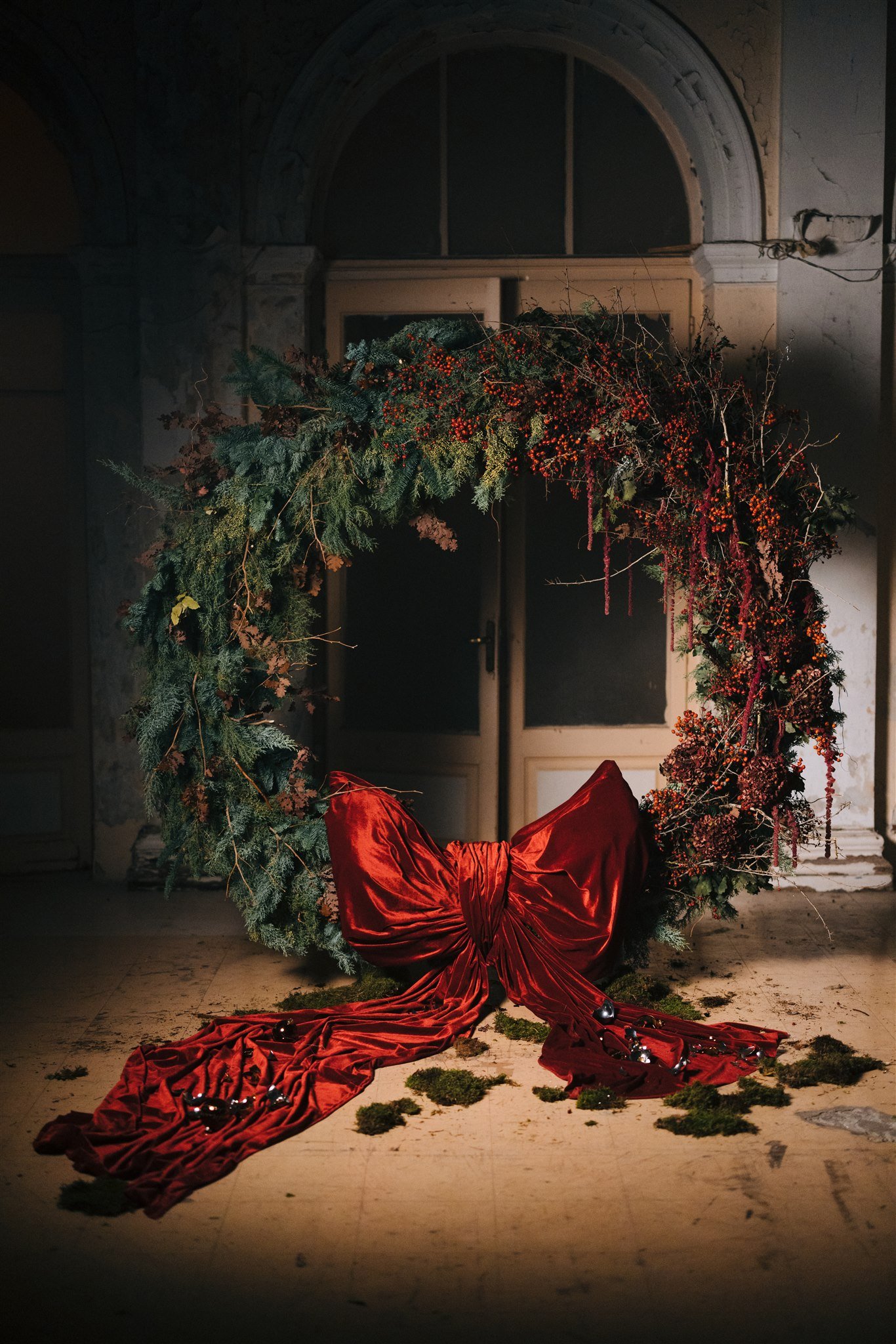 But not only decorative items, try to magnify anything! We gave volume to our shiny silver metallic table cloth on the bottom and used balloons as the oversized Christmas balls!
Red, green and white! Think of Christmassy colors and flowers. Mistletoe, Limonium, Poinsettia, white anemones, Amaryllis, Rosemary, hypericum berries and blue thistle, Evergreen holly and pine, Burgundy Eucalyptus. And of course the ever so glamorous and stylish burgundy red hanging Amaranthus, dried oak leaves and shrubs with red berries to spice up your floral arrangements!
Entertainment & Festive Holiday Wedding Activities
🎄Santa's workshop & tree decorating game or activity for children and children at heart!
Santa's Workshop is the perfect activity or game for everyone who love all things Christmas! You can design special games or product making workshops where guests and children create something small and unique to put on the tree to even donate it to local Christmas charity bazaar! If you're having children at your wedding, it can be a fun activity for them to decorate the tree with decoration they designed and created at your Santa's Workshop, or simply decorations you prepare for them!
🎄Have a seating chart on the tree with personalized Christmas ornaments
Upgrade the duties of your Christmas tree! Hang the personalized ornaments with everyone's names! The ornaments can also have two roles. They can be used as seating charts and as personalized guest favours! Who wouldn't want to save a beautiful Christmas ball with their name on it? The other budget-saving option can be simple personalized ribbons, plexi or paper seating charts which are placed on the beautiful tree!
However, make sure your tree doesn't end up empty after everyone takes their gift off the tree and is seated! That why you can simply make a sign asking everyone to find their seat, but take their personalized Christmas ornament just before they leave!
🎄Place the gifts for your guests under the tree
A fun and interactive way to place your guest's favours could be under the tree! Have fun with the holiday traditions of gift giving which also involves your guests!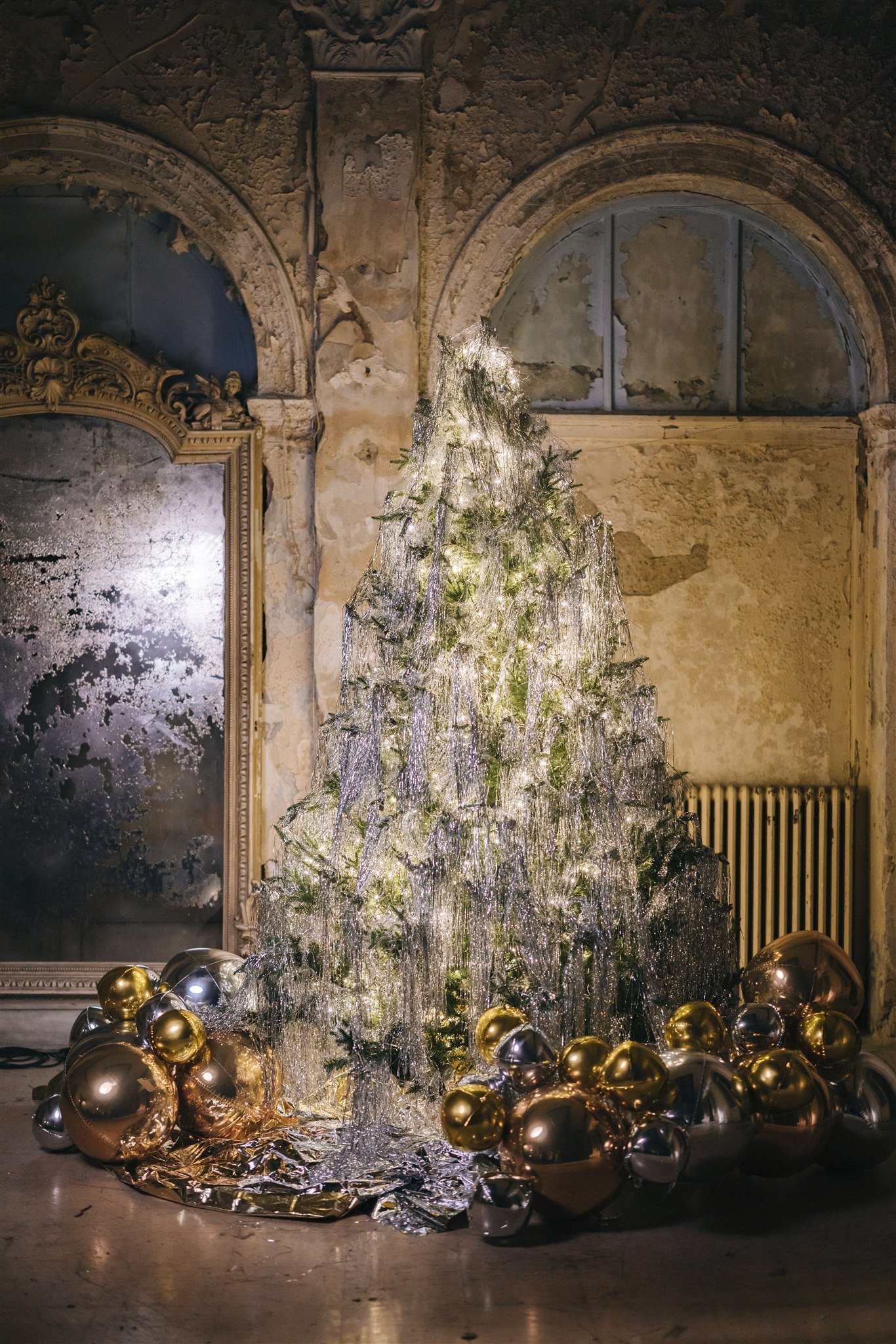 🎄Secret Santa Games
Playing different and fun games at weddings is nothing new, so make yours within the Chritmas theme! Have a Secret Santa gifts where each guest has to gift another! This might be a bit more work to arrange for you or your wedding planning team, but it will surely be a fun way for your guests to get to know one another! Mix the families and friends from both sides and let everyone introduce themselves and tell a fun story how they met you or got to know you or your spouse! Perfect ice breaker games for a Christmas themed wedding!
🎄Have Santa Claus bring the gifts
Ok, the last gifting idea from our list of Christmas wedding ideas! If you're looking for something unique, surprise your guests with the real life Santa Claus and his team of helpers, bringing gifts to your guests!
🎄Have a Christmas movie cinema room with serve-yourself festive popcorn
If your venue allows it, why not arrange a chill-out room for a real cinema experience with serves-yourself popcorn station or s'mores / hot chocolate station? Of course a Christmas movie on repeat is a must!
In the opposite case, you can always simply project the movies on the walls of your main reception hall is possible. Perhaps behind your main table, to entertain the guests and have an interactive and unique, super modern backdrop wall!
🎄Get amazing live performers and Christmas carols or gospel choir
You can opt for some great live performers, dancing, musicians, acrobatic acts, fire spitting acts, ballet and so much more, to entertain your guests! Secondly Christmas carols or gospel choir singing all the Christmas tunes and jingles you know and love!
🎄Fireworks!!!
Well if there is any time to celebrate with fireworks at a wedding is probably now! If you haven't thought of having fireworks at your wedding, this time of the year they will be so much more magical! Always respect the laws and rules regarding the fireworks and hire professional and responsible team to execute them!
🎄Get an Ice-skating ring made for your guests serving mulled wine
Wow! What a fun idea! If your budget and location allows it, consider hiring the team to set up your own private ice-skating ring and rent the skates for all your guests! Fun for children and adults alike! On top you can also prepare games for the ice like the skating race and invite real live performers on ice for your winter wedding!
Festive Drinks & Food
🎄Organize an open-air fire pit party with mobile bars and street food trucks
There is nothing cosier than sipping hot chocolate or mulled wine by the cosy fire! If your venue has the option of the open air fire pit, you don't need much to create the winter mood open air lounge for all the smokers and everyone who wants to sit by the fireplace!
On the other hand, you can always go all out and create a magical experience! Santa's Village environment with interactive mobile bars & street food trucks. Create a "North-pole" like traditional Santa's village.
🎄Enjoy Christmas flavours all the way!
Christmassy cocktails or mulled wine and hot chocolate station, Christmas inspired food, snack and sweets!
You cannot have a real Christmas wedding party without Christmas favoured cocktails! Design the signature drinks with Christmas theme together with your bar catering team! Rosemary, berries, chocolate, marshmallows, orange, cinnamon, apple, sweet candy canes, Gluehwein or Mulled wine! Arrange a station with all the Christmas sweets like this Panettone table. Flavours, spice and anything nice! Remember your favourite childhood Christmas treat or flavours and smells and recreate it for your wedding!
🎄Incorporate Greek Christmas flavours and traditions!
And finally, if you're having your wedding in Greece include Greek Holiday or Christmas traditions! Traditional sweets, Melomakarona (honey cookies) and Kourabiedes (almond cookies with icing sugar). You can cut the traditional Vasilopita cake to see who gets the lucky coin or decorate the Karavaki (the boat) instead of the tree, as per Greek Christmas tradition!
These were our 19 Christmas Wedding Ideas and we could go on! Hopefully they will make your winter wedding in Greece magical!
Get the look:
Photography, Vangelis Photography
Planning and Design, Kiss from Fleur
Media & Coordination, Ellwed
Floral Design & Christmas Decorations, Fiorentino Flowers with Theo Antonello
Lighting Design & Visual Effects, Events Music Panos Tsilounis
Bridal Makeup and Hair Artist, Joanna Stella Papathanasiou
Tableware, Rakor Home
Event Rentals, Tore Furniture Rentals & Prop
Bridal Dresses, Primalicia & Milla Nova
Short Glittery Dress, Irene Angelopoulos Atelier
Balloon Installation, The Balloon Idea
Wedding Cake & Christmas Desserts, Maria Kogia
Videography, BV Wedding Films
For, Alchimeia Workshop
We are so excited about winter or Christmas inspired weddings that happen in Greece! If you had a winter or Christmas wedding in Greece, we would love to feature it!
Happy Holidays!