Have you ever thought of a Magical Destination Christmas Wedding? If you love a themed weddings and travel, then a Destination Christmas Wedding is worth exploring!
Yes, it's the most magical time of the year! And we are talking about your wedding day! And what if you're dreaming of a Christmas wedding?? Then surely you should make it special! Maybe not this year, but for the year to come, you can start planning ahead! As the New Zealand's proverb go "Married in days of December cheer, Love's star shines brighter from year to year."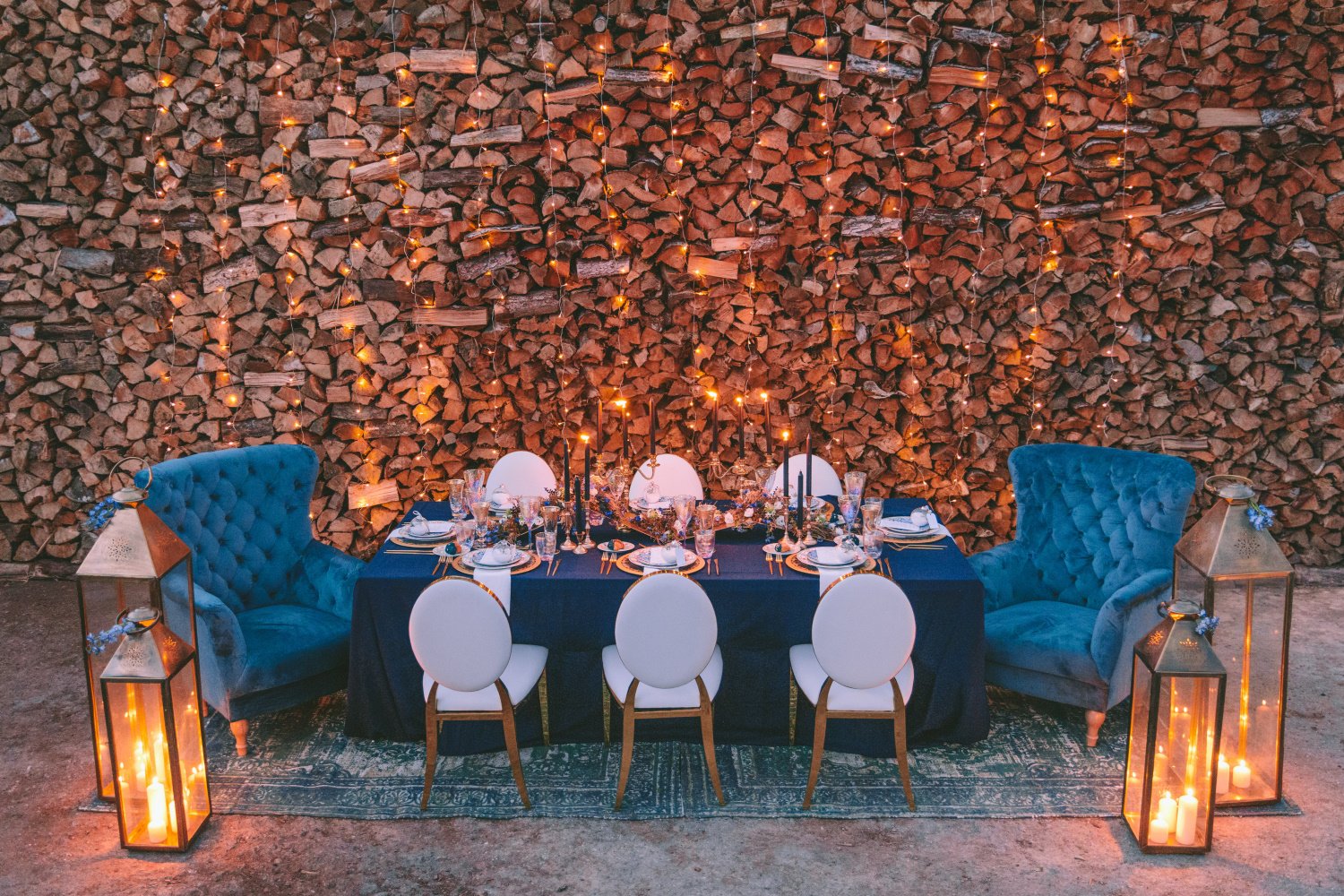 We all know that Christmas means red, green and white! But if you're thinking of a Magical Destination Christmas Wedding, then think outside the box! And this Blue country Christmas wedding inspiration might just be what you were looking for.
The Location
Traveling for holidays can be fun and exciting and when combined with a destination wedding, then that it can become magical!
When deciding on a location for your Christmas themed wedding, choose wisely. Make sure the location fits your vision. If the traditional Christmas is something you desire, then a grand ball room with a fire place could be your choice. In this case the team of Sensyle Events choose the local countryside location surrounded with firewood and Christmas trees to bring the jolly winter spirit to the table!
The Table and Décor Setup
Make sure your Christmas Wedding table is grand and celebratory! When thinking outside the box mix it up a bit with royal blue colours, golden accents, Christmas lights and luxury velvet tablecloth and chairs!
And what screams a country Christmas is this jolly holiday pickup truck setup amongst the pine trees, the very traditional custom made HO HO HO light sign and of course your family pets!
The Dress
When picking up your dress, make sure it fits well with your venue. But for a Christmas wedding, surely you want it to be grand! Maybe traditionally white, long sleeves, and surely a princes cut ball gown! Think of accessorizing with special red pumps, some nice topers or fancy Christmas coats, like the Misses Clause!
The Sent
Pine cones and A unique to your day, wedding sent is becoming more and more popular amongst the couples. Brides love to choose a special fragrance uniquely for their wedding day, but bring it a step further! For your Magical Destination Christmas Wedding, make a unique sent for your whole wedding day! And if planning a Christmas wedding, what is better than Apple, cinnamon and spice smell that will put everyone in the holiday spirit?! Warm apple cinnamon tea and pies, scented candles and air fresheners can make a whole room selling like home for Christmas!
See the full Gallery:
List of Vendors:
Photography: Pahountis Photography
Planning & Design: Sensyle Events
Styling: Sensyle Crew
Floral Designer: Comme Ca Fleurs
Mua & Hairstyling: Vasiliki Livadioti
Cake: The Cakers
Golden Jewelry: Thallo
Model: Patricia Perger
Handmade Wedding Dress: Cybele Dress By Atelier Zolotas
Stationery & Calligraphy: Love Me Do
Desserts: Lick the Spoon
Dinnerware: White Lilac
Furniture: Tore
Favors: The Pimpinella Project