When thinking of Luxury Autumn Manor Wedding, certain things like strong colors, darker pallets and a cozy, lavish estate come to mind.
This was the backbone of our styled cover shoot! Since Greece is more popular for summer weddings, we wanted to do just that. Present you the ideal location and inspiration for a different kind of wedding and what better location for an autumn wedding than this luxury Manor and Winery, Pyrgos Petreza, with a cozy atmosphere in the Athenian countryside.
Luxury Autumn Manor Wedding
Furthermore, Red Box Days florists created the bridal bouquet and decorated the whole venue with gorgeous floral arrangements, where peonies and hydrangeas were accompanied with fall components like red leaves and autumn fruits like grapes and berries. The combination of flowers and geometric terrariums and metal installations from Babapots, formed the perfect stylish altar and backdrop. We drifted from the ever-so-popular greens and greenery and rather turned to deep burgundy reds, yellows and purple hues, as the main autumn color pallet.
Our bride wore dresses by Madame Shou Shou, jeweler and ceremonial crowns from Prigipo, shoes from Once upon a Shoe and the evening look by Costureras Collections from Anthologia Humana, which was styled by Anna Zotou.
Buttermilk Patisseries prepared two themed dessert tables whit the gorgeous trendy drip wedding cake with bold colors to steal the thunder.
The whole event was captured by George Liopetas Photography.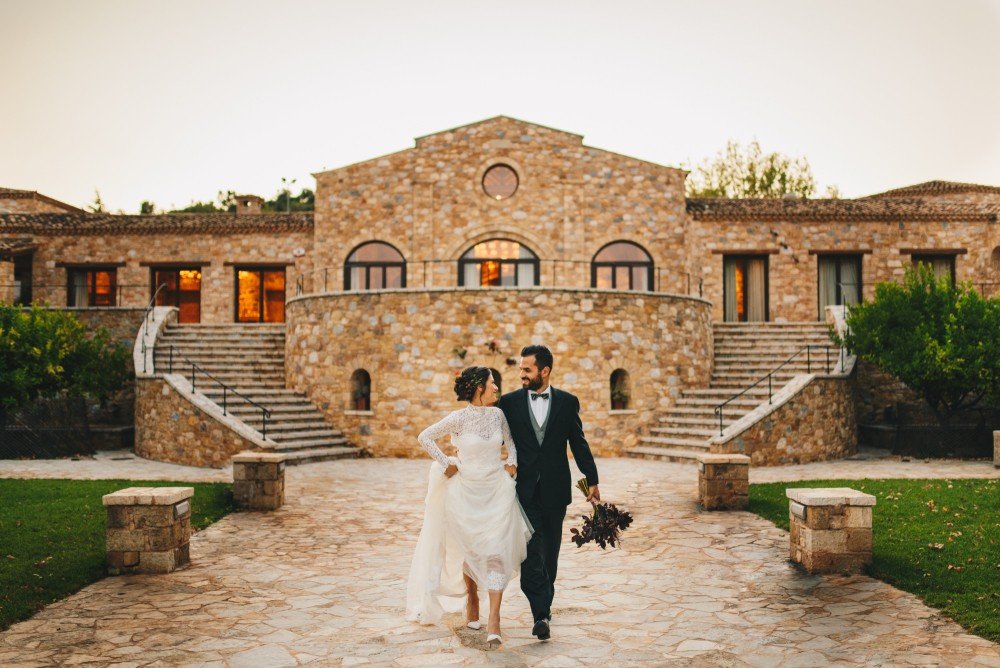 Chic Autumn Décor inspiration

While "all about Green" was the trend of the 2017 Summer season, autumn colors tend to be more warm, bold and may even be considered moody. As the seasons turn, so do the color charts for your themed wedding. From bright and cheerful, to bold and calm.
For this year's Autumn wedding think of decorations with fruits, lush flowers, deep reds, dark greens, yellows and of course do not forget the silver, gold and copper accents. Choose your venue to best fit your needs, like this gorgeous Pyrgos Peterza stone estate in Athens.
Flowers and Decor
Choose to show off with lush flowers like these centerpieces, designed by Kostas Korakas from Red Box Days. Fruits, vintage silver and strong colors were perfectly arranged to form a true lush autumn centerpiece.
Have your autumn forest in your palms, like this select bridal bouquet from Red Box Days.
Spice up your wedding table with different and unique art objects like this geometric glass table light from Babapots.
Have your photos taken in front of a gorgeous and inspiring backdrop or a geometrical arch. Ask for your own work of art that expresses you as this geometrical wire installation from Babapots with gorgeous floral agreements by Red Box Days.
Cake
Make sure your cake fits the theme of your lux autumn wedding like this trendy drip cake decorated with fresh fruits and flowers from Buttermilk Pattiesies.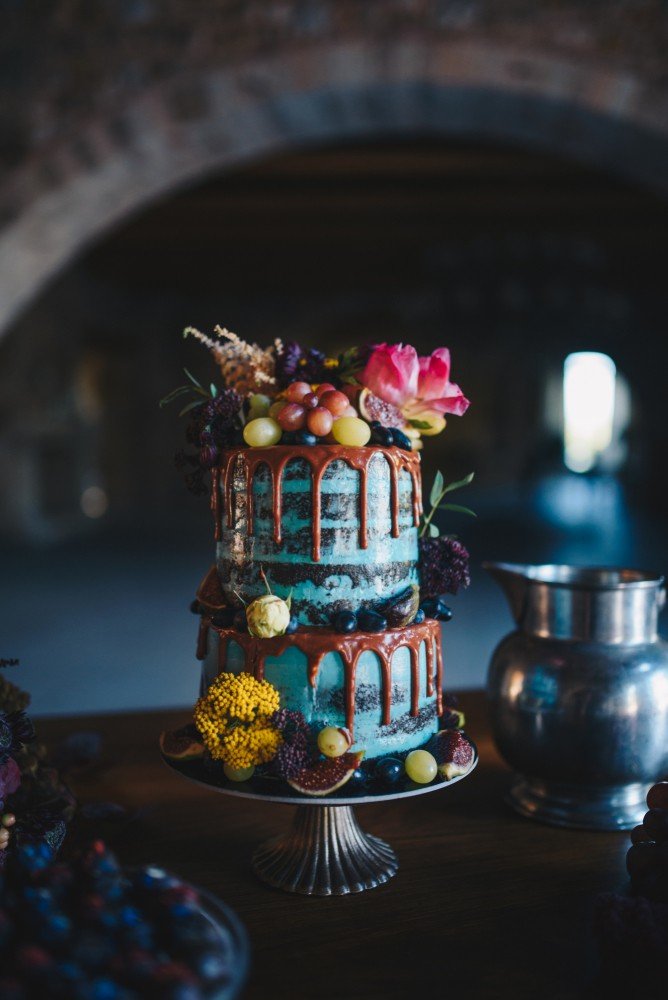 Forest theme
Inspire Fall with your themed sweets. Go lux and boho with choux a la crème and macarons or autumn-themed like these forest cakes and cupcakes from Games of Sugar.

Don't forget to accessorize
Feel like a princess with these gorgeous pumps from Once Upon a Shoe, while these wedding crowns from Prigipo with modern and delicate designs, will express the true inner you.
Vintage Lace Dress
Choose your dress to be the steal of the show like this blush vintage lace dress from Madame Shou Shou.
Change to a show-stopper party dress like this from Belisia Dress by Costureras Collections from Anthologia Humana.
See our video here
See our gallery here
List of Vendors:
Concept and Production, Ellwed Magazine
Photography, George Liopetas Photography
Video, Konstantinos Liopetas
Models, Ann Fedorenko and George Belessis
Hair & Make up Styling, Antigoni Livieratou
Stylist: Anna Zotou
Floral Design, Red Box Days
Geometric Details, Light & Terrariums, Babapots
Cakes & Sweets, Buttermilk Patisserie
Shoes, Once Upon a Shoe
Dresses, Madame Shou Shou
Dresses, Costureras Collections from Anthologia Humana
Grooms Attire, JJs House from Yesterday's Bread
Jewelry & Crowns, Prigipo
Venue, Pyrgos Petreza