On wedding blogs, we meet the couples and swoon over the gorgeous details of their wedding days. But their love stories don't end there with 'I do'! As their relationship grows from that day, so it often expands to include children and much-loved pets. They build homes and travel the world and above all, tackling the ups and downs of life together. With so many chapters added to their stories, we love it at Ellwed when we receive a vow renewal story in Greece like this same-sex vow renewal from Lefkada.
Let us take you to the fantastic Fly Me Lefkada Sun & Stars bar where Stephen and Colin celebrated ten years of marriage. This same-sex vow renewal in an intimate ceremony was planned and styled by Claire at Lefkas Weddings and captured perfectly by Maxeen Kim Photography.
The British couple chose the island as it holds a special place in their hearts for their same-sex vow renewal. Stephen explained, "We have so many happy memories there. We exchanged on our first home whilst in Lefkada, we got the news we had been approved to adopt whilst in Lefkada. It seemed the perfect location to add another milestone memory to our lives.
On top of that, the local people are lovely and we have always felt comfortable being a same-sex couple on the island."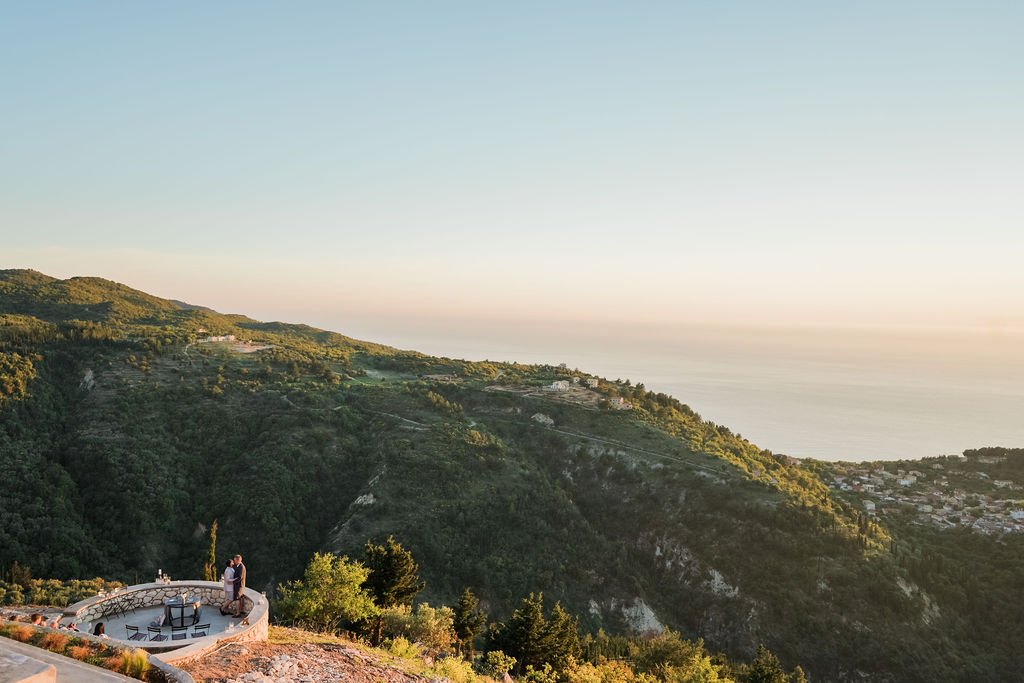 How and when did you meet?
We were holiday reps in Tenerife and Colin was my manager. It was love at first sight! After meeting Colin I rang my Mum and told her "I've met the man I'm going to marry!" And that was back in April 2005.
Tell us a little about the earlier days of your relationship?
We lived overseas for the first 18 months of our relationship. Then got married in 2008 in the UK and renewed our vows in 2019.
Early days were just Colin and I and our two dogs. Our family has continued to grow with two children and one more dog. (Our new dog was a rescue dog we adopted and brought home with us from the vow renewal holiday in Lefkada. The perfect wedding gift!)
Who proposed and how?
The first time Colin proposed to me was in front of all of our friends and family a few days before my 21st birthday. We travelled to London in a limousine to see a show in the West End. After we had an amazing meal in an Italian restaurant where he popped the question.
The second time was my turn! That is to say, I proposed to Colin in 2018 on the evening of our tenth wedding anniversary. I hired a room in our favourite restaurant and gave him a photo album I had made with all our memories over the years, ending with a picture of our two children holding a sign saying 'Big Dad, will you marry short Dad again?'
What was the primary influence behind your vow renewal?
Our first wedding was quite a big affair at a manor house in Essex, UK, so this time we wanted it to be just about Colin, the kids and I.
In contrast to that, we chose to do something outside the UK for our vow renewal and it was in a stunning location set above the clouds in Lefkada Island, Greece. It was really intimate with a small number of guests and absolutely perfect. We wouldn't change a single thing.
Where did you find the bulk of your inspiration?
We were quite relaxed with the theme and honestly, the view and sunset is so stunning at Fly Me, we let that speak for itself. Just requesting lots of candles! The rest of the styling at the ceremony and villa was all down to our amazing wedding planner and photographer.
How did you choose your suppliers?
We were led by our planner Claire, who works exclusively in that area. As a result, her knowledge was amazing and took the stress out of the planning. Moreover our photographer Maxeen, was INCREDIBLE too!
Did you find it challenging to translate more common traditions into a 'same-sex' ceremony?
Not at all. Claire wrote the ceremony and it was special and tailored it to our needs. We wanted it to feel very relaxed and informal with involvement from our two children, so Claire suggested adding a sand ceremony and all four of us took a turn. We mixed sand from a beach near our home in the UK with sand from the beach in Lefkada.
What was the most challenging thing about planning your destination ceremony?
We chose a location we loved and knew well which removed any challenges such as not having seen the venue in person etc. Claire was incredible and dealt with everything.
Any advice for other couples planning a destination vow renewal and finding it difficult to navigate the journey
Do your research. If possible plan a "wedding planning trip" to the destination if not find a wedding planner you can trust. Someone who listens and understands your wants and needs.
List of Suppliers
Planner: Claire Salisbury of Lefkas Weddings
Photographer: Maxeen Kim Photography
Ceremony Venue: Fly Me Lefkada
Villa: Villa Avra
Grooms Attire: House of Fraser
Stationery: Maxeen Kim
Cake: Patisserie Il Sapore