Summer 2022 wedding season in Greece has begun!
It is so exciting to see so many couples putting their final plans in to place. I am in full ceremony writing mode right now! How lucky am I, to be getting ready to travel all over Greece?
This summer I will be performing wedding and vow renewal ceremonies for many couples from all over the world! Many of them are including wedding ceremony rituals from Greece. With a celebrant, you can literally plan your own special ceremony!
Previously, I talked about handfasting which is an ancient Celtic custom. And now one of the most popular wedding traditions worldwide. More commonly known as 'the tying of the knot'. And there are many couples who will tie the knot this summer! Today let's chat about some other ideas, wedding ceremony rituals, you can include at your wedding in Greece.
A Unity Sand Ceremony
Perhaps the most popular of all the wedding rituals to include in your wedding in Greece would be a unity sand ceremony. A perfect addition to a beach ceremony. It is a wonderful way of including any special family members or friends especially any kids. This summer, several couples are bringing sand with them from their local beach and blending it with sand off the beach in Greece.
Others have chosen special colours which are meaningful to them as a couple.
It is the perfect symbolic ritual to include and so much better than a unity candle ceremony. which is pretty much impossible to perform at outdoor weddings in Greece. I know, I speak from experience!
'Just as the grains of sand cannot be separated and go back to the way they were before, neither can your love for each other'.
First Kiss/Last Kiss
A lovely way to honour the mothers of the couple is to surprise them with this fun moving ritual towards the end of the ceremony. It would go something like this.
'These mother's lips were the first to kiss them when they brought them into this world and today a mother's love will be first to send them on their way to their new life together as partners for life.
Mothers. . . please kiss your kids!'
Ring Warming
Some couples love the idea of passing their rings around at the ceremony. They invite their family and friends to hold the rings in their hands and take a moment to instil their love and support for the couple. This is known as a ring warming and is often accompanied by music.
If there are just too many guests then the rings can be displayed at the entrance to the ceremony. Then the family and friends can hold them for a few seconds on their way in, sending positive thoughts and wishes for the couple. In this case it would be important to delegate someone to stand by the rings. Just to explain what is going on to everyone. Then nobody will be left out!
Now the great thing about choosing a celebrant led ceremony in Greece is that you can have your ceremony exactly how you want it. Perhaps you are thinking just a little outside of the box?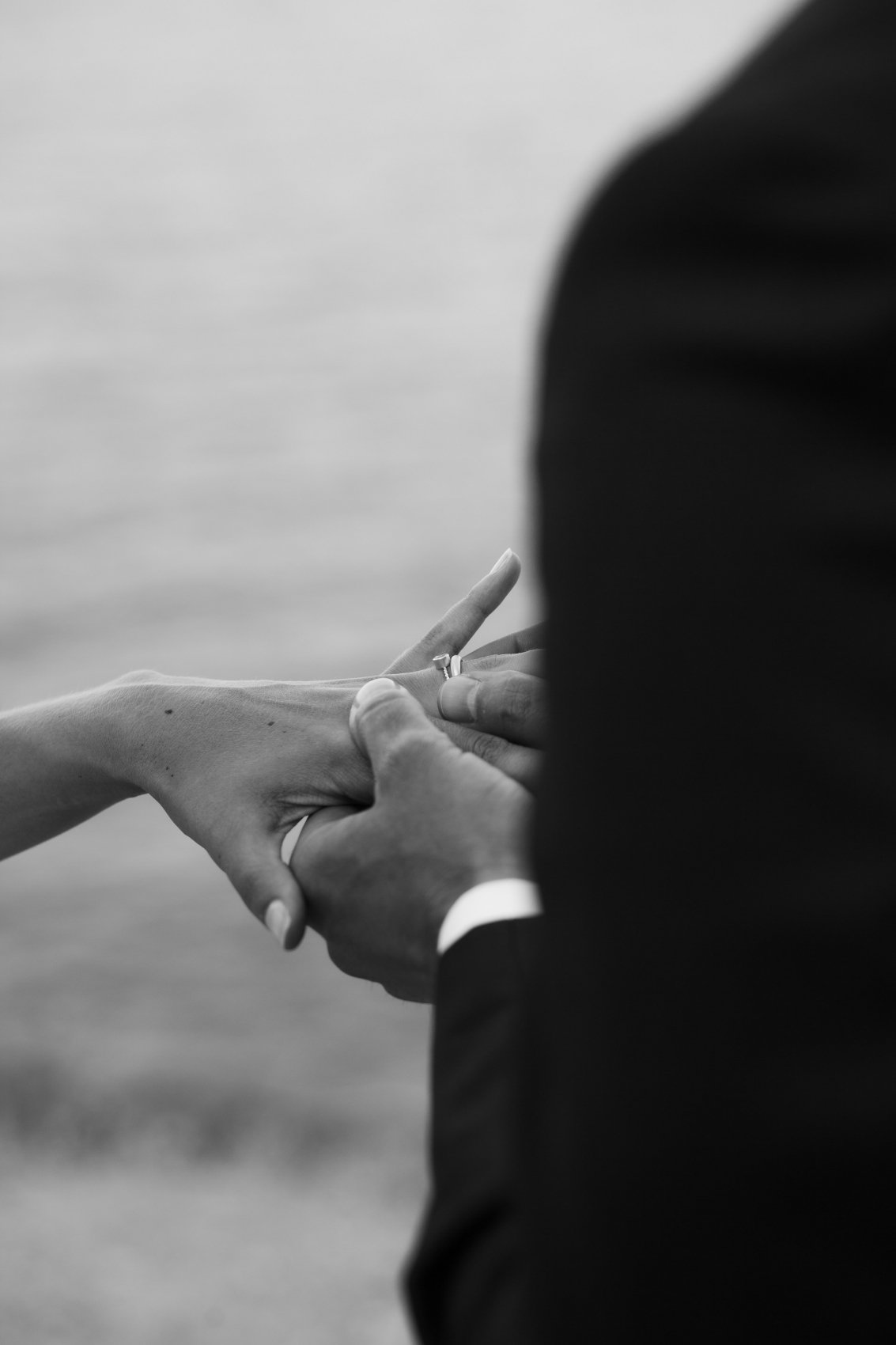 Images from Real stylish eco-conscious wedding from the cliffs of Sifnos captured by Days Made of Love.
A Gin Blending/Cocktail Mixing Ceremony
And yes, we are planning to include this at a couple of wedding ceremonies this summer!
Towards the end of the ceremony the couple will each pour their favourite gin in to two glasses adding their favourite mixer to the blend. The wording will go something like this:
'So, this drink represents the strength you have together to overcome the rough and the bitter moments, and the joy you will find in the smooth, sweetness of life. Raise your glasses and drink a toast to each other on your wedding day!'
If you are a couple planning a wedding in Greece and your ceremony is the most important part of your day, then consider a celebrant led symbolic wedding. Maybe you have ideas of your own wedding rituals to include in your wedding ceremony in Greece? No generic scripts, no boring ceremonies. Your ceremony, your way and I am here to help. It doesn't get much better than that! http://www.grecianceremonies.gr