This Dreamy Chic Boho Wedding happened on the golden sandy beach of Preveza with the beach party till sunrise!
Greece can offer you something magical! And Miriam & Pascal knew exactly why they wanted to get married in Greece! Miriam is half-Greek and Pascal is German. They both live and work in Germany and so they wanted to bring the Greek "filoxenia" or "eagerness to show hospitality" to their German friends and family!
Words from the bride:
On August 5th, 2021 all our hearts were beating faster and faster on the beach of Preveza! Every time we think of our wedding in Greece, we feel this tingling sensation in our stomach and our heartbeats increase from excitement! But let's start our story from the beginning.
We didn't have to think long about where to get married. Our dream has always been to get married in Greece! I'm half-Greek and Pascal is German and we have been flying to Greece every year since we were a couple.
Through our family we know about the Greek traditions! And then there is also the delicious food, beautiful beaches and the amazing hospitality of everyone! When we are in Greece, feeling the sun, the sea and the hospitality, we are so comfortable and we cannot get enough of that feeling.
So it was clear for us that we really wanted to experience this feeling at our wedding. And above all, we wanted to bring this feeling closer to all our families and friends from Germany. We wanted to laugh, dance and celebrate our love with them under the starry night and with the gentle sounds of the sea!
The Planning Process of our Dreamy Chic Boho Wedding
Since we live in Germany, our wedding required a lot of organization. So we looked for support. With a little research on the Internet, we found our wedding planners Meli Weddings. After meeting Aggeliki and Juli over Skype, were able to start planning the first details for our Dreamy Chic Boho Wedding!
In summer 2020 we met for the first time. Together, we went location scouting and discussed further details for our wedding. They introduced their suppliers to us and we told them our wishes and suggestions. They always took time for us and also cooperated with our German suppliers. Therefore, everyone could get to know each other in advance and all details were discussed beforehand. On top, together with them we also planned the route and the stay in Preveza for us and our guests.
Our big day was getting closer and closer!
We travelled to Greece yet again to discuss the last details, subtleties and highlights.
But the days leading to a wedding, are unfortunately not always characterized as calm and serene for many couples getting married. And especially in times of Covid-19, it was much more stressful for us. Because of the pandemic, we were under constant stress and fear that everything would go well.
However, because of all the regulations, we were not allowed to fully celebrate as we imagined. The rules changed over and over again, but we knew one thing during the whole time: We have the courage to follow our dream and will not cancel the wedding.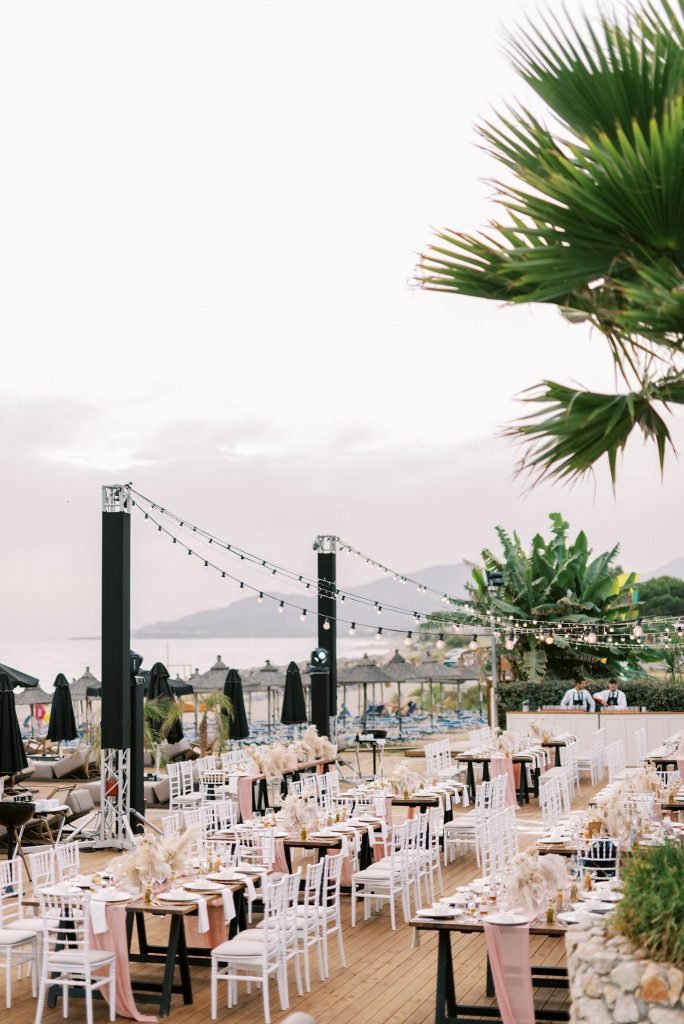 In the last few days before the wedding, our wedding planners Meli Weddings managed a lot of things that were very important for us. They talked with the city council and the managers of the location. And if necessary, we have also developed a plan B. Just in case!
Our big day for our Dreamy Chic Boho Wedding finally came!
Because of the familiar relationship with our service providers, we were really looking forward to our big day. But we still had one worry until the last second…Can we dance at our wedding?
At 7:30 p.m. our ceremony started on Kanali beach in Preveza. What shall we say? It was like from our dreams!
The sunset and the sea in the background, the stunning decoration and our beautiful ceremony backdrop on the beach… It all looked so harmonious! It was the perfect location for our symbolic wedding ceremony.
We explained our love story to our speaker Karim. After which, on August 5th, he told our story to our families and friends, exactly how we experienced it, however, with much more passion! He added many heart-touching words and some surprises as well. As my family came from Greece, a Greek speaker also translated part of the speech into Greek.
When we think of the ceremony, we are still speechless! The mixture of the perfect setting and the perfect speech moved all of our guests to tears! We were all impressed and captivated by the emotions.
It all looked so nice, all the guests were in a good mood and we were just happy! The pressure was finally gone. And from that moment we knew it was going to be a great day!!
And the reasons why we wanted to celebrate in Greece, we and our guests could feel 100% on that day. The Greek traditions, the delicious food, the wonderful beach and the hospitality of everyone made our day unique and very special! We laughed, danced and celebrated our love with our families and friends under the stars and the sound of the sea!
At the end, we didn't have to implement the Plan B. We were so relieved and happy about that!
The Mango Beach Bar has also been transformed into a perfect wedding location. The lights, the beautiful flowers, the table decorations and all the subtleties left nothing to be desired!! Everything looked so wonderful!
The service from Mamalis Catering was the best! They were very attentive and friendly. The food was even more perfect than what we expected! The buffet was set up very nicely, so that all guests had plenty of space! The midnight snack was the very traditional "gyros pita"! Which was also a highlight of the dinner! Everything was really so delicious!
So, were we allowed to dance that evening? Yes! Our DJ Alex Awesome from Germany made a party to remember! All our hearts went wilder. Of course, we started our party with the Greek traditional music. Then we opened the dance floor, which was then always full until 4:00 in the morning, with our romantic wedding dance. Our Dreamy Chic Boho Wedding was perfect!!
Our photographer Lefteris Kalampokas captured our day in pictures, made sure we have many, many wonderful memories to remember this amazing experience! Of course all our ideas and wishes are fulfilled and we are so happy that we have such beautiful pictures.
Finally, a big thank you from the bottom of our hearts to all service providers who made our day so special and perfect! Special thanks go to Aggeliki and Juli from Meli Weddings, who organized and planned everything and supported us so much!
And now see for yourself! Because pictures show more than a thousand words!
Get this look:
Planning & Styling: Meli Weddings
Photographer: Lefteris Kalampokas
Florals: Leonidas Rammos
Catering: Mamalis Catering
Sound and lights: Art Audio
Venue: Mango Beachbar
Dj: Alex Awesome
Celebrant: @freier_redner_karim_yahiaoui
Read more real wedding stories here. From read brides and grooms who got married in Greece