A Colourful Destination Wedding and a fun-loving couple! Definitely a match made in heaven!
And when you add into a mix the unrivaled beauty of Greece, you know exactly what you get! A PERFECT WEDDING!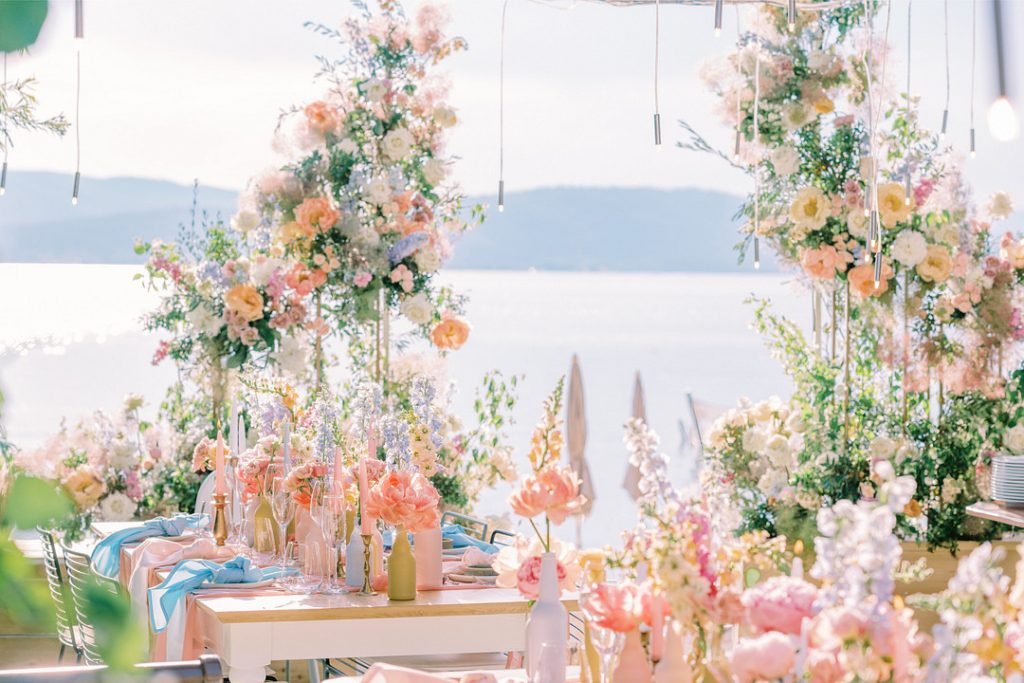 From the Planner, Destination Wedding Romania
When we first met Madalina & Andrei, we were beyond content to book a wedding for such a relaxed, happy couple. And thy were decided to get on board of the adventure-filled experience that a destination wedding always delivers.
After some venue searching, their hearts were set on Ekies All Senses Resort. An eco-​friendly boutique hotel with laidback vibes. We have visited this hotel before in our previous venue hunting in Greece. We fell deeply in love with this idyllic paradise escape located in the Halkidiki peninsula.
The Colourful Destination Wedding
The design hotel was perfectly matching our wedding theme, which was soft colourful simplicity. For this wedding, the couple chose a colour palette with light coral, lavender blush, light steel blue and dark sea green, that seamlessly went along with their wedding outfits.
For our first time at a destination wedding abroad, our team consisted of many talented Romanian providers. Of course we were overjoyed to work with people that we know, love and we can wholeheartedly count on. As wedding planners, we all know there is no safety net when the big day comes. So having full control over a wedding, and especially a destination wedding, is literally all we dream of.
Therefore, we were delighted to have with us the most skilful floral magician, Elena Bodea from Las Floristas. And by the coolest, crazy talented power couple, Ioana Porav, fine art photographer, and Vasile Porav, visual storyteller. The stationary was created by yet another talented romanian craft paper artist, Invogue art.
The couple said:
How did you meet? Tell us about the proposal.
It was faith. We didn't search for each other. It just happened naturally. We met through some common friends and from the first moment we met, we started a relationship. Andrei even told me from the first week of the relationship that I will be his wife and I laughed then. Andrei wanted to propose in Egypt, inside a pyramid, and everything was set for Spring 2020. But Covid came and all flights were cancelled. So… he had to make another plan, also for 2020, even if Covid put a lot of restrictions for travelling. But he wanted to be very original, because he is an artist and a singer and originality is his way of expressing himself.
I am a dentist so Andrei went to a dental technician to ask for a dental impression were he put the ring inside. He asked me to go for a weekend trip to celebrate 2 years of relationship in Brasov, that was our first trip. We took the cable car and went on the peak of the mountain from where you can see the whole city. When I was looking in another direction, Andrei kneeled down, opened the dental impression and asked me to be his wife!! Because I don't like the crowds and because we were surrounded by lots of unknown people staring at us, my first reaction was: "Not here, not now", smiling and emotional Andrei said: "Oh yes. Here and now", and I said yes and so, our journey began!
Tell us about your wedding! What was the inspiration behind your day? Did you have a specific theme, style or color palette? Did you incorporate any cultural or religious traditions in any part of your day?
We are both very fond of Greece and we always thought of a small wedding in this lovely country. However, having with us only close members of our family and our godparents. We enjoyed choosing the bright color theme for us and our guests clothing. And also a very relaxed style of clothing trying to fit the Greek views. Also, we tried to insert moments of traditions like the groom not seeing the bride dressed before the wedding. Or the groom being helped by the godfather getting dressed or tying the knot. As well as we had the children throwing flowers and giving candies at the ceremony. On top, I was wearing a ring belonging to the groom's grandma that passed away 10 years ago and who raised him since he was a child.
Let's talk wedding decor. How did you decorate your space for the ceremony and the reception? And what were the florals like in your wedding?
Elena Serotencu of Destination Weddings Romania and Elena Bodea by Las Floristas, decorated our space perfectly with a romantic look. They used details like pink and blue candles, personalized name tags for each guest, flowers and different pieces of decor. Like the wooden wine bottle box with our names on it or elegant napkins, for instance.
The flowers were very important in our event. Our florist choose and recommended a bright romantic and colourful pallet which we used everywhere! In my bridal bouquet, on the tables, at the civil ceremony on the beach and even the gift baskets. As well as flower crown for the flower girl and in the cockades. Our wedding represented us, our story and Andrei's artistic side as well!
What were some of your favourite parts of your wedding?
The whole Colourful Destination Wedding experience! Not only we had two wedding ceremonies, one was literally in the middle of the sea on the wooden pier! Above all our team, Destination Weddings Romania, Ioana & Vasile Porav, Las Floristas, the place, the food, the civil and religious ceremony. The positive energy received from everyone present at the event, the perfect weather and the strong emotion between us! Everything was perfect.
Let's talk fashion. How did you both choose your wedding day look?
We went for a bright color theme and a romantic wedding look for our Colourful Destination Wedding in Greece! The groom had a pink suit and white trousers with a white shirt and burgundy shoes made by Adina Buzatu. He had some colored details with the scarf and pink braces. I wore a wedding dress made by Bella Sposas. That was also pink and white and had some jewellery front details.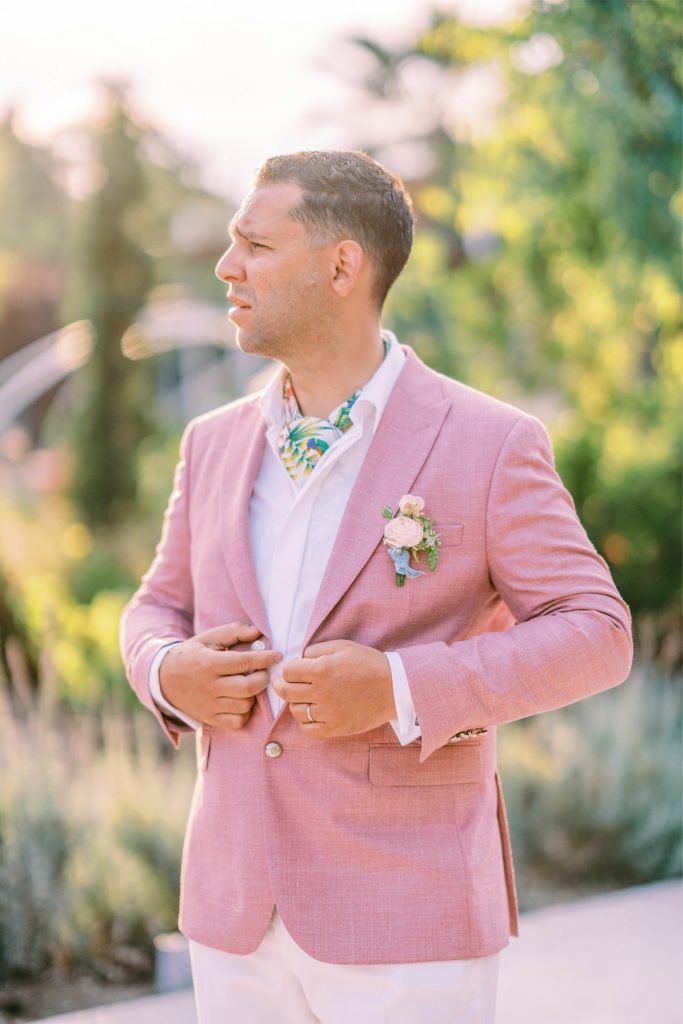 What was the most anticipated or special moment of your wedding day?
There were four main parts on our day and all of them were special to us! The bride and groom preparations, organized in separate locations, so that we would not be able to intersect before the wedding. Then there was the civil ceremony which took place on the beach and afterwards the religious ceremony in a small, old but very beautiful church up on the top of the hill. And last but not least, the party, where everyone enjoyed the reception and danced the night away.
Do you have any wedding planning or marriage advice that you'd like to share with other couples planning their day?
It is very important to plan an event first for you and then for the guests, because it is your event and you should wear smiles on your faces all day. If you will be happy and if you select for your event only people that love you, everyone will be happy and anything you will choose will be perfect for everyone! Try to be natural, relaxed and think about the reasons that got you there. And lastly, enjoy every second of that day, because it happens only once and you will always remember it.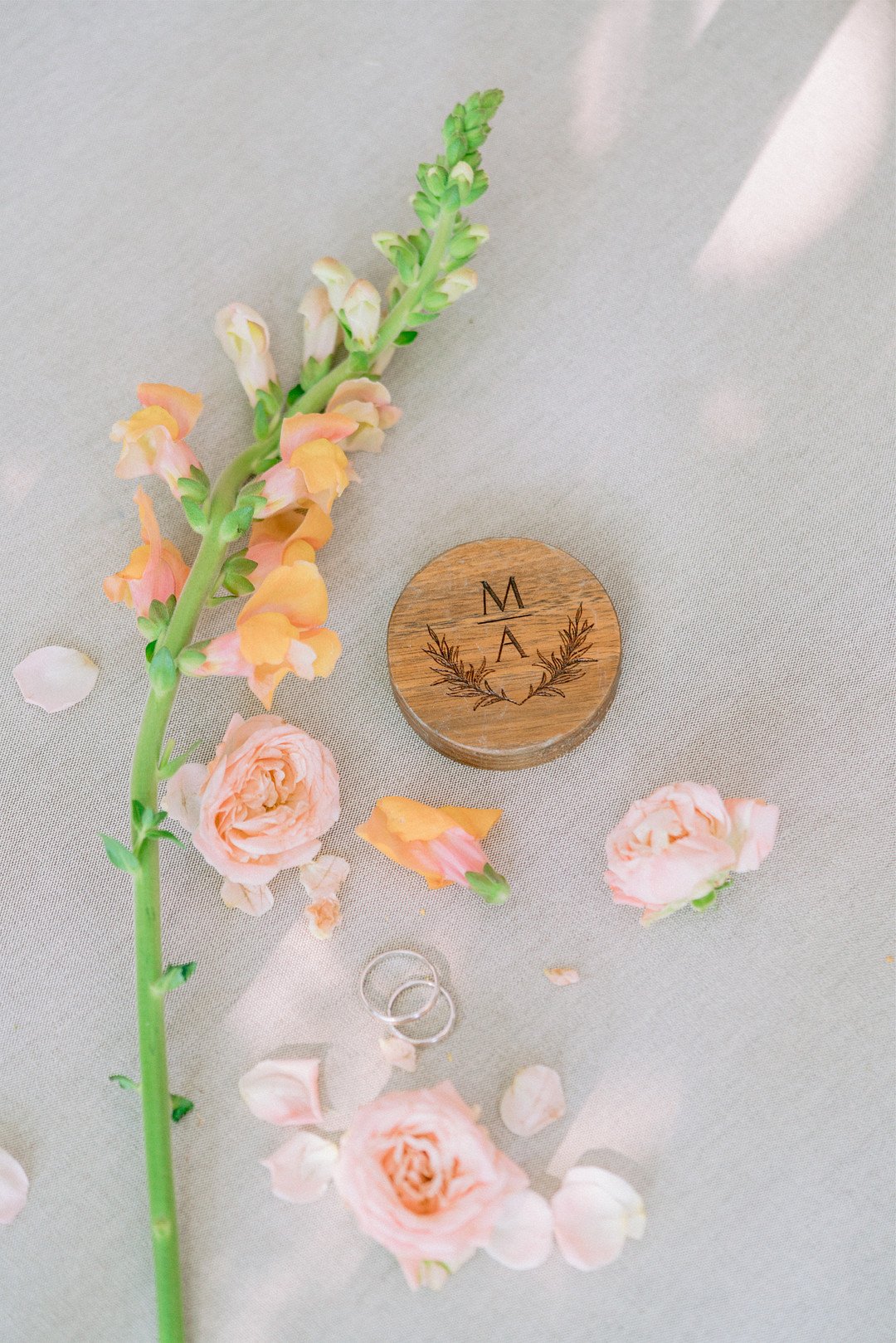 Get this look:
Planning: Destination Weddings Romania
Reception Venue: Ekies Resort
Photographer: Ioana Porav Photographer
Videographer: Vasili Porav
Floral Designer: Las Floristas
Local planner: Organize That
Stationary: Invogue Art
Behind the scenes photographer: @iriaig
Rentals: Satori Art and Event Design
Film lab: @grainlab_ro
Grooms designer: Adina Buzatu
Gown designer: Bella Sposa
Styling plates: Antigone Ceramics
Goodie bag: Ergon Foods
Submitted via Two Bright Lights