If you are in love with a certain style and want your wedding at a specific location, you can still have your cake and eat it too! And this is what the team behind this Moroccan Style Wedding Inspiration at Pyrgos Melissourgos achieved in Athens Greece!
So, all you need is the right venue and wedding professionals who will make sure to make your dream wedding style come to life!
Let's hear more about this Moroccan Wedding Inspiration from the visionary wedding fashion photographer Alexandru Vlad of Alerian Artography
"I'm really excited to share with you this fabulous editorial that holds a special place in my heart. It perfectly embodies the combination of my love for fashion and the enchanting wedding vibes.
We took inspiration from the captivating Moroccan style with the help of the Pyrgos Melissourgos Wedding Venue located outside of Athens and infused it with a modern twist. Thus, creating a unique fusion of cultures in the stunning backdrop of Greece.
You see, our team consists of avid travelers and individuals who have worked abroad extensively, which allowed us to bring that international flair into this editorial. As artists, we wanted to break the norm and create something extraordinary in the realm of wedding editorials. We asked ourselves: Why do you have to travel to specific countries to get "the vibe"?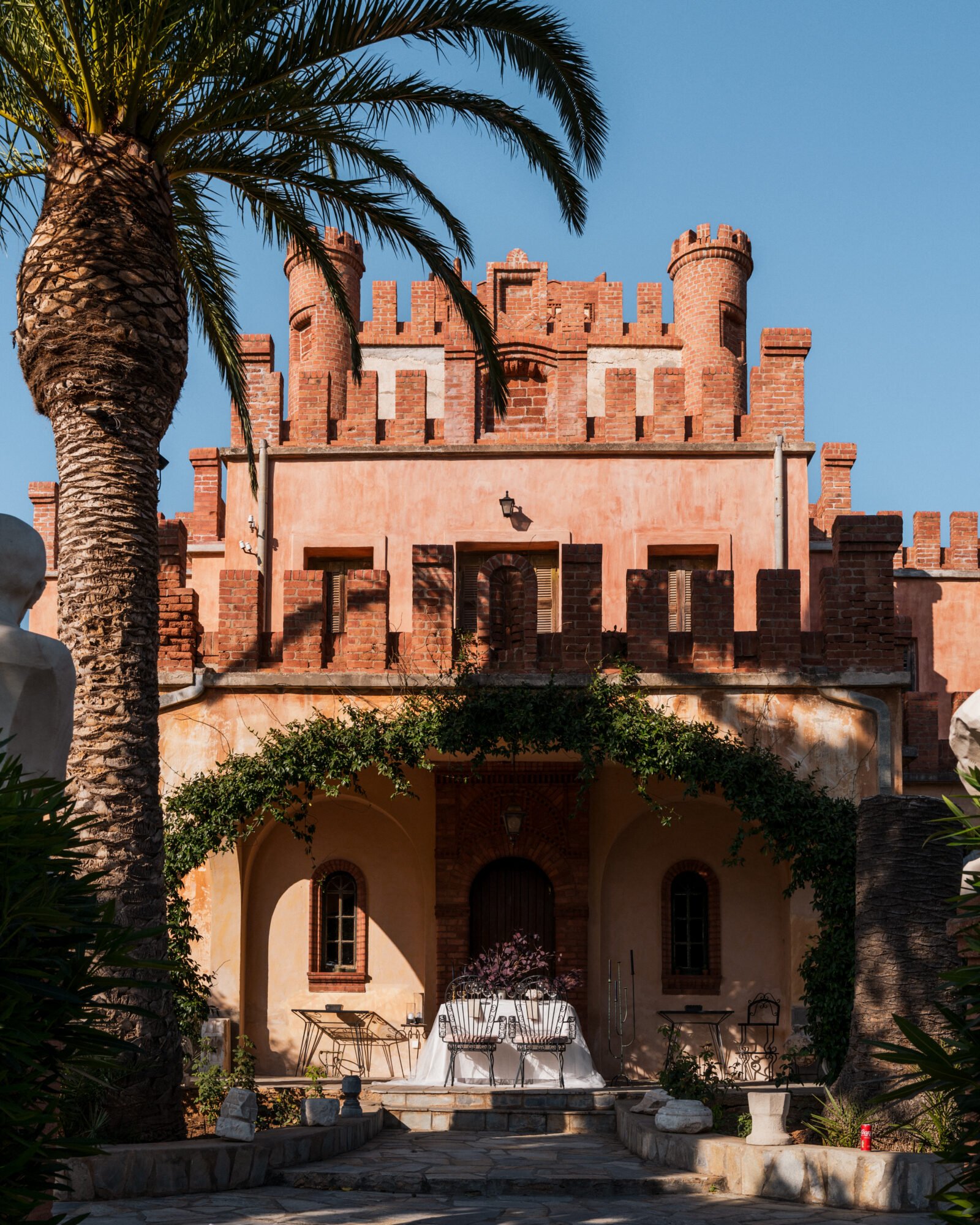 You can certainly have it all, by planning your Moroccan sytle inspired wedding in Greece at Pyrgos Melissourgou
The way you can effortlessly showcase the beauty of dry flowers through the decor is absolutely stunning. You can use organic materials for decor, as less is definitely more.
Taking inspiration from '80s looks and giving it a modern twist was the perfect touch for our model's look. Curly hair and light makeup certainly accentuated her features and femininity.
And let's not forget about the wedding gowns… they are beyond breathtaking. The intricate details and luxurious fabrics certainly made the editorial look special. The embroidery truly adds that extra touch.
Champagne and let's change the dress! You can certainly party a little because your wedding should not be about stressing yourself! We also brought our studio backdrop to the wedding venue to create our own fashion photo booth for the ever-so-trending posed photos.
You can have a simple wedding, but also delicate, modern, and luxurious! This style strives to be timeless! Something that every bride dreams of when they're choosing their wedding style."
Get more inspiration in this gallery:
GET THIS LOOK:
Photographer: Alerian Artography, Art director: Andreas Sellinidis Photography, Location: Pyrgos Melissourgos , Videographer: Imagine Cinematography, Floral Design: Iuliana Tinu for Fiorentino, Model: @michaelaalexaa, Make-up Artist: Irene Kyranis, Hairstyling: @nk_bridal_hair, Bridal Gown: Made Bride, Model agency: @vnmodels, Magazine: @ellwedmag
Find more Wedding Inspirations & Real Weddings from Athens Greece here